Wisconsin Football: What Future Holds for Badgers Selected in 2013 NFL Draft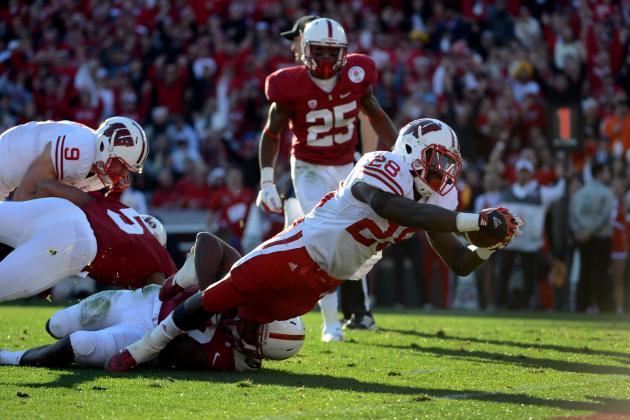 Harry How/Getty Images

There were surprises aplenty in the 2013 NFL draft, and Wisconsin football happened to be right in the middle of some controversy over the first couple of rounds.
Out of the seven Badgers who had a shot at being selected during the three-day, seven-round extravaganza, three were drafted, and three more signed on as undrafted free agents following the draft's conclusion. Linebacker Mike Taylor is still looking to latch onto a pro team.
We wish safety Shelton Johnson (Oakland), cornerback Marcus Cromartie (San Diego) and Devin Smith (Dallas) all the best moving forward, but we'll look at where the drafted Badgers were taken and project how their NFL careers will pan out.
Begin Slideshow

»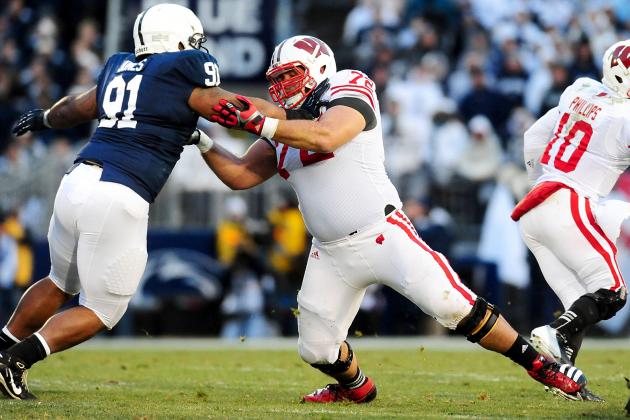 Evan Habeeb-USA TODAY Sports

Dallas Cowboys, first Round, 31st pick
Prior to the NFL combine, Travis Frederick was projected by some to be selected in the first round, but a slow 40-yard dash time and a poor showing overall at the combine caused his stock to drop.
Expected to be a second- or third-round pick, Frederick became perhaps the most scrutinized selection of the first round when the Cowboys grabbed Frederick right before Day 1 came to a close after trading down from No. 18.
While he isn't going to surprise anyone with his speed or athleticism, Frederick will rely on pure strength, high football IQ and quick hands to make his living, and it won't be easy for defenders to move him out of the way.
Frederick played guard early in his college career at Wisconsin, but Dallas will likely keep him at center. Even Frederick himself didn't believe he would be a first-round pick, which is a little concerning, but he should use the criticism of his selection as fuel moving forward.
At Madison, the 6'4" Frederick was listed at 338 pounds, but his draft profile had him at 312 pounds, which is amazing considering that beard. He may have lost weight in an effort to improve his 40 time—which clearly didn't help—but if Frederick puts some of that weight back on and sticks to what he knows best, he should have a fine career in the NFL and have a chance to start right away.
Mary Langenfeld-USA TODAY Sports

Denver Broncos, second round, 26th pick (58th overall)
Another Badger who was affected by his NFL combine performance, Montee Ball ran one of the slower 40 times among running backs. He vastly improved that time at Wisconsin's pro day, but it was pretty evident Ball wouldn't be the first tailback off the board.
After no running backs were selected in the first round, five were taken in the second, including Ball, who was the third tailback to be drafted—before Eddie Lacy, which raised some eyebrows.
The 31-year-old Willis McGahee is on the decline, and Knowshon Moreno has been riddled by injuries during his four years in Denver. Neither is exactly an enticing option for the Broncos next season, which leaves the door open for Montee Ball.
With Peyton Manning under center, Denver has a pass-happy offense, so there isn't too much pressure on Ball to make a huge impact immediately, especially with the addition of Wes Welker. The Broncos' elite passing game should only help Ball, who can catch the ball pretty well out of the backfield himself.
This ability should aid Ball right off the bat and help him get on the field in third-down passing situations at the very least. As McGahee falls out of favor, that's when Ball can take the next step forward and become an every-down back.
He has the talent and ability, but there's a concern about the wear and tear on Ball's tires, which could ultimately result in him burning out relatively quickly.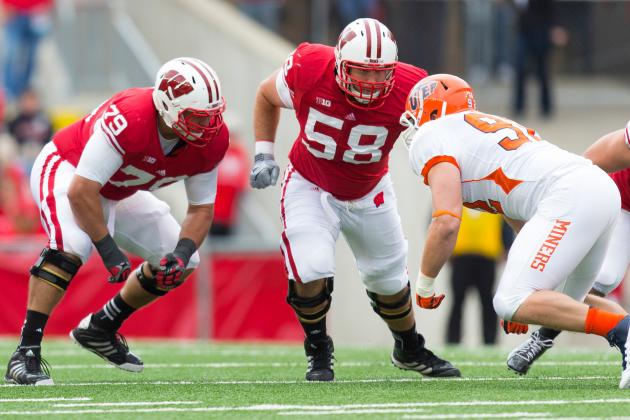 Jeff Hanisch-USA TODAY Sports

Baltimore Ravens, fifth round, 32nd pick (168th overall)
While Frederick benefited from leaving school early, it's too bad Ricky Wagner stayed in Madison all four years, because it likely led to his draft stock taking a hit. He was ridiculed during the week of practice leading up to the Senior Bowl and didn't do himself any favors at the NFL combine, either.
It wasn't a question of if Wagner, the former walk-on tight end turned offensive tackle, would be drafted, but when. He was the first of two offensive tackles to be selected by the Ravens and was chosen with the final pick of the fifth round.
Being a late-round draft pick, there's no guarantee that Wagner becomes anything more than a practice squad player in his rookie season. The Ravens plan on using Michael Oher and Kelechi Osemele at each tackle position, so it's possible Wagner could earn a spot as a reserve lineman.
It hurts him a little that he only plays tackle on the line, not to mention the Ravens selected another offensive tackle after him. Wagner could earn an opportunity via injury, but both Oher and Osemele are relatively young players.
It looks like Wagner will be more of a security blanket with an opportunity to one day grow into a starter, especially if he learns to play the interior line spots.