April Report Cards for Oakland Athletics Top 10 Prospects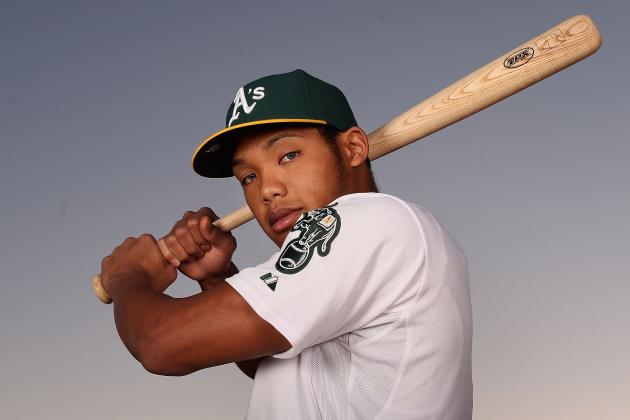 Christian Petersen/Getty Images
How was Addison Russell's first month in Single-A?
After one month of baseball, some lower-rated Oakland Athletics prospects are making baseball look ridiculously easy while one of the top three guys might wish to remove April from his memory.
The A's have several—a dozen, maybe more—quality prospects in their farm league right now. Scour the internet and you'll get a few different top 10 lists. For this list, I did the work for you and accumulated the most consistent list of names.
Considered is the list by Mike Rosenbaum, MLB prospects lead writer for Bleacher Report. Jason Parks' (Baseball Prospectus) and Jim Shonerd's (Baseball America) lists were also reviewed. And finally, MLB.com's 2013 Prospect Watch played a large part in identifying this set.
Ultimately, it's just one month. And it's the first month at that.
It's so early, anything can happen. Hot starts can flame out. Struggles can be overcome. April is not indicative of an entire season.
Still, it's fun to see which prospects are (so far) proving they can handle the designation and which ones need a do-over. Who begins May with high marks and who—if any—should we be concerned about?
Check out the top 10 prospects' grades for the month of April.
All stats obtained via MiLB.com.
Begin Slideshow

»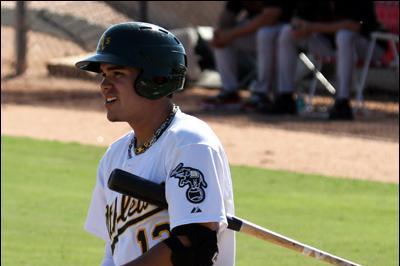 Nunez isn't having problems in Class-A (Photo Credit: Chris Lockard/Scout.com)
Grade: A-
Third base prospect Renato Nunez started the 2013 season in Class-A. So far with the Beloit Snappers of the Class A Midwest League, Nunez has hit .310.
Of his 22 hits, 10 have been for extra bases. Five of those have left the yard.
Nunez leads the team in hits, home runs and RBI. Furthermore, he holds the highest average on the team of those with 12 or more games played.
On defense, Nunez has been spotty. He does play the hot corner, but four errors in 17 games is concerning.
He would have an A if there were less errors.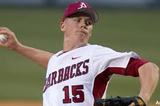 Nolan Sanburn with the Arkansas Razorbacks (Photo Credit: PerfectGame.org)
Grade: Incomplete
At this point, Nolan Sanburn can't be graded. Unfortunately for the pitcher, he suffered an injury and has not pitched in April.
Thx everyone for the prayers! I'll be back to 100% in no time! Doc said I'm right on schedule w/ recovery! Keep prayers comin. God is good!!

— Nolan Sanburn (@nolan_sanburn) April 6, 2013
However, Sanburn is set to start in Class A with the Vermont Lake Monsters. The shortened season does not begin until June.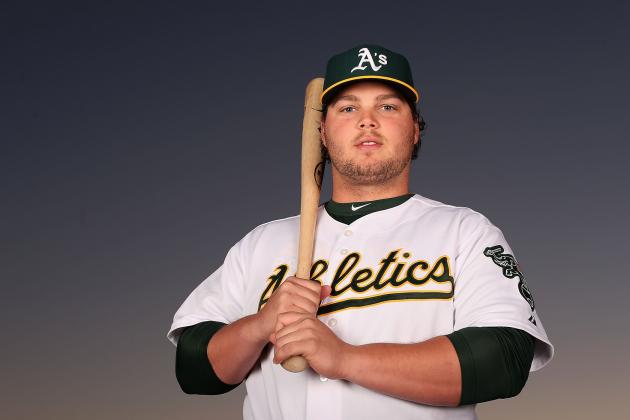 Christian Petersen/Getty Images
Miles Head is struggling so far.
Grade: D-
April has not been kind to Miles Head.
In 86 at-bats, Head put the ball in play just 15 times for a .174 average. Granted, one third of those have been extra-base hits (including home runs). Still, the most concerning aspect of his April has been strikeouts and walks. Head walked four times to 23 strikeouts.
When he hits, the ball travels. But they (the hits) are few and far between.
Finally, in the last 10 games, Head knocked in a lone run. May must be better. There's not much further to fall.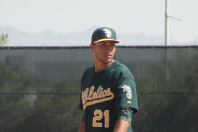 Olson, the 6'4" first baseman is heating up. (Photo Credit: AthleticsFarm.com)
Grade: B

Matt Olson, first baseman for the Beloit Snappers, isn't hitting awful, but it looks as if he's taking his time to find his swing this year.
Let's look at the "bad" first.
His average is .250—respectable in a sense, but this is Single-A and he is a "prospect." His 26 strikeouts lead the team too. It's not terrible, but throw in two errors in the field to top off the negative side of things.
Now for the positives.
Olson's flashing pop. His strikeouts are high and his batting average in the middle of the pack, but he's still getting on base with walks. And best of all, in the last 10 games, his average is actually .364.
His overall stat line is deceiving because he's doing much better than it appears.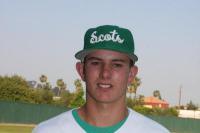 It's early, but Robertson is on fire in Class-A. (Photo Credit: AthleticsFarm.com)
Grade: B
Daniel Robertson receives a B simply because of the sample size—it's incredibly small.
Something you should know about Robertson, he came into 2013 hoping to rebound from injury (h/t: Melissa Lockard of insider-only Scout.com).
After finishing rehab (injury), he joined the Beloit Snappers in late April.
Finished my rehab in Arizona and got to Beloit tonight with our single A affiliate Excited to play and get the season started!

— Daniel Robertson (@D_Robertson28) April 26, 2013
It's only been three games, but Robertson is lights out so far. Not only does he currently hold a .455 average, but he also nearly hit for the cycle in his first game with the Snappers. Knocking in five runs in those three games is icing on the April cake.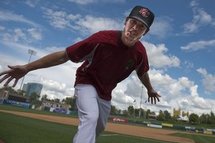 Green knows how to dominate Triple-A. (Photo Credit: Hector Amezcua of the Sacramento Bee)
Grade: A-
Grant Green should be the most scrutinized prospect on this list simply because he's been on the list of top A's prospects for a few years.
That aside, he's doing quite well in Triple-A Sacramento yet again.
Green possesses the most at-bats as a River Cat (106) and has certainly made the most of each. He's hitting .337 with four home runs and 16 RBI in 24 games. Seventeen strikeouts to 11 walks is respectable. Green has even swiped three bags.
He's shown a little bit of everything thus far. If he keeps it up, he should garner a call-up.
The only minor concern is five errors at second. If he wants to be a big leaguer, there's no excuses. However, he's been bounced around from short to third, to the outfield and now to second. His glove is (barely) excusable for now.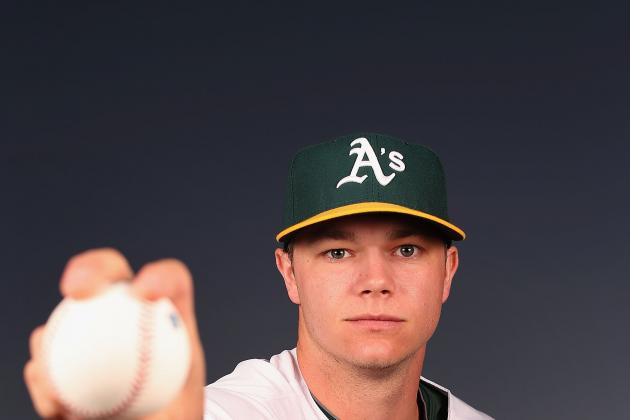 Christian Petersen/Getty Images
Sonny Gray's future seems bright.
Grade: B+

Pitching prospect Sonny Gray has started four games for Triple-A Sacramento. The results show a little bit of everything—two wins, a loss and a no-decision. Fittingly, he pitched fantastic in the no-decision and a win, average in the other win and terrible in the loss.
Seems about right, right?
But the individual stats tell a different, better story.
In 22 innings pitched, he's only allowed 24 hits—just about one per inning. Eight earned runs in that span equates to about one run every three innings. Finally, Gray strikes out just about twice as many batters as he walks.
So when he's on it, he's on. Gray just had a hiccup in the middle of the month.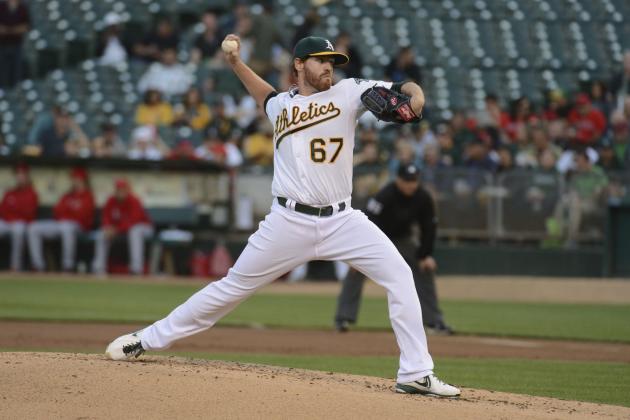 Kyle Terada-USA TODAY Sports
Straily's awesome in Triple-A and so-so in Oakland.
Grade: A-
If we simply take minor league stats into account, Dan Straily earns an A+ for April.
In three games with the Sacramento River Cats, Straily is 3-0 with a 0.96 ERA. More impressively, he's only given up 11 hits, none of them home runs.
But the domination doesn't stop there.
Opposing teams have only scored five runs against Straily, and only two of those were earned. The guy walked six batters total, but he's struck out 20 hitters. The opposition is hitting .159 against Straily, collectively.
Naturally, Straily received a call-up for an April 29 start against the Los Angeles Angels. He's started for Oakland twice in April with mixed results.
In 6.2 innings, he beat the Houston Astros, giving up two runs and striking out 11. The game against the Angels featured six earned runs (two home runs) and only 4.2 innings pitched.
All in all, Straily was near perfect in April, with the exception of one big league game.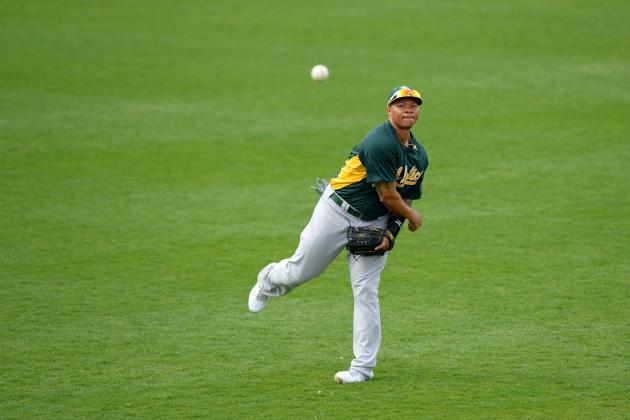 Jake Roth-USA TODAY Sports
So far, there's no complaints about Choice's game.
Grade: B+
Michael Choice sits in the middle of the Sacramento River Cats pack. His 26 hits are fourth most. Likewise, he has the third most walks, and four home runs ties him for third-most with Grant Green (both are behind three others).
On the one hand, he leads the team in strikeouts. But on the other, he's the team leader in RBI.
Looking at his splits is intriguing. In fairly standard fashion, the right-handed hitter thrives against righty pitchers (.289) and suffers against lefties (.154). You would think playing at home gives him anxiety, as his away average is .314, nearly 100 points higher than his home split (.241). Likewise, he hits .500 in day games and .234 at night.
The important stat to look at is how well he hits with runners on. Choice clearly doesn't let pressure get to him, hitting .286 with runners on versus .242 with the bases empty.
Nothing necessarily stands out to put him over the top, but he isn't doing anything wrong either.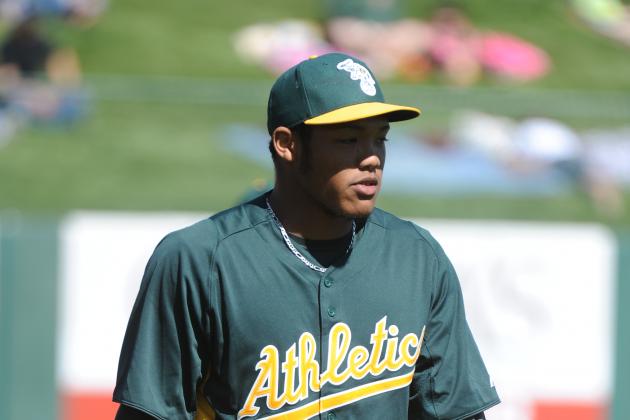 Rich Pilling/Getty Images
He looks huge, but he's young and has plenty of time to develop.
Grade: D+
The Stockton Ports have played 26 games, but prized prospect Addison Russell has only suited up for 15 of them. After two games, Russell went to the disabled list with a back injury, missing one week.
The road back has been a challenge thus far. Russell is hitting .224 with five runs batted in.
It would appear Russell is struggling to find rhythm. For example, he'll follow three consecutive hitless games by hitting 4-for-7 in the next two. Then he'll repeat the process over again. So far, it's either really hot or really cold, with little in between. Unfortunately, there's been a little more cold overall than hot.
He capped April off with a 2-for-3 performance, including one walk, a triple and two RBI. Hopefully he carries that into May.