Oakland Athletics: 3 Players Who Desperately Need to Make an Adjustment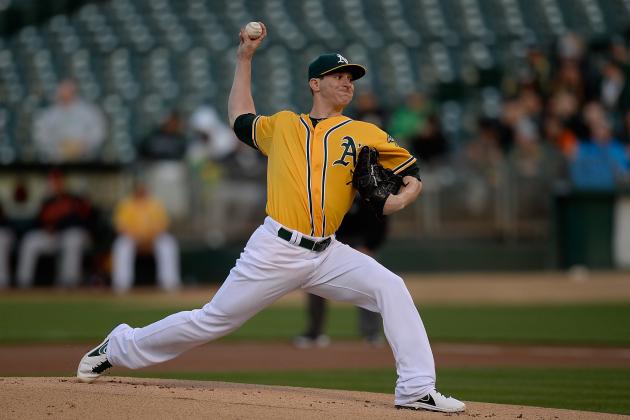 Thearon W. Henderson/Getty Images
Parker is one of a few A's who have scuffled out of the block in 2013
After a blistering 12-4 start, the A's have since gone 2-8 pending Monday's series opener against the Los Angeles Angels to settle at a 14-12 record. While that's still a game better than they were in 2012, the A's have to be a bit disconcerted at their level of play in the last two weeks.
While injuries have had something to do that that, notably to Yoenis Cespedes, that has not been the biggest problem. Quite simply, some players have not delivered. And going forward, there are three in particular who must make adjustments in order to help contribute to the A's winning as May approaches.
Begin Slideshow

»
Thearon W. Henderson/Getty Images
Jaso's issues have been more with the staff than his own bat.
The acquisition of John Jaso is likely still going to ultimately be a plus in comparison to George Kottaras, who was paired with Derek Norris at the end of last year. At the plate, Jaso is hitting a respectable .267 with 9 RBI.
It is the pitching staff's struggles that have given me reasons to pause. With Jaso behind the plate, the A's team ERA is 4.46. In total, the team's ERA is currently 4.32, which means when Norris is pitching, the A's have a more respectable 4.15 ERA.
In the long term, this may not be an issue. The A's have gotten largely positive contributions from starters Bartolo Colon, Tom Milone and A.J. Griffin. The problems have been surprising from the two projected heads of the rotation. One is staff ace Brett Anderson. The other is the No. 2 player on this list.
J. Meric/Getty Images
Parker has been largely bad in 2013.
I don't think anyone who follows or covers the A's could have possibly projected this stat line for Jarrod Parker as April was ending:
0-4, 8.10 ERA, 2.143 WHIP, 14/13 strikeout-to-walk ratio
In short, Parker has been awful. There is no way to sugarcoat that. What I thought was just Parker getting work in during spring training has carried well into the season. Outside of an April 20 start against the Tampa Bay Rays, Parker has failed to go more than 5.1 innings in a start. Too many hits and walks have equated to baserunners that have ultimately scored.
What has been even more disconcerting is Parker's propensity to give up the long ball. In 2012, he surrendered just 11 home runs in 181.1 innings. So far in 2013, he has already allowed four in 23.1 total innings.
The biggest issue has been Parker's erratic control of his fastball. If he can't locate the fastball, his best pitch, a devastating changeup is not nearly as effective. Going forward, it might be a good idea to allow him a start or two at Triple-A to sort out his mechanics.
But for the A's to get back to winning, they need production out of Parker and Anderson, who has also struggled.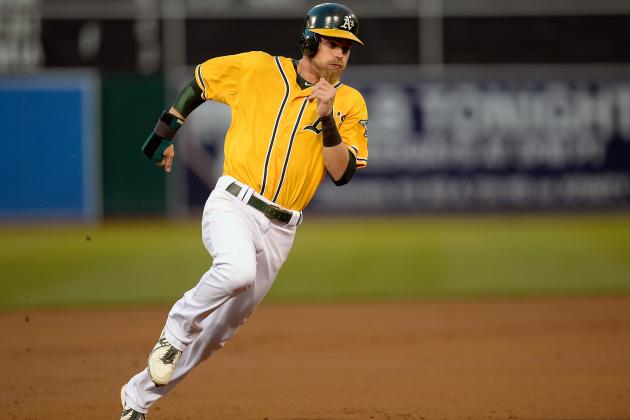 Thearon W. Henderson/Getty Images
Reddick has struggled mightily at the plate.
The easy choice for this dubious list is Josh Reddick. Seen as one of the left-handed power options in the middle of the lineup with Yoenis Cespedes, Reddick simply has not held up his end of the bargain.
Currently, he is hitting .153 with a single home run and a .263 slugging percentage. Many of his at-bats end in strikeouts that see him flailing at pitches off the plate. In fact, his strikeout percentage of 25 percent (21 Ks in 84 plate appearances) is among the worst in baseball.
Right now, the biggest problem is that Reddick is not getting adequate coverage of the outside corner. His stance leaves him late on swings, particularly with fastballs. What's worse, he has been fouling back dead-red fastballs, largely because he has been in protect mode in many at-bats.
While it has been nice to get contributions from Josh Donaldson and Brandon Moss, Reddick has to shoulder his portion of the load in the heart of the lineup. Either moving up on the plate or shortening his swing seems to be a necessity for Reddick currently.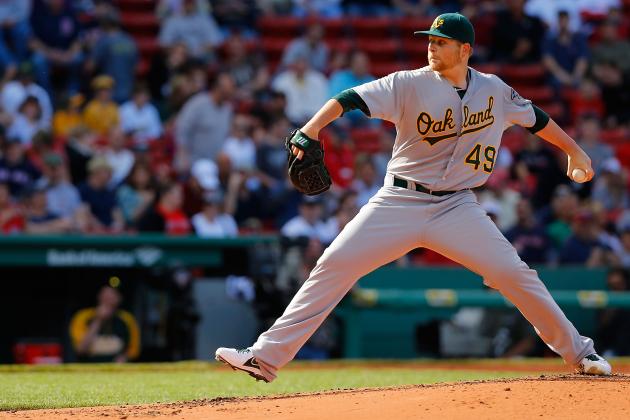 Jared Wickerham/Getty Images
Anderson's struggles have also played a part in the A's recent scuffle.
In the big picture, the A's are not that far off from contending. However, as it will be throughout the season, a lot of that is because they have feasted on the Houston Astros. Against the rest of the American League, the A's have gone a middling 6-12.
Players like Chris Young and Brett Anderson have to shoulder their portion of the load, and Anderson might very well have deserved merit on this list. However, I am more concerned with the three mentioned because Jaso and Reddick are everyday players and Parker's issues stretched beyond the regular season.
How quickly this team improves is largely a matter of how quickly the pitching comes back to the form it displayed in 2012 and earlier this year. But if that proves to be a fleeting proposition, the A's will not likely be coming out of this slump in the short term.