NHL Playoffs 2013: The Single Most Important Player in Every First-Round Series
Justin K. Aller/Getty Images
The 2013 NHL Playoffs start tonight with three games to kick off the schedule.
There will be 16 teams battling it out in the first round of the playoffs, but only eight will make an appearance in the second round.
These 16 teams expect their star players to make plays, while hoping that they get some heroics from some under-the-radar players.
Hockey is a team game, but there will likely be one "most important" player that will drive his team's success in this first round.
Here are the most important players in each of the eight first-round series'.
Pittsburgh Penguins vs. New York Islanders: Marc-Andre Fleury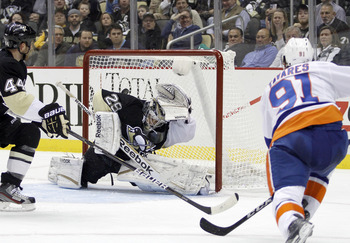 Justin K. Aller/Getty Images
With a 23-8 record during the regular season, one might expect Marc-Andre Fleury to have Vezina-like numbers going into the playoffs.
Fleury has no such numbers. Instead he has a 2.39 GAA, a .912 save percentage and only one shutout. None of these numbers are even top-15 in the NHL.
The Quebec native has also given up 13 goals in his last four playoff starts, and looks far from his 2009 Stanley Cup form. He gave up 26 goals to the Philadelphia Flyers in six playoff games last year, finishing with a save percentage of .834.
Obviously, circumstances are different this year. The Penguins are facing a heavy underdog in the Islanders. However, the Islanders will likely feel as though they have nothing to lose in this series.
Fleury will have to be on top of his game.
If the offense doesn't come right away for the Penguins—like most hockey fans might assume—with Sidney Crosby, Evgeni Malkin, James Neal, Jarome Iginla and others on the ice, Fleury will have to stand tall, early and often.
Montreal Canadiens vs. Ottawa Senators: Carey Price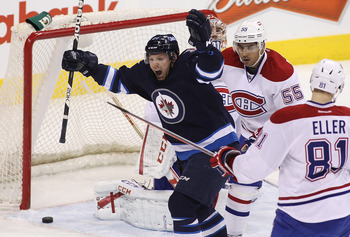 Marianne Helm/Getty Images
Simply put, Carey Price took himself out of the Vezina race this season with a late-season collapse. That collapse almost cost the Montreal Canadiens a Northeast Division title.
Price has allowed 32 goals in his last 10 starts (3-7 over those 10 games with an .871 save percentage).
Montreal had the offense at 3.04 goals per game this season, but one big question remains.
How well will Price play against the Ottawa Senators?
If Price allows some soft goals in the first two home games, the Canadiens will have to solve Ottawa goaltender, Craig Anderson. That task may be too difficult to overcome, as Anderson led the league in goals against average as well as save percentage.
Carey Price is definitely the most important player in this series.
Washington Capitals vs. New York Rangers: Derek Stepan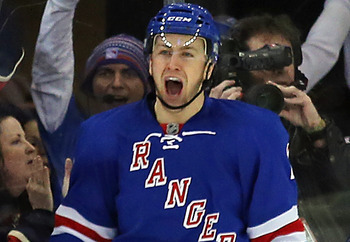 Bruce Bennett/Getty Images
It would be easy to select Derek Stepan as the most important player in the Rangers-Capitals series because he leads the New York Rangers in points.
But Stepan has done so much more than that for the Rangers this season; He has taken the burden of scoring off of the shoulders of Brad Richards and Rick Nash.
Not only has Stepan shouldered some of the load offensively, he has become a number-one center for the Rangers.
He plays in all situations (2:49 per game on the power play and 2:06 per game on the penalty kill) and scores in all situations (10 of his 44 points are on the power play, while four of his points came shorthanded).
If Stepan can play his game and continue to take pressure off of Richards and Nash, it will make it infinitely easier for the Rangers to play the Capitals, as New York will have two scoring lines as opposed to just one.
Stepan has incredible defensive numbers for a player still on his entry-level deal (plus-25 rating with a plus-12 takeaway difference) and if he continues to make an impact, the Washington Capitals will have to include him in the game plan for every game.
Boston Bruins vs. Toronto Maple Leafs: Nazem Kadri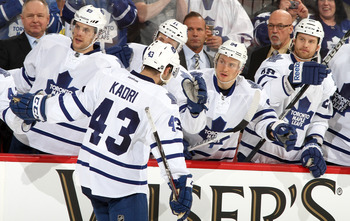 Jana Chytilova/Freestyle Photo/Getty Images
Nazem Kadri must be glad April is almost over.
Kadri finished the season with 44 points in 48 games (21st in total scoring in the NHL), but his offensive production really took a big hit in the month of April with just five points in 12 games after putting up 39 points in 36 games coming into the month.
The Bruins have the Leafs' number this season, winning three of four meetings, but Kadri has the Bruins' number in his career, with seven points in eight games and a plus-four rating.
This season, Kadri has two goals and an assist against the Bruins.
The Bruins will likely focus on defending the main Toronto goal scorers in Phil Kessel (20 goals), Joffrey Lupul (11 goals in 16 games) and James Van Riemsdyk (18 goals).
Kadri can take advantage and give the Maple Leafs a huge boost offensively by rediscovering his goal-scoring touch.
If Kadri can get on the board early in the series, the Leafs will be able to match the Bruins' offensive output (which was 2.65 goals per game compared to Toronto's 3.02 goals per game). This offense will help out goaltender James Reimer, who will be under siege in this series, regardless.
Chicago Blackhawks vs. Minnesota Wild: Ryan Suter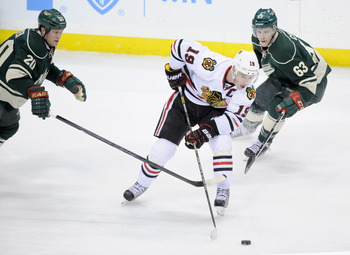 Hannah Foslien/Getty Images
Ryan Suter was paid a lot of money last summer to be a No. 1 defenseman with the Minnesota Wild.
Suter will face what will be his biggest test of the season as he will attempt to shut down the top line of the Chicago Blackhawks—Brandon Saad, Jonathan Toews and Marian Hossa—for an entire series.
If Suter is able to shut this line down, it will force the rest of the Blackhawks team to step up and contribute. Toews, Saad and Hossa have contributed 50 of the Blackhawks' 155 goals this season.
Outside of the top line, only Patrick Kane has managed to get to double digits in goals.
Suter's ability (or inability) to shutdown the Hawks' top line with his partner Jonas Brodin is what will ultimately determine whether the Wild can stay in this series long enough to potentially defeat the Blackhawks and move on to the second round.
Anaheim Ducks vs. Detroit Red Wings: Corey Perry
Corey Perry is an elite offensive hockey player. With 465 points in 574 games, Perry averages 0.81 points a game.
When Perry plays the Red Wings, however, it is a whole different story. Perry has just 16 points in 29 career games against the Red Wings (0.55 points per game), while piling up 57 penalty minutes over that time period.
Perry needs to focus on his ability to put up goals and points and not get drawn into stupid penalties (like this one).
He must be self-disciplined and focused.
When Perry is at his best, few can stop him. Unfortunately for Perry, although he still puts up points on a consistent basis, he has fallen off of the map after putting up 50 goals and 98 points in 2010-11.
Perry's ability to ignore on-ice distractions (mainly Justin Abdelkader who has become the new Tomas Holmstrom-like pest on the Red Wings) will make the difference in Anaheim easily beating the Red Wings versus having the Red Wings dispatch the Ducks.
Vancouver Canucks vs. San Jose Sharks: Ryan Kesler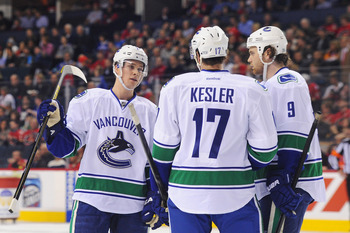 Derek Leung/Getty Images
Fans can talk all they want about how the goaltending situation in Vancouver should be the focal point of this series.
While that may be the case, Ryan Kesler provides stability on the second line that was noticeably lacking during his absence due to injury this season. One of the big areas in which Kesler provides reliability is the faceoff circle, where he won 58.77 percent of faceoffs at home and 56.61 percent of faceoffs on the road.
Looking at the San Jose Sharks' lineup, the Sharks have three players in the top 33 for faceoff winning percentage. Those players are Joe Thornton (58.5 percent), Joe Pavelski (51.8 percent) and Logan Couture (51.5 percent).
The Canucks, without Kesler, have no players in the top 33.
Vancouver needs Kesler to step up against the Sharks in the faceoff circle and somewhat neutralize that advantage that San Jose has currently.
In the season series, San Jose won the faceoff battle against the Canucks by a score of 114-77. The Sharks won all three games, out-shooting the Canucks in two of three.
The Canucks do not want to have to spend all of their energy trying to get the puck away from the Sharks in this series if the Sharks continue to win faceoffs.
Ryan Kesler, who did not play any regular season games against the Sharks, should help in that area.
St. Louis Blues vs. Los Angeles Kings: Brian Elliott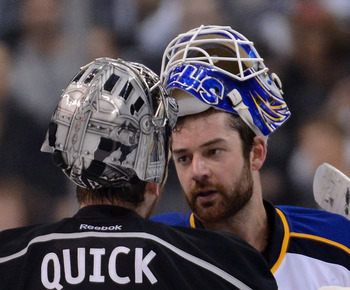 Harry How/Getty Images
In this series, one could talk about how the Blues have to prevent the Kings from using their size to get to the net.
But in the end, this series will come down to Brian Elliott's ability to stop the limited amount of action that he will see in the series.
Last season, the Kings swept the Blues, scoring 13 goals on Elliott in only four games. Elliott's save percentage (which had been .940 last season) was only .854 percent in that series, as he allowed 13 goals on 89 shots .
That's just over 22 shots per game by the Kings.
St. Louis' fourth-place finish in the standings this year was no joke. The Blues had some timely trade deadline acquisitions in Jay Bouwmeester and Jordan Leopold, but this series will come down, once again, squarely on the head of Brian Elliott.
Can Elliott make the necessary saves to keep his mediocre offense (2.58 goals per game) in the game?
Conclusion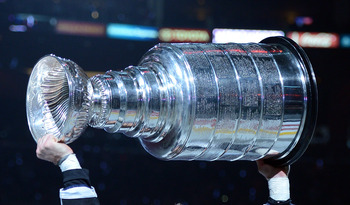 Harry How/Getty Images
Sixteen teams make it to "the dance," but only one eight move on to the next round.
These players are the "most important" players going into each respective playoff series, but there are bound to be more players that will step up and prove their importance to the hockey world.
All stats and box scores courtesy of NHL.com
For more article updates, Follow @isaacesmith91
Keep Reading