Los Angeles Kings' 5 Most Important Players in Series vs. St. Louis Blues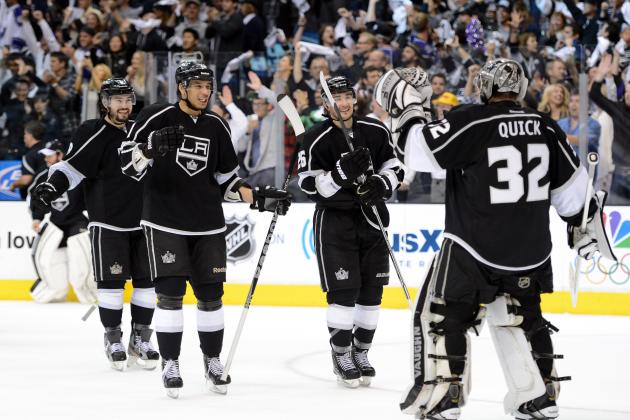 Harry How/Getty Images

The playoffs are upon us. The first-round matchups are set and everyone is getting psyched about the multitude of different facets going into each and every series.
The Los Angeles Kings and the St. Louis Blues will meet in the postseason for the second year in a row, but a round earlier than last year's 4-0 second-round series beat down in favor of the Kings.
There were huge plays and performances from a variety of Kings players throughout last year's series. Quick's outstanding first period Game 1 performance, or the 5-2 shelling the Kings handed out in Game 2. Both immediately come to mind as turning points and tone setters for the series overall.
Who will be the most important players for the Kings heading into this new series with the Blues?
Begin Slideshow

»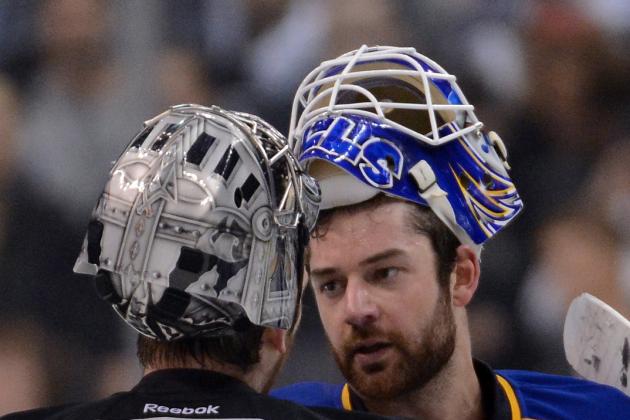 Harry How/Getty Images

The Brian Elliott-Jonathan Quick matchup is going to be under the microscope this series as Elliott was given the nod over Jaroslav Halak according to various reports to start the series.
Last year, it was a battle that was highly anticipated as well—and one that Quick ran away with as he gave up just six goals in the four games the teams played. Elliott, who shared the Jennings Trophy for fewest goals against last season with Jaro Halak, was on the receiving end of a drubbing by the Kings offense who put 13 pucks past him in the series sweep.
Could it play out the same way? Likely not, as an improved St. Louis defense stands in front of Brian Elliott, and Jonathan Quick, behind a much younger defense, has not been the same as last year. Regardless of how it plays out it will be one of, if not the biggest matchup in the series. Quick will be relied upon as one of the most important players for the Kings in this series, no doubt about it. He came up aces last year, could it be more of the same this year?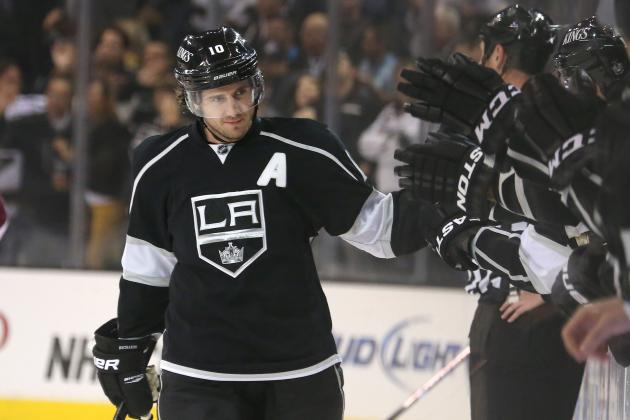 Stephen Dunn/Getty Images

Mike Richards has been relied upon in Los Angeles since his arrival as a matchup center who is geared up to play against the other teams best forwards.
With advanced statistics provided by Behindthenet.ca, you can see that between he and Kopitar it's very close in who is facing the better quality of competition. What matters is both of them are going to be facing some very tough opponents.
Kopitar, a quality two-way center in his own right is going to be up against either the Backes line or the Berglund line. That means that the other line will fall on the shoulders of Mike Richards to handle. As documented earlier in our series keys, the Blues' second line of Berglund, Perron and Stewart have had a huge season and they are going to be a major factor in the outcome of this series.
The Blues are going to roll with two solid top lines for sure. Kopitar and crew are capable of handling their business, but it's going to be up to Richards, Carter and Penner to smother the remaining threats and be a threat of their own.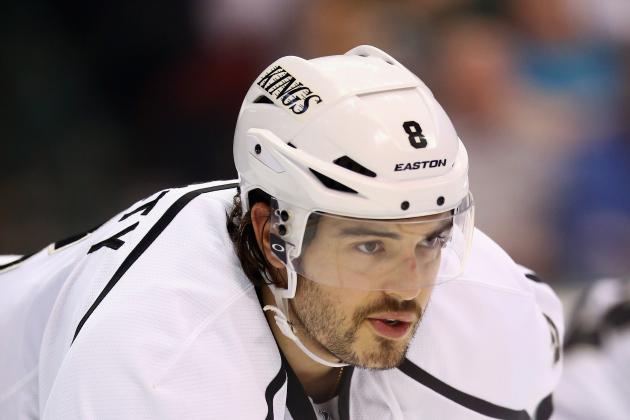 Ronald Martinez/Getty Images

Drew Doughty shined last year for the Kings the entire playoffs, but one of the more fun storylines going into the second round was the battle of former first-rounders.
Alex Pietrangelo, the young gun of the St. Louis D-men, was called upon last year to challenge and surpass the level of Doughty in the second-round series. However, Pietrangelo took a shot in Game 1 from forward Dwight King, missed Game 2 and was minus-four with two points overall in the three games he played.
Doughty, on the other hand, played an average of about 25 minutes a night with a plus-six rating and four points on the series. He also had a massive Game 3 performance in Los Angeles with a goal and two assists on the night.
Pietrangelo will likely be looking to change the script of last year's performance, while Drew Doughty will again have to prove he is the better of the young and talented defensemen—and a major reason why he is considered one of the elite defenseman in the NHL.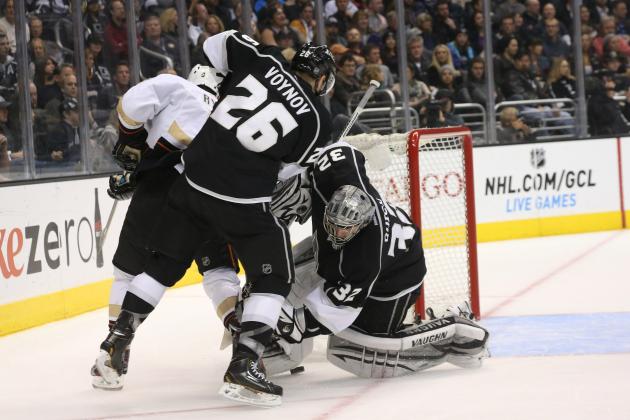 Stephen Dunn/Getty Images

At times in the 2012 postseason, rookie defenseman Slava Voynov looked like the game was moving a little bit faster than he could handle. However, he gets a second chance this year.
Voynov, coming off a very impressive sophomore campaign with 25 points in 45 games, is going to be key for the Los Angeles Kings defensive group and powerplay unit in the series. The power play in particular has been somewhat revitalized this year under the direction of Davis Payne and with the addition of Jake Muzzin and Slava Voynov into more prominent roles.
Voynov had eight power-play points during the season and is going to need to play just as well in order to take some of the pressure off of Drew Doughty to be the major blue-line offensive threat. Asking Jake Muzzin to do so this early in his career could be difficult, so the pressure will lie on the young Russian to step up and prove why Jack Johnson really was expendable.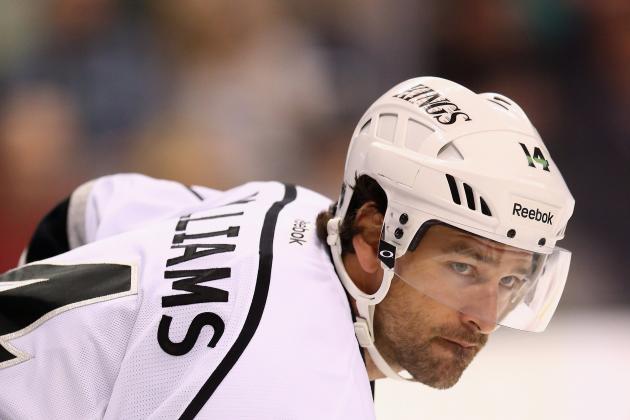 Ronald Martinez/Getty Images

Why not Carter? Why not Kopitar? Why not Brown? Because Justin Williams is what the Kings will need to embody to win this series.
Williams is a no-flash, all-work style player. He comes to play every game and his mentality of getting in deep and grinding it out every single shift is what makes him so valuable in a seven-game series.
Points-wise Williams was on pace for his highest total since 2006-07 when he had 67 with the Hurricanes, and his contribution to the top line was immeasurable. Williams had a respectable series against St. Louis in 2012, and has 11 points lifetime against the Blues.
Outside of the statistics, though, the Kings will just need Justin Williams to be Justin Williams. A hard-nosed, pesky forward who gets under your skin and grinds you down til you don't want to play anymore.
While everyone is keying on Anze Kopitar, Jeff Carter, and Dustin Brown, look for a guy like Williams to have a big series.