The at-times breathtaking talent of Paris Saint-Germain star Zlatan Ibrahimovic is only matched by his sixth sense for being in the right place at the right time. The Sweden international boasts a statistic equaled by few at the top of world football.
Since joining Ajax for the 2001-02 Eredivisie, Ibrahimovic has played 11 full seasons in five different clubs, across the Netherlands, Italy and Spain. Of those, an incredible nine have ended in the striker hanging a championship winner's medal round his neck—although two successes with Juve were later revoked due to the Calciopoli scandal—and he is on for a 10th with PSG in his first French season, seven points clear at the top of Ligue 1 with just three games to play.
But with Zlatan, never has the old saying been truer: "All good things must come to an end." The Ligue 1 campaign is still alive, and still the rumours linking the enigmatic star to a move away have started in earnest. But, at 31 years of age, and in a successful side fuelled by the riches of owners the Qatar Investment Authority, would yet another change be right for him?
The Case Against:
First and foremost, the extremely generous financial package that Ibrahimovic enjoys in the French capital would make a transfer rather difficult. The contract signed with PSG, according to The Sun gives the striker an incredible £220,000 a week after tax, making him one of the best paid players in the world. There are only a handful of teams who would be able or willing to meet such a figure, but for a footballer of his age suitors may be scant.
There has also been a common thread running throughout Ibrahimovic's transfer activity. Some of the moves may have been engineered by his rather high-strung attitude and propensity to fall out with coaches and directors, but he has a habit of falling into top-class sides ready to fight for Europe's biggest titles.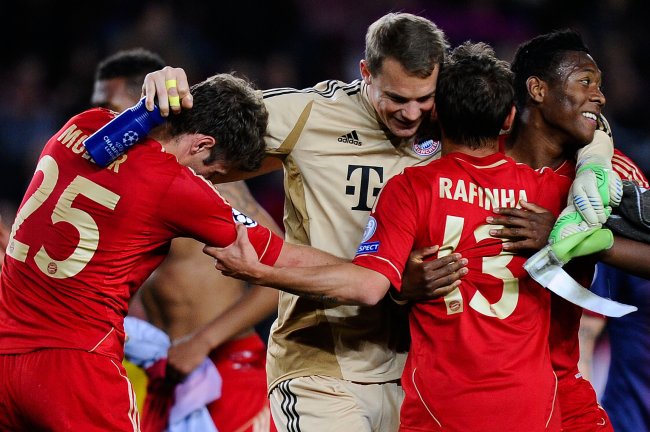 David Ramos/Getty Images
This time, however, the options look rather more scarce. The philosophy of Bayern Munich, arguably the best team in the world, of playing as a unit and of tolerating no stars, would not fit with Zlatan's own self-regard, making a move to Germany highly unlikely, while no club in Italy has the financial muscle to bring him back to Serie A.
Spain and England would be farther options, but a move back to Barcelona looks impossible given the explosive nature of his exit, and Real Madrid have shown little interest. While in the latter nation, a preference among the likes of Manchester City and Chelsea for players under 30 would seem to close the door for the veteran Swede.
The Case For:
In what has been a glittering, trophy-laden career to date, there remains one glaring omission on Zlatan's resume. The Champions League, Europe's top club prize, has so far eluded the striker, and doubts persist over whether he could achieve glory on a continental level while in Paris.
Will Ibra be at PSG for the start of 2013-14?
PSG fought bravely to the quarter-finals in 2012-13 before bowing out narrowly to Barcelona, closing another unsuccessful campaign for the player who netted three goals and contributed a tournament-leading seven assists to his team's efforts. In the end, deficiencies as a unit contributed to their ultimate demise, as the expensively-assembled squad of superstars failed to prove their worth as a world-class XI.
It is almost certain that the chequebook will be opened once again in the summer transfer window, and quality footballers from across the world purchased in the pursuit of the sport's top prizes. This, however, does not create a fluid team ethic or common tactic as seen in the likes of Bayern, Borussia Dortmund or Barcelona though, who each boast something more every time they take to the pitch.
If Ibrahimovic wants to remedy this one blank spot in what has been an exceptional life in football, time is running out. Already on the wrong side of 30, his next move could prove key in deciding whether he will get to lift the trophy before his career begins to slide.
The Verdict:
The Champions League factor will now doubt weigh heavily on Zlatan's mind as he weighs up his options for 2013-14 and onwards. At this point though, at least another season in Paris looks by far the most likely option. Faced with a daunting economic obstacle, no team has come forward with concrete interest; and his current employers—as Carlo Ancelotti attested, speaking to Sky Italia—are determined to keep him at PSG.
There may well be one more big transfer in Ibrahimovic's future, but is unlikely to be in the coming window.
Daniel is a football journalist based in Buenos Aires, who specialises in covering the South American game. You can follow him on twitter at @DanEdwardsGoal