Ohio State Football: Will OSU Be the Preseason No. 1 in 2013?
Use your ← → (arrow) keys to browse more stories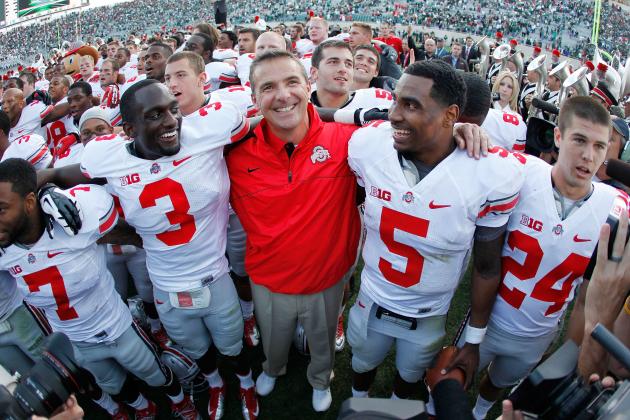 Gregory Shamus/Getty Images

When the Ohio State Buckeyes finished the 2012 regular season with a perfect 12-0 record last November, they all but assured themselves a spot in the preseason top five in 2013.
When Ohio State lost just one underclassmen (Johnathan Hankins) to the NFL draft a month later, returning stars like Bradley Roby and Carlos Hyde, college football experts around the country felt comfortable bumping the Buckeyes up to a top-three selection for the upcoming season.
When Urban Meyer went on a recruiting tear in February and signed the country's No. 2 recruiting class (via 247Sports.com), many figured Alabama would be the only team ranked ahead of the Buckeyes going into the 2013 season.
Now, after a spring game that featured a greatly improved passer in Braxton Miller and a pair of defensive ends in Noah Spence and Adolphus Washington who combined for seven sacks, have the Buckeyes made their case to be the 2013 preseason No. 1?
Mark Schlabach of ESPN.com thinks so.
In Schlabach's latest edition of the "Way-Too-Early Preseason Top 25," Ohio State has knocked Alabama out of the No. 1 spot it has held since routing Notre Dame in the 2013 national title game.
As Schlabach pointed out, the Buckeyes—who return nine starters to an offense that led the Big Ten in scoring last year—should be improved operating Meyer's spread offense for the second consecutive season.
That, paired with a very favorable schedule, gives Ohio State a more compelling case for the top spot over Alabama, according to Schlabach.
But that's one man's opinion. Will enough voters share a similar mindset this August to vote the Buckeyes over Alabama and a host of other teams atop the poll?
It's hard to imagine. Despite everything Meyer and the Buckeyes have going for themselves, Alabama probably has the most momentum of any team in all of college football.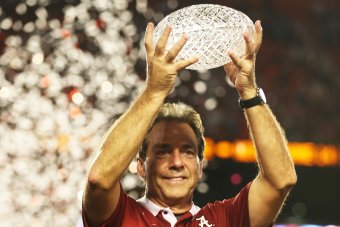 Streeter Lecka/Getty Images
The Tide return 16 starters to a team coming off back-to-back national championships. With head coach Nick Saban at the helm and defensive coordinator Kirby Smart keying their always-ferocious defense, one of the most talented teams in the country will be controlled by arguably the best coaching staff in college football.
It would also be hard to ignore the potential issues Ohio State could face this season. The Buckeyes do bring a load of talent back on offense, but the defense is replacing six starters in the front seven of its defense, and seven starters overall.
Of course, Washington and Spence look ready to step up from a production standpoint, but do the Buckeyes have anyone to replace the leadership role voided by John Simon, whom Meyer called the "heart and soul" of the 2012 Buckeyes team?
These are the thoughts that will likely stick out in voters' minds throughout the summer, and because of that, the Buckeyes probably won't be college football's preseason No. 1.
Fortunately for Ohio State fans, no one hands out trophies in August. Meyer and the Buckeyes will have three months this fall, and maybe three-and-a-half hours on January 6 in Pasadena, to finish No. 1 when it really matters.
David Regimbal is the lead Ohio State football writer for Bleacher Report.
Follow him on Twitter @davidreg412.