New York Rangers vs. Capitals: 5 Keys for Rangers to Win NHL Playoff Series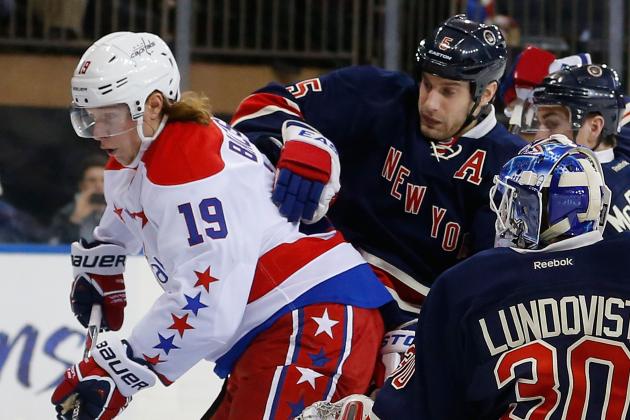 Paul Bereswill/Getty Images

The New York Rangers will take on the Washington Capitals in the first round of the NHL playoffs. It is the fourth time in five years that the two teams have met in the postseason.
Last season, the Rangers won their second-round matchup in seven games, in what was a hard-fought, intense series.
After being the favorite in last year's matchup, this year, the Rangers enter as the underdog. Both teams have had up-and-down seasons, and both teams ended the season incredibly hot.
The Capitals are 11-2-0 in the month of April, while the Rangers are 10-3-1.
What do the Rangers need to do to win this NHL playoff series? What are the most important keys?
Read on to find out.
Begin Slideshow

»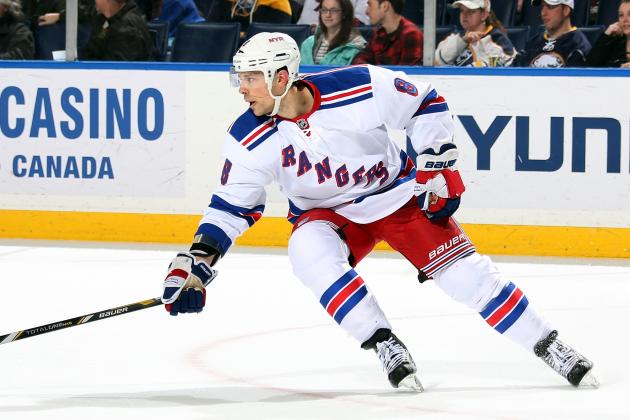 Jen Fuller/Getty Images

The Washington Capitals have the best power play in the league, converting on an impressive 26.8 percent of their chances.
The New York Rangers, on the other hand, are just average at killing penalties. After killing off 86.2 percent of their penalties last season, the Rangers regressed this season, killing off 81.1 percent of their penalties.
Quite simply, if the Rangers cannot kill penalties, they will lose this series rather handedly.
The Rangers will need players like Darroll Powe to step up. Powe is an excellent penalty killer and should expect to see a lot of time out there. Ryan Callahan, Derek Stepan and Taylor Pyatt will be big, too.
Of course, this also means the Rangers need to stay out of the box. A team can't avoid penalties completely, but they can avoid dumb ones. That means no hooking penalties when an extra stride will suffice. That means no too-many-men penalties. That means no penalties for unwarranted extracurricular activities.
The Rangers can sometimes be guilty of that—like every team—but they have to be disciplined. The Capitals power play will score. But they need to do damage control and limit the amount of scoring chances.
If the Rangers can limit the Capitals' chances, as well as kill off as many chances the Caps do get, then the Blueshirts have a good shot of winning.
If the Capitals' power-play is clicking, then this series will be ugly.
Rob Carr/Getty Images

Alexander Ovechkin is back on top.
After scoring 38 goals last season in 82 games, Ovechkin scored 32 goals in 48 and re-established himself as the one of the best offensive weapons in the game.
The New York Rangers will need to limit his scoring changes. Last year, they did a good job. In seven games, they held Ovechkin to just three goals.
They'll need a repeat if they want to win.
Dan Girardi and Ryan McDonagh will be tasked with stopping Ovechkin. They are two of the better defenders in the league.
But it starts up front. Ovechkin has to be denied the puck, and that starts with a solid forecheck. If the Rangers are making it hard for the defensemen to get up the ice, then Ovechkin is not even a concern.
The Rangers have to keep Girardi and/or McDonagh on the ice when Ovechkin is there—if Ovechkin has ice time against Steve Eminger, it could be trouble.
That means knowing when he is on the ice, and knowing when to change.
It's almost impossible to stop Ovechkin from scoring. But he can't have a huge series. If he goes off, and has big game after big game, then it will be a quick exit for the Rangers.
Playing him physical and with good positioning is key. If the Rangers can neutralize Ovechkin, then things will be going in the right direction for the Rangers to win.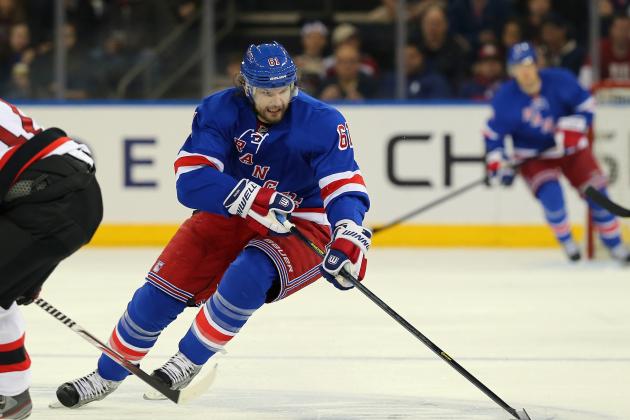 Bruce Bennett/Getty Images

The New York Rangers have never had a great power play. But if they want to win this series, improving on the man advantage might come in handy.
The Washington Capitals have an awful penalty kill, killing off only 77.9 of their penalties, which was 27th in the league.
If the Rangers, who sported the 15th-best power play, can take advantage of that deficiency, then they will win easily.
The Rangers' power play has been better since the arrival of Mats Zuccarello and Derick Brassard. Zuccarello has only one power-play point, but he's been great at directing traffic. He's also taken pressure off Brad Richards at the point, which has helped Richards flourish. Richards finished the season with five goals and six assists in the last six games.
Ryan Callahan leads the way with six power-play goals, and his presence in front of the net is crucial.
It will be beneficial if Rick Nash can contribute more on the man advantage. Nash had only three goals in these situations. If he can score more, then that will open the ice for players like Richards, Callahan and Derek Stepan.
Power plays are essential in the playoffs. A power-play goal can take a team that has struggled and give them momentum. It can also deflate a team if they miss opportunities.
That's why the Rangers need to capitalize. The Capitals have trouble killing penalties. If the Rangers can't take advantage of that, then they won't win this series.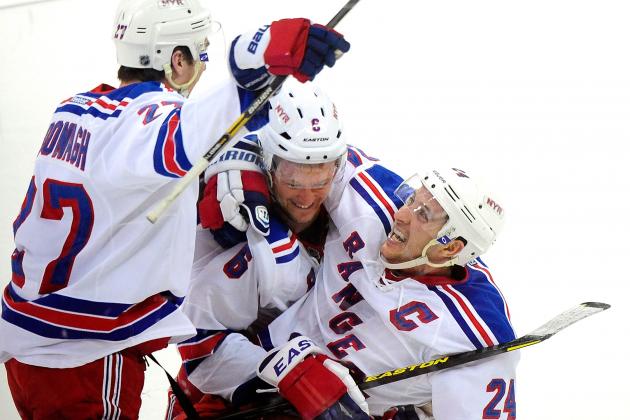 Grant Halverson/Getty Images

The New York Rangers have been incredibly inconsistent this season.
With all their talent, they should have spent most of the season at the top of the Eastern Conference.
Instead, they had to scratch and claw to make the playoffs.
The Rangers would show dominance one game, then come out completely flat the next time. That can't happen.
When the Rangers are at their best, they are a physical, hard-working team, with an excellent forecheck and a gritty game. They will play solid defense and score goals off their forecheck and force teams to make mistakes.
For most of April, they played like that. In bad losses against the Florida Panthers and Philadelphia Flyers during the month, they did not.
The Rangers need to play their A-game this entire series. If they come out flat, they won't be able to keep up with the high-flying Capitals.
The Rangers have the talent to win it all, but that won't matter if they can't play the same type of game night after night.
The Rangers need to start with that consistency in this series. On paper, the Rangers are a better team than the Capitals. They have a much better defense and a much better goalie. Rick Nash can match Alex Ovechkin.
But if they continue with their topsy-turvy play, they'll get bounced out in five games.
If the Rangers come in focused and play their unique brand of hockey, then not only will they win this series, but they could win a few more.
It's up to them. They have the talent. If they want it enough, then something special could happen.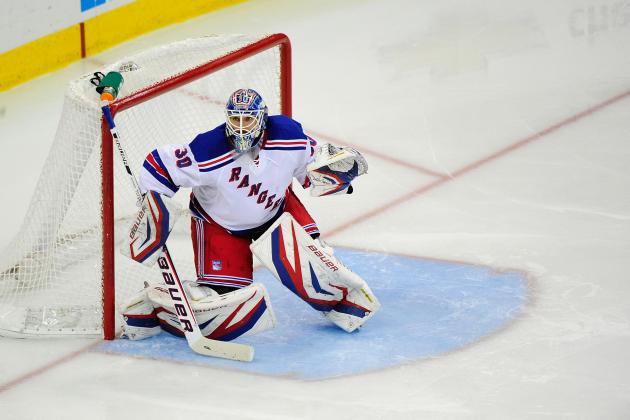 Grant Halverson/Getty Images

It's been said before, and it will be said again, but that doesn't make it any less true. The New York Rangers, quite simply, need Henrik Lundqvist to play well.
In fact, the Rangers probably need Lundqvist to play at his best. The Washington Capitals have a high-powered offense, and Lundqvist will need to pull off some heroics in order to win.
The Rangers rely on Lundqvist for their success. Yes, they play a solid defensive game, and they are a physical team who will lay out the body and block shots.
But none of that matters without Lundqvist. The Rangers are built to win 2-1 games, because they focus so much on checking and tight defense. Without Lundqvist, the Rangers would lose a lot more games.
He needs to be huge. This season, he's done just that. He has a 2.05 goals-against-average and a .926 save percentage. In the month of April, he has a .934 save percentage.
If the Rangers want to win this series, and advance toward a Stanley Cup, then Lundqvist has to be superhuman. The Rangers have not shown the consistency needed to win a championship.
But if Lundqvist is at his best, then he can mask all the flaws. A great goaltender can take even a mediocre team to a championship. The Rangers are a good team. With Lundqvist at his best, they could be special.
It may be too much to ask of Lundqvist to continually come up big in big situations. But that's what's needed. If he falters, then the Rangers will not have any chance of beating the Capitals—or any other team.
His performance this season suggests that his play will be on point. If it is, and if he can exceed what he's done, so far, then the rest of the league has to watch out.