Michigan Football: Game-by-Game Predictions for 2013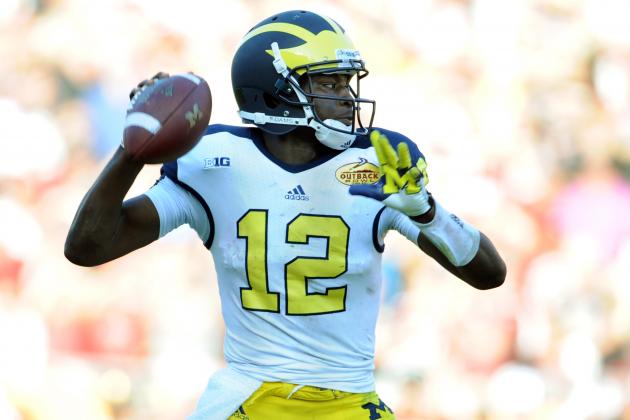 Al Messerschmidt/Getty Images

Now that spring ball is over with, we can officially start looking ahead and making predictions for the 2013 season.
Is it still too early, though? Some will say yes, while others will strongly disagree. Regardless, the conclusion of spring practices represent a big turning point on the football calendar.
A lot will change between now and the start of the season, so these game-by-game predictions CAN AND WILL change with time. This is just an early look ahead to the schedule that will surely stir up some healthy debates.
Begin Slideshow

»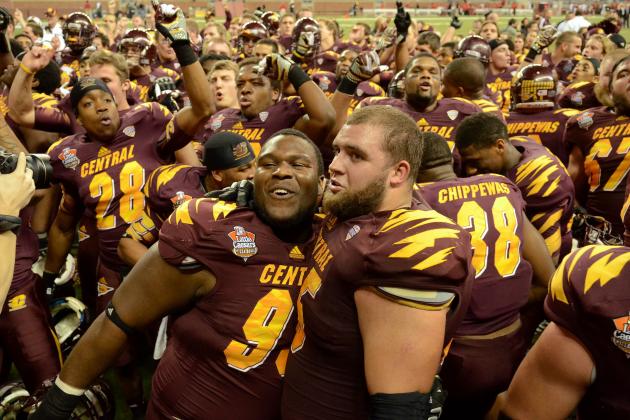 Mark A. Cunningham/Getty Images

Michigan's opener should be a complete blowout. CMU simply cannot hang with the Wolverines, as this one should be over by halftime.
It will be nice to open the season with an easier game, as opposed to last year's contest with Alabama.
I only say that because I don't think Michigan is quite at the level it needs to be yet; however, once it gets there it should feel free to go out and schedule as strong of competition as possible.
Prediction: Win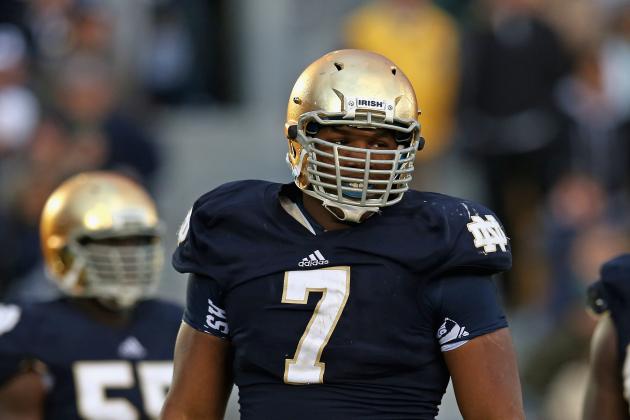 Jonathan Daniel/Getty Images

This one is a tough call. Both teams will be very good, making this one a complete tossup.
Honestly, though, most of the national media's early predictions for this one seem to be picking Notre Dame.
However, the fact that it is AT Michigan will go a long way in deciding things. Another huge factor is that this game will be played at night. The atmosphere probably won't quite be at the same level as it was for the 2011 contest, but it will still be electric.
Some will say it doesn't matter, but the night aspect here makes it too hard to pick against Michigan in this one.
Prediction: Win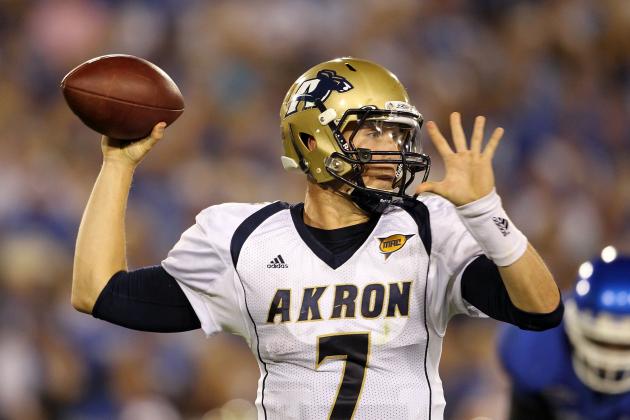 Andy Lyons/Getty Images

There really isn't much to say about this one. It has blowout written all over it, regardless of what happens the previous week.
If Michigan is coming off of a win, the buzz in Ann Arbor will be extra special for this one.
Plus, the national media may start looking at Michigan as a possible national title contender. Whether that's fair or not is beside the point; that's the media overreacting to a big win just as they always do.
Prediction: Win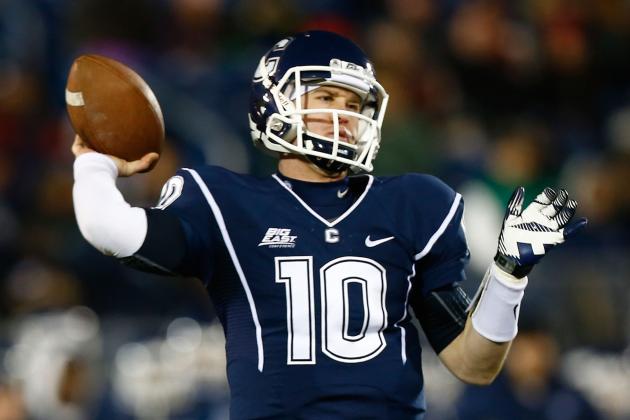 Jared Wickerham/Getty Images

Will this be another blowout for Michigan? No, probably not, but it certainly won't come down to the wire either.
It will likely still be a game at halftime, but Michigan's superiority should take over early in the second half. If this was being played in Ann Arbor, I would predict this one as an absolute rout.
However, any time you play on the road, regardless of opponent, you have to be careful. Fortunately, overlooking opponents has never been a problem under Brady Hoke, and that's why I think Michigan gets a comfortable win in this one.
Prediction: Win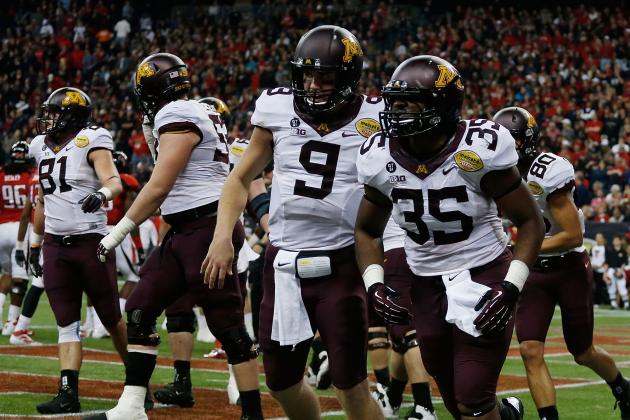 Scott Halleran/Getty Images

This one is the Big Ten opener, so you know it will be nothing but business in Ann Arbor by the time this game rolls around.
Michigan is a different team once conference play starts, as this staff has made it clear how crucial it is to beat the teams in your league.
Plus, the Wolverines will be coming off of a bye week. Sure, Minnesota is getting better and better under Jerry Kill and should be very competitive in 2013, but it won't be able to hang with Michigan.
Like most of the games up to this point, this one should be a blowout.
Prediction: Win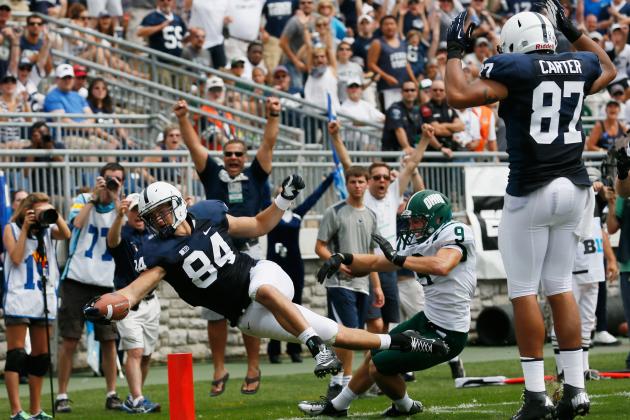 Rob Carr/Getty Images

This is a very, very tricky game on Michigan's schedule. The opinions seemed to be extremely mixed on Penn State this season, making this one somewhat hard to predict.
However, it is never easy to go into Happy Valley and win, regardless of what kind of team Penn State fields.
I also think that Bill O'Brien is too good of a coach for Penn State not to be competitive. In fact, as long as either Christian Hackenberg or Tyler Ferguson winds up being at least adequate at quarterback, this offense could be deadly.
As of right now this game looks like a complete toss-up to me.
Prediction: Loss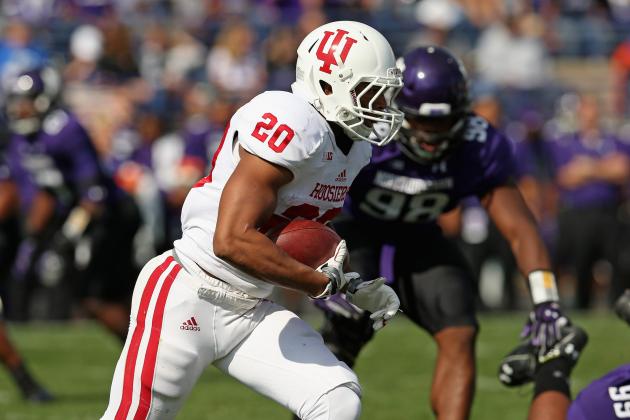 Jonathan Daniel/Getty Images

Like Minnesota under Jerry Kill, Indiana also seems to be getting better and better under Kevin Wilson.
The Hoosiers should be much improved in 2013 and could possibly even make a bowl game.
In fact, this offense has the potential to put a scare into the most solid defenses. That shouldn't be a surprise, though, considering Wilson's background.
The fact that this is at Michigan simply makes all the difference, though. I just don't see Indiana hanging in this one, as another rout should be in store.
Prediction: Win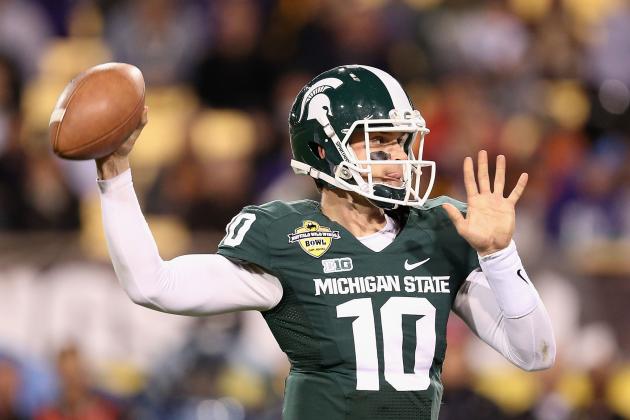 Christian Petersen/Getty Images

This classic rivalry will be renewed once again in early November when Michigan travels up to East Lansing. We'll see if it can live up to the excitement that the 2012 version provided.
This will definitely be a very hard game for Michigan, but a key factor is the fact that Michigan will be coming in off of a bye week.
Combine that with the fact that Michigan is clearly the better team, and it's just too hard not to pick the Wolverines in this one.
In fact, this MSU team looks like it will take a pretty big step back. The defense will still be strong, but certainly not at the level we've seen the past few years. The offense looks like it will take a step back as well (if that's possible).
This will definitely be a hard-fought game that should come down to the fourth quarter, but look for Michigan to win.
Prediction: Win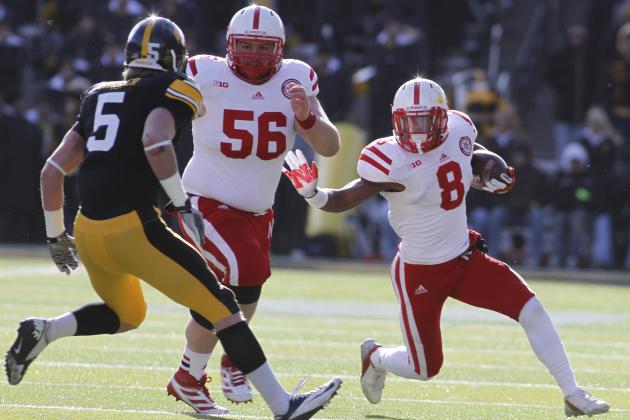 Matthew Holst/Getty Images

Could this game decide who wins the Legends Division? Possibly.
It will certainly carry heavy implications once again, just as it did last year.
We all remember what happened last time Nebraska traveled to Ann Arbor, as the Cornhuskers were blown out in embarrassing fashion. Will we see that once again?
No, I don't think so; in fact, this should also be a hard-fought game that comes down to the fourth quarter. A lot of people seem to be writing Nebraska off, but this offense looks absolutely deadly and should be able to score on almost anybody.
I'd be surprised if Nebraska wins, simply because it's in Ann Arbor, but it won't be easy for the Wolverines.
Prediction: Win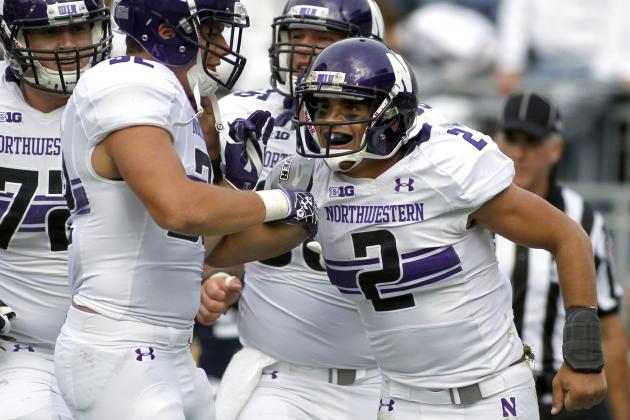 Justin K. Aller/Getty Images

Michigan's brutal November schedule continues with this game, as this looks like a very good Northwestern team.
The Wildcats went 10-3 last year and realistically could have quite easily gone undefeated. However, blown opportunities and untimely mistakes prevented that.
Even though this is a road game for Michigan, it may not feel like it because of how well the University is represented in the Chicago area. Don't be surprised if over half of the crowd is Maize and Blue.
Regardless, Northwestern could easily win this game. They will have a darned good football team and should be able to compete with everybody they play.
I am picking Michigan to win, but barely.
Prediction: Win
Jonathan Daniel/Getty Images

Iowa was downright awful last year, finishing the season at 4-8. No, the Hawkeyes won't be great here in 2013, but they'll certainly be much better.
Similar to the Penn State game, it is never easy to go into Kinnick Stadium and win. We saw a mediocre Iowa team in 2011 beat a Michigan team it probably had no business beating.
Will we see that happen once again? First of all, there should be no talk of Michigan possibly getting caught looking ahead to the following week, because this staff will not allow for that to happen.
If Michigan loses this game, Iowa will have earned it. And like I just said, it's never easy winning at Kinnick.
Prediction: Loss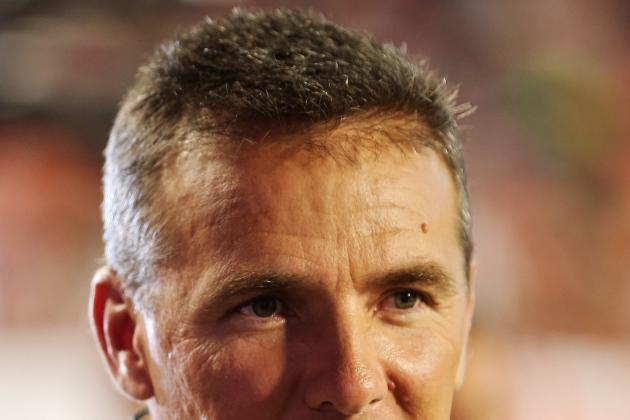 Streeter Lecka/Getty Images

Well here it is, folks, the greatest rivalry in sports being renewed for the 109th time. This version will see the Buckeyes travel up to Ann Arbor with Big Ten and probably national title implications on the line.
If not for a second-half self-implosion last year in Columbus, Michigan would be coming into this one riding a two-game winning streak in the series.
Instead, Michigan comes into the series having lost the previous meeting, making the Wolverines hungrier than ever.
There's a good chance Ohio State will come into this game undefeated, as should Brady Hoke's record in Ann Arbor during his tenure. One of the two will obviously have to give.
Prediction: Win
Season Prediction: 10-2