Texas Football: 5 Reasons That Texas Will Beat Oklahoma in 2013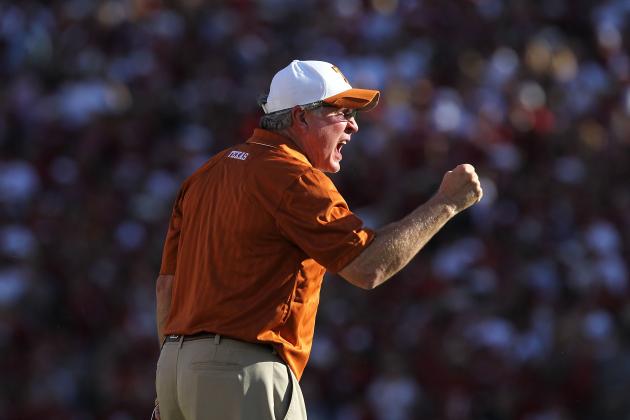 Ronald Martinez/Getty Images

After three consecutive losses, this year's Red River Rivalry presents a must-win situation for the Texas Longhorns. Thanks to a more experienced group and an improved offensive attack, 2013 will be the season in which they finally get some revenge on the Sooners.
In last season's 63-21 blowout, Mack Brown's team looked like it did not even belong on the field with the Sooners. The Longhorns were out-classed at the line of scrimmage, and it was made painfully obvious how far away they were from returning to the top of the Big 12.
Not this time, though. Landry Jones and other major contributors from last year's squad have moved on for the Sooners, leaving them vulnerable to the more seasoned Longhorns and the talent that they return to the field in 2013.
Here is why the Longhorns will capitalize and get some major catharsis on October 12.
Begin Slideshow

»
Brendan Maloney-USA TODAY Sports
Gray has come a long way from the green freshman that the Sooners bullied in 2012.
In last year's rout, the Sooners held the 'Horns to a measly 74 yards on the ground. Behind an improved offensive line and a seasoned backfield, Texas will find running much easier against Oklahoma's depleted front.
In 2012, Texas was a team built to run behind the trio of Malcolm Brown, Joe Bergeron and Johnathan Gray. Brown missed the game, and the other two gained only 17 yards on 12 carries. As a result, David Ash was pressed to make plays, and the whole game blew up in the Longhorns' faces.
But this year will be different. Oklahoma's front seven has been gutted, losing five defensive tackles and both starting defensive ends. Conversely, the 'Horns recruited one of the best offensive lines in the country, and the Sooners will get a much more confident Johnathan Gray than they did last year.
If Malcolm Brown can stay healthy for this go round, he and Gray will deal out some serious punishment.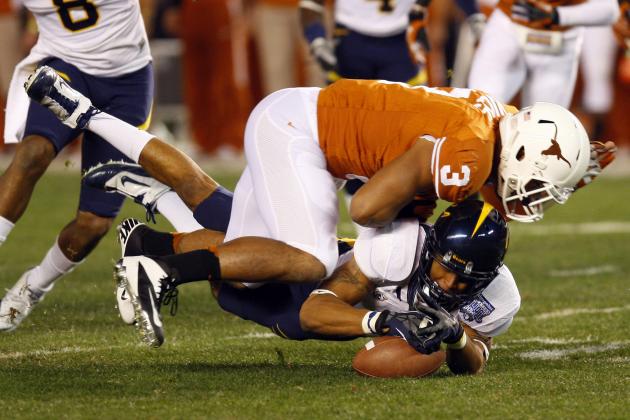 Jody Gomez-USA TODAY Sports
The return of Jordan Hicks will play immediate dividends in 2013.
It may seem unbelievable that a Texas defense that lost both its leader and leading pass-rusher would be improved the season after. But on the strength of a revamped linebacking corps and the return of some key players, that is exactly the case.
The Longhorns gave up nearly 700 yards to the Sooners a year ago because they got whatever they wanted on the ground. The front seven could not fill gaps, and the secondary was playing two-hand touch, which is the best way to get beat by 40.
It also does not help when your only returning starter at linebacker is out and your strong safety has not tackled anybody since the spring. That was exactly Texas' plight with Jordan Hicks and Adrian Phillips, both of whom should be at full strength this go around. These two will also have an assist from sophomores Peter Jinkens, Dalton Santos and Malcom Brown, the latter of which might be the best defensive player in the conference.
Add in that this entire group will benefit from practicing against Applewhite's up-tempo attack, and the result will be the best Longhorn defense the Sooners have seen since 2009.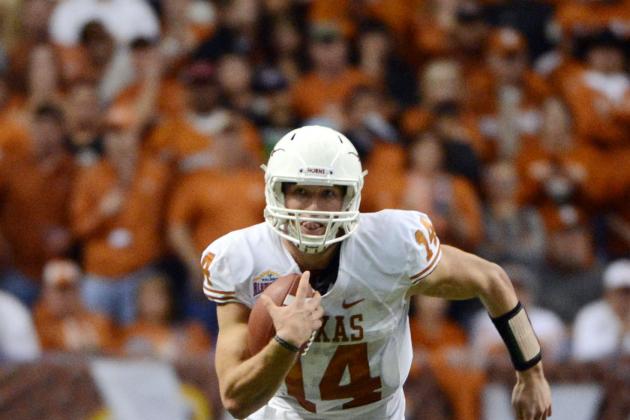 Brendan Maloney-USA TODAY Sports

Over their past three meetings, the Sooners have had a decided advantage over Texas under center. That changes this season now that Ash is in a system that is better suited to his skill set.
He has struggled mightily against the Sooners over his career (0 TD, 4 INT, 49% comp.), but Ash is going to be a different quarterback this season. Not only does he return as the conference's most experienced signal-caller, but Major Applewhite's offense is suited to his strengths. The pace and extra receivers will give him more room to work, and the added freedom to run provides an explosive element to his game that was under-utilized in last year's contest.
This is all important because it will slow down the Oklahoma pass rush, which tormented Ash into numerous mistakes in the past. Considering that the winner of this game for the past 11 years has been the team that committed the fewest turnovers, this will be paramount to his and his team's success.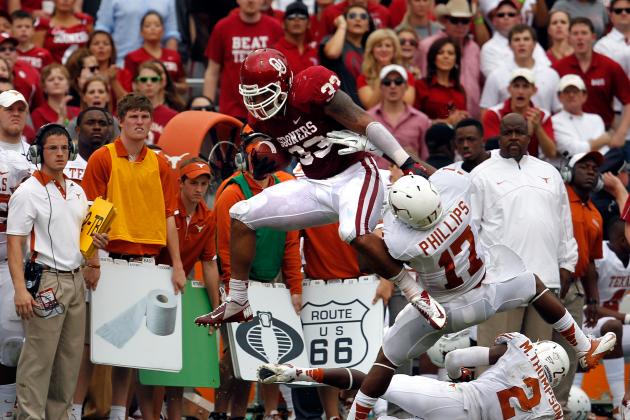 Tom Pennington/Getty Images

Not only do the Longhorns have an edge at quarterback for the first time in three years, but they are also the more battle-tested team. In the most pressure-packed regular-season game that these two teams play, that experience will pay major dividends.
The 'Horns return 19 starters in 2013, tied for first in the nation. No longer will they be relying on a freshman running back and/or quarterback to drive the ball down the field. No longer will players that have never started a college game have to make game-changing plays on national television.
This team is finally made up of players that are used to the grind. They are used to the spotlight and will not buckle under it as they have the past three seasons. But most importantly, all but one starter remembers just how badly they got embarrassed last season.
And they will be determined to not let it happen again.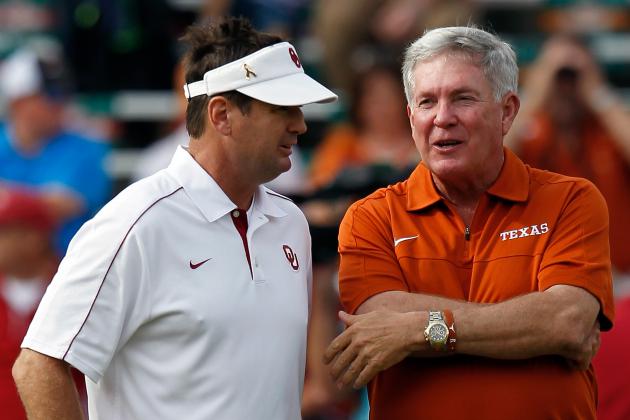 Tom Pennington/Getty Images

Throughout his tenure at Texas, head coach Mack Brown has routinely been taken to school by his counterpart at Oklahoma. But with his job finally on the brink, he will rise to the occasion.
Brown's 6-9 record against the Sooners' Bob Stoops has been well-documented. Stoops has beaten him four times by 40 points or more, including the last two in a row, and he has been one of two coaches that has truly had Brown's number while he has been at Texas.
This was all well and good while Brown was delivering 10-win seasons on a record-breaking basis, but those days are over. This season, with the more experienced team coupled with the better overall talent, there is no excuse for him to lose.
Certainly Brown recognizes this, just as he did when he had to get it done with Vince Young and Colt McCoy. This year presents the same win-or-else circumstances, and he will answer the bell.