British and Irish Lions Rugby 2013: Final Squad Prediction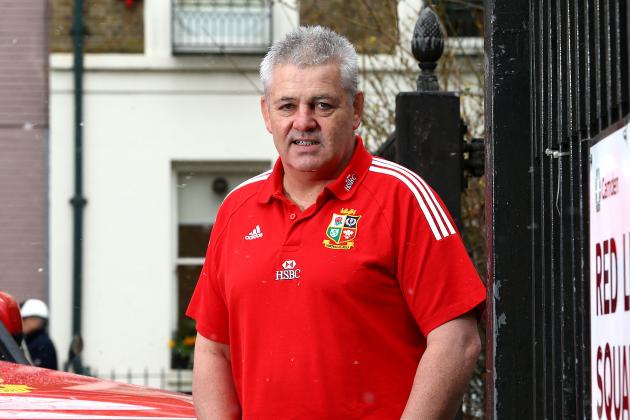 Jan Kruger/Getty Images

In less than 48 hours, all the talking will be over and we'll finally know the names of the men who Warren Gatland and his team of coaches have chosen to tackle the Wallabies this summer.
Though much of the squad has been penciled in for weeks, a final decision on most won't be made until the coaches get together in the wake of this weekend's action.
With that in mind, here is my final prediction of the 37 men who will be chosen to tour Australia in the summer.
Check back on Wednesday for a breakdown of the squad and over the weekend for a look at the Wallabies.
Begin Slideshow

»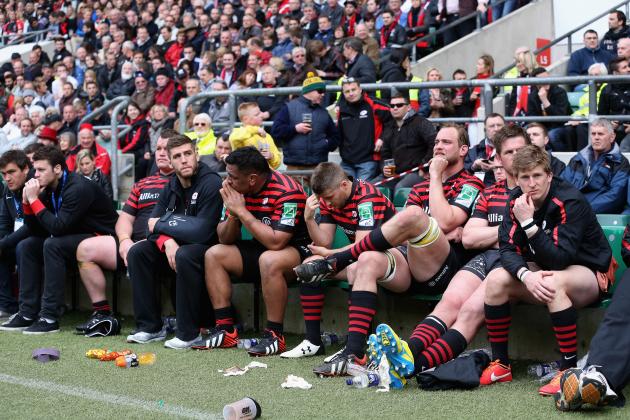 David Rogers/Getty Images

1. 23-man game
Professional rugby is no longer a battle of 15 men against 15, it is now a 23-man game. The best teams have benches loaded with talent, able to change the direction of games on their introduction. To beat the Wallabies, the Lions will need every sub to be able to offer something different when brought on, not just act as a like-for-like replacement. Therefore, in close calls, I have gone for the player who offers something different.
2. Youth
The fan in us all wants Gatland to bring several young standouts along and give them experience of what makes a Lion. These young players would make up the bulk of the "dirt-tracker" side and play a key role in the future of the Lions. But Gatland is not a fan, he's a coach. This is a one-and-done gig for him where winning is everything. He's not going to bring several inexperienced talents just to give them exposure. After all, he might be the coach facing the Lions in four years!
3. Diversity
Just as the Lions will need to fill their bench with impact players, they need to fill the squad with players who offer a Plan B. Gatland and his staff will have a clear idea of how they are going to beat Australia, but if this plan fails, they will need to think on their feet. The best way to do that is bring players who offer something different.
4. Character
It's going to be a long tour filled with ups and downs so there will be no room for negative influences. With 37 men touring, there are going to be 22 disappointed players once the test team is named. The Lions will need men who will take this knock on the chin and spur those chosen on. They need men who will facilitate team bonding and put aside national pride for a common goal. Anyone who has watched the "Living with Lions" documentary will know there is more to a successful side than a collection of great players.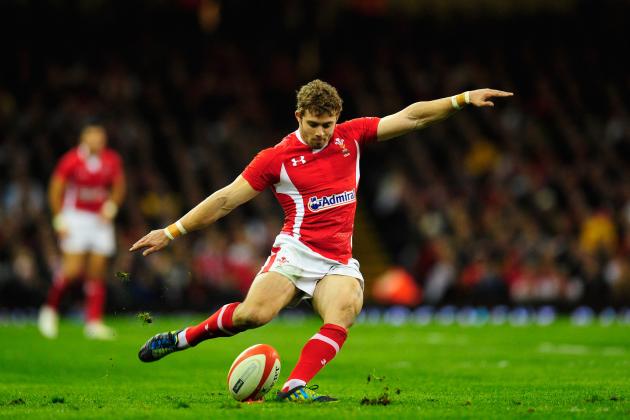 Stu Forster/Getty Images

Leigh Halfpenny is certain to tour. He is the reigning Six Nations player of the tournament. His main competition will come from Rob Kearney. Though still off his best, he is rounding into form and offers the best kicking game. Given the counter-attacking threat of the Wallaby backs, this could be key.
The last spot should go to Stuart Hogg despite his obvious shortcomings. He is a dynamic runner and has a booming, if at times wayward, right foot.
The only way he misses out is if Gatland chooses to take Alex Goode as a utility back.
Tourists: Halfpenny, Kearney, Hogg
Potential wild card: Lee Byrne
The form full-back in Europe, but Gatland has cast him off once and is likely to be involved in the Top 14 final.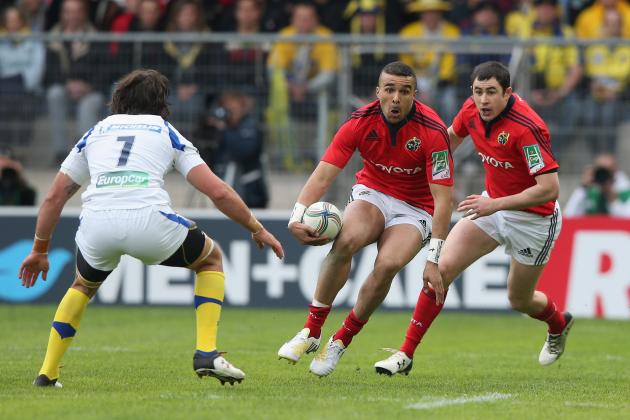 David Rogers/Getty Images

George North and Alex Cuthbert are sure to tour. Both are familiar with the plan Rob Howley is likely to employ as attacking coach and are in good form.
After that duo, things become a bit foggier with several candidates in contention. Tommy Bowe is a likely tourist if Gatland is pleased with his return from injury. I don't see why he wouldn't be.
The final selection is anybody's guess. Most pundits favour Tim Visser, but for me, he is too similar to the big Welsh wingers.
Chris Ashton is starved off ball on the wing and his attitude doesn't appeal to everyone. Sean Maitland is new to the Northern Hemisphere but would be a great selection. He is a real intelligent winger, solid in defence and attack.
But Simon Zebo offers something different to his rivals. He has a real X-factor about him and has a habit of stepping up in big games.
Tourists: North, Cuthbert, Bowe, Zebo
Potential wild card: Christian Wade
With ball in hand, few players are as exciting as the blistering Wade. He has a nose for the try-line and is unstoppable once in open space. But he is poor defensively and hasn't been tested in international rugby or the Heineken Cup.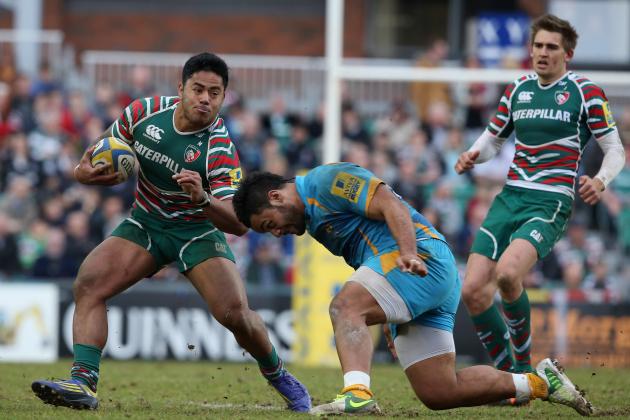 David Rogers/Getty Images

Gatland must be begging Jamie Roberts to wrap himself in bubble-wrap for the next few months because he is the sole world-class option at inside centre.
Such is the dearth of options that many are suggesting. Ireland's Brian O'Driscoll will be tasked with playing at 12 after more than a decade in the 13 shirt. If anyone can do it, BOD can, but it is a major worry, especially in the wake of Brad Barritt's injury.
Jonathan Davies is a favourite of Howley and Gatland so is sure to tour while Manu Tuilagi is too outstanding a talent to ignore.
But it all gets murky after that four. Will the Lions take a punt on the inexperienced Billy Twelvetrees?
Tourists: Tuilagi, O'Driscoll, Davies, Roberts
Potential wild card: Matt Scott
Inexperienced but one of the few recognised 12's in the Home Nations. He has the power and skill to excel surrounded by talented backs.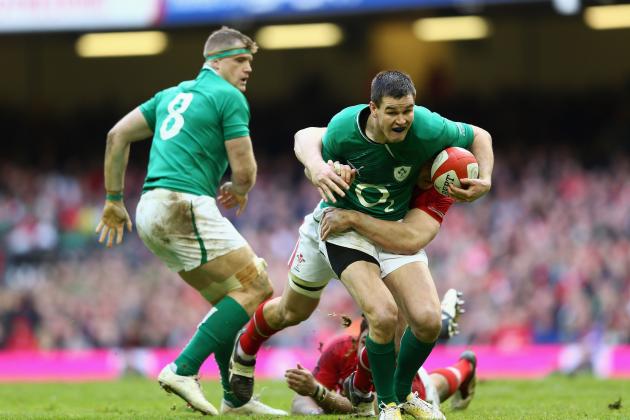 Michael Steele/Getty Images

Rarely have the Lions entered a tour with such doubts over what is the most important position on the rugby field.
Jonny Sexton is the most complete fly-half in Europe and would be the first name on a teamsheet, but he has played just one game since he limped off against England on Feb. 10.
Owen Farrell is the next man in line, but his star hasn't shone so brightly in recent weeks. He still struggles to unleash his back-line while needlessly gets himself involved in off-the-ball tussles. Watching Jonny Wilkinson dominate him, it was obvious who was the master and who was the apprentice.
Many have suggested the Lions will go with this pair, with Greig Laidlaw providing cover at nine and 10. But he's not in the top three in either position which might count against him.
If Gatland has questions over his young playmakers, a couple of old warhorses gave him options over the weekend. Wilkinson was sublime for Toulon while Ronan O'Gara turned the clock back and gave a master class in tactical kicking.
My choice as third fly-half would be the much-maligned James Hook. With him, Sexton and Farrell, you have three players who can provide cover in the centres and at full-back.
Tourists: Sexton, Farrell
Wild card: Ian Madigan
On current form, he is the best 10 in Europe. His goal-kicking has been excellent, but his best attribute is his running game. He could thrive in Australia if chosen.
Stu Forster/Getty Images

Thankfully, for Gatland, given the Lions will face Will Genia, the Lions have no shortage of options at scrum-half and at least two talented players are going to miss out.
Two positions are nailed on: Mike Phillips and Ben Youngs. They offer contrasting styles and both have shown decent form in recent weeks. While Phillips hasn't reached his peak, he is a Gatland favourite.
Fighting for the third spot on the plane are three players with different skill sets.
Danny Care is a brilliant instinctive player who excels when the game breaks up, but he isn't a great game manager. For me, his best role would be to come off the bench with 20 minutes to play.
Conor Murray offers the best all-round game and would be an able replacement for Mike Phillips. His best chance comes if Gatland fancies using Phillips or Youngs off the bench instead of Care.
Last but by no means least is Laidlaw. A capable 10, his best position is scrum-half. His chances will be dictated by the decision made at fly-half.
Tourists: Phillips, Youngs, Laidlaw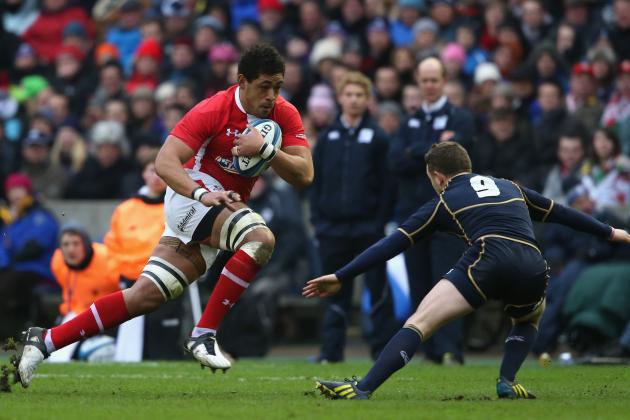 David Rogers/Getty Images

Of all the positions, this is the most nailed on for me. One player's name was down in permanent marker weeks ago while another finally sealed his place with a virtuoso performance this weekend.
Toby Faletau is the perfect modern No. 8. He has all the skills to play any position across the back-row. Powerful with ball-in-hand, strong in defence and capable at the breakdown, he is a likely starter.
For the last few months, Jamie Heaslip has been trading on his name and past glory, but his performance this weekend will have sealed his spot.
Freed from the donkey work he has to do in an Ireland shirt, he was at his dynamic best against Biarritz. Having been a key member of Gatland's pack in South Africa will work in his favour, as will his leadership qualities.
Tourists: Heaslip, Faletau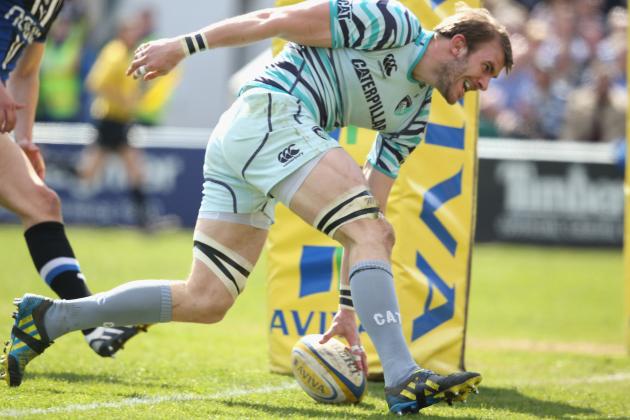 David Rogers/Getty Images

Like the battle at scrum-half, Gatland has a multitude of options. He has the ability to pick players to fit whatever game-plan he decides to go with.
Sam Warburton is nailed on to tour after a difficult few months as is his fellow Welshman, Justin Tipuric. As the two best opensides available for selection, they have to tour.
The strength of this duo might be the undoing of heroic England captain Chris Robshaw who doesn't offer the diversity of the other options to tour on the blind side.
Dan Lydiate looks like he's done enough since his return to fitness to book his place on the plane. Every coach has his favourites and Lydiate is Gatland's. Plus, he seems to bring out the best in Warburton.
Sean O'Brien has been quiet of late but is the best ball-carrier in Europe when it comes to hard yards. His ability to crash over the gain-line is too hard to ignore.
The leaves one spot up for grabs. If the Lions go for solid rather than spectacular than Robshaw will tour. I think they'll think outside the box.
I think Tom Croft is lazy and a glory hunter. He spends too much time out wide and not enough where he should be. That said he is a fantastic line-out option and is as quick as most wingers. He would be a dynamic option off the bench.
Tourists: Warburton, Tipuric, O'Brien, Lydiate, Croft
Potential wild card: Peter O'Mahony
He was way off the pace until he tore into the Harlequins' pack a few weeks ago. He backed that up with a fine performance against Clermont. His aggressive game could make him the dog in what looks like a fairly expansive Lions back-row.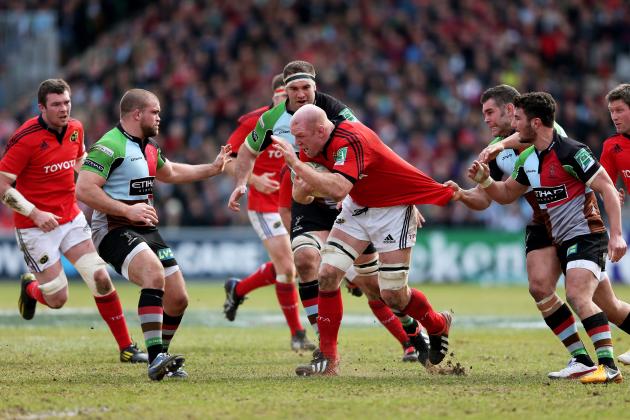 Warren Little/Getty Images

Paul O'Connell has put the cat among the pigeons. A few months ago, he wasn't on the plane. Now he's a likely starter and potential captain.
With five probable positions, the Lions will likely take two tight-head locks, two line-out leaders and one other.
O'Connell and Alun Wyn-Jones will be the line-out leaders. Wyn-Jones runs the Welsh line-out, while O'Connell was Gatland's pack leader in South Africa. They will battle it out for the test team.
On the tight-head side, Ian Evans is the best scrummager. He is a mountain of a man and is more than capable of locking out a scrum.
Richie Gray's bulk is impossible to ignore despite an average season in a struggling side. As a ball-carrier he has few equals in the second-row.
The joker in the pack will come down to Geoff Parling and Donnacha Ryan.
Ryan was flying earlier in the season, but his influence has waned since the return of O'Connell. Without closer inspection, it is hard to tell if his form has dipped or if O'Connell's return has just distracted us.
Parling would be my choice. He is athletic and is an intelligent line-out operator.
Tourists: Parling, O'Connell, Wyn-Jones, Evans, Gray
Potential wild card: Joe Launchbury
Young and talented, in another year he might have toured. Such is the strength of the position, and he might be too much of a luxury.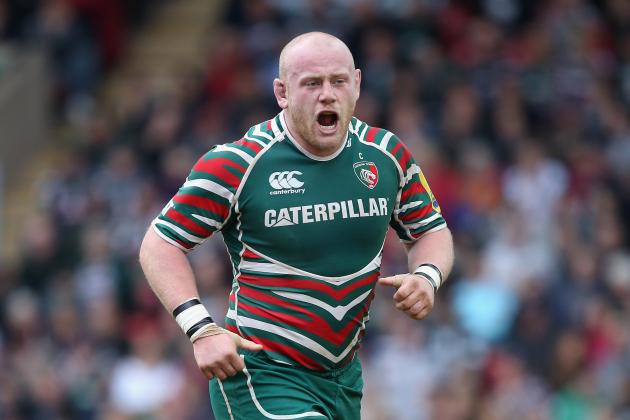 David Rogers/Getty Images

The advent of a 23-man bench means the Lions will probably take three tight-heads and three loose-heads. Gone are the days of men who could "play" both sides of the scrum.
At tight-head, Dan Cole and Adam Jones are nailed on to tour. The duo will spend the tour battling it out for the right to anchor the Lions' scrum.
The third man likely will be confined to the "dirt-trackers" so a emphasis will be placed on what they can add to the squad as a personality.
Euan Murray's humour surprised people on the last tour, and he wouldn't let anyone down if injury forced him into the test side. Battling him is Ireland's Mike Ross. A quiet but popular character, it will come down to the impression he left on Gatland in his limited face-time.
Aside from Ireland's Cian Healy, the Lions have a conundrum at loose-head. Gethin Jenkins is surely too good to ignore, even with his potential appearance in the Top 14 final.
If Gatland sticks to his guns, Jenkins won't travel, but I don't see that happening.
The final spot will come down to Ryan Grant and Mako Vunipola. Grant is the more experienced option, and better scrummager, but Vunipola is a serious force in the loose.
Jenkins and Healy are as good as Vunipola in the loose so Grant should get the nod to tour.
Tourists: Jones, Cole, Ross, Healy, Jenkins, Grant
Potential wild cards: Andy Sheridan and Alex Corbisiero
They are the two most damaging scrummagers available to Gatland but both come with questions. Corbisiero has been out for five months while Sheridan has been out of the international game for a few years. If Gatland plans to attack the Wallaby scrum, he could pick one of this duo.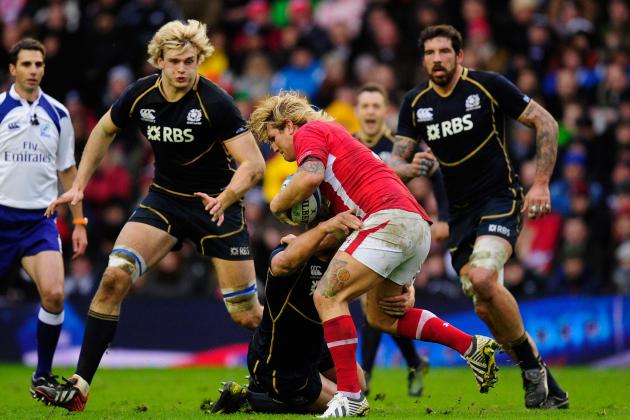 Stu Forster/Getty Images

If I was a betting man on the makeup of one position, I would bet on hooker. There are three standout candidates way in front of the competition.
Richard Hibbard is leading the charge with the best all-round game of the hookers available.
The man likely to spell him off the bench is England's Tom Youngs. The brother of Ben, he is a converted centre and brings serious ball-handling skills to the position.
The third man and possible "dirt-tracker" captain is Rory Best, that is, if he can't force his way into the test team.
A few months ago, he was a potential captain but suffered a case of the "yips" during the Six Nations. His inability to hit his target, especially in the 22, needs to be addressed if he is to start.
That said he offers enough around the park that he can't be ignored.
Tourists: Best, Hibbard, Youngs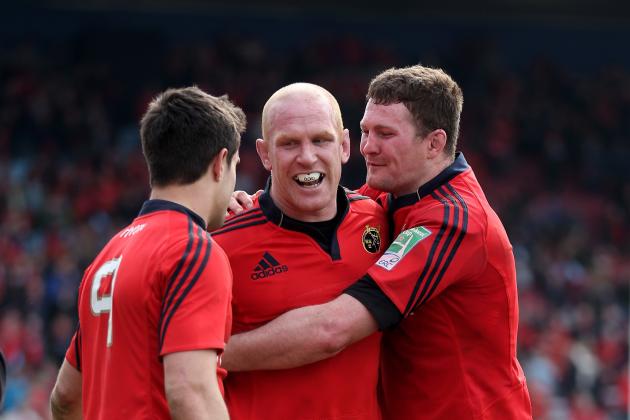 Warren Little/Getty Images

The bookies have stopped taking bets on Sam Warburton while the Aussies think it should be Brian O'Driscoll, but there is only man to lead the Lions for me: Paul O'Connell.
He ticks all the boxes. On current form, he is sure to start. He is universally respected, has experience in the role and is an inspirational leader.
Any doubters should watch Munster's performances in his absence and then the games since his return. Players play above themselves when he leads them. His aura will inspire his teammates and intimidate the opposition.
Warburton can't be ruled out, but he is not a natural captain. He doesn't relish the role the way O'Connell does. He is a leader and will remain a leader without the captaincy, but he will be a better player if freed from the responsibility.
One needs only look at his track record to see what I mean. He looked lost early in the season when Wales struggled but was a different player when he returned without the burden of leadership. He's also rumoured to have asked for the captaincy to be taken off him at least once. If the chips are down on tour, I don't see him as the man to spur the Lions on.
He might be picked, but for me, it's too big a risk when you consider the task he will face in the breakdown. That's too much responsibility for one man.
The other serious rival, and one who deserves it more than most is O'Driscoll. His Lions' captaincy lasted all of two minutes in New Zealand and it would be a fitting end to a brilliant career if he was to lead the Lions out in Australia.
But I have doubts over whether he makes the test team. If Tuilagi and Roberts hit top form, he'll be on the outside looking in and the Lions will want their captain on the field of battle.