Ranking the Best Fashion Statements of the NBA Playoffs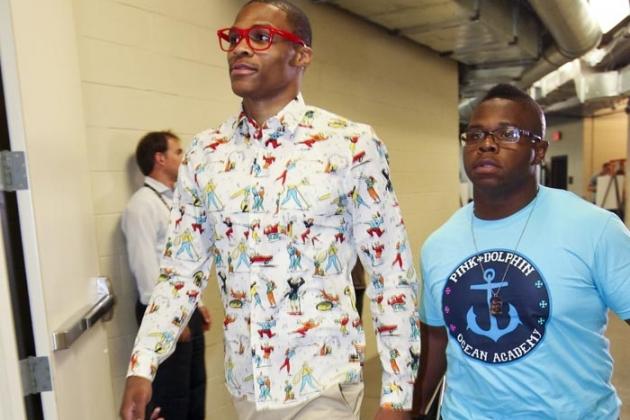 Mike Ehrmann/Getty Images
Russell Westbrook, get these fashion follies started... (Courtesy of nba.com)
Gucci, YSL and Chanel have Paris Fashion Week.
The NBA has the playoffs.
I just want to know one thing: Who do we blame?
Are the frequently-inane duds our NBA heroes don pre- and post-game during the playoffs an evolution of the backlash against David Stern's 2005 dress code? In the same way a child rebels against his parents' rules, is this a professional basketball player's way of giving the tall finger to decorum and taste?
Or do NBA ballers just have god-awful fashion sense?
Hey, maybe it's me. Maybe I dress like a mess. So far be it from this T-shirt-and-jeans-wearing cretin to call these outfits fashion faux pas.
I will, however, state for the record that I've seen pretty much the same items at the Encore Thrift Shop a few miles from my house. Or in old home movies from the '70s.
Be that as it may, our hoops superstars' clothes certainly make a statement, even if they don't make the man. Let's see if we can put these sartorial atrocities of the past few days in their proper sequence.
(NOTE: The truth for me is, everybody looks fine wearing whatever they want to wear. So please take the teasing in the spirit in which it's intended: merely an attempt to make you smile.)
Begin Slideshow

»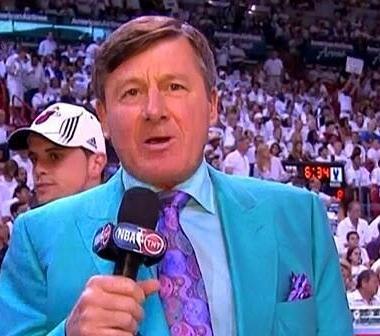 Do not adjust your horizontal or your vertical. (Via bringbackthefuzz on Facebook)
Remember tint?
Old color TVs had a tint button. When it was spun too far to the left or right, the result was Craig Sager's outfit.
The TNT reporter must have connections to Las Vegas, because what he's wearing looks like like an outfit and more like an homage to the old Stardust Casino.
That, or he's got one hell of a man crush on Sonny Crockett.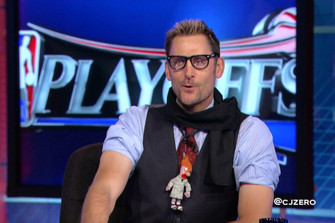 Brent Barry.
The NBA TV commentator clearly wants to harken back to his days as a player and join the strangely-dressed club.
Sorry, Brent, broadcasters aren't officially allowed in.
However, the outfit definitely qualifies as strange. Somebody on Facebook gave you credit for a Russell Westbrook imitation. That's a massive insult to Westbrook, who wouldn't caught dead in a wool ascot—let alone one thrown over his shoulder.
And that's not even considering a necklace whose pendant is Beaker from The Muppets.
Does Barry look stylish? Only if demented is a style.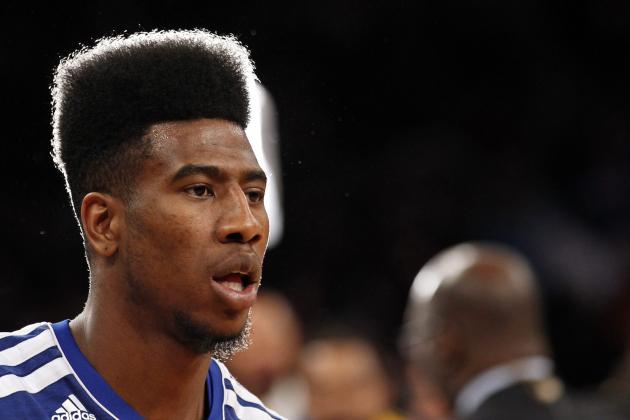 "...started makin' trouble in my neighborhood..." (Courtesy of nbcnews.com)
It matters not what New York Knick Iman Shumpert wears.
The sheer audacity required to single-handedly bring back the high-top fade instantly earns him a place on this list.
I kid ('n play) you not: I see Shumpert and I instantly try to remember all the words to the theme song of The Fresh Prince of Bel-Air.
In deference to Mr. Shumpert's size and tenacity, I daresay when he was shooting b-ball outside the school, no couple of guys who were up to no good ever picked him up over their heads and spun him around like a top.
Iman, as long as you're at it, if you slam one home, could you break into the Carlton dance?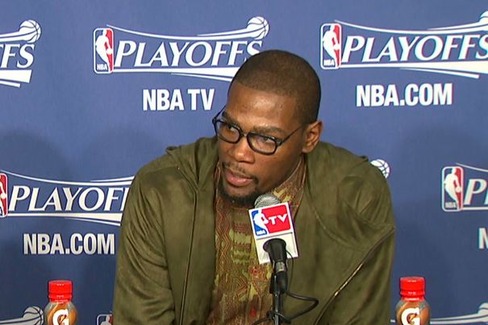 Kevin Durant.
Let's start off with the green thing on top. If it's a sweatshirt—which from the hood it appears to be—Durant would have been wise to heed the advice Jerry Seinfeld once gave George Costanza: Sweats look like you've given up.
Credit where credit's due, however, because color-wise, the sweatshirt and paisley shirt go very nicely together.
The overall effect, though, is that Durant either spilled pea soup all over himself in the team cafeteria, or Linda Blair threw up on him.
I've seen worse, though. As you're about to.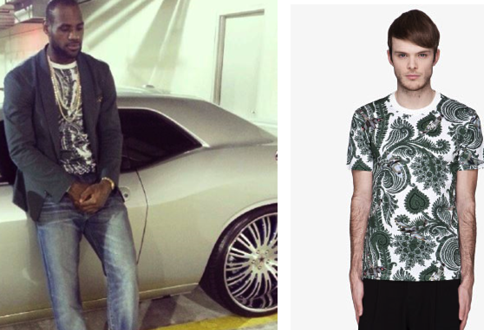 LeBron James. (Photo collage by morethan-stats.com)
Love the shawl collar blazer, LeBron. And according to morethan-stats.com, the T-shirt you're wearing underneath it cost $565.
But the combination of blazer, T-shirt and bling looks like you're trying to look chill, when really you thought out the whole ensemble very, very carefully.
At least everything matches. But for what that T-shirt cost, I say you would have been better off with a top-of-the-line tone-on-tone dress shirt from Brooks Brothers.
And the jeans rolled up Dirty Dancing-style?
Come on, 'Bron. You're trying too hard.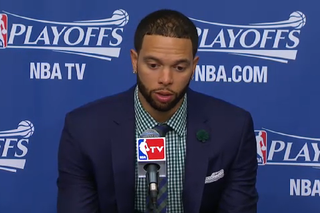 Deron Williams.
The blue blazer is clearly top quality, Deron. The tie is simple and understated. The pocket square adds a touch of dignity and class.
But, dude, when you mismatch it with that green gingham shirt, the only statement you're making is "yell at me when I get home, honey, for looking like a fool in front of millions."
Was it laundry day at the Williams household, man? Or does your wife not get on you for that kind of ridiculous clothes-pairing like mine does?
A third possibility: Maybe you just snuck out of the house without her knowing. Well, figure out a way to sneak back in.
'Cause there's gonna be hell to pay if she was watching the presser.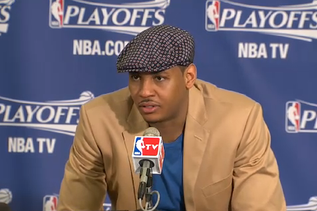 Anthony rockin' the tam.
I wish I had known. My grandfather had like 16 of these in his closet...what possessed me to let the family give them to Goodwill?
Oh, I know—because they're lame.
Listen, I should be singing Carmelo Anthony's praises for the way he's been playing. He's been a superlative scorer and a heckuva teammate at the same time.
But 'Melo, the driving cap seriously is the kind of thing my dad wore when he was fixing the sprinkler system.
With green shorts and black socks.
Now that was style.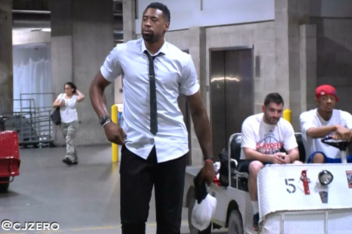 DeAndre Jordan.
A short-sleeve shirt—hanging out over his pants—and a Blues Brothers tie?
This looks like the makeshift outfit Mom grabs her eight-year-old when he's late for church and nothing else fits.
That, or DeAndre Jordan is guest-starring in an episode of Law and Order.
Helpful hint, DeAndre: If you want to get the perp to crack, use the Yellow Pages—it doesn't leave a mark.
But if you want to make a fashion statement, for God's sake, at least tuck in the shirt.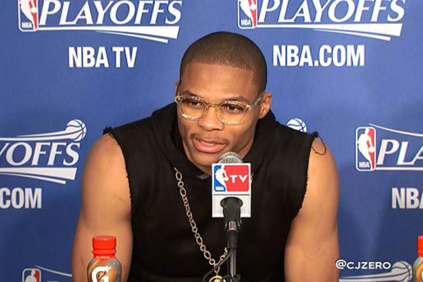 Russell Westbrook.
Westbrook has the reputation for fashion outrageousness.
But this isn't outrageous—it's more a remake of Grease with Mr. T as costume designer.
I once went to a modern art exhibit where I saw a claw hammer protruding from a block of cement. Only the claw end and the handle were sticking out. The price tag was a thousand bucks.
With $17 and a bucket, I could have made the same thing.
Point being, if you can't afford the haute couture of Russell Westbrook, just buy a black sweatshirt from Wal-Mart, rip off the sleeves, and accessorize with a medallion from a Scooby-Doo memorabilia shop.
Presto! You, too, can dress like an NBA star for less.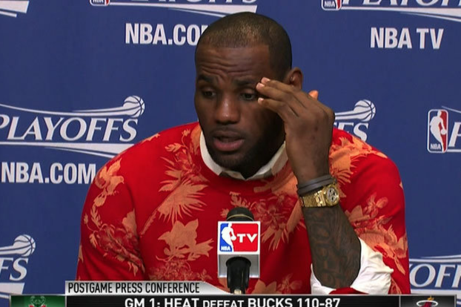 LeBron—again.
Doesn't your game speak loudly enough, 'Bron? You really have to Tony the Tiger up the joint?
This sweatshirt, which you can own by clicking here, looks less stylish and more like someone couldn't keep their goulash down.
Probably only Heat fans will get this, but it's worth a try. Doesn't it look like someone killed Burnie and turned his hide into a shirt?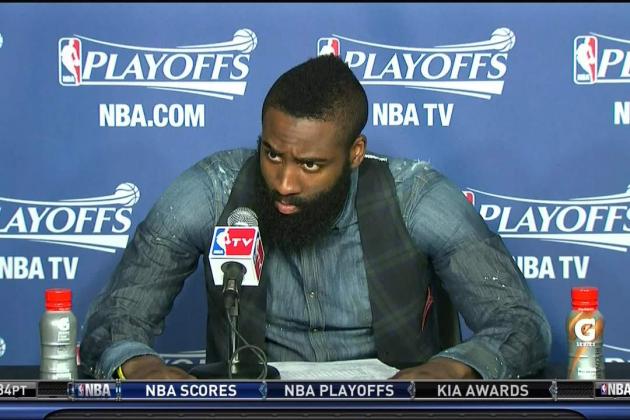 James Harden.
I'm assuming the gravy stains were there when you got it, right James?
Whether they looked it, at least the other guys on this list broke out their wallets. You, my friend, look like you put on your lucky shirt from 2004, helped your college roommate move, after which you painted his apartment for good measure.
Oh, and then you hopped a barbed-wire fence to make it to your press conference.
I would think having shared a locker room with the always-fabulous Westbrook for three years would have rubbed off on you. Instead, you chose to dress like Clint Eastwood...now. And dude's like 80.
Your team's down 0-2 in the series. Maybe it's time to dress for success.