Can Evgeni Nabokov Win a Playoff Series for the New York Islanders?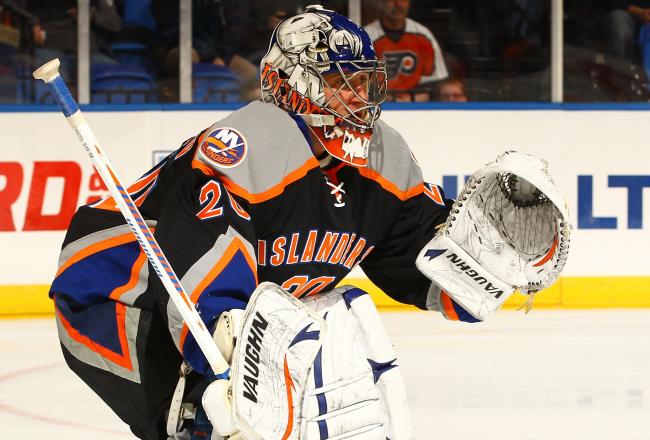 Al Bello/Getty Images
John Tavares is getting a lot of the attention for the New York Islanders' remarkable season in which they have clinched a playoff berth for the first time since 2006-07.
While the praise for Tavares is well deserved since he's a legitimate Hart Trophy candidate, the most valuable player on the Islanders is arguably starting goaltender Evgeni Nabokov.
The 37-year-old veteran joined the Islanders last season after spending 2010-11 in the KHL, and he has given this team the stability in net that it hasn't had for a very long time.
One of the Islanders' biggest weaknesses since the 2004-05 lockout has been goaltending (see chart below), which is why it's not surprising that this franchise has reached the postseason only one time in the last eight years.
| | |
| --- | --- |
| Year | GAA |
| 2011-12 | 3.06 (27th) |
| 2010-11 | 3.15 (27th) |
| 2009-10 | 3.15 (28th) |
| 2008-09 | 3.34 (28th) |
Nabokov's stats this season won't jump out at you, but when you consider the lack of talent and depth in front of him on New York's blue line, the Russian goaltender has certainly made the most of his opportunities this season.
He has a 23-11-6 record with a 2.54 GAA and a .909 save percentage. These aren't the types of numbers that will put Nabokov in the Vezina Trophy conversation, but he's making the important third-period saves that prevent the Islanders from losing key games late in the season.
After a strong regular season in which he's revived his career and the excitement of playoff hockey on Long Island, could Nabokov help the Islanders win a playoff round?
He most certainly can.
Nabokov has a wealth of playoff experience at the NHL level. As a member of the San Jose Sharks, he started 78 playoff games with a 40-38 record, a 2.29 GAA and a .913 save percentage. He also helped San Jose advance past the first round five times.
This kind of postseason experience is very valuable to an Islanders team whose best players have very little or no playoff games under their belts. No one else on this team has played in more than 25 playoff games, and 16 Islanders will be getting a taste of postseason action for the first time next week.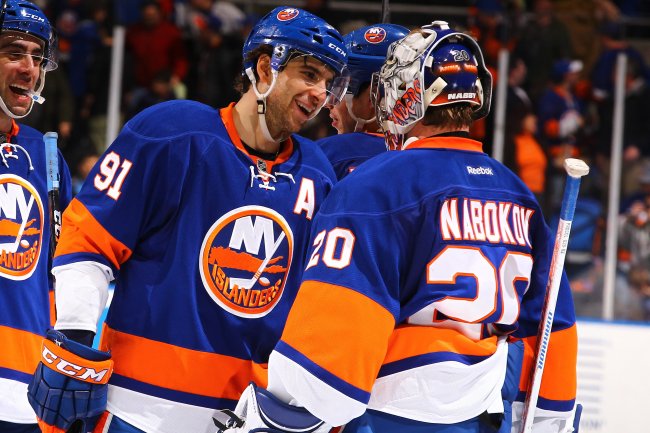 Al Bello/Getty Images
Since the Islanders will not have home-ice advantage in the first round of the playoffs, having a goaltender capable of beating teams on the road is very important.
One of the reasons why the Isles have a chance to reach the Eastern Conference semifinals is their ability to win games away from the Nassau Coliseum, and Nabokov has played a massive part in this success. The veteran goalie has a 14-3-3 record on the road, which is incredible. Seven of those wins were against teams currently in a playoff spot in the East.
Young teams often panic away from home during the playoffs, but since Nabokov has so much postseason experience and has proven that he can win on the road, the Islanders will be a confident group regardless of which building they travel to for Game 1 of the first round.
One possible opponent for the Isles in the first round is the Washington Capitals, which would be a favorable matchup for the Long Island club. Nabokov is 2-0-1 versus the Capitals with a 1.67 GAA in 2013.
Will NYI win a playoff round?
If the Islanders remained in the seventh spot, they would play the Boston Bruins to start the playoffs. Nabokov is 1-1 versus Boston this year, but he was exceptional in the most recent meeting between these teams with 30 saves in a 2-1 victory on April 11 at TD Garden.
Following the win over the Bruins, Nabokov talked about how this year's version of the Islanders is different from last season's team.
"I think we found a way to be patient. I think that's the biggest word for us. To be patient and not to force things, because a lot of young guys they want to, they're all skill also, sometimes it's just better to chip the puck out and just go on the fore check.
"Early in the season we weren't doing all those things we had more turnovers and now we realize we do have turnovers what we have to change and then we play a patient game and a more physical game also. So it's a lot of little things and now I think we just kind of continue to do that and we see the results and that's why I think we are winning the hockey games."
Since the level of defensive awareness and physicality increases in the playoffs, the Islanders will likely find themselves in a lot of close games.
Nabokov has excelled in this type of situation throughout the season, which will give a young and mostly inexperienced team a lot of confidence when the pressure of the postseason intensifies. New York has lost just two one-goal games in regulation this season (10-2-6 overall), including a 2-0-2 record in this scenario in April.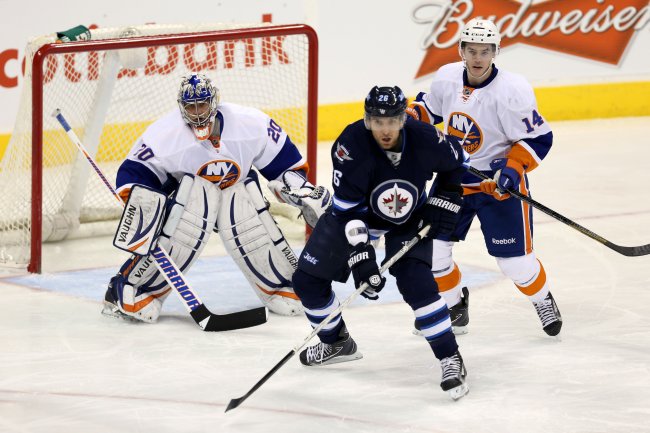 Bruce Fedyck-USA TODAY Sports
With Nabokov playing well between the pipes, the Islanders will be a tough team to beat in the playoffs because of their deep and talented offense, which ranks seventh in goals scored and power-play percentage.
The Islanders are no longer a team that scores a lot of goals but cannot defend in its own end. This is a group of players who understand the importance of strong defense and not turning the puck over in vulnerable areas.
The Islanders are, for the most part, a young group of players still learning what it's like to play meaningful games late in the season. Nabokov has played a huge part in this development, and his role in the team's success during the postseason will be massive.
Whichever team is matched up with New York in the first round, whether it's the Bruins, Capitals or Pittsburgh Penguins, it will not have an easy time winning four games against this Islanders club.
Whenever a team has a veteran goaltender with lots of experience like Nabokov, it has a chance to make a surprising run in the playoffs. Don't be surprised if Tavares and Nabokov lead this franchise to the second round for the first time since the 1992-93 season.
Nicholas Goss is an NHL Lead Writer at Bleacher Report. Follow him on Twitter. He was a credentialed reporter at the 2011 Stanley Cup Final and 2012 NHL playoffs in Boston. All quotes obtained firsthand.

This article is
What is the duplicate article?
Why is this article offensive?
Where is this article plagiarized from?
Why is this article poorly edited?

New York Islanders: Like this team?