Texas Football: 5 Ways to Make the Longhorns Offense More Explosive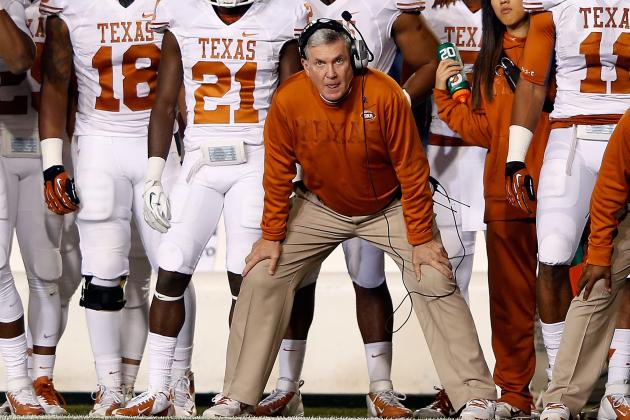 Jamie Squire/Getty Images
What will Brown do in 2013 to separate his team from the pack?
The Texas Longhorns' move to the up-tempo attack under Major Applewhite has been well-documented and is certainly a move in the right direction. But it will take more than just scheme for this team to get back to its explosive ways.
For example, it has to find a role for Tyrone Swoopes.
When the Longhorns played for two national championships in four years and were making 10-win seasons look easy, they were innovators. Mack Brown and his staff were one step ahead of the competition while putting their players in the best possible position to succeed.
Whether it came from the loss to Alabama in the national championship or something else, Texas lost that magic touch. Brown began doubting himself and moved away from the system that had brought him and his team so much success.
Now he is hoping a return to that system via Major Applewhite can right the ship. But with half of the Big 12 also running the same system, Brown has to decipher ways to separate his team from the competition. Here are five ways in which he can do just that.
Begin Slideshow

»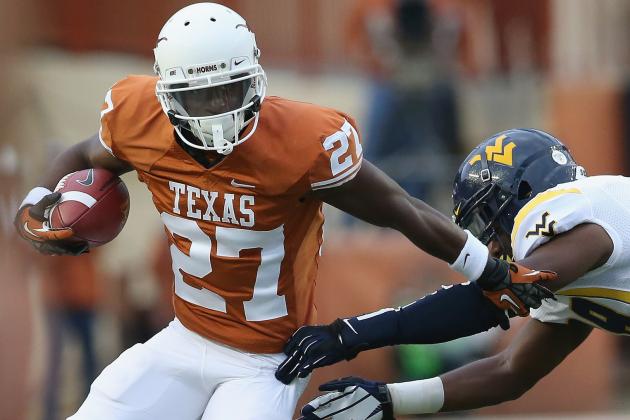 Ronald Martinez/Getty Images

Explosiveness stems from creating mismatches. And Swiss Army-knife athlete Daje Johnson and his 4.34 speed form the definition of a mismatch.
Despite touching the ball less than four times per game last season, Johnson was able to deliver some of the year's most memorable plays. The second reception of his career went 45 yards for a touchdown, and he is only the second freshman in school history to record both a rush and reception of 70 yards or more. On the season, he averaged 11.5 yards per touch.
Whether it be off of a screen, a fly sweep or simply an outside handoff, Johnson has the speed and ball skills to take it to the house every time. Should he develop into the downfield receiving threat that the coaches would like, he may well emerge as the team's best offensive player.
But even if we get the same Johnson we did a year ago, the kid is going to turn some heads. The departures of D.J. Monroe and Marquise Goodwin free up around 50 touches on offense. He is also the favorite to take over on kick returns, a spot where Texas desperately needs production.
The coaches will recognize this, and the result will be a monster 2013 campaign for Johnson.
Swoopes' size and elusiveness ideally suit him to run the Wildhorn. - AP Photo/Eric Gay
Another waythe Texas offense could make itself harder to stop would be to use 250-pound freshman Tyrone Swoopes in the Wildhorn. Given the team's recent red-zone woes, it would allow the quarterback of the future to make an immediate difference in the win column.
While Johnathan Gray did well running Texas' version of the Wildcat, he is not 6'5" o a threat to throw. Swoopes is both of these things. He can see over a defense and make it pay for stacking against the run, which many teams will have to do to keep him from bulldozing through the middle.
This is no slight to David Ash or his rushing ability either, but Swoopes is too good on the run and has a proven track record as a short-yardage quarterback. Florida did it with Tim Tebow in 2006 en route to a national championship, and OU scored four touchdowns against Texas last year with Blake Bell. Already Swoopes is bigger than Tebow and more elusive than Bell.
For a team that has finished 82nd, 102nd and 40th in red-zone efficiency over the past three years, Swoopes would be a game-changer.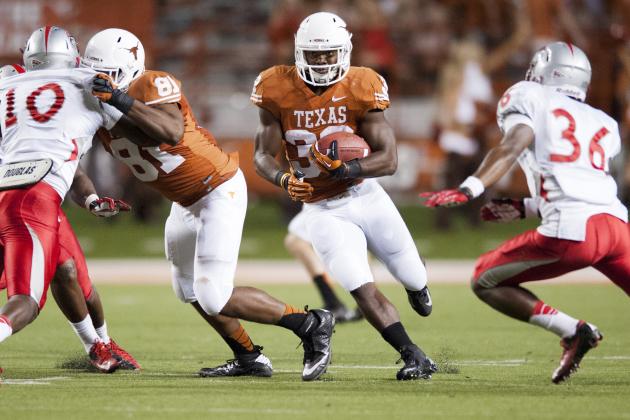 Cooper Neill/Getty Images

Over the past three years, the pistol formation has burst onto both the NFL and college football scenes. Given its personnel in the backfield, Texas has to get with the program as well.
This formation, basically a shortened shotgun with a read-option, is best run by a quarterback who is also a running threat and with a tailback who loses himself easily in a crowd. In David Ash and the diminutive Johnathan Gray, the Longhorns have the essential pieces to pick up meaningful yards out of this formation.
Running this set would suit Ash's general makeup as well. When he runs into trouble, it is often the result of overthinking a scenario. The reads required to run the pistol would force Ash to make a quick decision and just play, which comes much more naturally to him.
If Texas employs this formation, it will result in big gains for both Gray and Ash on the ground.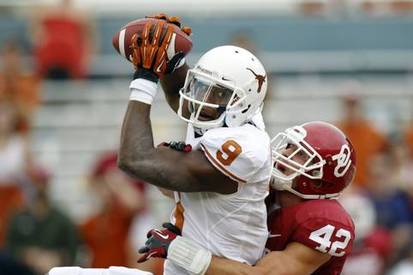 Michael Ainsworth/Dallas News
Since Jermichael Finley's departure after the 2007 season, tight end has been a monstrous hole in the Texas offense. Mack Brown and Major Applewhite need to make it a weapon again instead of the counterproductive position it was a season ago.
The Longhorns' search for an every-down tight end has been brutal, and their election to use blocking tight ends has only been worse. The move essentially removed one of the game's most difficult covers for a less effective offensive lineman. Even worse, the personnel grouping only served to tip off the opposition.
Instead, the Longhorns need to trust their athletes and go with a receiving threat at this position, namely spring star John Harris. He has the size, the hands and the motivation to prove himself after spending the last two seasons on the shelf.
The matchup issues a player like Harris, or potentially M.J. McFarland, present would fit Applewhite's scheme. And David Ash would certainly appreciate a big target over the middle.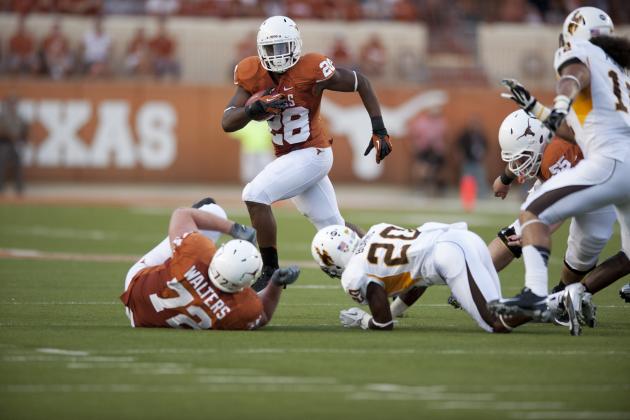 Cooper Neill/Getty Images

In a backfield that featured Johnathan Gray and Joe Bergeron, Malcolm Brown was a forgotten man at the end of 2012. He is far too talented for that to be the case in 2013.
Brown's sophomore season was derailed once again by an early ankle injury in Week 4. Prior to that, he had twice run for more than 100 yards and was clearly the team's top back. But he returned only to run the ball 21 times in four games, including a measly four carries in his homecoming at the Alamo Bowl.
Because his skill set meshes so well with the spread attack, Johnathan Gray is the starter. But there is no reason for a player like Brown to be left on the sideline, even it means putting them both on the field at the same time. Gray has the best size-speed combination on the team, and opponents just get tired of tackling him come the fourth quarter.
Since Texas' offense is geared toward spreading out and wearing out the opposition, Brown should get his chances to grind on the defense. All he has to do is stay healthy.