All 30 MLB Teams' Playoff Odds After 1 Month of Baseball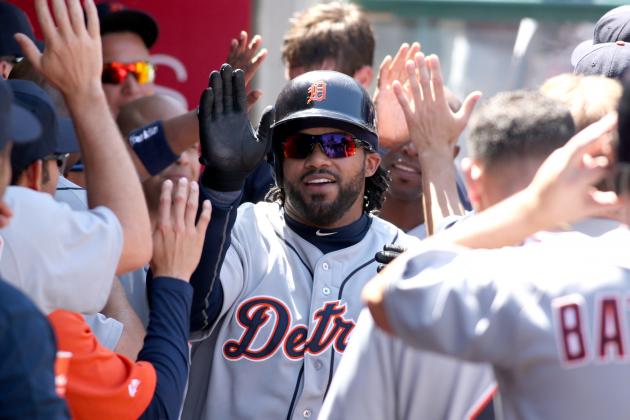 Stephen Dunn/Getty Images

Maybe we aren't quite a full month into the season, but what better way to cap off a forward-looking week than with playoff odds?
On Monday we tackled the contenders and pretenders for the individual end-of-season awards, and on Wednesday we identified the 15 guys pretty much guaranteed to experience a copious amount of regression in the next few weeks.
Now, it's time to take a look at who is most likely to still be playing baseball in mid-October.
Since ESPN hasn't yet added the playoff chance column to its MLB standings page, we came up with these percentages by taking the divisional odds from BetUS.com and multiplying by a factor of 1.25 to account for the wild-card spots.
Aside from the playoff odds, all statistics are courtesy of ESPN.com and are current through the beginning of play on Thursday, April 25.
We'll start with the teams most interested in 2014 and beyond, building up to the teams who could probably start selling playoff tickets in the very near future.
Begin Slideshow

»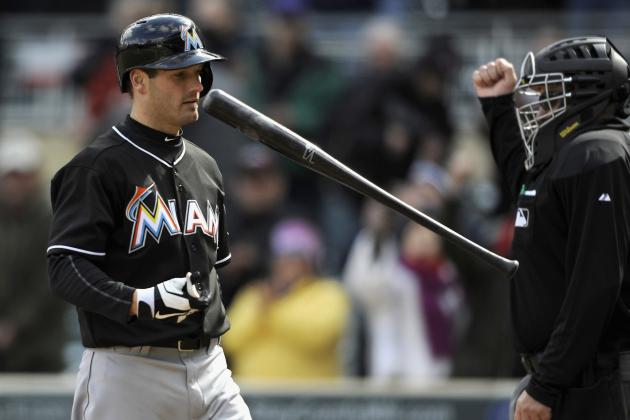 Hannah Foslien/Getty Images

2012 Record: 69-93
2013 Record: 5-16
Miami's starting infield from six years ago: Miguel Cabrera, Hanley Ramirez, Dan Uggla and Mike Jacobs.
Miami's starting infield on Monday against the Reds: Joe Mahoney, Nick Green, Donovan Solano and Chris Valaika.
That about sums up why the Marlins are 600-1 to make the playoffs this season. Should be interesting to see if they can challenge the 1962 Mets' winning percentage of .250.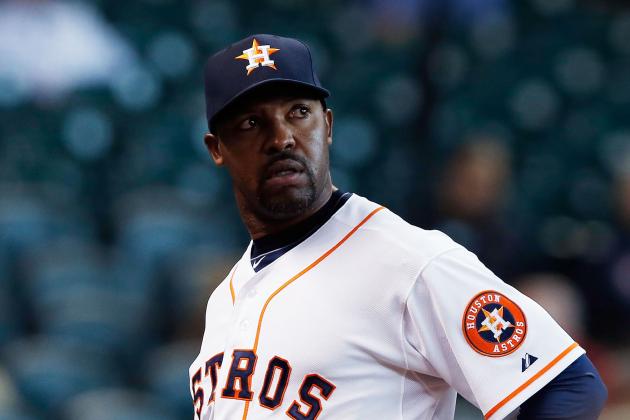 Scott Halleran/Getty Images

2012 Record: 55-107
2013 Record: 7-14
On Tuesday night, the Boston Red Sox were blown out by the Oakland A's 13-0 in seven innings. It was cold, windy and rainy. By all accounts, it was a horrible experience for Red Sox fans.
As a result, the Red Sox decided to reimburse fans who braved the elements by giving them a free ticket to the game the following Wednesday or Thursday.
I presume the tickets were for some of the worst seats in the house and that beer was still 60 cents per ounce, but it was a rare gesture of charity in a capitalistic game.
The Astros should follow suit.
They've openly admitted to rebuilding for the future, assembling a 2013 payroll of $24.3 million—or roughly 10 percent of the Yankees' payroll.
Did they lower ticket prices to reflect this intentional lack of proven talent? Of course not! In fact, the average ticket price in Houston is tied with San Francisco for the ninth-highest of all teams. I'm glad I stopped rooting for them a few years ago.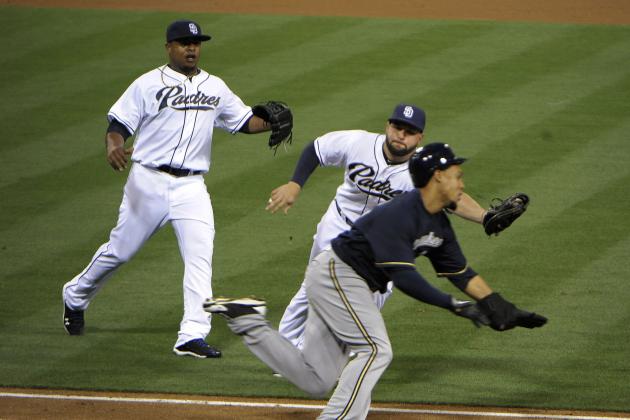 Denis Poroy/Getty Images

2012 Record: 76-86
2013 Record: 6-15
I think the Padres are in denial about just how awful they are.
Their highest-paid player (Carlos Quentin) has missed at least 30 games in each of his seven seasons, has only batted better than .261 once in his career and infamously broke a guy's collarbone two weeks ago.
Their second-highest-paid player (Chase Headley) has been a primary topic at the trade deadline in each of the last two seasons, and will almost certainly be dealt before this year's deadline.
Their third-highest-paid player (Huston Street) is a closer, and their fourth-highest-paid player is Edinson Volquez—arguably the most underachieving starting pitcher of the last four seasons.
The Marlins and Astros may be the laughing stock of their respective leagues, but at least they both bottomed out and are theoretically rebuilding toward something. I have no idea what the Padres' five-year plan is.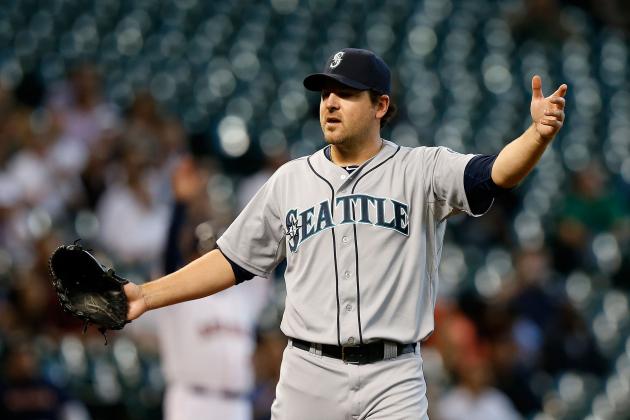 Scott Halleran/Getty Images

2012 Record: 75-87
2013 Record: 8-15
Few things in life are more frustrating than rooting for the Seattle Mariners.
From 2004 to 2012, they finished a combined 204.5 games out of first place in the AL West. Only once in those nine years did they finish within 10 games of the playoff picture, and they "built on" 2007's 88-75 season by turning in a 61-101 record in 2008.
The Pirates have been a bit more maligned, finishing 235 games out of the NL Central race over the same span, but no one ever expects the Pirates to do anything. It feels like we've been trying to talk ourselves into Seattle as a sleeper team every March, only to spend the bulk of April wondering how we could have been so foolish.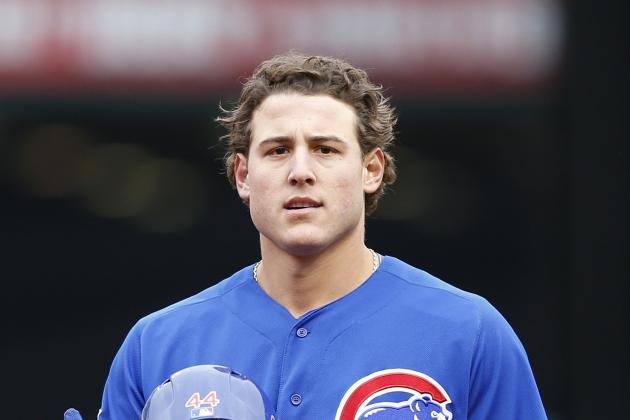 Joe Robbins/Getty Images

2012 Record: 61-101
2013 Record: 6-14
So what do you guys think Steve Bartman is up to these days? Will he ever be allowed back to Wrigley Field? What about the new Wrigley Field that the Cubs have promised will bring a World Series back to the North Side of Chicago for the first time in anyone's lifetime—will he be welcome there?
These are important questions that need answered. At any rate, talking about a fan from 2003 is more interesting than talking about any Cubs from 2013.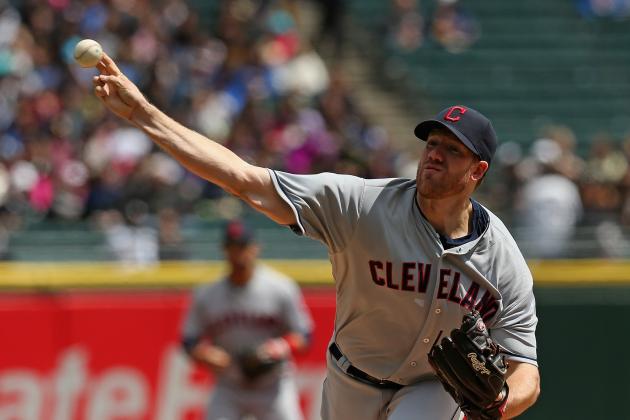 Jonathan Daniel/Getty Images

2012 Record: 68-94
2013 Record: 8-11
We've officially crept from "Snowball's chance in hell" to "Stranger things have happened."
When Michael Bourn comes back from the disabled list and when their middle infielders inevitably stop collectively batting below the Mendoza Line, the Indians will have one of the more formidable lineups in the country.
Also, between Joe Smith, Vinnie Pestano and Chris Perez, they have one of the better bullpens in the league.
Now if only they could do something about that starting rotation. Justin Masterson has been masterful so far, but it gets pretty ugly in a hurry after him.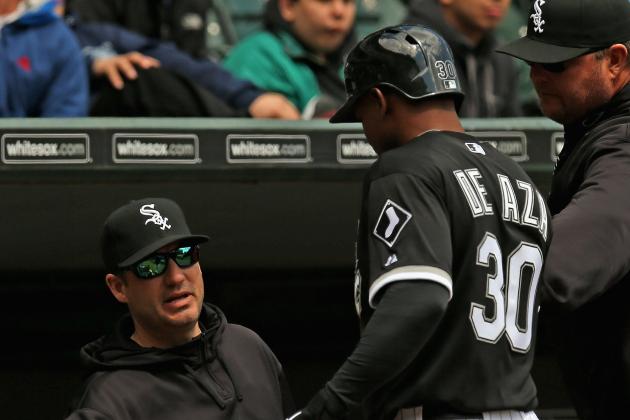 Jonathan Daniel/Getty Images

2012 Record: 85-77
2013 Record: 8-12
Outside of Alex Rios, the White Sox batting order is a toxic wasteland.
Their leadoff hitter (Alejandro De Aza) is batting .234 and striking out 29 percent of the time.
Jeff Keppinger is leading the team in at-bats despite a .188 batting average.
Paul Konerko's batting average is lower than in any other season in his career.
Gordon Beckham is injured, as always seems to be the case.
Last and definitely least, Adam Dunn has struck out four times as often as he's gotten hits, entering play on Thursday with a batting average of .100 and 28 strikeouts.
Naturally, they've still scored 12 more runs than the Marlins.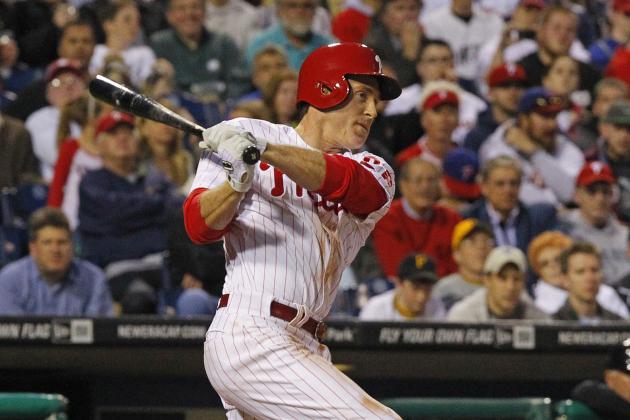 Hunter Martin/Getty Images

2012 Record: 81-81
2013 Record: 9-13
I don't agree with this one at all.
I can appreciate that the Braves and Nationals are the overwhelming favorites to win the NL East, but the Phillies are listed at 20-1 to win the division. That just seems way too high.
Halladay is starting to come around, and Hamels will eventually get there, too. Carlos Ruiz is coming back from his suspension in a few days, and the aging infield has survived nearly four full weeks without any injuries.
It just seems odd that 33 percent of teams make the playoffs, but the Phillies only have a six percent chance of being one of them—especially since they haven't finished below .500 since 2002.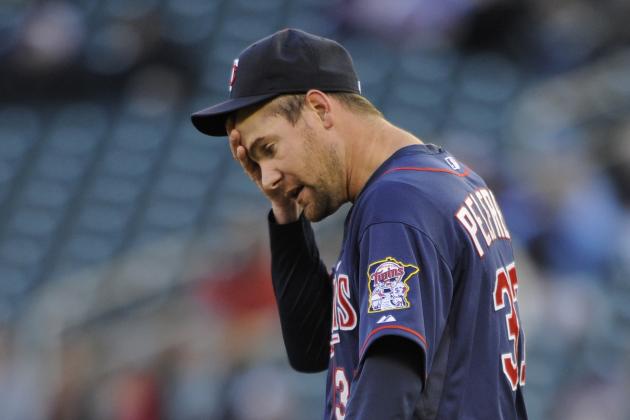 Hannah Foslien/Getty Images

2012 Record: 66-96
2013 Record: 9-8
The Twins only have six more scheduled days off between now and the All-Star break, and they already have three postponed games that need to be made up. It's difficult enough to survive a baseball season without having to force feed extra games into what were supposed to be your travel days.
Aside from the rigors of their remaining schedule, the Twins just aren't very good. They only have one guy with 30 or more at-bats and a batting average of .240 or better—to no one's surprise, that person is Joe Mauer.
The pitching staff is certainly nothing to write home about, either. Opening Day starter Vance Worley has an ERA of 7.11, and he's not even doing as poorly as Mike Pelfrey's 7.94 ERA. Kevin Correia has given them four quality starts, but not one of the starters has a K/9 of 6.2 or better.
We'll see how long they stay at or above .500, with 14 of their next 17 games coming against four of the five favorites to make the playoffs in the American League.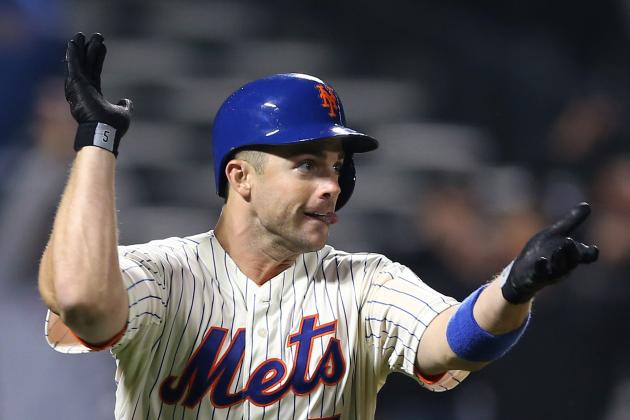 Elsa/Getty Images

2012 Record: 74-88
2013 Record: 10-9
Statistically, the Mets are off to a fantastic start to the season. John Buck and Lucas Duda are mashing baseballs. David Wright is getting on base 45 percent of the time and stealing them almost as regularly. Matt Harvey is generating more buzz than any other pitcher in baseball.
Yet, the Mets are just barely playing .500 baseball. The scheduling gods even blessed them with 19 of their first 25 games against teams that aren't expected to make the playoffs, but they haven't been able to make the most of their opportunity.
It's really just a matter of time before they cement their place in fourth in the NL East.
Mike McGinnis/Getty Images

2012 Record: 83-79
2013 Record: 11-9
Like the Phillies before them and another team shortly upcoming, the Brewers seem to be undervalued because of the strength of two other teams in their division.
Without question, the Reds and Cardinals are the favorites to finish in first and second place in the NL Central, but the Brewers are above .500 and only going to get better.
Jean Segura has been fantastic, and Carlos Gomez has probably played over his head to an extent, but the rest of the team has been average at best, and they're about to get Aramis Ramirez back from the disabled list.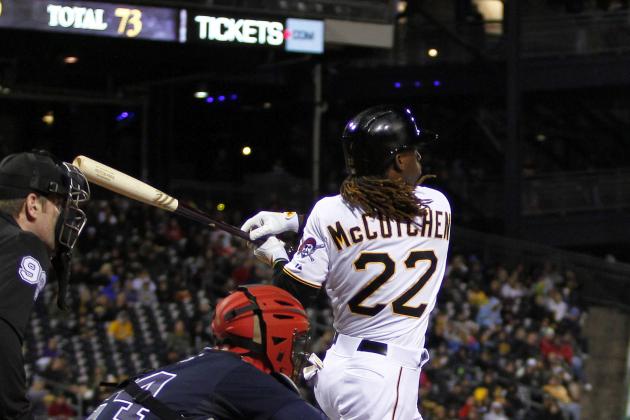 Justin K. Aller/Getty Images

2012 Record: 79-83
2013 Record: 12-9
The Pirates are too high on this list, if only because they haven't finished a season above .500 in over two decades.
Starling Marte has been seeing the ball well, and Andrew McCutchen is undoubtedly an All-Star talent, but the rest of the starting lineup is made up of guys who don't belong on the field every day.
At least with Pedro Alvarez's terrible batting average you're getting the potential for a good number of home runs. There's no upside to Clint Barmes or Gaby Sanchez, and there hasn't been for at least two full seasons.
The pitching staff is serviceable, but it hardly makes up for a team batting .230 with significantly fewer than one home run per game.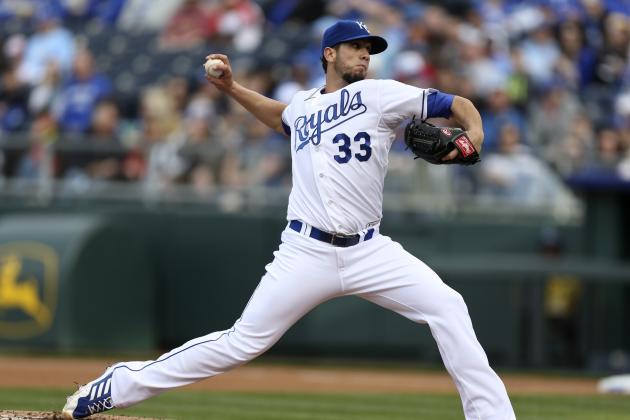 Ed Zurga/Getty Images

2012 Record: 72-90
2013 Record: 10-8
Slowly but surely, the Royals are becoming a quality team.
Using the model set forth by the Rays—suck for a decade and build a team from high draft picks—the Royals have a homegrown lineup they can go to war with. They're already the fifth-best-hitting team in the league, and that's despite a cold start to the season from Billy Butler and especially Mike Moustakas.
Sick of waiting on guys like Luke Hochevar to figure out how to pitch, they went outside of the organization to put together today's starting rotation. Luis Mendoza has been there for a little while, but none of the other four starters were wearing a Royals uniform at this time last year.
Thus far, those acquisitions have worked out swimmingly. If veterans like James Shields and Ervin Santana can continue pitching as well as they have been thus far, a 20 percent chance of making the playoffs seems completely reasonable.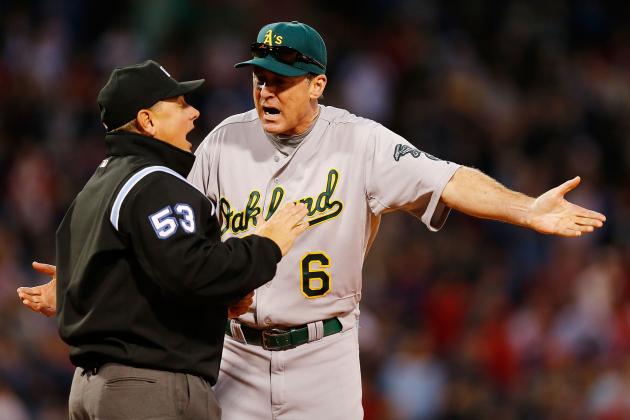 Jared Wickerham/Getty Images

2012 Record: 94-68
2013 Record: 13-9
At what point do we just believe in the A's instead of judging them by their meager payroll? They're currently leading the league in runs scored and are a game-and-a-half out of first place in the American League. Yet, here they are, hovering below the radar as always.
The scary thing about the A's is they're four games over .500 despite playing half of their games without their star player (Yoenis Cespedes), and might as well have been playing without their two best starting pitchers, as Brett Anderson and Jarrod Parker have been nothing short of dreadful in the opening month.
When they're at full strength, there's no reason to believe they can't beat out the Rangers and Angels in the AL West.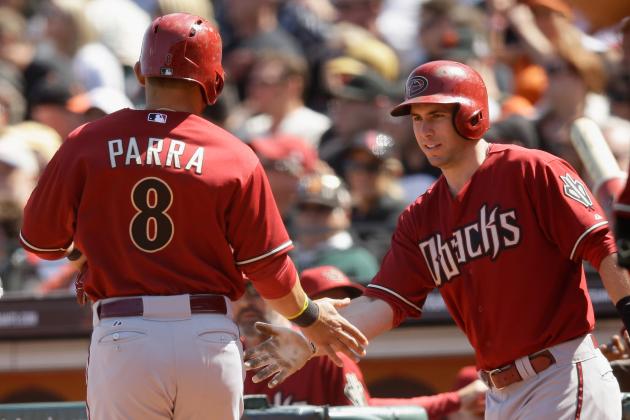 Ezra Shaw/Getty Images

2012 Record: 81-81
2013 Record: 12-9
Chris Johnson is batting .400, and Justin Upton is on pace to hit 85 home runs.
It's a good thing Arizona traded those guys away to get Martin Prado's .226 batting average at the top of its lineup.
I don't follow prospects. With more than 1,200 guys getting playing time at the big league level every season, there's more than enough to keep up with without worrying about the minor leaguers. Apparently Arizona got a pretty good haul of prospects in the trade, but who wants savings bonds when you can have cash?
The former Diamondbacks are almost solely responsible for Atlanta's hot start, while Paul Goldschmidt seems to be the only current Diamondback consistently worth having. Didi Gregorius has been better than advertised through one week, and maybe getting Jason Kubel back will prove to be a real shot in the arm. I'm just not seeing it, though.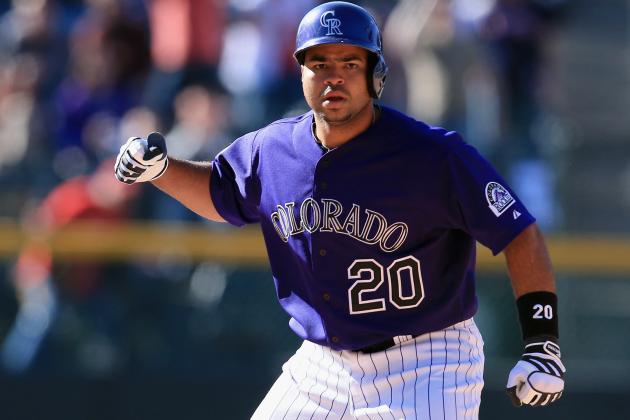 Doug Pensinger/Getty Images

2012 Record: 64-98
2013 Record: 14-7
The Rockies' batting is simply out of control right now. They're leading the league in batting average and slugging and trail only the Braves in home runs. Dexter Fowler, Carlos Gonzalez and Troy Tulowitzki are hitting the cover off of the ball, and Michael Cuddyer is on pace to destroy every personal record at the age of 34.
Can we really trust the pitching staff, though? This is, after all, the same Rockies team that decided to implement a four-man rotation with a 75-pitch limit last season before apparently coming to their senses this offseason and realizing how absurd that strategy was.
Jhoulys Chacin was off to a hot start, but landed on the DL after just four games. Jorge De La Rosa made just three starts last season, hasn't been a regular starter in four years and has a career ERA of nearly 5.00. The story on the other three starters isn't much more promising.
Perhaps we'll be treated to a Coors Field experience from yesteryear, when teams scored in double figures more often than not.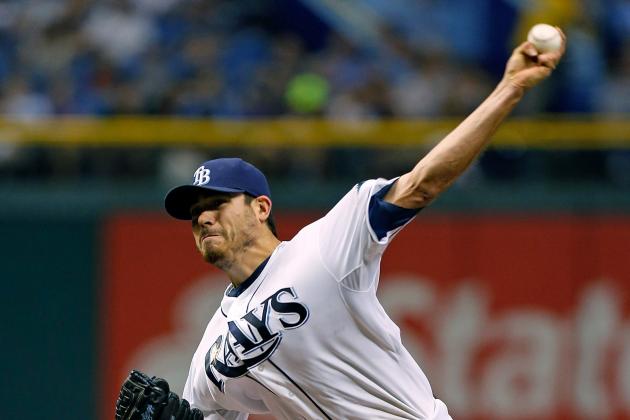 J. Meric/Getty Images

2012 Record: 90-72
2013 Record: 10-11
We've already encountered at least two teams from every other division, and now it's time to blaze through an AL East that clearly no one can properly read.
All five AL East teams have odds between 2.75-1 and 4-1, meaning it's literally anyone's guess who will emerge with the division crown.
What's the case for Tampa Bay? Well, it certainly isn't the batting, I can tell you that much. The bats came to life a little bit in recent series against Oakland and Baltimore, but they went right back to sleep against the Yankees, leaving them with an average of 3.76 runs per game and a .230 batting average.
Fortunately, the pitchers have been shutting down opponents to the same degree. Matt Moore and Alex Cobb have been on fire, and no one actually believes David Price will have a 5.52 ERA at the end of the season, do they?
Whether it's before or after Wil Myers' call-up, the bats will eventually improve. If the young arms in the starting rotation can keep doing anything close to what they've been doing, it should spell playoffs for the Rays.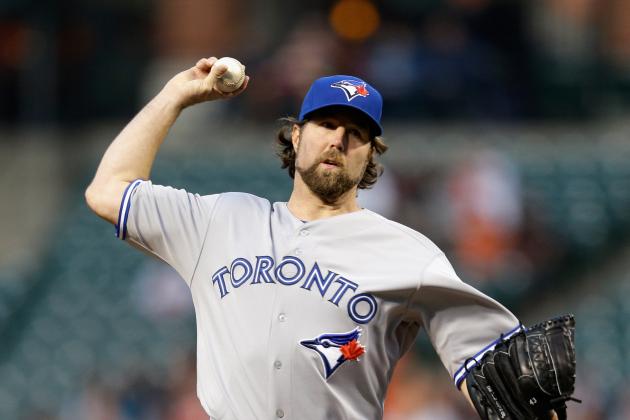 Rob Carr/Getty Images

2012 Record: 73-89
2013 Record: 9-13
It would appear that taking the best pieces from a 69-93 team and putting them on a 73-89 team doesn't actually translate into an immediate success.
The Blue Jays should improve, though. Jose Bautista has been banged up, Brett Lawrie is still rounding into game shape, and neither Maicer Izturis nor Emilio Bonifacio is going to bat .169 for forever.
R.A. Dickey has been ineffective. Actually, the entire starting rotation has been really ineffective, with J.A. Happ's 3.68 ERA being the only one lower than 4.60. Josh Johnson has been particularly dreadful, sporting an ERA of 6.86 and a WHIP of 1.88.
With the lack of a clear-cut favorite in their division, four games below .500 is hardly cause for alarm for a team that has yet to even remotely play up to its potential.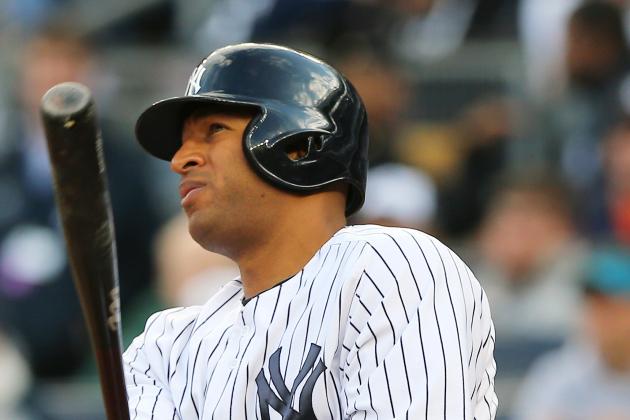 Elsa/Getty Images

2012 Record: 95-67
2013 Record: 11-9
With nary an at-bat from Curtis Granderson, Alex Rodriguez or Mark Teixeira, the Yankees are one of the best teams in the American League and well on their way to another playoff appearance.
The real question is whether you actually trust any of the batters that have carried them to this point. Robinson Cano is obviously great, but what about the other guys?
Travis Hafner, Lyle Overbay, Ichiro Suzuki, Vernon Wells and Kevin Youkilis are each considerably on the wrong side of 30, and were essentially thrown away by teams that didn't want to pay them anymore. Are the Yankees just planning on having nine aging veterans on their payroll in hopes that at least five of them will be healthy at any given time?
And, honestly, how much longer can Andy Pettitte's renaissance continue beyond the age of 40? He was barely effective at the age of 35, and now he's suddenly a 2.50 ERA, 1.15 WHIP-type of elder statesman?
I'm starting to remember why everyone was picking New York to finish near the bottom of the division.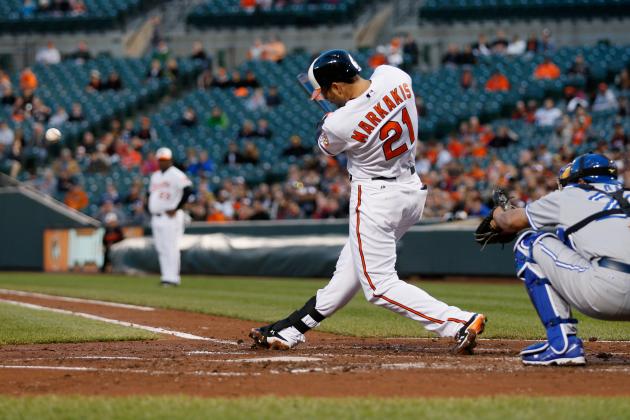 Rob Carr/Getty Images

2012 Record: 93-69
2013 Record: 12-9
The Orioles were the sexy preseason pick to win the AL East. Boston and New York were aging and fading, Tampa Bay was dealing starters for prospects, and Toronto was the annual front-runner for "Dream Team" that turns into a nightmare.
Chris Davis isn't going to hit this well all season, but Matt Wieters and J.J. Hardy aren't going to hit this poorly all season either. The individual components will fluctuate, but as a team they're batting right around where you would expect them to be for the rest of the year.
The same could be said for the pitching. Each of the five starters is within the general vicinity of his career averages. One would hope Jake Arrieta will bring his ERA down from 6.63, but his best ERA in any previous season was a 4.66—we're not exactly dealing with a Cy Young candidate here.
By and large, Baltimore is what it's going to be: a team that bats .250 with a 4.00 ERA and a .570 winning percentage. After all, it's almost exactly what they did last season en route to a wild-card berth.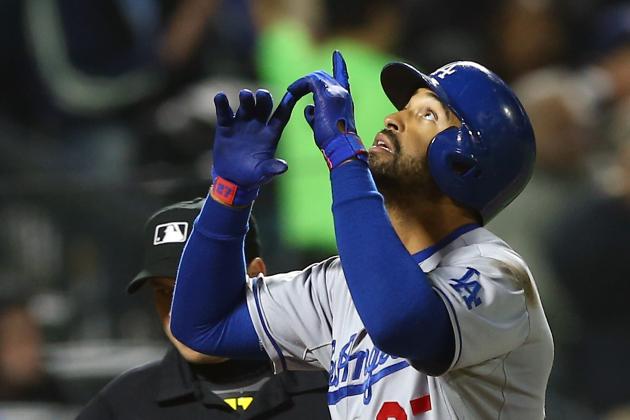 Elsa/Getty Images

2012 Record: 86-76
2013 Record: 9-11
Several of the Dodgers have started the season with a bang. Adrian Gonzalez is batting .355 with more walks than strikeouts, Carl Crawford has rejuvenated a career that went sour in Boston, Mark and A.J. Ellis are both batting over .300, and Clayton Kershaw has "struggled" his way to a 2.14 ERA and 1.01 WHIP.
Other pieces of the puzzle have been fairly disastrous.
Zack Greinke is out for at least six more weeks with a broken collarbone. Chad Billingsley started the season on the DL and made all of two starts before having Tommy John surgery. Fifteen games into the season, Matt Kemp was batting .182 with no home runs or stolen bases.
Without Hanley Ramirez, the left side of the infield has been a mishmash of disappointment between Luis Cruz, Justin Sellers, Jerry Hairston Jr. and Juan Uribe.
With those holes in the lineup and only two healthy pitchers you really trust—why are Josh Beckett and Ted Lilly making a combined $30 million in 2013?—this slow start to the season could manifest itself into a sub-.500 record at the end of the season.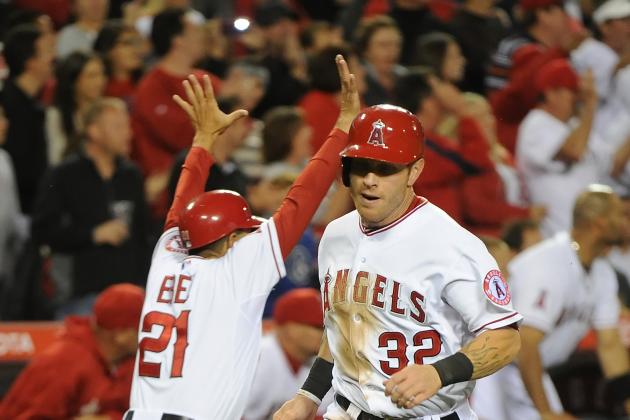 Lisa Blumenfeld/Getty Images

2012 Record: 89-73
2013 Record: 8-12
I'm not worried about the offense. A heart of the order made up of Mike Trout, Albert Pujols, Josh Hamilton and Mark Trumbo will eventually work out the kinks and start firing on all cylinders.
The pitching staff, however, could be a serious problem.
Jered Weaver will likely be out for another month, and pitchers rarely just return from the DL without missing a beat, regardless of which elbow was fractured. Joe Blanton and Jason Vargas aren't fooling anyone, each sporting a WHIP over 2.00. Tommy Hanson is the only Angel with more than one win, and he's on the bereavement list for a death in the family.
C.J. Wilson has been OK, but he hasn't been anything resembling an ace since 2011. Despite literally being a replacement-level player, Garrett Richards is leading the Angels' staff in WAR, and even he has only been worth half a win.
Fortunately, the Angels could wind up having the most potent offense in the league. They'll need it to make up for one of the worst pitching staffs.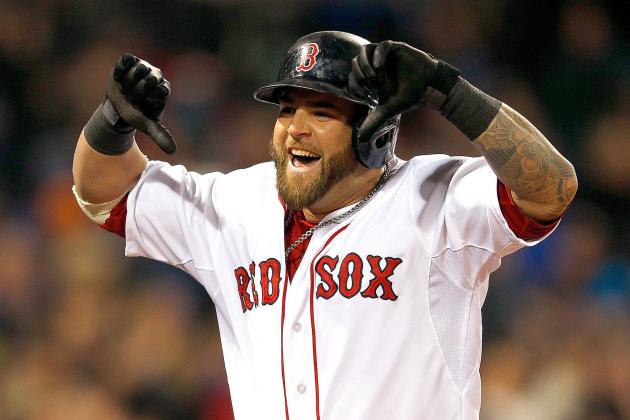 Jim Rogash/Getty Images

2012 Record: 69-93
2013 Record: 14-7
Mike Napoli is striking out in 33 percent of his at-bats, but he's also averaging an RBI in 31 percent of them.
Will Middlebrooks is batting an abysmal .165, but he has five home runs, including three in one game.
There are definitely a handful of guys who can't even be painted in a positive light—Jackie Bradley Jr, Stephen Drew, Alfredo Aceves and Joel Hanrahan have each been terrible—but the whole is much greater than the sum of those parts.
Three-fifths of the Red Sox rotation have been stellar, and the jury is still out on whether Felix Doubront belongs in a group with Aceves or with Clay Buchholz, Ryan Dempster and Jon Lester. Andrew Bailey has effortlessly filled the void left by Joel Hanrahan. Daniel Nava has been a pleasant surprise in the outfield.
All in all, the Boston Red Sox have the best record in the American League, even though neither Dustin Pedroia nor David Ortiz has hit a home run yet this season.
Thearon W. Henderson/Getty Images

2012 Record: 94-68
2013 Record: 13-9
If Barry Zito can submit an ERA of 3.42 and a WHIP of 1.27 all season, and if Tim Lincecum can even remotely resemble his old self, the Giants will have perhaps the most dominant five-man rotation in recent memory.
Madison Bumgarner has Cy Young potential, and there's no way Ryan Vogelsong and Matt Cain will continue allowing more than four earned runs per start.
If their offense can muster up four runs per game over the course of the season, they'll definitely be defending their World Series title in October.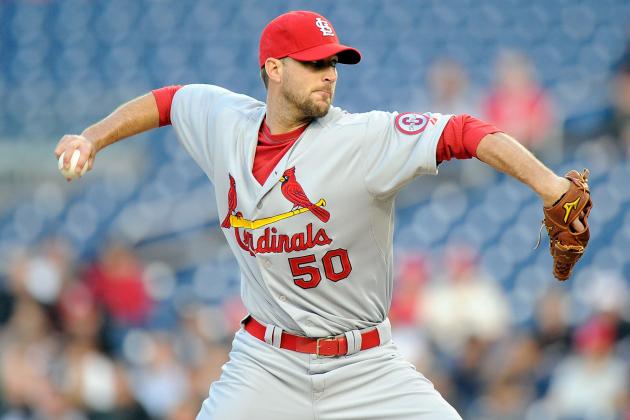 Greg Fiume/Getty Images

2012 Record: 88-74
2013 Record: 13-8
No matter which pieces depart, the Cardinals just continue manufacturing quality seasons. They've finished each of the past five seasons at least 10 games over .500.
They've lost Tony La Russa, Albert Pujols, Lance Berkman and Chris Carpenter over the past few years, but none of it has mattered because of the one piece that has stayed.
Yadier Molina is the most underrated catcher in the league, and it's not even close. He has routinely batted .300 while catching 130 or more games per year, anchoring what is consistently one of the best pitching staffs in baseball.
Thus far this season the Cardinals have a 3.14 ERA—and that even includes some particularly awful relief appearances by Mitchell Boggs. Shelby Miller and Adam Wainwright appear poised to be one of the league's best one-two punches at the top of the rotation.
Al Bello/Getty Images

2012 Record: 98-64
2013 Record: 10-11
Sub-.500 baseball used to be the norm in the nation's capital, but it's extremely disappointing this year.
With the exception of Bryce Harper and perhaps Ian Desmond, none of the Nationals hitters have even remotely begun to duplicate what they did in 2012.
Adam LaRoche is batting .169 with strikeouts in 39 percent of his at-bats. Danny Espinosa hasn't done any better, hitting .155. And Ryan Zimmerman was a complete disaster before landing on the DL.
The pitching has been equally lackluster. Stephen Strasburg is 1-4 despite four quality starts. Gio Gonzalez has failed to make it out of the fifth inning in each of his last three starts. Dan Haren has been more hittable than batting practice. And Craig Stammen has been the only somewhat-reliable person to come out of the bullpen.
They've struggled in every facet of the game, but it's only April and they're still hovering around .500. Maybe they won't bypass the Braves in the NL East, but you have to think there's a playoff spot out there for them.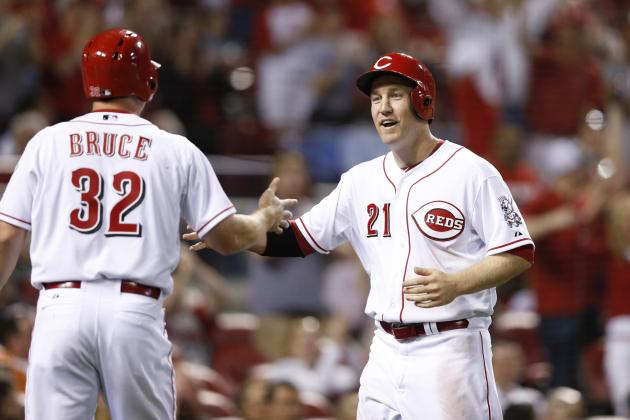 Joe Robbins/Getty Images

2012 Record: 97-65
2013 Record: 13-9
The Reds might be the most complete team right now.
Even with Jay Bruce struggling, five of the first six guys in their batting order are getting on base at least 33 percent of the time. Joey Votto's OBP is .477 while Shin-Soo Choo is leading off and reaching base 53.4 percent of the time.
Not one of their starting pitchers has an ERA over 3.81, and Aroldis Chapman has been absolutely lethal out of the bullpen.
Their schedule was front-loaded with challenging series, but from May 10 through June 5, their opponents are Milwaukee, Miami, Philadelphia, New York Mets, Chicago Cubs, Cleveland, Pittsburgh and Colorado. It's been a good number of slides since we saw any of those teams. Cincinnati should have a huge lead in the NL Central by early June.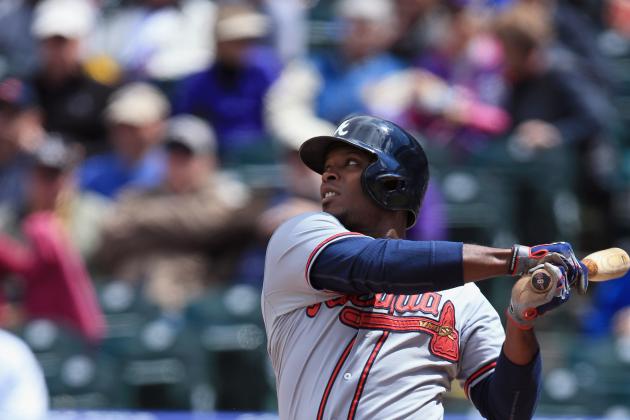 Doug Pensinger/Getty Images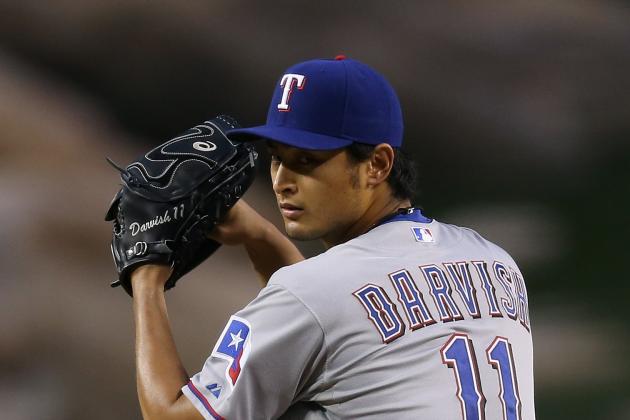 Jeff Gross/Getty Images

2012 Record: 93-69
2013 Record: 14-7
Yu Darvish is unbelievably good right now. Making all five of his starts against the AL West, he has 49 strikeouts in 32.2 IP. He already has three starts this season with six or more innings pitched, 10 or more strikeouts and no runs allowed. Justin Verlander made two such starts in the entire 2012 season.
As far as the rest of the Rangers go, Ian Kinsler and Nelson Cruz are off to a great start, and Lance Berkman is hitting the ball well in limited plate appearances. The non-Darvish portion of the pitching staff is also doing quite well, as the team has a collective ERA of 2.85.
I still think Oakland will ultimately win the AL West, but the Rangers definitely have a 75 percent chance of making the playoffs in some capacity.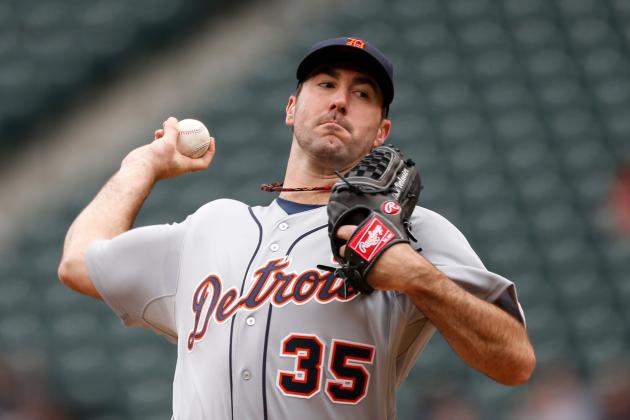 Otto Greule Jr/Getty Images

2012 Record: 88-74
2013 Record: 10-9
That's an absurdly high percentage for a team that's just barely .500, but would you pick against the Tigers in the AL Central?
Justin Verlander, Max Scherzer and Doug Fister are among the best pitchers in the game today—Anibal Sanchez isn't exactly a slouch, either, posting a sub-4.00 ERA in each of the past four seasons. If Jose Valverde is finally the answer they're looking for in the closer role, it would be hard to argue against Detroit as the best pitching staff in the American League.
The Tigers can hit the ball, too, anchored by Prince Fielder and reigning AL MVP Miguel Cabrera. The runs haven't been flowing as well as they could be, but they'll come in due time.