Boston Red Sox Prospects off to the Most Shocking Hot Starts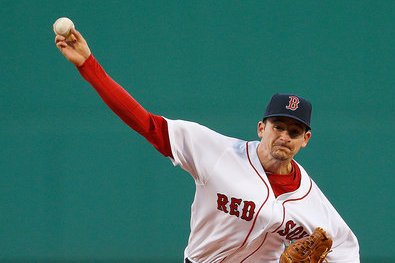 Righty Allen Webster impressed in his major league debut. Image via baseball.rawsignal.com.
It's easy to get caught up in how well the Red Sox have been doing—that 13-0 beating from the A's being the exception. But, it's still always important to check in with the future of the franchise.
A few Red Sox prospects are off to a steaming hot start, and they might not be the players you'd guess.
Jackie Bradley Jr. was the talk of spring training but after making the cut, pretty much flopped. The shortstop of the future Xander Bogaerts is playing well in Salem, batting .308, but Boston wouldn't expect anything less.
This list discusses Red Sox prospects that aren't just off to hot starts, but shocking hot starts, meaning they are blowing their old numbers out of the water, surpassing their perceived potential or performing near-perfect.
Begin Slideshow

»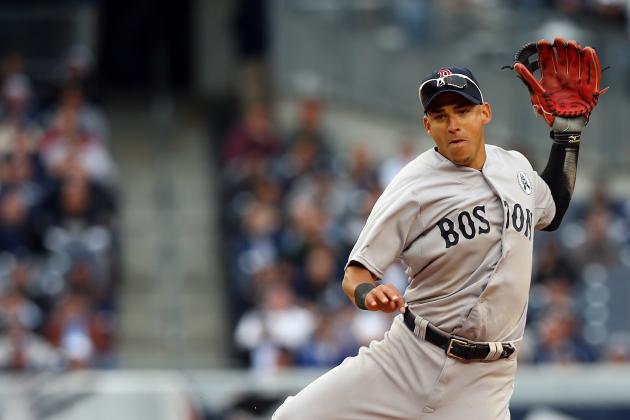 Elsa/Getty Images

Shortstop Jose Iglesias snuck onto the Red Sox Opening Day roster, with a little help from Stephen Drew and a concussion. But the defensive star with serious glove skills, the same player that batted a sad .118 in 2012, surprised everyone.
In six games in the majors, Iglesias' batting line was .450/.476/.550.
Iglesias' trip back to the minors was inevitable with Drew's return, but it wasn't due to poor performance.
Oddly enough, his Pawtucket average isn't quite as impressive. He's hitting .262 with 11 hits in 11 games. He's hit two home runs and totaled eight RBI.
Without a doubt, Iglesias' hitting has improved immensely, and he's off to a hotter start than anyone could have predicted. Depending on how Drew plays out this season, fans could see Iglesias back up at Fenway soon.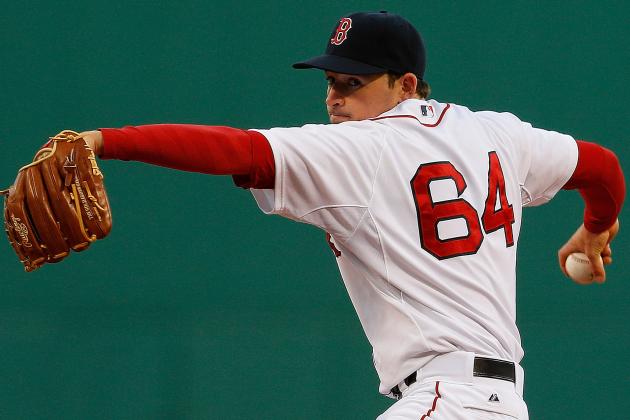 Jim Rogash/Getty Images

Allen Webster was easily the most promising pitching prospect at Red Sox spring training, but it's doubtful that anyone—including him—expected him to get his first call-up to the majors so quickly.
Webster has a near-perfect .90 ERA in Pawtucket this year after two starts. He's allowed just one run, seven hits and three walks in 10 innings, and he's struck out 12.
He was called up for assistance on Sunday for Boston's doubleheader against the Royals, making his major league debut. The Red Sox lost 5-4 in 10 innings, but the 23-year-old showed serious promise for his age.
In six innings he allowed three runs (two earned) on five hits. He walked one and struck out five.
Webster gave up a double on his first pitch, and Kansas City got off to a quick 1-0 start. But he quickly settled in, retiring 10 consecutive batters. It wasn't until the fifth that he got in trouble again, giving up two solo home runs.
He also clocked a 98-mph fastball.
Though his time in the majors was short-lived, expect to see Webster back sooner than later.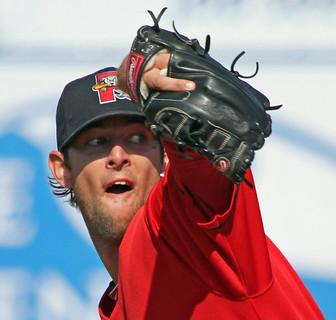 Image via Soxprospects.com
Chris Martin is getting himself noticed.
It's hard to argue with his 2013 stat line. In six games in Double-A Portland the right-hander has a perfect ERA. He's pitched 13.1 scoreless innings, given up seven hits, walked only three and punched out 17 batters.
He's also yet to allow more than two hits in a game.
This hot start is especially notable after Martin posted a 4.48 ERA in Portland last year. In a three-game Portland debut in 2011, he owned an ugly 15.88 ERA, a night-and-day difference from his .92 ERA in Salem earlier that year.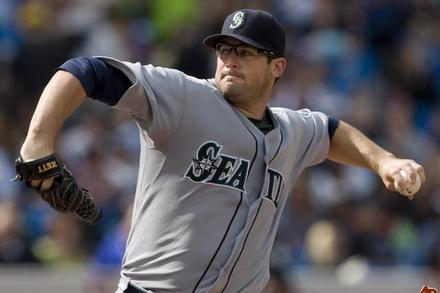 Image via deepinthehole.blogspot.com
Also pitching a near-perfect 2013 is Ryan Rowland-Smith. In his first season with the Red Sox, the lefty reliever has allowed just one run off four hits in 9.2 innings in Triple-A Pawtucket for a .93 ERA.
He's walked three and struck out 10, collecting two wins in the process.
Smith has been all over the place throughout his 12-year professional career and so has his pitching. The 30-year-old went 3-6 with a .333 ERA in 2012 with Chicago's Triple-A Cubs. In 2011 it was worse: 2-10 with a 6.19 ERA with Houston's Triple-A affiliate.
In 2010, he got a call-up to Seattle but went a miserable 1-10 with a 6.75 ERA, giving up 82 earned runs in 27 games.
Compared to recent years, Smith is unrecognizable on the mound—in a good way.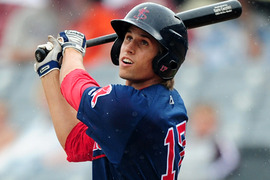 Image via Milb.com
The 22-year-old third baseman is absolutely on fire. In 17 games in Salem, he's batting .344, with 22 hits, two home runs, eight RBI and seven stolen bases.
Cecchini is moving his way up the ranks fairly quickly and will continue to do so if he remains hot.
His first professional season in Lowell in 2011 was cut short due to a wrist injury, but he batted .298 in 32 games. Last year in Greenville, he hit .305, collecting 139 hits in 118 games. He also stole 51 bases.
Looks like Cecchini is riding a track of steady improvement.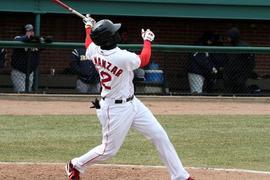 Image via milb.com
Michael Almanzar signed a pro contract at the tender age of 16, taking home a $1.5 million signing bonus from the Red Sox.
After a quick climb up the ranks to Greenville, Almanzar started to struggle and got stuck. But those struggles came to an end last year when the infielder hit .300 in Salem.
So far in 2013, the 22-year-old Dominican—who's father played in the majors—has 25 hits in 18 games for the Double-A Sea Dogs. He's hit a team-best four home runs, two of which came in the same game. He's collected 15 RBI and is hitting .333.
He's still young, but if things keep going the way they have been this season, don't expect it to be too long before he reaches the top. After all, it's in his blood.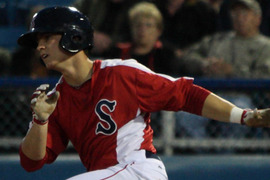 Image via milb.com
Twenty-one-year-old Sean Coyle is also swinging a pretty hot bat. He's hitting .333 in Salem, and he's had a hit in every game but one, collecting 14 total in 10 games.
Four of those hits were home runs, three were doubles and one a triple. He's also stolen four bases.
The second baseman had a rough start in 2012 but picked things up and ended with a .249 average on the year. It looks like he's taken that momentum into 2013.