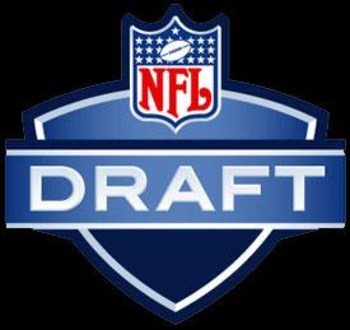 This is my final mock draft for 2009, as the draft is less than a day away. I'm too lazy to figure out any trades, which are sure to happen, especially with the popularity of Mark Sanchez. None the less, you'll find some surprises. I hope that all my picks are right, so I can brag to everyone about them on Monday.
Detroit Lions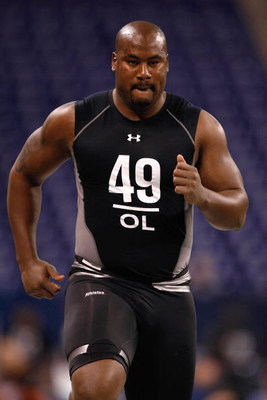 Jason Smith, OT, Baylor
A cheaper option than Stafford, and they can learn from the Dolphins by starting with a LT.
St. Louis Rams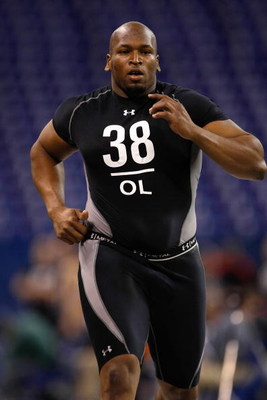 Eugene Monroe, OT, Virginia
OT is a need with Orlando Pace gone.
Kansas City Chiefs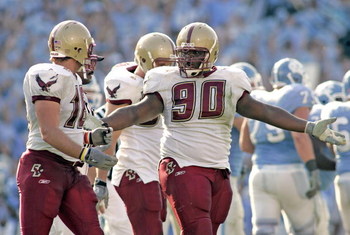 B.J. Raji, DT, Boston Collge
With new LB signings and trades, the Chiefs can fix their defensive line. Raji also has value than Jackson.
Seattle Seahawks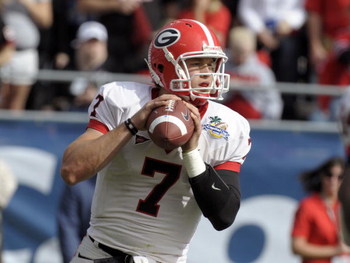 Matthew Stafford, QB, Georgia
Seattle can trade this pick if a QB falls this far, but if not, Stafford can be taken and he can learn under Matt Hasselbeck.
Cleveland Browns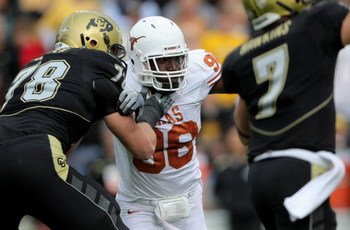 Brian Orakpo, DE, Texas
The Browns need a pass rush, have for a while, and Orakpo can deliver. Cleveland might trade down to teams interested in Sanchez.
Cincinati Bengals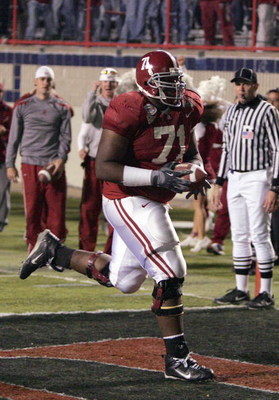 Andre Smith, OT, Alabama
Palmer needs to stay healthy and off the ground in order to succeed, and this pick will fill a huge hole.
Oakland Raiders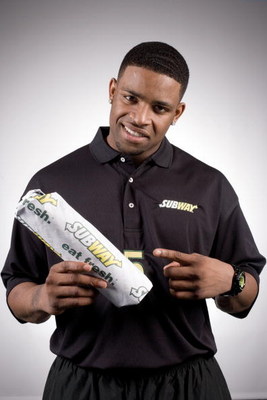 Michael Crabtree, WR, Texas Tech
JaMarcus Russell needs a target to stretch the field, and Crabtree is a weapon.
Jacksonville Jaguars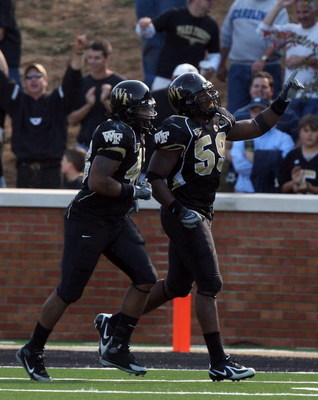 Aaron Curry, LB, Wake Forest
Curry has been doing everything right for the draft, accepting less money, inviting a cancer patient to the Draft, as well as being humble. The Jaguars could go OT or WR here, but Oher is a little of a stretch at this spot.
Green Bay Packers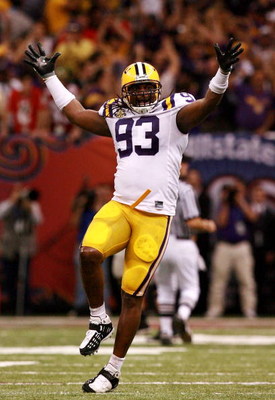 Tyson Jackson, DE, Louisiana State
Arguably the best five technique DE in the draft, Jackson makes the transition to a 3-4 a little easier.
San Fransisco 49er's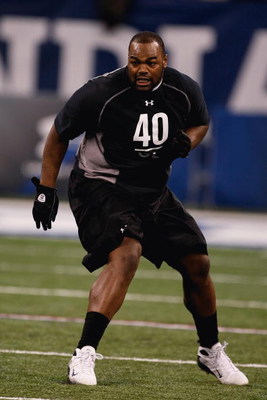 Michael Oher, OT, Ole Miss
The 49er's pick is really hard for me, as they could go with Oher, Everette Brown, or even Sanchez here.
Buffalo Bills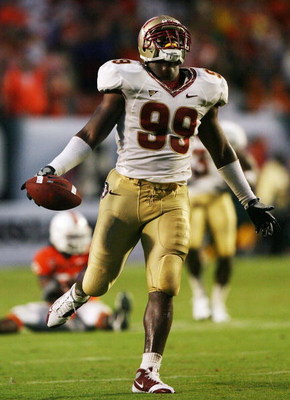 Everette Brown, DE, Florida State
With their offense set, the Bills target a pass-rush.
Denver Broncos
Mark Sanchez, QB, USC
Personally, I'd be torn with this pick. I'm an SC fan, but the Broncos need defense terribly. Josh McDaniels likes this guy, and if a team doesn't trade up to get him, he'll snag him in an instant.
Washington Redskins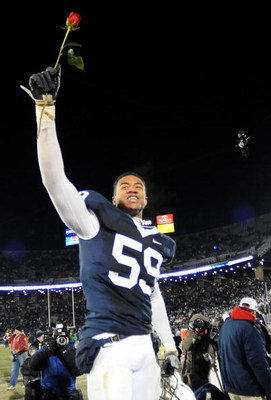 Aaron Maybin, DE, Penn State
A pure pass rusher that fits alongside Haynesworth, but they'd rather have Sanchez or an OT.
Look for them to try and trade up for Sanchez.
New Orleans Saints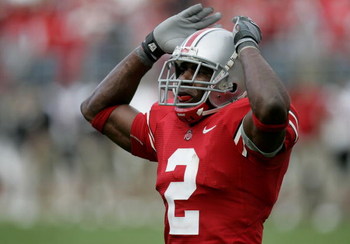 Malcom Jenkins, CB, Ohio State
The Saints need help in their secondary desperately, and get the best player to help them there.
Houston Texans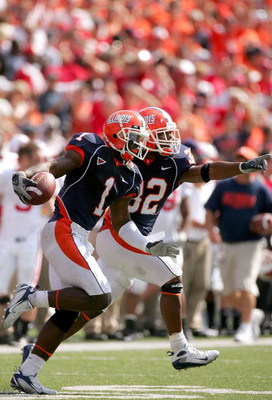 Vontae Davis, CB, Illinois
The Texans can use some help in the secondary, and with the best DEs off the board, Davis is the pick.
San Diego Chargers
Rey Maulaluga, LB, USC
The Chargers get an absolute force to be reckoned with at LB, which solidifies their defense.
New York Jets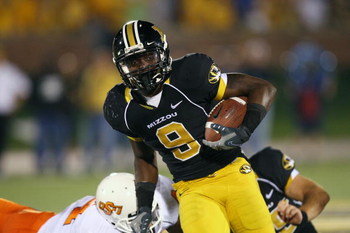 Jeremy Maclin, WR, Missouri
With Coles gone, the Jets need a new No.1 wide out. Josh Freeman can be taken here as well, but is a bit of a stretch.
Look for them to try to grab Sanchez as well.
Denver Broncos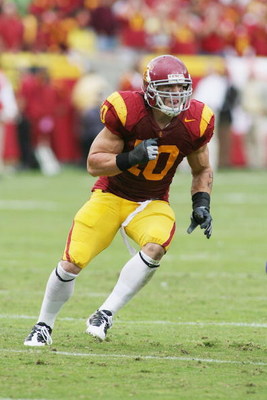 Brian Cushing, LB, USC
Alright, I might be a little bias with USC players going to the Broncos, but who isn't?
Defense is a big need, with one of the worst, and an OLB like Cushing can add another piece.
Tampa Bay Buccaneers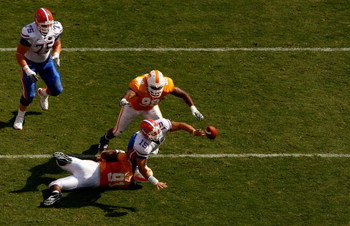 Robert Ayers, DE, Tennessee
With Leftwich signed, QB is no longer a need for this draft, and can be put on hold until next year.
Detroit Lions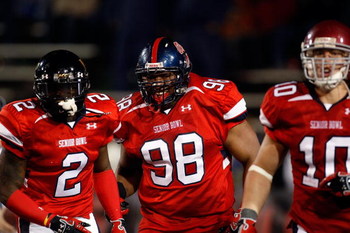 Peria Jerry, DT, Ole Miss
With help on the offensive line, they will look to add to the defense, which could not stop the run at all last year.
Philadelphia Eagles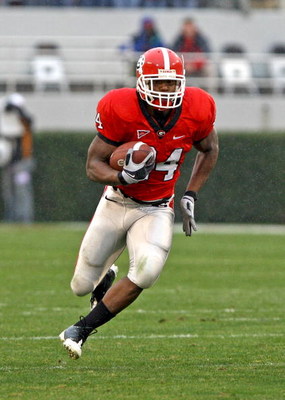 Knowshon Moreno, RB, Georgia
A great replacement/backup for Westbrook, and can split carries.
Minnesota Vikings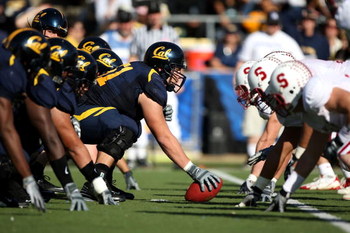 Alex Mack, C, Cal
Can't pass on the best center in the draft, especially when they just released Matt Birk.
New England Patriots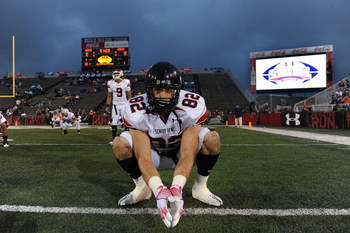 Connor Barwin, LB, Cincinnati
Connor can replace the traded Mike Vrabel, and add more terror into the Pat's linebacker corps.
Atlanta Falcons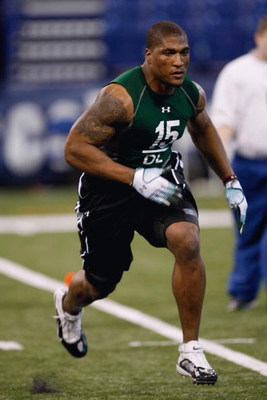 Larry English, DE, Northern Illinois
A great prospect who can give the Falcons a little more push in their defense.
Miami Dolphins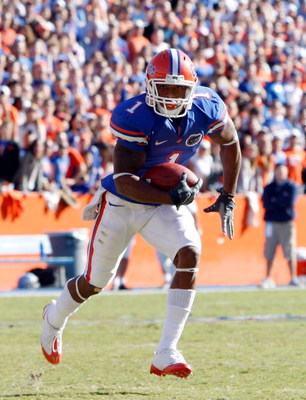 Percy Harvin, WR, Florida
He gives the offense more explosion and just imagine how he can help in the Wildcat.
Baltimore Ravens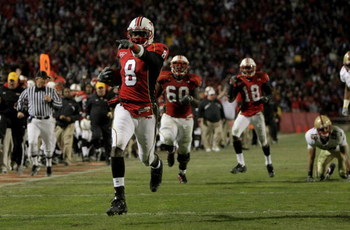 Darrius Heyward-Bey, WR, Maryland
It gives Joe Flacco a No. 1 option to throw to.
Indianapolis Colts
Evander "Ziggy" Hood, DT, Missouri
After releasing Ed Johnson, the Colts need a replacement.
Buffalo Bills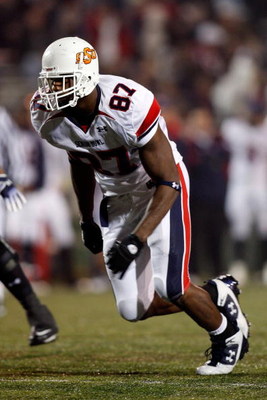 Brandon Pettigrew, TE, Oklahoma State
With the signing of T.O., Pettigrew adds yet another offensive weapon.
New York Giants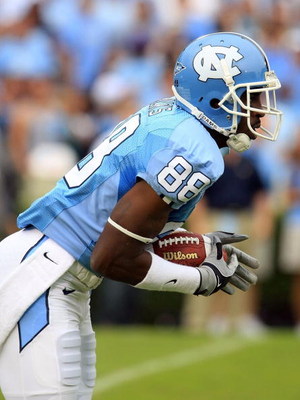 Hakeem Nicks, WR, North Carolina
This is a need, especially if Plaxico Burress does not return. The Giant's might also take Cal Poly's Ramses Barden later in the draft.
Tennessee Titans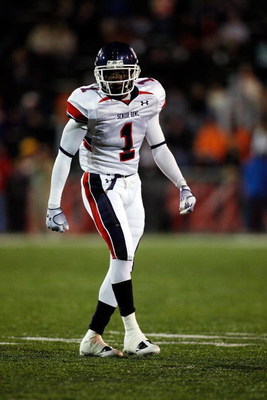 Darius Butler, CB, Connecticut
The Titans need someone opposite Finnegan.
Arizona Cardinals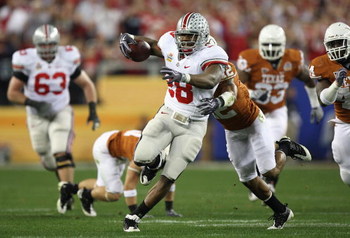 Chris "Beanie" Wells, RB, Ohio State
The Cards can pass. Now, they can run.
Pittsburgh Steelers
William Beatty, OT, Connecticut
The O-Line was a travesty last year, and gets a little help in the first round.
Keep Reading