Nebraska Football: Power Ranking the Top Blackshirt Units of All Time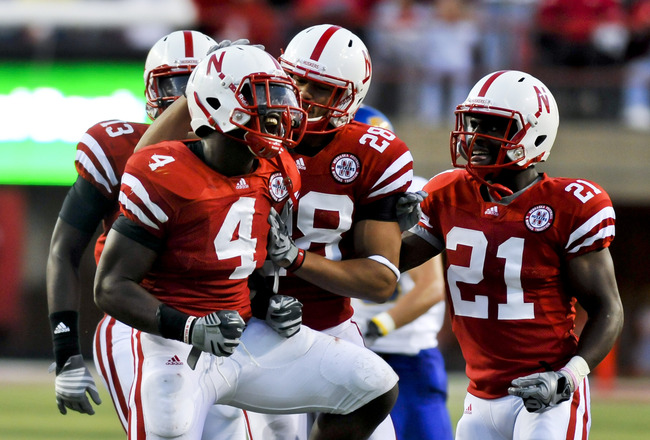 Eric Francis/Getty Images
If there is one storyline gripping the Big Red this spring, it is no doubt the crumbling of the Blackshirts. Brought in specifically to inject his defensive prowess into the Cornhuskers after years of doormat-like defensive units under Bill Callahan, Bo Pelini initially delivered.
Impressively pulling the Blackshirts out of the cellar to national prominence, Husker Nation felt that the tides had turned and Nebraska was back on track. But the Husker defense has since fallen on hard times and made many fans yearn for the golden years of Charlie McBride and the consistently stingy defenses of the Big Red.
So let's forget about the large question marks that now loom around the Cornhusker defense and remind ourselves of the greatness achieved by the most smothering and play-making Blackshirt units of all time.
10. 1980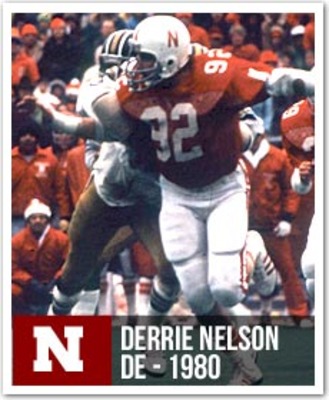 Source: ThisIsNebraska.com
Barely cracking the top 10 is the unheralded 1980 Blackshirts. Although Husker fans largely focus on the early '70s and the late '90s as the glory days of Big Red football, the early '80s were just as strong, only lacking the trophies to show for their success.
And it was this 1980 squad that provided the breakthrough from the ranks of the respectable defenses of the late '70s to the upper echelon of college football in the early 1980s. This crew held opponents to 8.5 points per game, limited rushing yards to a mere 88 per contest and announced the Huskers' re-emergence into the national title hunt.
9. 1967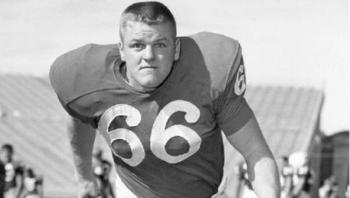 Source: Huskers.com
Comparing defenses across eras of college football is no easy task. The differences in the offenses that took the field against this 1967 team and those that the Huskers see today cannot be understated.
But no matter how this '67 group would fare against today's spread offenses, any list of top Cornhusker defensive units would not be complete without it.
This group held opponents to a seemingly untouchable 158 yards per game, including a 67 rush yards average which only becomes more astounding when considered within the framework of the early run-happy days of football.
They ranked high nationally in virtually every defensive statistical category and paved the way for the tradition of excellence that overtook the program through the Bob Devaney and Tom Osborne years.
8. 1994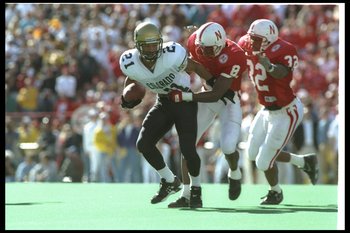 Todd Rosenberg/Getty Images
After more than a two-decade national championship drought, Nebraska broke through in 1994, largely thanks to McBride's stingy defense.
All-American linebacker Ed Stewart headlined this unit that allowed only 12 points and fewer than 80 yards rushing per game. Not only did its efforts result in the Huskers' third national championship, it began Nebraska's dynasty that would run for three more years and solidify Osborne's place among the pantheon of Nebraska football.
7. 2003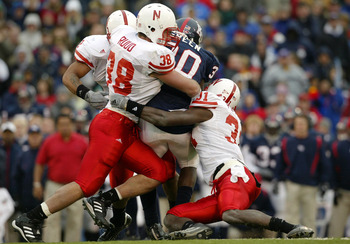 Brian Bahr/Getty Images
Pelini notches his first spot on this list with the most difficult Blackshirt unit to place. This group did concede almost 300 yards and 15 points per game (of course, those numbers are poor only when compared with the other Husker defenses on this list).
But this defense's ability to make huge plays earns it the No 7 spot. Led by Josh and Daniel Bullocks, the 2003 Blackshirts posted staggering numbers as they ripped opposing offenses apart for 47 takeaways, including 2.5 interceptions per game. They might not have been the strong, steady defense of other years, but they were good for more than a few highlights.
6. 1996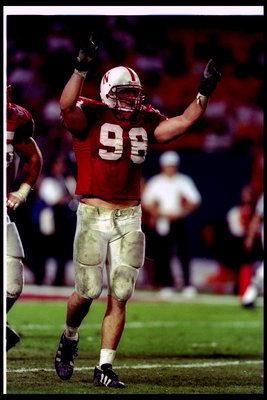 Andy Lyons/Getty Images
The 1996 Nebraska team failed to capture the national championship and ultimately denied the Huskers the only "four-peat" in college football history. But do not blame the defense.
Despite not being rewarded with the top prize in college sports, these Blackshirts undeniably deserved it. Of the four defenses involved in Nebraska's late-'90s dynasty, the 1996 group topped the bunch in touchdowns allowed (16) and turnovers forced (33, five more than the 1995 squad).
5. 1981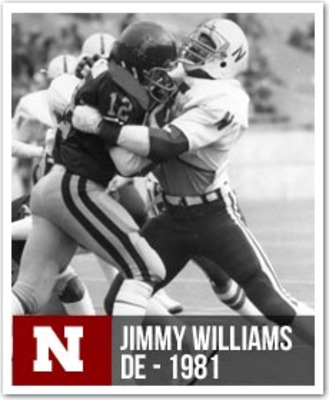 Source: ThisIsNebraska.com
Led by walk-on All-American defensive end Jimmy Williams, this corps of Blackshirts was a jack of all trades. While some of Nebraska's top defenses were there to fly around the field making plays, others leaned on their discipline and consistency to perform solidly on every down.
The '81 Husker defense was the best of both worlds.
Coming about as close to the '71 unit's turnover mark as any team had, this group posted an astounding 42 takeaways. And better yet, it forced those turnovers while allowing only 9.6 points and 100 passing yards per contest.
4. 1972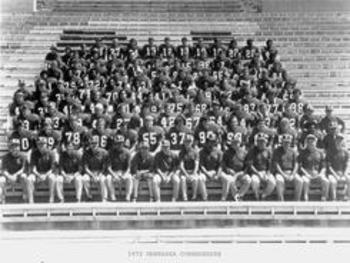 The 1972 Blackshirts suffocated opposing offenses all season. They allowed just over 8 point per game and even more impressively, conceded only 11 touchdowns in just as many games.
In fact, the only real item keeping this squad from a more prominent place in Husker lore is its predecessor. For it is only when this group is compared with the one that came before it that it loses a bit of its shine.
3. 1971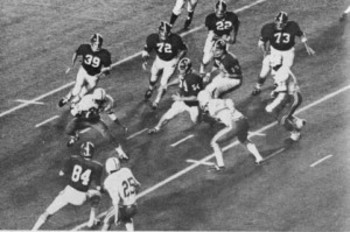 Source: HuskersGameday.com
That brings us to Nebraska's 1971 championship defense. For all the great games put together by the '72 defense, the 1971 Blackshirt unit just did it better.
Although its major statistics were only marginally superior to the 1972 team, the separation arises in the turnover margin. The '71 squad set the school mark with 47 takeaways, a record that would not be reached for the next 32 years and helped Nebraska achieve a record plus-26 turnover margin that still stands.
2. 1984
Source: Syracuse.com
Although this '84 team is often remembered for its offensive standouts and forgotten for its lack of hardware, the 1984 Blackshirts are worth remembering.
Led by Bret Clark and Jim Skow, this group was not as flashy as others, "only" tallying 28 turnovers on the season. But it was more an every-down team as it conceded only 203 yards per game, tied with the 1971 bunch for the lowest such total since 1967.
1. 2009
Donald Miralle/Getty Images
Perhaps it is because the memories of this squad are more vivid. Or maybe because this defense was coupled with such an anemic offense. But this was a clear choice for the top spot.
The 2009 Blackshirts were simply destructive.
In an era of college football ripe with spread offenses and no-huddle schemes, Nebraska's defense, led by all-everything Ndamukong Suh, utterly embarrassed offenses all season. It allowed 10 points per game and completely carried a horrific offensive unit to the most successful season the program had seen in years.
Keep Reading

Nebraska Huskers Football: Like this team?