Washington Nationals: Biggest Surprises so Far This Season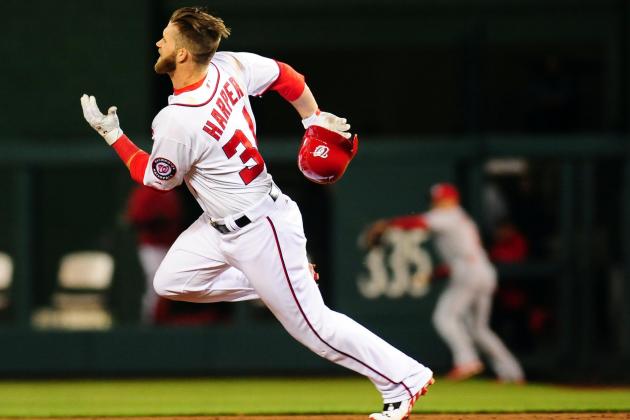 Evan Habeeb-USA TODAY Sports

Through three weeks of the season, it's fair to say that the Washington Nationals aren't meeting expectations as a team.
Following a 98-win campaign, there were lofty goals placed on the respective shoulders of the Nationals by their own organization and the media.
The Nationals currently sit at 11-11, 4.5 games behind the Atlanta Braves for the National League East lead.
With the New York Mets off to a decent start, it's safe to assume the Nationals will have more competition than they expected this season within the division.
With close to 140 games left to be played, there certainly is no reason to hit the panic button yet. The Nationals are led by a savvy, experienced manager in Davey Johnson, who should be able to get them back on track sooner rather than later.
Aside from their early-season inconsistencies, the Nationals are also experiencing a couple of promising surprises throughout the first three weeks of play.
The following piece will take a look at the four biggest surprises thus far for Washington.
Begin Slideshow

»
Brad Mills-USA TODAY Sports

While Ryan Zimmerman landing on the disabled list certainly comes as no surprise, the earlier-than-expected call-up of Nationals top prospect Anthony Rendon does.
Granted, it's been noted that Rendon will not stick with the big league squad beyond the duration of Zimmerman's DL stint, but the Nationals' organization and fans are getting a much earlier look at Rendon than initially anticipated.
It was a known fact that the young prospect would eventually get called up to the major league level this season, but many assumed it'd be much later than April.
Rendon impressed everyone in spring training, going 12-for-32 (.375/.412/.875) in 13 games with four doubles and four home runs before he was sent to minor league camp and, eventually, Double-A Harrisburg to start his second pro season.
For the next two weeks, we should get a close look at Rendon to see how he fares against major league pitching.
Depending on whether or not he shows development during this brief stint with the Nationals should determine how soon we'll see him back up with the team later in the season.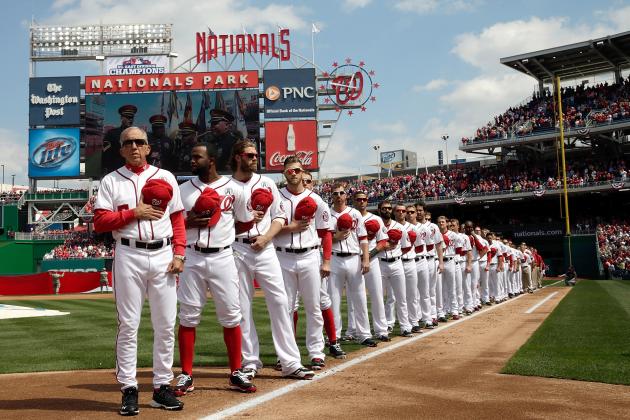 Win McNamee/Getty Images

Although predicted to be juggernauts of the National League, the Nationals find themselves with an 11-11 record, trailing their main competition in the division, the Atlanta Braves, three weeks into the season.
It's not so much the Nationals' record, but how they've gotten there that has fans concerned.
The offense has been sporadic, relying mainly on home runs to score. The starting pitching has been erratic and the bullpen has been a crapshoot. The Nationals' defense, which was supposed to be their strongest suit, has been downright poor.
What's worse, they are making errors in judgment in addition to errors on the field, compounding the effects of the miscues with mental mistakes.
Expectations can do funny things to a ballclub. Of course it's early and the physical errors will probably take care of themselves. Once they're reduced, and the team starts to hit, the mental errors will most likely go with them.
However, the lack of focus while the team is scuffling a bit doesn't help because even though the Nats aren't playing all that well right now, these are still games they could be winning.
A disappointing start can turn into a downright bad start very quickly if the Nationals don't start paying attention to the smaller details of the game.
Luckily, it's still April and Washington should be able to turn things around relatively soon.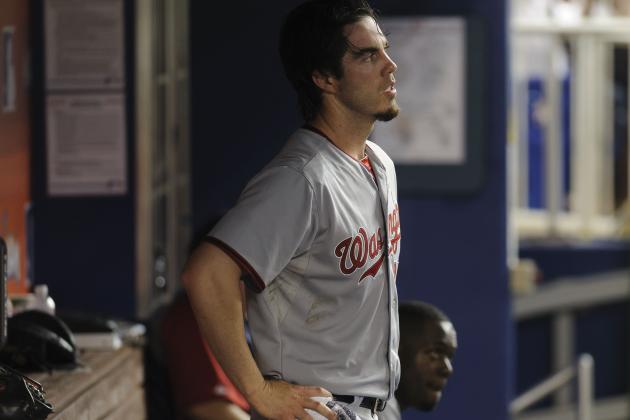 Steve Mitchell-USA TODAY Sports

For years, the reliable Dan Haren has been a rock, delivering far more than 200 innings and strong strikeout totals.
He's also been durable, and while his 2012 campaign was his worst since 2005, a move to baseball's top team in the National League and the motivation of a one-year contract figured to fix all of his suspected problems.
Unfortunately, through his first four starts, that has not been the case for Haren.
He's currently sporting a less-than-stellar 7.36 ERA, a 1-3 record and a horrendous 15.7 H/9 ratio—all of which was not expected when the Nationals took a chance on him this offseason.
Haren will need to work to hit his stride and perform at the level he was accustomed to earlier in his career for the Nationals to live up to their lofty expectations.
If they want to hold off the surging Atlanta Braves and strive to top their previous 98-win season, Haren will need to turn it around and anchor the back end of their rotation.
Haren was recently quoted regarding his rough start to the season, stating:
I feel awful, ... I feel terrible. I came in wanting to make a good impression and obviously I failed to do that. Confidence-wise, in between starts, I build myself up to go out there and I had all the confidence in the world. I gotta translate how I feel to better results out there because I'm not giving the team a chance. Historically I've been too good of a pitcher for this to just be it all of a sudden.
While Haren and many Nationals fans may be unhappy with his early-season struggles, the rest of the team and manager Davey Johnson have been encouraging.
Hopefully, Haren can finally show what has made him one of the most accomplished right-handers of the past decade and prove his worth for his new team.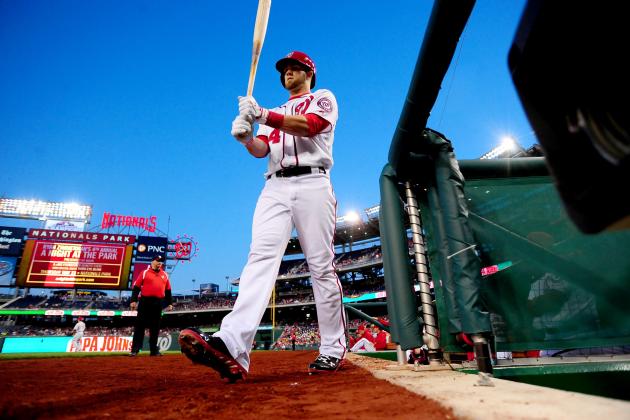 Evan Habeeb-USA TODAY Sports

There's never been any questioning of Bryce Harper's natural-born talent on the baseball field, but the sophomore slump is a pretty common occurrence for many talented young players.
Through the first three weeks of the 2013 season, it is looking like Harper will be one of the few to simply bypass any type of regression following his rookie year.
Barring any unforeseen injury, Harper seems to be establishing an MVP pace early on this year.
With eight home runs already in April, Harper obviously has his power stroke in midseason form. More importantly, he's hitting for average (.364) in the middle of the Nationals' lineup and playing quality defense.
Harper clearly looks to have carried his performance from the end of last season and in 2013 spring training into the regular season.
Nationals manager, Davey Johnson, seems to think Harper is ready to shoulder the responsibility of being the team's best hitter as well—as indicated by Harper batting third in the lineup.
Previously, that spot belonged to Ryan Zimmerman, but like most everything else during Harper's amateur and professional baseball career, someone has had to step out of the way for progress and the future.
The future already looks like now for Harper, and if he keeps up this pace, he will undoubtedly be in the middle of all MVP discussions at the end of the season.