Most Important Items on New Philadelphia 76ers Head Coach's to-Do List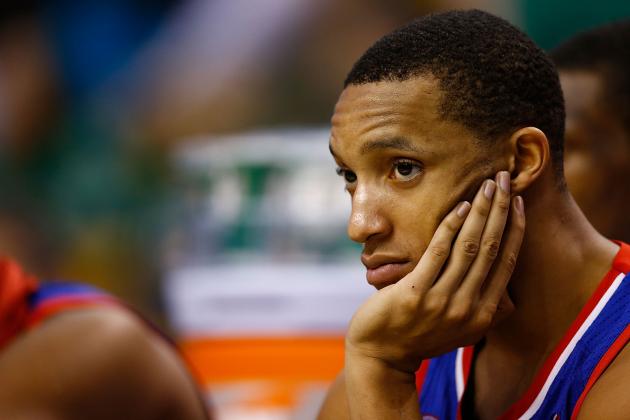 Jared Wickerham/Getty Images

Let's start with the obvious—a new head coach is not going to solve the Philadelphia 76ers' problems overnight.
In fact, he might not even do it in a year.
The new coach will have (Jon Buzby of Yahoo! Sports looks at potential candidates) a laundry list of items to address, and it goes without saying that the team needs a new group of players to give that coach a chance to succeed.
While the list is lengthy, there are a few items the new coach can start with to help the team.
This list is assuming all free agents leave and there are no offseason trades.
Begin Slideshow

»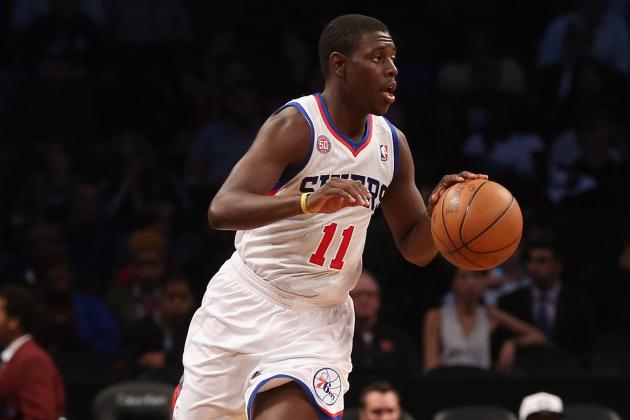 Bruce Bennett/Getty Images

Jrue Holiday proved this season that he can play with the best point guards in the NBA, so the question then begs if he is for real.
He has next season to let his play answer this question.
The new 76ers coach has to let Holiday do his thing. If the coach were to come in and attempt to take the ball out of Holiday's hands, it would not only throw off Holiday's rhythm, but also the rhythm of those around him who are used to him creating on the offensive end.
Holiday is the most feared player on the 76ers' roster. The new coach can't even think about taking the stress off of Holiday in the backcourt, as he has proved he can shoulder the scoring load when he must.
It is clear to anyone within or outside the organization that Holiday is the Sixers' biggest asset. Keep it that way. Surround Holiday with better players but continue leaning on him to orchestrate the offense and watch his confidence blossom.
There is no need to experiment with other players bringing the ball up the floor and controlling the tempo as Holiday has proved he can do a more than sufficient job with that task.
This is No. 1 on the list of things not to change for the new coach.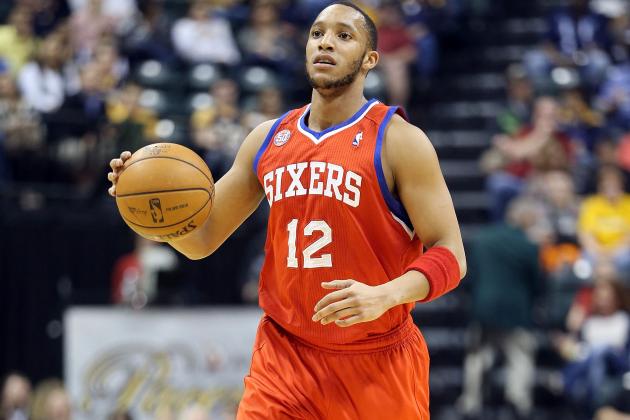 Andy Lyons/Getty Images

After much deliberation between my rational thinking process and my "but I feel bad for the guy" thinking, I've decided it's time to have Evan Turner come off the bench and, more importantly, receive bench minutes.
The new coach must bring Turner off the bench for two reasons.
One, Turner isn't consistent enough to be a starter. He shows flashes that back up the Sixers' choice to pick him second in the 2010 draft. Unfortunately, he also shows opposite flashes that lead people to call him the word all high draft picks never want to hear: "bust."
Second, Turner can handle the ball well for being 6'7". He could come off the bench and spell Holiday in ball-handling responsibilities. Sure, Turner won't provide the same firepower as Holiday, but maybe this role will convince him he can do less and still contribute efficiently.
If the new coach wants to run a "big" lineup, Turner would be the ideal point guard in that rotation due to his knack for rebounding.
After all, it would be an understatement to say the Sixers' back-up point guards this season didn't perform well.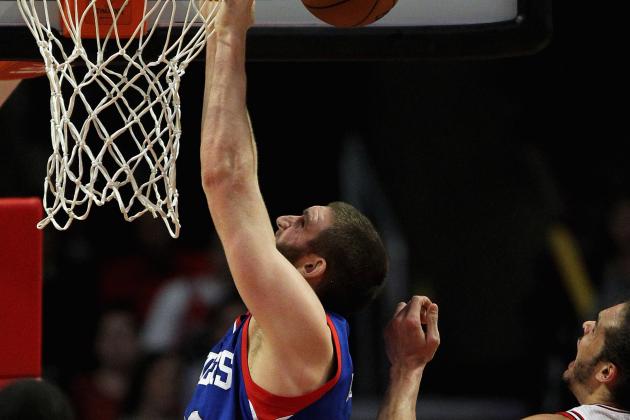 Jonathan Daniel/Getty Images

Too many times this season, Spencer Hawes was in position to throw down a dunk, but instead missed a layup.
Maybe it's because he's afraid to go up strong and take contact or maybe it's because he spends most of his time on the perimeter taking jump shots, but Hawes comes off as soft at times.
A 7'1" and 245-pound player should never be labeled as soft.
Hawes has proved his ability to knock down outside shots from almost anywhere inside the three-point arc. What does deserve questioning, however, is his inability to score in the paint as a center.
It is rare when Hawes posts up on the low block. The new coach must show Hawes what it takes to use his frame and go against fellow centers.
And these post-ups can't always end up with kick-outs or running one-handers. Hawes must be taught inside moves that will see him getting to the rim at a more consistent rate. When at the rim, lay-ups might be the only option at times, but Hawes needs to display more strength and toughness on occasion by slamming it home.
All coaches are different in their way of motivating players. Maybe Hawes needs to be verbally lashed out upon or simply put to the test in physical practice drills. Either way, Hawes needs to toughen up around the rim.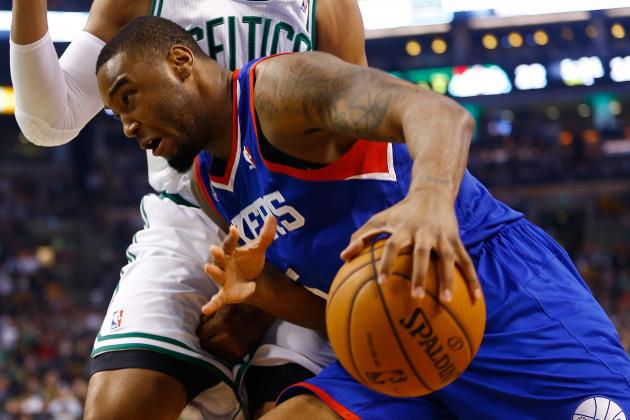 Jared Wickerham/Getty Images

Power forward Arnett Moultrie, out of Mississippi State, played only 11.5 minutes per game for the 76ers in his rookie season. This number would be lower if it weren't for the amount of time he received down the stretch after the 76ers were out of playoff contention.
Moultrie provided a sample size that had Sixers' fans begging for more. Not many fans are calling for Moultrie to start next season, but a substantial increase in playing time seems rational.
The new coach must give Moultrie the nod as the first power forward off the bench. It is a move that shouldn't wait until halfway or three-quarters of the way through the season. It must happen starting opening night.
If anything, Moultrie has displayed excellent athleticism for a big man coupled with a relentless motor. His high energy can be an added plus off the bench that can provide a spark simply based off of hustle plays alone.
Moultrie is the perfect substitute for starting power forward Thaddeus Young. Young is notorious for being a high-energy player, so there will be no drop-off in that department when Moultrie enters.
The new coach must recognize Moultrie's potential impact and at least start by giving him a shot to prove himself.
The rest is up to Moultrie.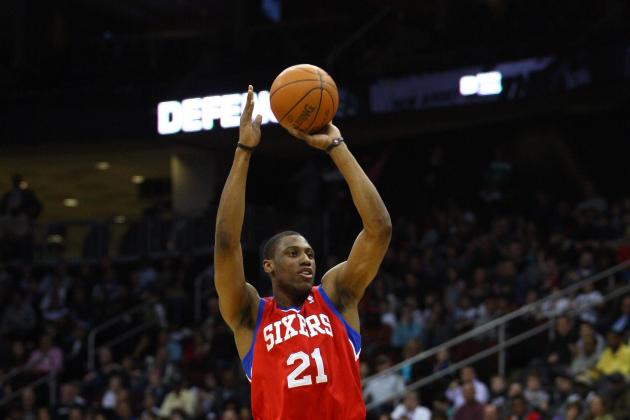 Chris Chambers/Getty Images

Only the Orlando Magic got to the free-throw line less than the Philadelphia 76ers this season. The Sixers only ventured to the foul line on an average of 16.8 times per game.
And when they did get the opportunity to shoot free throws, they didn't convert anywhere near efficiently enough to compete. The Sixers shot 72.9 percent on the year at the line, sixth worst in the NBA.
A new coach must demand these numbers increase.
It all starts with the guards getting to the hoop. If the Sixers penetrate more, instead of settling for jump shots, it causes defenders to converge and thus induces the higher likelihood of a foul.
There needs to be a change, a switch, actually, in the frontcourt.
Hawes doesn't get to the line nearly enough but shot at a 78 percent clip last season, good for a big man. Young's physical play, on the other hand, allowed him to land at the free-throw line at a decent rate last season. The only problem was that he shot 57 percent.
If Hawes can get to the line more frequently and Young practices knocking down free throws, it will be a huge advantage for a team that has trouble scoring.