UFC 159: Predictions You Can Take to the Bank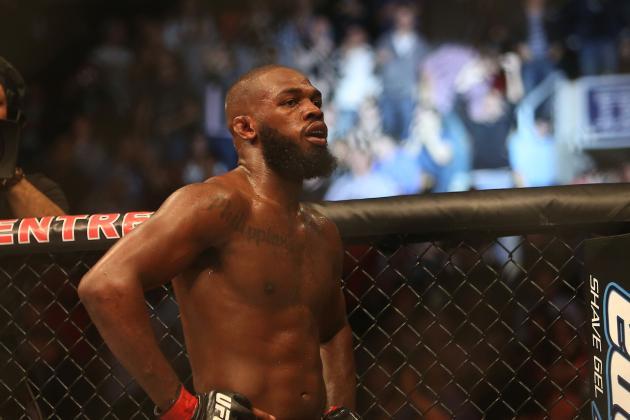 Tom Szczerbowski-USA TODAY Sports

NEWARK, N.J. — Don't blame yourself if you have a hard time getting amped up for UFC 159 on Saturday night.
After last week's excellent UFC on FOX show—an early contender for card of the year if there ever was one—it's easy to view this weekend's pay-per-view offering as a bit of a letdown.
But UFC 159 still has ample offerings for the discerning fight fan. Even the main event, which you might rightly view as some sort of freak show featuring a dominant champion and undeserving contender, has a decent hook: it's another chance to see one of the greatest fighters in the sport work his magic. Even if Jon Jones is a 50,000-to-1 favorite (not the real odds), it's still a Jon Jones fight.
I don't want to get all crazy on you, but it's a little bit like watching Muhammad Ali in his prime: You take every fight you can get, even if the opponent leaves a little something to be desired.
There's plenty of other action on the undercard as well. Let's take a walk together through the entire UFC 159 pay-per-view card, and I'll give you my predictions. Then, after we're done, you leave your predictions in the comments below. Sound like a good idea?
Good. Let's get started.
Begin Slideshow

»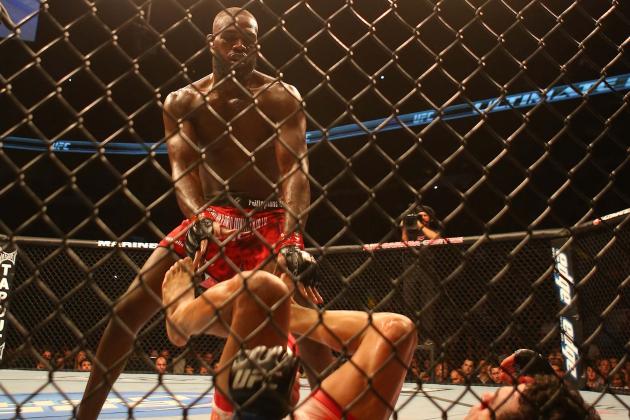 Tom Szczerbowski-USA TODAY Sports

If ever there was a prediction that you can "take to the bank," this is it. Jon Jones is a massive favorite over Chael Sonnen in their UFC 159 main event, and rightly so.

Jones is the greatest light heavyweight in the history of the sport and one of the very best pound-for-pound fighters in the world today. I currently have him ranked just behind Anderson Silva on my pound-for-pound list, but I suspect Jones will take that top spot at some point over the next 18 months. He's a phenom of an athlete with razor-sharp skills in every facet of mixed martial arts.
In short, he's the future of the sport and might just be the present.

Sonnen is a newcomer to the light heavyweight division who lost his last fight at middleweight and only received this title shot because of his ability to talk and promote fights. Dana White says that Sonnen bypassed other contenders in the division because he was the only one willing to step up in September when Jones needed an opponent at UFC 151, but we all know that's just promoter-speak. Sonnen is here because he offered the best foil for Jones from a promoting standpoint.

That's not to say that Sonnen cannot win the fight, because he can. He doesn't have much of a chance, but there's always some sort of chance in mixed martial arts—an errant punch behind the ear might knock Jones for a loop, or the champion might suffer an injury. Crazier things have happened in MMA than Sonnen beating Jones.

But outside of a lucky punch or an injury, there just isn't much of a chance that Jones loses this fight. Even if Sonnen is able to take Jones to the mat—and that's no guarantee even with Sonnen's excellent wrestling, because Jones is 100 percent in Total Takedown Defense thus far for his career and is long and strong enough to keep the fight standing—I can't imagine Sonnen being able to keep the champion grounded for any significant period of time.

If Jones takes away Sonnen's wrestling game, the challenger is left with no real path to victory. Look for Jones to use his distance to control Sonnen and to perhaps even go for a takedown of his own. He's been adamant in pre-fight interviews that his junior college wrestling game is being underrated by the fans and media, so he might look to prove a point and work his own wrestling game. But once Jones gets the fight to the ground and has Sonnen on his back, he'll look to unleash a torrent of the kind of vicious elbow-based ground-and-pound that earned him wins over Vladimir Matyushenko and Brandon Vera.

In short, this is the Jon Jones show, and I expect him to finish Sonnen before the five rounds are up. I also expect this fight to be Sonnen's last fight as he transitions into a full-time and lucrative broadcasting career.

Prediction: Jon Jones by TKO, Round 2
Intriguing Statistic: Jones' Total Knockdown Ratio (knockdowns scored:received) is 4:0, while Sonnen's is 0:1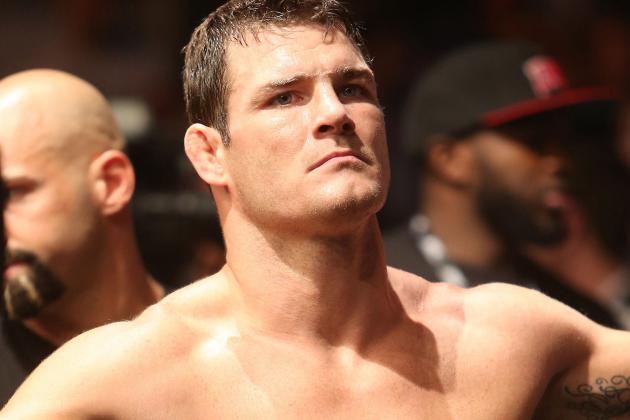 Tom Szczerbowski-USA TODAY Sports

If nothing else, Michael Bisping has proved that he can create a feud out of thin air with just about any other fighter on the entire UFC roster.
Alan Belcher is one of the most likable guys around, but that hasn't stopped Bisping from unleashing his own special brand of vitriol on the Mississippi native. On the official conference call on Monday afternoon, Bisping said that a win for Belcher on Saturday night would be the "biggest of his pathetic career."
That statement may sound moronic (and it does), but it's actually true. If Belcher pulls out the win on Saturday night, it will be the biggest of his career. Unfortunately for Belcher, I don't think it's happening.
Bisping is a volume striker, and for all of the talk about the Brit using nothing but jabs to outpoint his opponents, the statistics tell a different story. According to FightMetric, Bisping attempts 11.1 significant strikes per minute (SSpM), far outpacing Belcher's 6.0 per minute. In fact, Bisping's SSpM number is the highest on the entire card.
I'd look for Bisping to stick and move here, to stay away from Belcher's horrific leg kicks and to move around the entire fight while peppering Belcher with enough strikes from distance to earn a decision.
Prediction: Michael Bisping by decision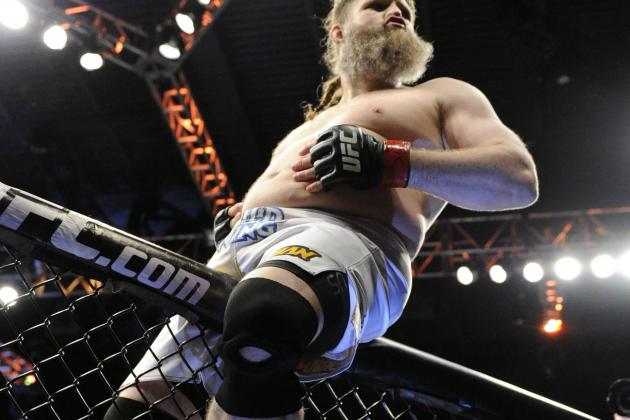 Josh Holmberg-USA TODAY Sports

I talked to a few fans at a UFC function in Manhattan on Thursday morning, and the majority of them said they were more excited for this fight than any other on the card. When asked why, several of them responded with something to the effect of "because they both hit hard and someone's getting knocked out."
In a way, they're right. Someone is going to get knocked out in this fight. But that "someone" isn't going to be Roy Nelson.
Nelson has the biggest, baddest and beardiest chin in the UFC. He can take anything dished out by any heavyweight currently on the roster and keep moving forward. If Junior dos Santos couldn't knock Nelson out while battering him from pillar to post for three rounds, Cheick Kongo sure isn't going to be the guy to do it.
Both guys do hit hard, and I expect this one to end early. But it'll end with Nelson raising his hand in the air in victory.
Prediction: Roy Nelson by TKO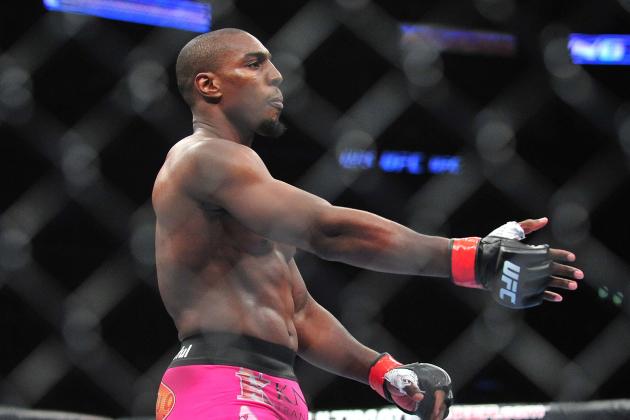 Gary A. Vasquez-USA TODAY Sports

Here's your upset special for the night: Vinny Magalhaes is going to beat Phil Davis.
C'mon, this isn't that crazy. Magalhaes isn't just excellent on the ground; he's a legitimate world champion. He's submitted jiu-jitsu players far more experienced than Davis on the ground, and he's done so with ease.
For all of Davis' talk about wanting to submit Magalhaes on the ground, he must know in his heart of hearts that he doesn't want to be on the ground for an extended period of time with such a brutal submissions expert. Davis is an outstanding and powerful wrestler, but his main advantage here is on the feet.
Look for Magalhaes to do everything in his power to get this fight to the ground. From there, whether he's on top or on bottom, the submission master will go to work and score the first truly huge win of his UFC career.
Prediction: Vinny Magalhaes by submission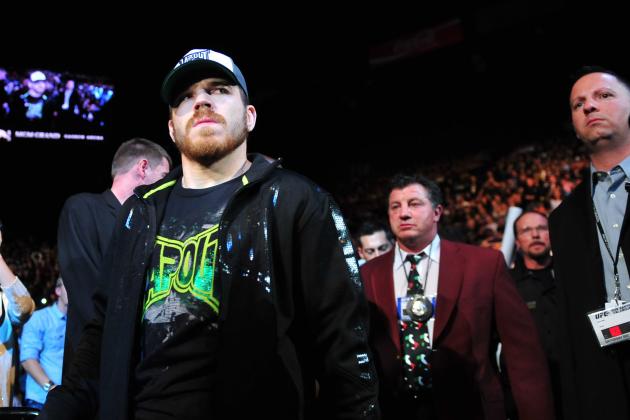 Gary A. Vasquez-USA TODAY Sports

Man, I love this fight. Two blue-collar dudes with very similar styles fighting what will most likely be an ugly and grinding fight? Sign me up.
And they're both semi-gingers, like me, so you know I'm going to appreciate it more than I would a fight featuring two brown or blond-haired dudes. That's probably more information than you wanted to know, so let's just take a look at the fight itself.
As I mentioned, both guys are grinders. Miller likes to grind it out on the ground, while Healy prefers to keep his opponents planted on their backsides against the cage. Other than that, they're remarkably similar, with the only real difference being that Miller has competed against better talent in the UFC while Healy toiled in Strikeforce.
Stay tuned for this one. I think it'll surprise you.
Prediction: Jim Miller by submission