3 Trades to Help the Dodgers Overcome Injuries to Zack Greinke/Chad Billingsley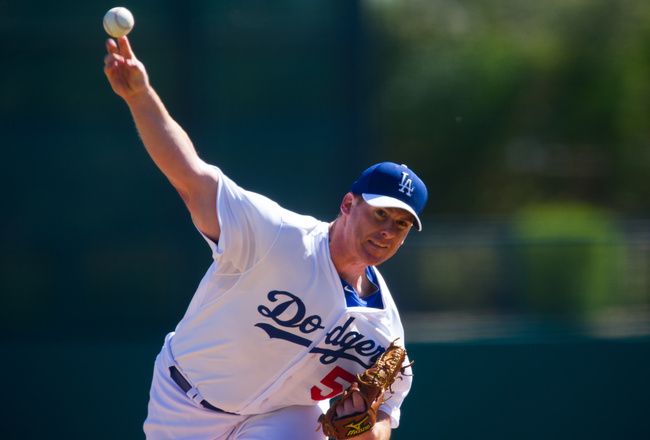 Rob Tringali/Getty Images
Chad Billingsley will undergo Tommy John surgery tomorrow, April 24. Recovery time is expected to be 12 months.

— Los Angeles Dodgers (@Dodgers) April 23, 2013
That is very, very unfortunate news for the Dodgers. After losing Zack Greinke to a broken collarbone, trading away Aaron Harang, and seeing lefties Chris Capuano and Ted Lilly making regular trips to the DL, a once-stacked rotation is quickly dwindling.
Billingsley's injury seemed like a ticking time bomb all along, as he routinely came back too early from soreness or short DL stints. The Dodgers may have dropped the ball on his rehab, but either way they have a big problem on their hands.
After Clayton Kershaw, the Dodgers are now left with Josh Beckett, Hyun-Jin Ryu, whichever combination of Lilly and Capuano is healthiest, and Stephen Fife. It's a far cry from the staff they started with, but it will have to do until July, when Greinke returns.
Unless, of course, the Dodgers spend some of that endless cash and dip into their prospect pool a little bit to pull off a trade. They have the means, but will they pull the trigger? And if so, will it be the right move? Here are three potential trade scenarios for the Dodgers to replace Greinke and Billingsley.
Bruce Chen (Royals)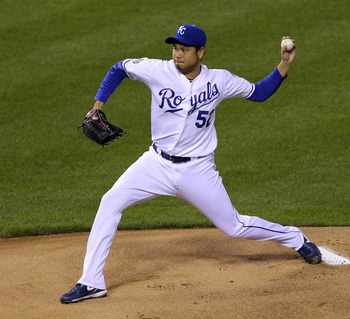 Ed Zurga/Getty Images
Last year, Chen was anchoring the Kansas City rotation. This year, he's in the bullpen. This is a testament to how much the Royals' rotation has improved, but it's also an opportunity for the Dodgers.
Over the winter, the Royals were fielding calls for Chen from just about anyone, but nobody bit hard enough. Though Chen has never been spectacular in his career as a starter, he's just as dependable as Harang was.
This would probably be my last choice as a Dodger fan out of the three moves I'm proposing, but Chen should be able to be a cheap pickup. The Royals wanted to off load him all winter, and now have a partner seeking any arm to fill a gaping rotation void.
I could definitely see the Dodgers inquiring on the southpaw, and maybe giving up a Double-A reliever and cash to get the deal done.
Bud Norris (Astros)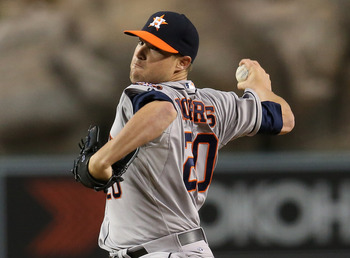 Stephen Dunn/Getty Images
Let's face it. The Astros can't afford Norris (Kidding, of course—he's making $3 million this year). But he's been a rumored trade target for many teams over the last season or two, and he could fill the void left by Billingsley and Greinke quite nicely.
While I wouldn't call Norris' stuff overwhelming, he is definitely an above-average right-handed arm. He has yet to put it all together as the new ace of the Astros rotation, but he does have a good repertoire of pitches.
If he came to Dodger Stadium, where pitchers thrive, I could see Norris becoming a very good No. 4 for the Dodgers, and eventually sliding into the fifth spot when Greinke returns. In all likelihood, he would at least be as good as Capuano would have been in the same position.
One issue with acquiring Norris might be the price. Even though he's not an elite starter, the Astros know they can get a higher return for him near the trade deadline, when a contender will inevitably want to overpay for rotation depth. This might drive them to ask the Dodgers for a higher-level prospect and a good bullpen arm.
Rick Porcello (Tigers)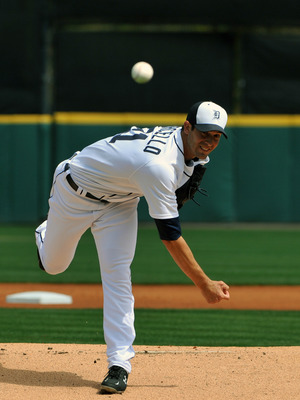 Al Messerschmidt/Getty Images
Clearly, the Tigers are sick and tired of waiting for Porcello to reach his potential. Even though the former first-round pick is just 24 years old, he's been floated as trade bait by Detroit for over a year now. Nobody has put together a package to their liking yet, though.
While the Tigers may want a pretty significant return for such a high-potential arm, the Dodgers could send them a reliever like Ronald Belisario who has the chops to close. With the news that Jose Valverde will be back in the closer's role, that has to be a welcome scenario for Jim Leyland and company.
If the Dodgers were able to swing a move to bring Porcello to Los Angeles, it would definitely be the one I'm most interested in. Porcello has been completely mediocre in his young career, but has shown flashes of brilliance.
I think sending a good reliever and another mid-level prospect to Detroit might be enough to get them to ship off Porcello, where he can learn and flourish with Rick Honeycutt. Pitching in the National League in a pitcher-friendly park wouldn't hurt, either.
Keep Reading

Los Angeles Dodgers: Like this team?