20 WWE Signature/Finishing Moves That Didn't Go According to Plan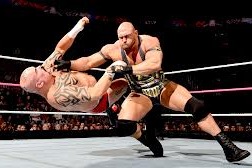 wwe.com
Instead of finding videos of every botched move in WWE history, I am going to focus on two specific subjects: signature and finishing moves. These kinds of maneuvers particularly can excite the crowd and bring them to their feet or have them lean down in their chairs and put their hands in front of their face in disgust and disappointment. This article focuses on the latter.
Some botches featured in this slideshow are so embarrassing (and dangerous) that you've seen them in numerous articles before, while others will be relatively new and will have you laughing at Superstars such as Randy Orton, Alberto Del Rio and some WWE Divas.
A few videos are hard to watch and might make you cringe, but nothing you feel will ever compare to the embarrassment these WWE Superstars and Divas felt after botching their own signature and finishing moves.
So, in no particular order, let's take a look at some of the biggest botched moves in WWE history.
Begin Slideshow

»
Every time Randy Orton hits an RKO, it is timed to perfection. Unfortunately for the young Orton, this particular RKO didn't go according to plan.
To make things worse, Chris Jericho continued to put the Walls of Jericho on Dave Batista and completely ignored Orton's obvious miss. Give credit to Orton for not giving up after the botch.
This is one of the more famous RKO botches.
While Randy Orton was to blame for the first slide, this one is debatable. Whose fault was this RKO botch: Big Show or Orton?
Judging by how close Big Show was to the ropes, perhaps Orton was expecting Big Show to counter the RKO and throw him into the ropes on the other side of the ring.
Apparently Big Show didn't get the message and sold the RKO like he was shot down by a sniper in the stands.
Embarrassing, indeed.
Jack Swagger has a chance to win the World Heavyweight Title at the upcoming Extreme Rules PPV, and hopefully this won't happen.
Times have changed, and Swagger is a legitimate threat in the WWE nowadays. He cannot and should not be making mistakes like this.
Although it took longer than expected, Swagger finally (and awkwardly) hit the Gutwrench Powerbomb on a young Alex Riley who may or have not been sandbagging it.
Yes, Tensai's finisher is named Ichiban!
Ichiban means first or best in Japanese, but you wouldn't think so looking at the way Tensai executed his finisher.
CM Punk is one of the best wrestlers in the business and Tensai is a seasoned veteran: You wouldn't expect them to screw up a simple move like this.
Whether Punk or Tensai's fault, the move looked weak, but it's definitely not the worst botch we've ever seen.
While the Step-Up Enzuigiri isn't Alberto Del Rio's finishing move, it is one of the signature moves he is synonymous with and has performed without a fault numerous times.
It's safe to say that this maneuver didn't go according to plan and was exceptionally embarrassing.
During a spot where Big Show was holding a bucket next to his head, Del Rio completely whiffs on the move and falls on his behind. Big Show has some great acting chops and dismisses the first failed attempt, only to be hit with the same move the second time around.
The first Diva finishing move that didn't go according to plan in this slideshow stars Mickie James and Gail Kim. To our delight, it was a double feature.
During her WWE career, it seemed as if Gail Kim didn't care about anything and in this case, she did a horrible job at selling the Mickie DDT and spin kick.
So what finally put Gail Kim down for the three count? A forearm smash to the face, that's what.
You can't blame Mickie James for being upset, can you?
This is a rare botch that actually enhanced the match and showcased how much of a beast Brock Lesnar truly is.
The infamous mistake happened towards the end of the WrestleMania 19 match between Brock Lesnar and Kurt Angle and resulted in a concussion for the Next Big Thing.
Shortly after the failed Shooting Star Press, Lesnar got up, hit the F-5 and earned the WWE Title in a match that will always be remembered.
Batista is nicknamed The Animal for being extremely strong and incredibly agile, but on this occasion, it looked like an animal who was confused while playing with its food.
At around 260 pounds. Booker T is no slouch. But when you have the strength and physique like Batista does, this sort of thing should not be happening.
In awkward yet impressive fashion, Batista was finally able to hit the Batista Bomb on the new WWE Hall of Famer.
This botch happened early in Triple H's career and there aren't a lot of people who remember this emphatic and dangerous Pedigree.
If this happened five or six years ago, Jim Ross would have had a field day calling this spot. Imagine, in Ross' distinctive voice, "Oh my God! He landed straight on his head! He's been broken in half and he can't get up! Stop the damn match!"
I'm not sure who the Superstar was, but it's a fair assumption that he may have never wrestled again after taking this hideous, cringe-worthy Pedigree.
If you dig deep into the WWE archives, you won't find a lot of botches that involve the Undertaker. On this occasion, I would have to put the blame on Hulk Hogan for mistiming this less than impressive Chokeslam.
You know a move has gone horribly wrong when the crowd doesn't cheer, but stays silent and doesn't even gasp. This is especially true when two legends such as the Undertaker and Hulk Hogan are in the ring together.
This may be one of the weakest Chokeslams I have ever seen...Or is it?
This Chokeslam is very similar to the one we saw in the previous slide, except this time, it features Kane and the World's Largest Athlete, the Big Show.
While Undertaker's Chokeslam on Hulk Hogan was mistimed, this was a rare instance where the Chokeslam was executed in one fluid motion.
Kane's Chokeslam on the Big Show will always be remembered for Big Show slipping on an imaginary banana and falling to the mat.
Who do you think executed the worst Chokeslam: The Undertaker or Kane?
After watching this botch a few times, it's obvious that Trish Stratus made a mistake and slipped, which made it difficult for the Diva on the turnbuckle to grab her legs in order to execute the move correctly.
The move is known as the Stratusphere (clever, right?) and the fans at the arena that night were not impressed with the failed attempt.
They vigorously let Trish and the WWE know how they felt.
The Divas division hasn't been relevant for years and that's mainly because all of the talented women left. I can't remember the last time we saw an exciting WWE Divas match, but if there is one thing we can all agree on, it's that even the most popular and well respected Divas make mistakes every now and then.
Don't let the mask fool you: That is CM Punk and that is a botched Go To Sleep (GTS) on the Big Red Monster Kane.
Even though Punk may have been hiding behind that mask, the GTS is a move he has perfected and it's weird watching him execute the move so poorly. Granted, he is performing the GTS on Kane, who is 7 feet tall and weighs over 300 pounds.
This is a moment that the Second City Saint would like to forget.
CM Punk's signature Springboard Clothesline usually goes off without a hitch, but during a match with Elijah Burke (The Pope) on WWE's version of ECW, he slipped on the top rope and came crashing down onto the mat.
Sometimes, WWE Superstars purposely botch moves or moments which results in a win for the opponent, but I really don't think this Springboard Clothesline was intentional.
CM Punk will go in the history books for having one of the longest WWE Title reigns in the modern era, but this was yet another embarrassing moment for the future WWE Hall of Famer.
The video is only three seconds long, so you may have to look at it a couple of times to see how bad this Stunner truly is.
You can't put the entire blame on Stone Cold Steve Austin, but it is his finishing move and that's why it makes this list. Clearly, Austin didn't want to hurt Linda McMahon and was too cautious when performing the move, resulting in an epic Stone Cold Stunner fail.
Perhaps if Linda sold that stunner better, she would have had a more successful campaign.
Actually, probably not.
This is an interesting finishing move botch from fan favorite Rey Mysterio. While attempting the 619, it seems as if Mysterio was running to fast and couldn't get a hold of the middle and top ropes.
What makes this botch even better is the commentary given by the two guys filming the move at this WWE live event. We are all asking the same question: Was that supposed to happen?
Give credit to Shawn Michaels for hitting the Sweet Chin Music on Kane, making fans forget about Mysterio's mistake for the time being.
WARNING: Dolph Ziggler fans beware: The following video showcases a Dolph Ziggler botch.
The perfectionist Dolph Ziggler wasn't so perfect after he made a rather laughable mistake after failing to execute his signature move, the Fameasser, as made famous by DX member Billy Gun.
It was an easy mistake to make as Ziggler has to time the move to perfection in order to do it correctly.
Christian was surprised Ziggler messed up and even Jerry the King Lawler let the fans at home know Ziggler overshot the maneuver.
At Over the Limit 2011, Sin Cara gave the WWE Universe a taste of things to come after he botched his signature/finishing move in a match against Chavo Guerrero.
Sin Cara has been often criticized (mainly on the Internet) for botching a lot of moves since coming to the WWE in 2011 and has been known for being an unsafe competitor. His botches are so bad that he even injured himself and was out of action for a while.
The move that Sin Cara botched in this video is called La Mistica, and you can tell "he didn't get all of it" judging by the fans reaction.
During the highly anticipated match between The Rock and CM Punk at Royal Rumble 2013, there was only one thing that stole the show: the Spanish announce table.
CM Punk set The Rock up onto the Spanish announce table and was ready to give him a GTS. The Rock reversed the GTS and was ready to give Punk a Rock Bottom, but unfortunately, the Spanish announce table had a mind of its own.
Shortly after the announce table botch, Rock hit the planned Rock Bottom on the floor instead, which was a lot less devastating.
Here it is WWE fans: The botch you've been waiting for and probably the most famous botch in recent memory.
During this time, Ryback was viewed as an unstoppable monster who had a lengthy undefeated streak. When the Shell Shock didn't go according to plan, WWE fans, including myself, looked away in embarrassment and thought Ryback was rather human.
Even to this day, I can't help but cringe when I watch Ryback struggle to lift Tensai. So who is to blame for this botch? Was Ryback not strong enough or was Tensai sandbagging the newcomer?
Worst of all, Ryback defeated Tensai via a clothesline.
A clothesline.
What is your favorite finishing/signature move that didn't go according to plan? Which finishing/signature move botches did I forget? Sound off in the comments section below.
Follow Adrian Fylonenko on Twitter to talk about wrestling, soccer, movies and all things sports/entertainment.