Tottenham Hotspur: 6 Biggest Summer Objectives for Villas-Boas and Spurs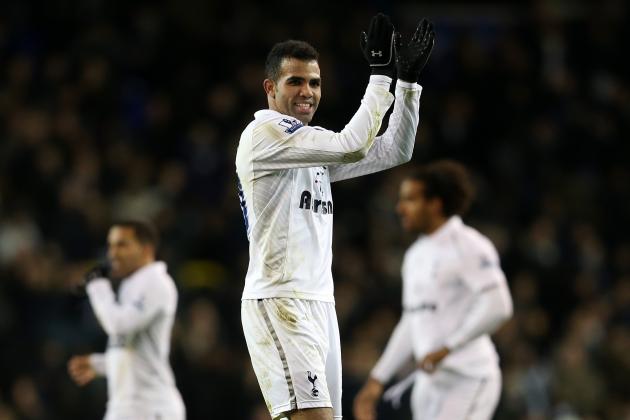 Julian Finney/Getty Images
Getting Sandro back to fitness on a sensible schedule is one of the big objectives for Tottenham Hotspur this summer.
With 2012-13 coming to a close, it is inevitable attention will be turning to the summer and preparations for next season.
Tottenham Hotspur still have plenty to play for in this current campaign, with the way they finish the season sure to influence what kind of preseason is ahead of them.
The following summer objectives for Tottenham and their manager Andre Villas-Boas will not be especially revelatory to fans and seasoned observers of the club, but are important all the same.
Spurs have a potentially big year ahead of them regardless of the way they see out this season. Getting things right in the summer will get them started in the best way possible in 2013-14.
Begin Slideshow

»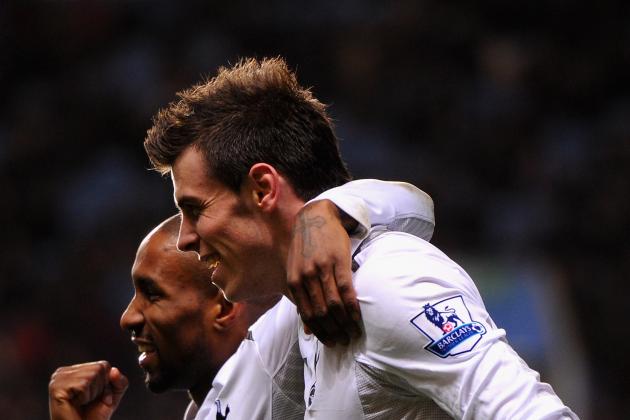 Michael Regan/Getty Images
Who might join Defoe and Bale in Spurs' attack next season?
Heading into this season with only two experienced, recognized strikers was always going to be a gamble for Villas-Boas and Tottenham. The failure to strengthen in this department—both last summer and in the January transfer window—has not been a disastrous oversight, but it cannot be denied it has been a costly one.
Emmanuel Adebayor has flattered to deceive, Jermain Defoe has struggled with form and fitness since Christmas, and even the massive contributions of Gareth Bale in attack have naturally been the subject of the knocks and niggles that come with a long season.
The future of all three of those players is not yet clear. It is likely even with the return of young forwards Harry Kane and Jonathan Obika to augment those who do remain, a couple of new strikers will be needed.
Clearly a priority though, is the signing of a genuine, top-class forward—someone with adequate versatility to work alongside a partner or alone, and with the ability to hit the 20-goal mark each season.
If Bale leaves, signing such a player will be especially urgent. Even if the Welshman stays, it will be important to provide him (and whoever else remains) a teammate of sufficient quality to share the goalscoring load and to help Spurs progress in fulfilling their ambitions.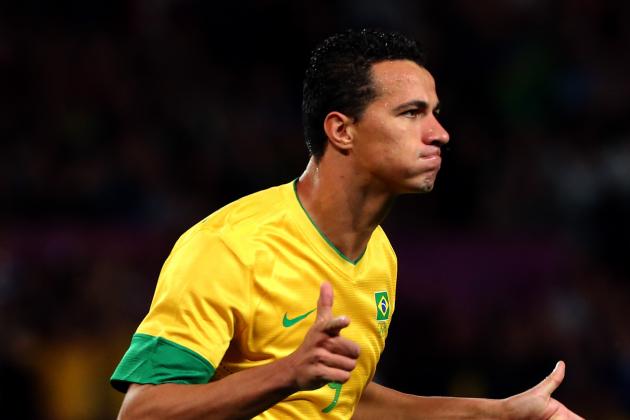 Stanley Chou/Getty Images
Leandro Damiao: A potential Spurs transfer target?
Christian Benteke, Gonzalo Higuain and Leandro Damiao have been among the strikers linked with a move to Tottenham in recent months. Regardless of whom Villas-Boas is interested in adding to his squad, in attack and elsewhere, the Portuguese and the transfer brokers in the club hierarchy would be wise to establish their transfer targets early.
Spurs' major summer transfer dealings are often only concluded when the new season has begun and there is only days or hours left before the transfer window closes. Roman Pavlyuchenko, Niko Kranjcar, Rafael van der Vaart, Scott Parker and Clint Dempsey have been among the notable players signed at this late stage.
Circumstances often dictate moves cannot be completed early, and ultimately, eventually agreeing a deal is the main thing. However there is little doubt that Spurs would have benefited from having players like the ones above signed prior to, or at least early in, preseason.
The chance for arrivals to settle in a new environment and get to know new teammates gives them a better chance of avoiding the process during the actual season. Van der Vaart made an impact almost immediately, but Dempsey took a few months to find his feet at Spurs.
It is helpful for the manager to have time to work with his new players before preparations ahead of competitive games preoccupy more of his time. Ideally too, Villas-Boas will want a clear idea of his best side as early as possible in the new campaign.
With Spurs likely to be competing for the signature of many of the same players with similarly-sized rivals at home and abroad, they will not want to miss out on a player a more proactive approach might have given them the edge in pursuing.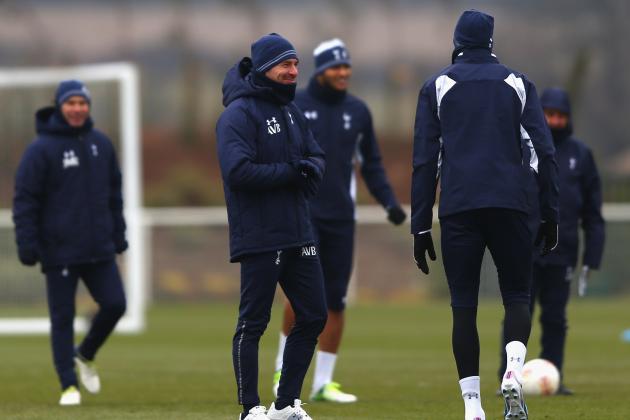 Paul Gilham/Getty Images
Andre Villas-Boas in training.
The change in regime meant summer 2012 was in part about the new coaching staff getting to know their players and vice versa.
Villas-Boas now has had a year familiarizing himself with his players, their strengths and their weaknesses. Essentially, he will have a good idea of who he wants to stay and who he wants to get rid of heading into 2013-13.
The process is not completely clear cut. For some, particularly those young players who have been on loan (such as Andros Townsend and Jonathan Obika), preseason is when assessments will be made about their respective futures.
In other cases there is little point in wasting time those players could be finding new clubs. Similarly, the presence of those not in the manger's plans is just getting in the way of players competing for first-team places.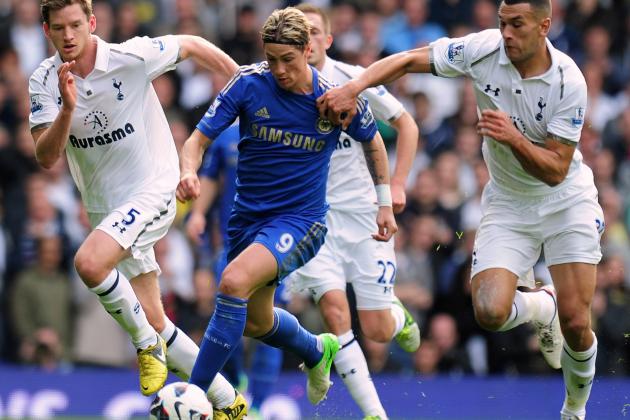 Shaun Botterill/Getty Images
Jan Vertonghen and Steven Caulker chase Fernando Torres.
The two priorities of preseason are developing fitness and identifying the way the team is going to play. For the latter, this means practicing all elements within this as applied to match scenarios, and working at it until they are second nature to the players.
Tottenham's defense is in particular need of work here. Regardless of who will be first choice in the position, the sloppiness and disorganization that has too often plagued the team this season must be eradicated if the team are to stand a better chance of competing towards the top of the Premier League.
Spurs have largely addressed their late-game failure to hold onto leads, largely through the reintroduction of Michael Dawson and his superior leadership. But if the likes of Jan Vertonghen, Steven Caulker and Kyle Walker are going to step up as Villas-Boas' primary defenders, they need to share the responsibility here and start accounting for the defense as a whole—not just their individual responsibilities.
A summer's worth of relentless drills—encompassing set-pieces, positioning, offsides etc—could go some way to seeing Spurs establish a more stable defensive unit. Ultimately though (as is the case throughout the team), it is down to how much the players want to improve.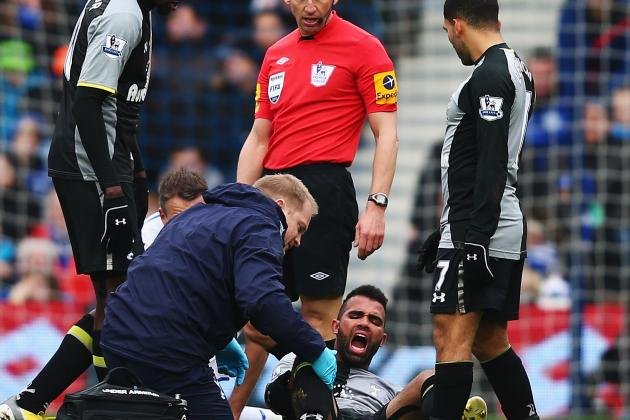 Clive Rose/Getty Images
Sandro after getting injured against QPR in January.
Even up to the moment his season ended with what seemed an initially innocuous attempt to play the ball, Sandro's commitment to the Tottenham cause was evident. Marshaling the area in front of the defense with familiar diligence, his attempt to clear his lines in January's draw with Queens Park Rangers saw him suffer a knee injury that was cruel remuneration for his efforts.
Scott Parker has worked hard in compensating for Sandro's absence alongside Mousa Dembele. Yet the Brazilian's evolution into one of the Premier League's most dominant defensive midfielders had been going at such a pace, it was (perhaps unsurprisingly) always going to be difficult for Parker to have the same level of impact.
Sandro's return to the team will be a massive boost for Villas-Boas heading into next season. The team are an altogether more solid prospect for his presence.
As keen as the manager will be to have him back, it is imperative the 24-year-old is not rushed back over the summer.
"I don't want to skip stages to return quicker," the midfielder told Globo Esporte last week (here via SkySports.com).
"I have to do what the doctors tell me. If I try too hard, the knee will swell again."
Sandro himself is clearly aware of the importance of getting his recovery right. Risking a relapse with a hasty return would not only be detrimental to Spurs, but also to a player harbouring hopes of playing in his country's World Cup in 2014.
Shaun Botterill/Getty Images
Gareth Bale.
There is little to add to what has already been said/written/yodeled (possibly not the latter) about Gareth Bale and his future at Tottenham Hotspur.
Spurs want him to stay. Other clubs want to sign him. Bale himself may or may not want to remain at White Hart Lane.
Little has changed in recent months but it is obviously important for Tottenham to keep their star player.
Whatever happens in the coming weeks, keeping Bale at the club will be a big objective for Villas-Boas and chairman Daniel Levy, and one they would do well to fulfill this summer.