Manchester City: How Matija Nastasic Became the Anti-Stefan Savic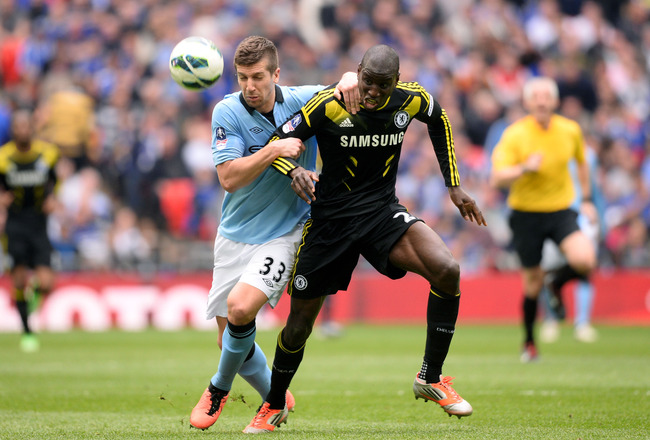 Mike Hewitt/Getty Images
If Stefan Savic didn't struggle so abysmally, Manchester City wouldn't have signed Matija Nastasic from Fiorentina.
For Matija, surviving in the English Premier League wasn't on his agenda. Instead, he aimed higher, which is why he's one of the best centre-backs in the world right now.
In doing so, Nastasic became the anti-Savic.
Signing Stefan Savic and Matija Nastasic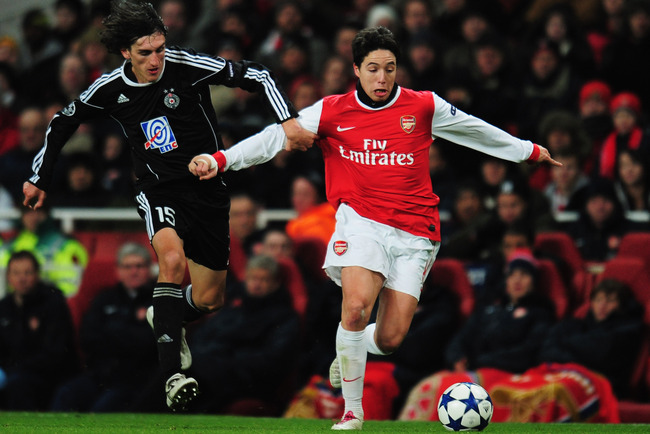 Shaun Botterill/Getty Images
Stefan Savic
In 2010, the then-BSK Borca 19-year-old centre-back was set to become Arsene Wenger's latest project (from Blic online via FourFourTwo.com):
There were offers from Tottenham and Birmingham, but once a call came from Arsenal, I had no more doubts.

Wenger made sure my papers were arranged for and my work permit extended so I can be at more training sessions.

A pre-contract will be signed on Thursday and then I will return to Belgrade and join BSK for their preparations.
The deal never materialised, and the Montenegrin international opted to join Partizan, who are currently on course to win their sixth straight league title.
Even though Savic was a member of the Serbian SuperLiga Team of the Year in his debut season, there were enough red flags that should have dissuaded Manchester City from buying him.
#MCFC look to have signed Stefan Savić. On trial at Arsenal last year. Club didn't seem to rate him. Struggled in trial game v Dagenham.

— Jamie Sanderson (@Sanderson) July 3, 2011
In the first 3-1 loss to Arsenal (talk about a twist of fate) during the UEFA Champions League, Stefan was beyond awful, and without goalkeeper Vladimir Stojkovic, Partizan would have suffered a far worse shellacking than the one Braga copped from Wenger's men a fortnight earlier.
In the 2-0 defeat to Braga, who had lost 6-0 and 3-0 in their previous two UCL games, Savic had to be guided throughout the match by veteran Mladen Krstajic.
Unsurprisingly, Stefan watched from the bench for the next two Champions League matches before being thrown in at right-back in a second 3-1 loss to the Gunners, where he and his teammates were lost at sea (again)—all three of Arsenal's goals came courtesy of Partizan mistakes.
Savic was one-and-done with Partizan and joined City in a £6 million-valued transfer.
Matija Nastasić
Ajax's Jan Vertonghen, the reigning Eredivisie Player of the Year, went to Tottenham Hotspur for £9 million.
Xavi once spoke about Chico's relentlessness and the Spaniard, whose actual name is José Manuel Flores, went to Swansea City at a bargain fee of £2 million.
Bayern Munich pried Dante, a world-class centre-back, away from Borussia Mönchengladbach for £4 million [€4.7 million].
Meanwhile, Roberto Mancini went out and signed an inexperienced Nastasić—projected to be a backup—for £12 million on transfer deadline day.
Did City management not watch him in a 3-0 loss to Napoli?
He was the worst player on the field in a 5-0 loss to Juventus, which contributed to him being dropped for the next two league games.
Matija was at sixes and sevens trying to combat Erik Lamela when Roma beat Fiorentina 3-0 in the Coppa Italia.
The game that seems to be referenced as a reason for City to buy Nastasić was when AC Milan lost 2-1, where some believed he stopped Zlatan Ibrahimović, which just isn't true.
Zlatan scored from 12 yards out, shot five times and created three goal-scoring chances.
Who conceded the penalty for Ibra to score? Nastasić.
Who struggled to deal with Maxi López? Nastasić.
Considering that the Viola bought Matija for £2.2 million a season earlier, this was a stupid deal for City.
Let me rephrase that sentence: at the time it seemed like a stupid deal for City.
What Went so Wrong for Stefan Savic and so Right for Matija Nastasic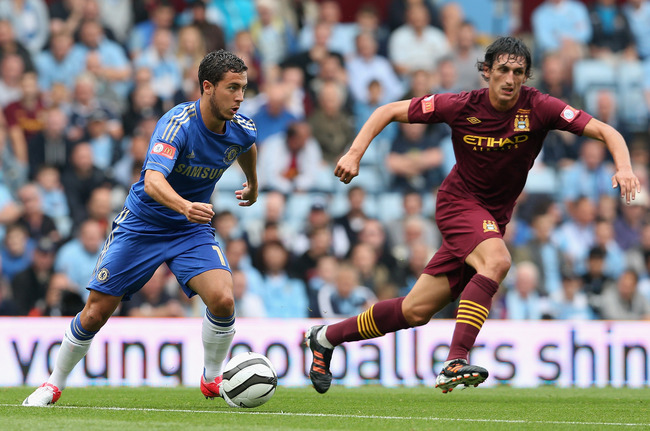 David Rogers/Getty Images
Stefan Savic, the Montenegrin Titus Bramble, was so bad at Manchester City that he became a running gag.
He had low concentration levels, his awareness of opposing players around him was dreadful and his teammates had to carry him.
Jermain Defoe wishes he played against Savic every week.

Stefan Savic will be top of the assists league by May.

— Jacob Steinberg (@JacobSteinberg) January 22, 2012
Can't understand why Freddie Veseli has chosen to go to United rather than learn his trade from Stefan Savic

— MirrorFootball (@MirrorFootball) January 31, 2012
Stefan Savic has more Premier League winner's medals than Steven Gerrard.

— Sam Robinson (@SamRobinson9) May 13, 2012
Stefan has since found solace with Fiorentina and is gradually improving.
But, why did it go so right for Matija Nastasic at Manchester City?
This anecdote from European football writer James Horncastle shows that Roberto Mancini had the inside track on Matija Nastasić's impending success (via ESPN FC):
Mihajlovic helped launch Nastasic at Fiorentina. He already considered the youngster "a very strong player" and liked his attitude so much so that even though his job was in jeopardy at the time, he promised him experience.

"If I manage to stay, I will make him play," Mihajlovic said. Those were famous last words, as he was sacked the next day after a 1-0 defeat to Chievo.

It wouldn't be of any surprise at all were it to emerge that Nastasic had been recommended to manager Roberto Mancini by his trusted former teammate and assistant Sinisa Mihajlovic.
You can look at the stats and break down the film footage, but you cannot measure a player's intangibles or his willingness to exponentially improve over a short period of time.
For Mihajlovic to throw a teenager like Nastasić to the wolves in the tactically-advanced environment of Serie A football spoke volumes of Matija's emotional maturity and football IQ.
Mancini, a noted risk-taker in the transfer market, didn't just take a calculated gamble on Nastasić, but he took it a step further and gave the Serbian an extended run as a starter at a club where anything but winning is considered failure.
It's been Roberto's wisest managerial decision this season.
Matija Nastasić Deserves More Acclaim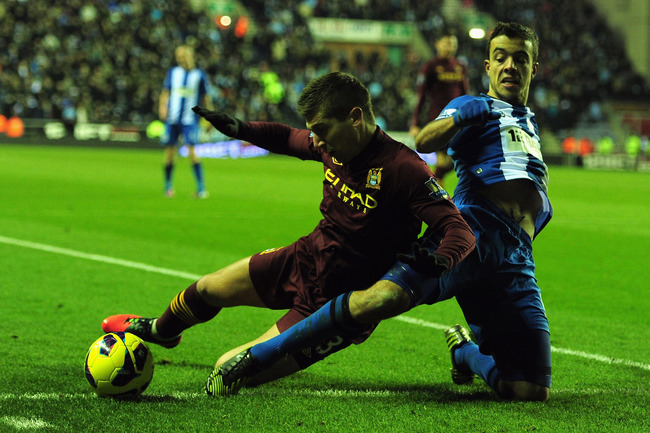 Jamie McDonald/Getty Images
If Matija Nastasić's name was Matt Nash, he would be proclaimed as a modern day Bobby Moore and the prohibitive favorite for the PFA Young Player of the Year award.
Vincent Kompany hasn't been vintage Vincent Kompany, Yaya Touré doesn't want to defend (only averages 1.2 tackles per game) and there is no world-class ball-winners in City's midfield.
Matija was put in a situation to fail, but he thrived under the pressure.
How on earth does a centre-back who wins back the ball 93 percent of the time he tackles not even get nominated for the PFA YPOTY award?
PFA nominations are a joke! How can Danny Welbeck be in there and Matija Nastasic not be?! twitter.com/RathanNowe/sta…

— Roweee (@RathanNowe) April 19, 2013
| | | | |
| --- | --- | --- | --- |
| LEAGUE ONLY | TA% | YC/RC | P% |
| Daniel Agger | 71 | 3/1 | 88.9 |
| Jonas Olsson | 70 | 4/0 | 78.4 |
| Matija Nastasić | 93 | 1/0 | 86.5 |
| Per Mertesacker | 70 | 3/1 | 92 |
| Rio Ferdinand | 78 | 2/0 | 89.7 |
TA = tackling percentage, YC/RC = yellow card/red card, P% = passing percentage
Please note that the list only includes reactive CBs
For those wondering what Raphael Varane's tackling percentage is, it's 64—29 percent lower than Nastasić.
Yet, we're constantly bombarded with articles detailing how great Varane is, even though Matija has been a significantly better player.
Clearly, the value of Nastasić to Manchester City (second only to Pablo Zabaleta) has been underestimated by the general footballing community.
Statistics courtesy of WhoScored.com, Fox Soccer and Squawka.com
Keep Reading

Manchester City: Like this team?