Levine Toilolo: Video Highlights for Former Stanford TE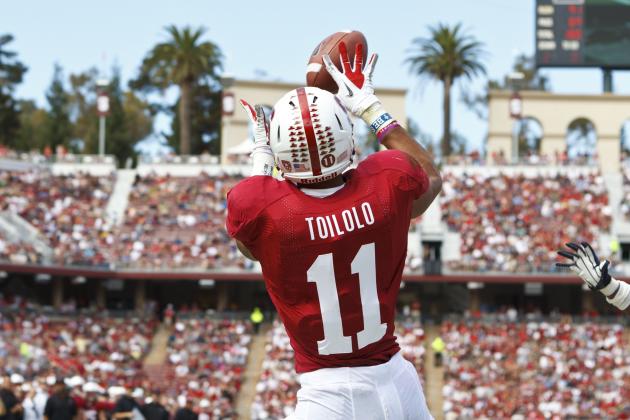 Jason O. Watson/Getty Images
Toilolo's a big fellow (6'8"), so I'll try to be nice.
It's time to take an in-depth look at some of the top college prospects.
Today, we'll look at Levine Toilolo of the Stanford Cardinal, a massive TE who projects as a fourth- or fifth-round pick. He is raw, but teams will be attracted to his size and athleticism on the third day of the draft.
Let's take a look at some of Toilolo's highlights and analyze his potential as an NFL tight end.
Begin Slideshow

»
First thing you can see about Toilolo as a blocker is that he sometimes plays way too high.
You see it on the second play of this reel, when he gets stood up at the line—his pad level is basically perpendicular to the ground. He gets leveraged back and thrown off his man, who spins off the block as Toilolo loses his balance.
That's a player who needs to refine his technique.
On the plus side, when he maintains his base, he has a strong initial punch and the leverage from his long arms to lock out defenders. As long as Toilolo doesn't let rushers get into his chest and use his crazy height (6'8") against him, he's got potential as a blocker.
Toilolo is good at using his long arms and big frame to make himself a big target.
On this play, we see Toilolo run a 10-yard out. He doesn't get a ton of separation, but the quarterback places it to the sideline side of Toilolo's frame, where only he can catch it.
Toilolo makes a nice catch away from his body (it's nice to see a college receiver extend to catch the ball, rather than passively "body catching") and keeps his feet in bounds.
Coordination is a definite strength. His ability to extend and snatch the ball makes him valuable as a short-area receiver.
Toilolo definitely has the ability to win jump balls in the NFL and that is one of the major benefits of his size, especially in the red zone.
He is skilled at adjusting to over-the-shoulder throws, as evidenced by this highlight. He has good ball awareness as well as body control and he could be an asset on goal-line fades—making him a threat anywhere in the end zone.
He could still use his body a little better to shield off defenders, but his ball skills make him a potential short-area weapon for NFL offenses.
One of Toilolo's biggest weaknesses is his separation skills—he simply can't pull away from average players in coverage.
His speed is decent (4.86 40 time per NFL.com), but he's not explosive off the line and lacks burst.
On this first play, the interception isn't Toilolo's fault—the pass was telegraphed and the decision was bad—but you can see that he can't get separation from the linebacker up the seams. That's a deep-threat TE's bread and butter, and he can't pull it off.
The next play displays the same issue. He can't shake the LB up the hashmark, forcing him to try to make a play on his knees.
Toilolo needs to develop consistent separation skills, which includes improving his explosiveness off the snap and short-area quickness. Until he is able to take advantage of mismatches against LBs, he won't be a viable receiving threat in the NFL.
Here's an interview with Toilolo in which he talks about the difference between running routes with and without knee braces—he wore them as a preventative measure. He mentioned his short-to-immediate route explosiveness and how he's looking to improve upon it (in part by removing the braces).
He seems very aware of the areas of his game that need improvement, which is a great sign.
Improving his hands is something he could absolutely stand to do—he sometimes appears to have trouble catching hard passes—and the fact that he's willing to admit weaknesses and work to improve upon them demonstrates that he's smart, coachable and a hard worker.
Toilolo definitely needs fine-tuning, but he seems like the kind of person who is receptive to instruction. If he can learn to harness his freakish skills and size, he could be a starter in the NFL.