7 Reasons Chelsea Will Win the Premier League Title Next Season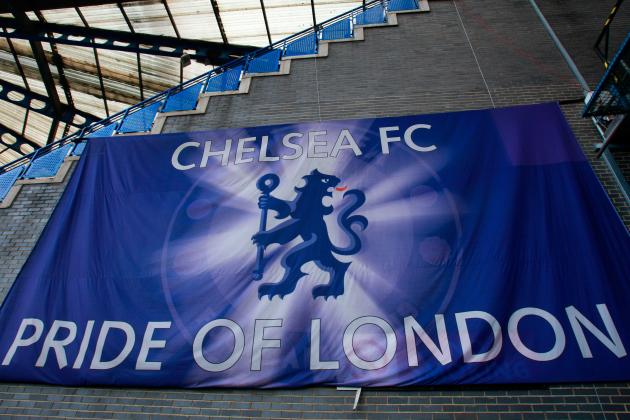 Dan Istitene/Getty Images

Although this season has been incredibly challenging and unrewarding in the silverware department so far for Chelsea, it's never too early to be overly optimistic for next season. Envisioning the Blues winning the English Premier League championship would be the perfect place to start.
But is this all just pie in the sky? Can the European champions actually make a run at the two Mancunians? Will Chelsea have enough offense? Can the defense continue to shine? Who will be manager? And, am I asking too many rhetorical questions?
Well I think we know the answer to at least one of those, brother.
Anyway, on with the free slideshow, and remember most of this is just speculation and late-night dreaming and not a declaration that the Blues will actually win it in 2013/14.
Begin Slideshow

»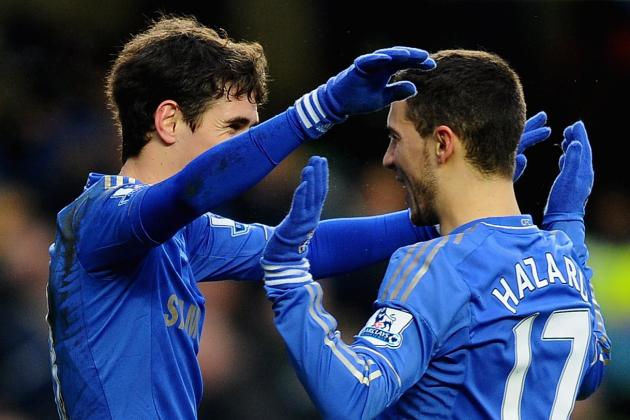 Laurence Griffiths/Getty Images
Oscar and Eden Hazard should be much better for Chelsea next season with a year playing for the Blues under their belts.
Chelsea has had a number of new players come into its first-team roster this season. Despite some success, this group should be even better next year after having a year of playing together.
César Azpilicueta, Eden Hazard, Oscar, Marko Marin, Nathan Aké, Victor Moses and Demba Ba were all new first-team additions and saw various degrees of playing time. Expect all seven to contribute even more next season.
Gelling and team chemistry in sports is always a mysterious thing, but playing together in real game action always seems to be the best way to get to that end. The Blues have done a decent job giving most of these new guys the essential playing time.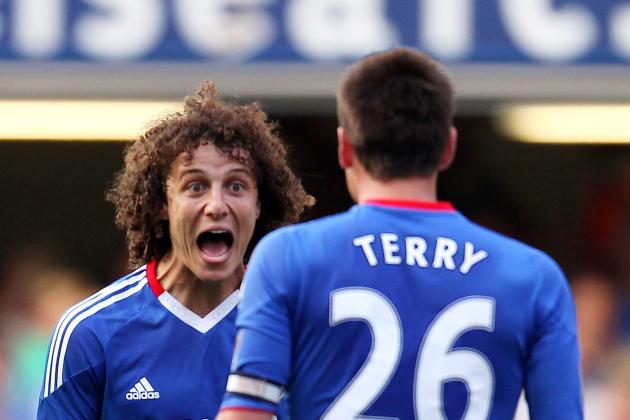 Scott Heavey/Getty Images
Chelsea's David Luiz and John Terry have been very adept at scoring goals for the Blues this season despite being defenders.
Chelsea has scored 66 goals so far this season, the second-best total in the Premier League, but the Blues may be able to approach the 100-goal mark in 2013/14 if everything clicks offensively.
At striker—no matter if Chelsea keeps Fernando Torres, calls back loanee Romelu Lukaku from West Bromwich Albion or signs someone like Bayer Leverkusen's André Schürrle, Atlético Madrid's Radamel Falcao or someone else—the Blues will still have Ba in addition to all of those other possibilities, so scoring from the position should definitely increase.
This year at striker, Torres has had to play with the goal-less droughts and departure rumors hanging over his head. Last season, the striker position was plagued by the constant debate of whether Didier Drogba or Torres should start at the lone spot in the club's 4-2-3-1 formation.
Chelsea should score just as much from the advanced midfield next year with Juan Mata and the aforementioned Hazard and Oscar—both PFA Young Player of the Year candidates and goal scorers in Sunday's 2-2 draw against Liverpool at Anfield—and with Marin and Moses, the Blues could easily have four double-digit scorers at the position next season.
And even though it's still a remote possibility, the talented Kevin de Bruyne lies in wait on loan at Werder Bremen, although his use for Chelsea next year may again be as a loanee or as part of some future deal.
Toss in a strong area of the Blues offense this season—the scoring from its defenders—and winning the Premier League in 2013/14 is a distinct possibility for Chelsea should everything go its way.
Those defenders—John Terry, Branislav Ivanović, Ashley Cole, David Luiz, Azpilicueta, Gary Cahill, Ryan Bertrand and Paulo Ferreira—could all be back next season.
Terry, Ivanović, Luiz and Cahill have combined for a gaudy 24 goals total in all competitions heading into Thursday's Europa League first-leg semifinal at FC Basel 1893 (Fox Soccer Channel, 3 p.m. ET/12 p.m. PT).
Not too shabby for guys whose primary role is to defend, oui monsieur?
And with an ability to get goals from every single position on the pitch except goalkeeper, Chelsea should be an offensive juggernaut next season, which will help give the Blues a chance to again make a run at the Premier League crown.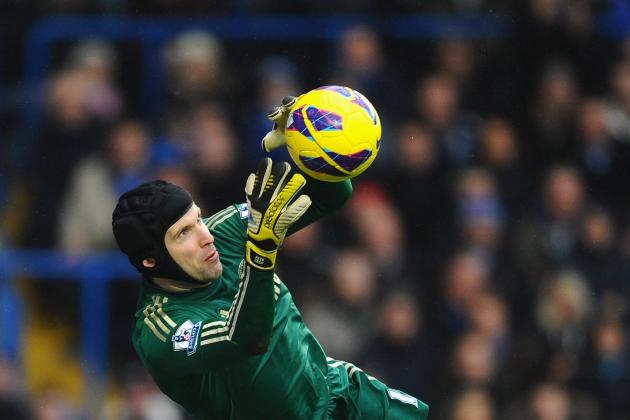 Laurence Griffiths/Getty Images
Often overlooked by some, Chelsea's Petr Cech has proven year-in and year-out he is one of the best goalkeepers in the world.
Petr Čech.
There you have it, mate. Next slide. Carry on...
What? We need more?
Quite simply, Petr Čech is a huge reason Chelsea can call themselves European champions for a couple of more weeks and even qualified for the Champions League this season with his outstanding performances against Barcelona and Bayern Munich last May.
And the 30-year-old Czech legend is also the reason why the Blues are tied with United and Arsenal for the second-best defense in the league (35 goals allowed). Čech currently is tied for third in the league with 12 clean sheets.
In short, all is possible when Petr Čech is your goalkeeper, as he certainly proved to the world last spring.
Handout/Getty Images
To the victors go the spoils? Since winning its first Champions League last May, Chelsea has spent an awful lot of time on airplanes and in foreign hotel rooms over the last nine months.
After doing its best Harlem Globetrotters impersonation over the last nine months and playing a little football on almost every continent on the planet except Antarctica, Chelsea will enjoy a lot more rest and a lot less travel this coming season.
Now on pace to play a club-record 68 or 69 matches—depending on whether or not the Blues make the Europa League final—Chelsea will be in a much better position to focus on that simple annual goal of winning the Premier League and not having to worry about so many plane flights, schedule jockeying and the like.
Chelsea has participated in seven tournaments—the UEFA Super Cup, the FA Community Shield, the FIFA Club World Cup, the UEFA Champions League, the UEFA Europa League, the FA Cup and the Capital One (League) Cup—in the last nine months but have yet to bring home anything but an enormous number of frequent flier miles.
Without this strangely taxing byproduct of success, the Blues will be better off physically and probably emotionally next season. Hopefully they can concentrate on returning to the top of the Premier League table.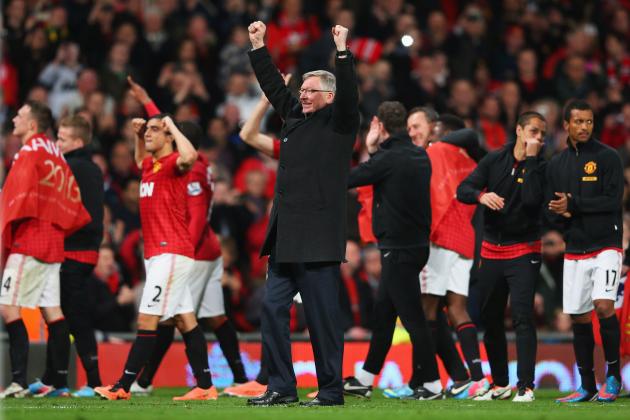 Alex Livesey/Getty Images
Sir Alex Ferguson and Manchester United celebrate winning their 13th English Premier League championship on Monday at Old Trafford.
The last team not named Manchester United, Manchester City or Chelsea to win the league title was Arsenal way back in 2003/04, so to say the richest elite clubs in the league currently have a stranglehold on the EPL championship trophy is truly an understatement.
And when one takes a look at the home records of the two Mancunian clubs over the past three seasons, it's very easy to see why the trophy may be staying in Greater Manchester for years to come.
The Red Devils—who won their record 13th league title on Monday, clinching the honors with a 3-0 shutout of Aston Villa at Old Trafford—are an unbelievable 48-3-4 on home soil over the last three seasons. Their noisy neighbors, the Sky Blues, are 43-8-3 at the Etihad Stadium under manager Roberto Mancini over that same period.
Chelsea, at 36-10-8 at Stamford Bridge since 2010/11, has a fairly respectable record at home.
But considering the Blues had the same number of draws (three) and losses (four) at home last year as United has had combined over the last three seasons, you can see why Sir Alex Ferguson and Company should now perennially be considered the team to beat in England's top flight.
Seeing how well the Blues have played against the Red Devils in all competitions this past year and how well they match up with them should certainly give Chelsea fans some hope at making a run for the league title in 2013/14.
Shaun Botterill/Getty Images
Chelsea would certainly like to see a replay of this happy 2009/10 scene next season.
I'm going to have to lay this next dubious reason at the feet of the Soccer Gods or the zodiac or something unseen and all-powerful.
Here is a list of the the recent champions in the English Premier League over the past eight seasons:
2005/06: Chelsea
2006/07: Manchester United
2007/08: Manchester United
2008/09: Manchester United
2009/10: Chelsea
2010/11: Manchester United
2011/12: Manchester City
2012/13: Manchester United
Do you see a pattern? That's right, Chelsea apparently wins the league every fourth season now, and 2013/14 will be that fourth season. Might as well just hand us the trophy now and save all the trouble, eh?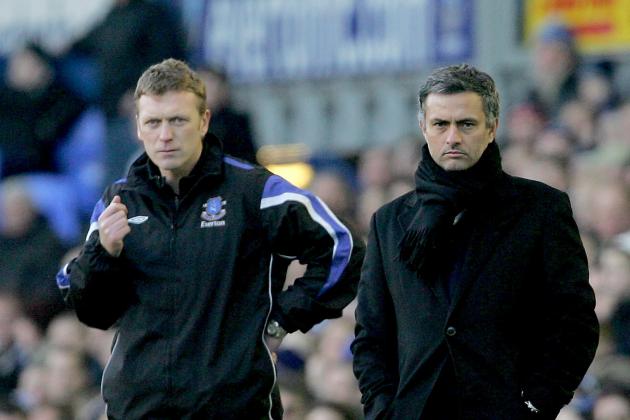 Clive Rose/Getty Images
Everton's David Moyes (left) and Real Madrid's Jose Mourinho (right), shown here with Chelsea in 2008, are two of the three men on Chelsea's short list of managerial candidates next season.
The biggest thing Chelsea should have going for it next season is having just one manager for the duration of the season, something sorely lacking in recent seasons and crucially important for a young and gelling squad like the Blues.
Managing any club with an "interim" tag before your title can't be the easiest thing in the world—ask Roberto Di Matteo or Rafael Benítez about that—but to do so for a club like Chelsea with such lofty expectations from the fans, as well as its hands-on owner, can't be a recipe for winning the league.
Blues vice-captain Frank Lampard spoke just to that reality last week in a story in the Guardian:
Whatever the situation, it would be nice if a manager could come in and have a good crack at some consistency and stay in the job.

We all understand we've had some interim managers and the fans and the club would probably be happier if we could get a manager who could stay for more than half a season, or for some period of time.
As you can tell, and as is the norm for Mr. Lampard, he was being really nice and decent about the whole situation.
I refuse to be so cordial on the subject.
Not having just one manager consistently for at least two seasons speaks volumes about the insecurity and choppiness of the ownership and will hamstring Chelsea for years to come until the owner gets his managerial trigger-finger examined...or possibly cut off.
Whether it's the Special One, José Mourinho, leaving Real Madrid to return to London Town, Manuel Pellegrini (Málaga), David Moyes (Everton) or someone else, having some stability in the locker room is imperative for the Blues to have any chance to evolve into the the type of modern tiki-taka club the Russian oligarch has envisioned.
And out of all the reasons supplied in this slideshow, this one easily has to be the most important.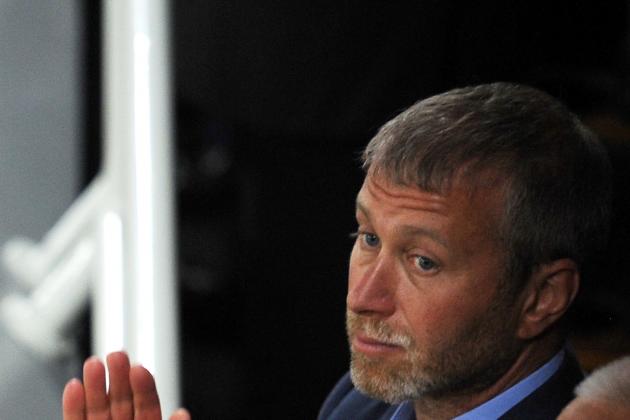 Christopher Lee/Getty Images
Roman Abramovich could go a long way to helping Chelsea by appointing one manager and letting him lead for two, three or even more seasons at Stamford Bridge.
Next season should be another transitionary one for the Blues at Stamford Bridge with veterans Terry (32), Lampard (34) and Cole (32) possibly playing some of their last games for Chelsea if all three are indeed back in the club's fold.
To reward these three club legends with a league title would be a fitting way to cap off their illustrious careers. But the way the Blues have played in the Premier League over these last three seasons, although respectable enough for most, has left a lot to be desired in the eyes in the majority of the blue-blooded faithful.
The best way for Chelsea to again try to capture the league championship is to attempt to be as dominant as United and City have been at home and to appoint one manager and give him at least two or three years to do his thing.
So, as usual for Chelsea and its fans lately, the ball is now firmly in Abramovich's court.
Hopefully, he has learned something over the past several years. If not, expect the focus of Blues' fans ire to really turn on the 46-year-old billionaire next season.
And rightfully so.
Follow me on Twitter: @KevinStott11