What the Vancouver Canucks Must Do to Hit Their Stride Going into the Playoffs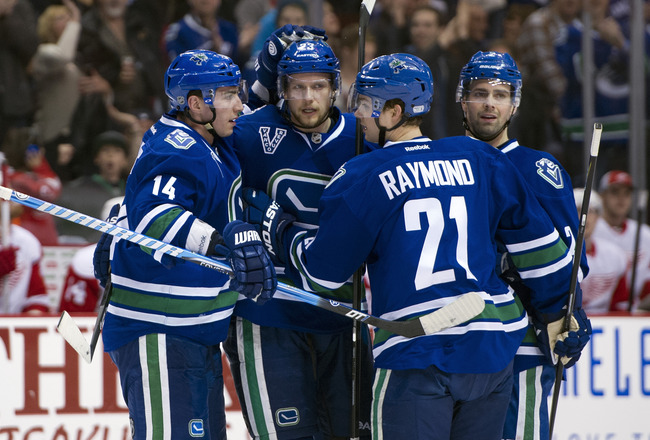 Rich Lam/Getty Images
The Vancouver Canucks have clinched the playoffs and are a lock to win the Northeast Division, but that's only the first step in what is hopefully a long journey to come. And as we all know, succeeding in the regular season does not correlate perfectly (if at all) with postseason success.
The following are three things the Vancouver Canucks must do to hit their stride for a deep playoff run.
3. Secondary Scoring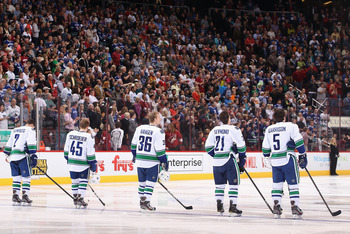 Christian Petersen/Getty Images
Despite the Canucks being one of the most dominant teams in the league in years' past, they are guilty of relying too heavily on Henrik and Daniel Sedin, both during the regular season and the playoffs.
One reason the Canucks have struggled in the playoffs is that teams adjust to the Sedins' style and adapt to their tendencies while they continue doing the same thing.
Secondary scoring is key in this league, especially in the playoffs—and the Canucks will need it if they plan on rebounding from their early exit last season.
So far, the Canucks have been pretty solid with secondary scoring, from Jannik Hansen to Jason Garrison and everything in between. All we can do is hope they keep it up past the 48-game mark.
2. Throwing the Body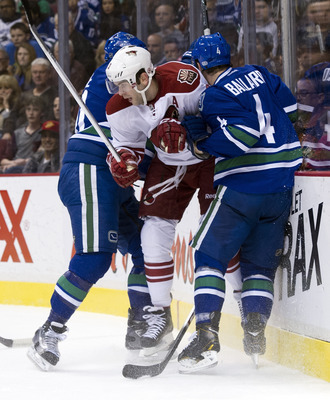 Rich Lam/Getty Images
What do the Boston Bruins and Los Angeles Kings have in common? They have both defeated the Canucks in the playoffs the past two seasons, both have gone on to win the Stanley Cup and both play a hard, gritty game.
The Canucks don't necessarily need to be bruisers to make it far, but the playoffs get rough and they need to be up for the task—and they certainly need to have an answer for the Milan Lucics and Dustin Browns in the league.
1. Stay Healthy
Derek Leung/Getty Images
The Canucks have a history of bad injuries going into the playoffs. Last year, it was Daniel Sedin and Ryan Kesler, and this season has already seen Kesler, David Booth, Chris Higgins, Christopher Tanev and Kevin Bieksa fall.
Higgins and Kesler are back in the lineup, but the Canucks could be forced to face their playoff run without Booth, Tanev and Bieksa. They can't afford to lose anyone else.
Follow Riley Kufta on Twitter for more work and news around the NHL.
Keep Reading

Vancouver Canucks: Like this team?