Hugh Thornton: 5 Things You Need to Know About the Illinois Offensive Guard
Derick E. Hingle-USA TODAY Sports
Illinois offensive guard Hugh Thornton is an intriguing prospect. The 21-year-old veteran lineman proved his consistency as a starter with Illinois. He played in 42 games, including 35 starts. He can provide immediate depth to any NFL roster.
Here are five things you should know about Thornton heading into draft week.
Background
Full Name: Hugh Thornton
Birthday: 6/28/1991
Hometown: Oberlin, Ohio
High School: Oberlin
Thornton enters the NFL draft after completing four years at the University of Illinois. Having played high school football in the competitive state of Ohio, Thornton was well prepared for the competition in the Big 10 conference.
Statistics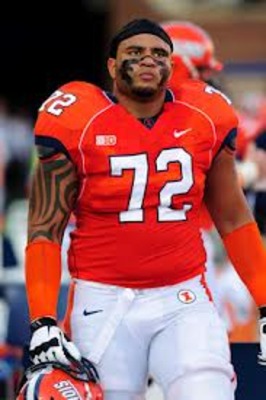 As an offensive lineman, Thornton obviously does not have any eye-opening statistics compared to skill position players. However, he proved to be a consistent for the Illini and progressively gained a bigger role during his time in college.

2012: Played in 11 games and made 10 starts at left tackle
2011: Played in 11 games and made 10 starts at left guard
2010: Played in 13 games and made eight starts at guard
2009: Started seven games at right tackle
Draft Process
Height: 6'3"
Weight: 320 lbs.
Arm Length: 34 1/8"
Hand Size: 10"
40-yard dash: 5.11 sec
Bench Press: 27 reps
20-Yd Shuttle: 4.63 seconds
Thornton's performance at the combine only helped his case. His athleticism for his size and height can make a difference, especially with his versatility at both guard and tackle.
Interesting Facts
Thornton proved his worth as an offensive guard over the course of his college career. He was voted Second-Team All-Big Ten by the coaches and was an honorable mention by the media in 2012.
He displayed his productivity early on in his college career, anchoring an offensive line that contributed to the No. 1 rushing offense in 2010. The offensive line also paved the way for team success, as Illinois appeared in two straight bowl games.
Ultimately, his success did indeed lead to an invite to the Senior Bowl.
Observations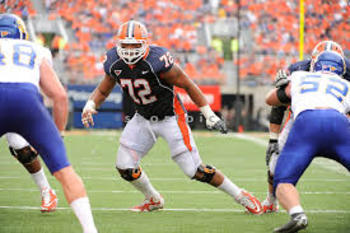 The National Football Post offered the most in- depth scouting report on Thornton. First, they began with highlighting how Thronton's physicality against defensive lineman makes him a legitimate prospect:
Strong and powerful, Thornton can tie up and eliminate man from the play with surprising ease when he blocks with base/leverage and uses his aggressively. Able to get out of stance and set to pass block quickly, he does a good job of pass blocking with base and "gets a good fit" with hands, which helps him to stop "bull rushers" in their tracks consistently.
However, if Thornton wishes to continue to improve as he joins the NFL, the most notable concern is his footwork:
Despite having the strength and athleticism to be a controlling blocker, Thornton struggles with consistency at times because he has a very bad habit of stopping his feet after he makes contact on blocks (Both run and pass). This leads to him bending at the waist and leaning and reaching to maintain contact, which in turn causes him to over-extend and end up losing the block and on the ground.
Keep Reading

Indianapolis Colts: Like this team?