Barrett Jones: 5 Things You Need to Know About the Alabama Center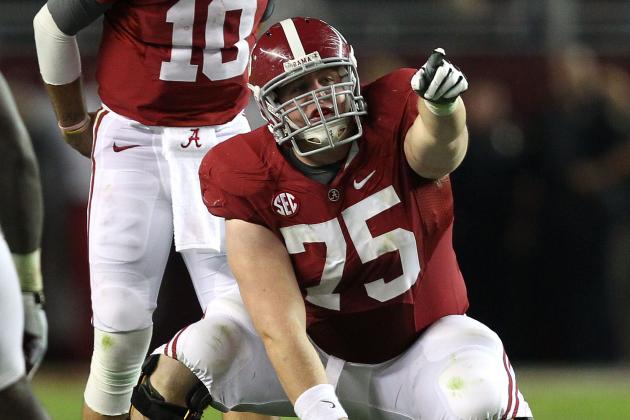 Mike Zarrilli/Getty Images
Jones (75) earned All-SEC honors at three different positions.
Barrett Jones is considered one of the best offensive linemen in college football the past four years, regardless of position. He is certainly one of the most versatile.
Jones is one of the more decorated linemen in Alabama history, having won the Outland Award (best interior lineman) as a junior and Rimington Trophy (best center) as a senior.
His versatility (he played all five positions along the offensive line for the Tide) is a plus as he can be used in multiple spots, but also a negative because he is not considered "dominate" at any of those positions.
One thing is widely agreed upon by scouts, Jones is a solid football player who will win over his coaches and teammates will love because of his intelligence and work ethic.
Begin Slideshow

»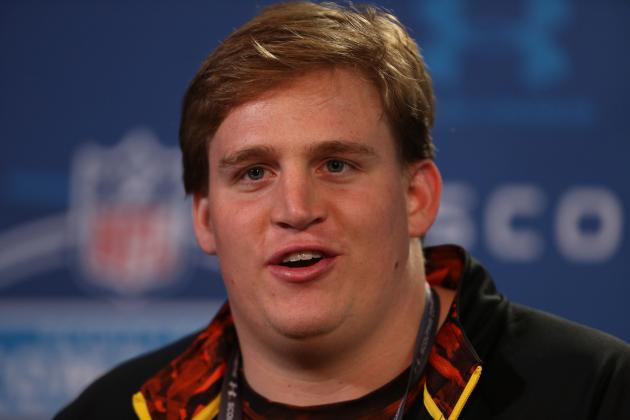 Brian Spurlock-USA TODAY Sports
Jones earned his Master's in Accounting in Dec. 2012
Hometown: Germantown, Tenn.
School: University of Alabama
Major: Bachelor's in Accounting earned May 2011, Masters in Accounting earned December 2012
Year: Redshirt Senior
According to CBSSports.com: http://www.cbssports.com/nfl/draft/players/archive/1632207
"As a youth football player in Germantown, Tenn., former Alabama offensive lineman Barrett Jones intently watched Jeff Saturday for his ability to change protections and serve as the leader of the Indianapolis Colts' offensive line."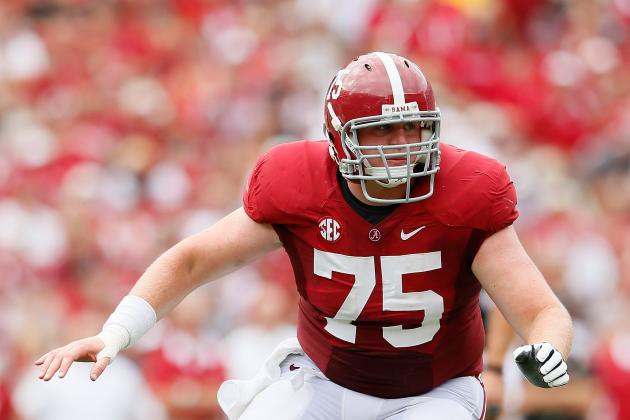 Kevin C. Cox/Getty Images
Jones won three BCS National Championships while starting at three different positions at Alabama
2008: Played in three games (Western Kentucky, Arkansas, Kentucky) as a true freshman, but earned a medical redshirt after a season-ending shoulder injury
2009: 403.0 yards total offense per game; 215.07 rushing per game; 11 100-yard rushers; offense allowed 1.43 sacks per game.
2010: 444.15 yards total offense per game; 182.92 rushing per game; five 100-yard rushers; offense allowed 2.46 sacks per game
2011: 426.6 yards total offense per game; 214.5 rushing per game; nine 100-yard rushers; offense allowed 1.31 sacks per game
2012: 439.1 yards total offense per game; 224.6 rushing yards per game; eight 100-yard rushers; offense allowed 1.57 sacks per game
Jones started all 14 games at right guard in undefeated National Championship season in 2009.
He started 11 games at right guard in 2010, earning first-team All-SEC by the Associated Press. Jones was named third-team AP All-American, first-team Academic All-American and was on the watch list for the Outland Trophy. He missed the final two games of the regular season because of a high-ankle sprain, but played in Alabama's Capital One Bowl victory over Michigan State.
Jones switched from guard to left tackle in 2011, and Alabama won the BCS National Championship game. He was named the nation's best interior lineman in 2011, winning the Outland Trophy while starting 11 games at left tackle. He was the third Crimson Tide player to win the Outland Trophy. Jones was also a semi-finalist for the Lombardi Award, which is presented to the best lineman or linebacker. He was also a unanimous All-American selection by the AP, AFCA, FWAA, Walter Camp, Sporting News, ESPN.com, SI.com, CBSsports.com and Rivals.com. Jones also won the Jacobs Blocking Trophy as the top SEC offensive lineman, on top of the Wuerffel Trophy and the ARA Sportsman Award.
In 2012, Jones started 14 games at center as Alabama won its third National Championship in four years. He suffered a n injury to his left foot in the SEC-Champioonship game and played the BCS National Title Game with torn ligaments in his foot. Jones won the Rimington Trophy as the best collegiate center, and was a finalist for the Outland Trophy as well as the Lombardi Award. He also won the William V. Campbell Award as the top student-athlete, commonly referred to as the "Academic Heisman." Jones was also the Capital One/CoSIDA Academic All-American of the Year, and All-American honors from the FWAA, Walter Camp, AP, Sporting News and Sports Illustrated.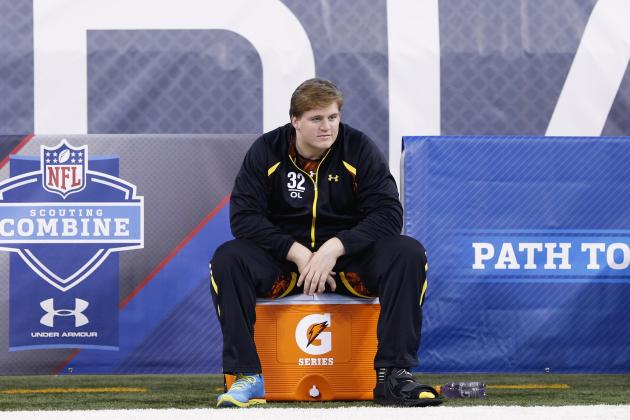 Joe Robbins/Getty Images
Experts say Jones is too small to play tackle, but looks ideal as a guard or center in the NFL.
Measurables
Height: 6'4"
Weight: 306
Arm Length: 34 1/8"
Hand Size: 10 ¼"
Combine Results
Due to foot injury, Jones did not participate in any combine drills.
Pro Day results
Bench Press 225-pounds: 27 times
Jones' foot was in a protective boot and he did not participate in other drills.
Jones is short for an NFL tackle, but the perfect size for guard or center. His arm length and hand size are comparable with Texas A&M's Luke Joeckel (34 ¼" and 10 1/8") who is two inches taller.
Measurables via NFL.com, Pro Day results via CBSsports.com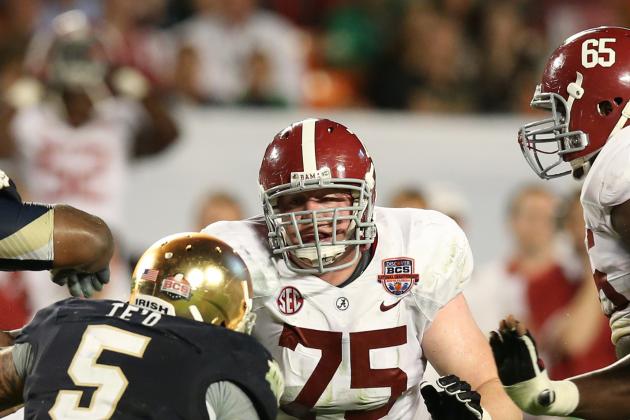 Matthew Emmons-USA TODAY Sports
Jones is one of the most-decorated players in Alabama history.
Jones graduated from Alabama in three years and earned a Master's Degree in accountancy in 2012.
He was a three-time All-SEC selection at three different positions.
According to the University of Alabama official website, Jones missed 15 assignments on 1,318 snaps (99.3 percent on assignments) his final two seasons. The website also says Jones did not allow a sack during his senior season.
Rex Jones, his father, played basketball for the Crimson Tide under Wimp Sanderson from 1982-84.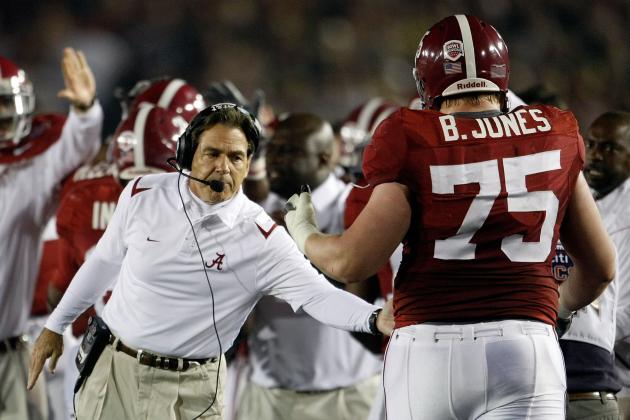 Jeff Gross/Getty Images
Nick Saban compared Jones to Hall of Famer Bruce Matthews.
Alabama head coach Nick Saban publicly compared Jones to Bruce Matthews. Matthews is in the NFL Hall of Fame after a 19-year career where he played 99 games at left guard, 87 at center, 67 at right guard, 22 at right tackle and 17 at left tackle.
Rob Rang with CBSsports.com says:
Jones is smooth and efficient when easing back at the snap in pass protection or getting to the second level. He latches on and keeps his feet moving on contact, rarely allowing his opponent to make the play even if he's relatively close to the ballcarrier.
NFL.com's analysis of Jones is:
While not the strongest or most athletic lineman, Jones' versatility, intelligence and high character should get him penciled in at guard or center for the next decade in the NFL.