Tavarres King: Video Highlights for Former Georgia WR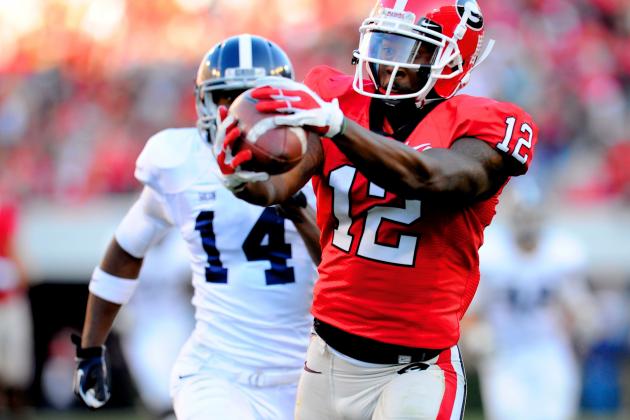 Dale Zanine-USA TODAY Sports

Tavarres King spent three seasons as a downfield specialist for the Georgia Bulldogs, and in 2012, he averaged over 22 yards per catch to go with nine touchdowns.
At 6'0'' and 189 pounds, he isn't the most physically imposing receiver, but his production in the SEC likely impressed scouts and general managers. His 4.47 40 time (per NFL.com) probably did as well.
Here are some of the top plays from King's collegiate career.
Begin Slideshow

»
On this play, King demonstrated his speed, body control and ability to concentrate as the ball is approaching.
Quarterback Aaron Murray delivered a back-shoulder strike and King adapted beautifully to bring in the pass as he tiptoed near the sideline.
King displays his ability to kick it into high gear and create separation on this play against Michigan State in 2012.
King was found by Murray over the middle on this play and the quarterback was forced to squeeze the football between a linebacker and a defensive back.
King caught the ball and maintained possession despite taking a huge hit from C.J. Mosley.
Eerily similar to the reception against Alabama in the SEC title game, this highlight was included to prove that first catch was not a fluke.
Murray and King formulated quite the rapport during their time in Georgia and it was evidenced on this back-shoulder pitch and catch.
The route combination on this play freed King down the sideline, but the pass from Murray was underthrown.
However, the Georgia receiver was able to slow down and make a catch close to his body.
He then exhibited some decent open-field elusiveness after the reception.