5 Reasons to Believe the Philadelphia Flyers Will Make the Playoffs in 2014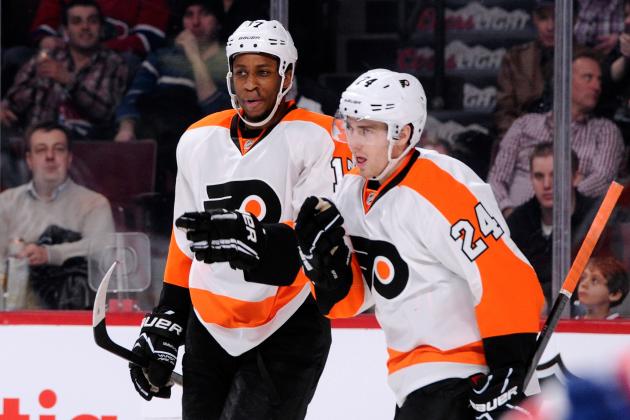 Richard Wolowicz/Getty Images

The Philadelphia Flyers were officially eliminated from the playoffs more than a week before the end of the season, which was not exactly how fans were hoping this season would turn out.
But this lockout-shortened season was strange for a number of reasons, and I am not going to put that much stock in some of the team's struggles during this abnormal schedule.
The injuries, lack of preseason, young players, underachieving veterans: all played a part in the disappointing season, but all have their own fixes.
There are reasons to be optimistic, and in the face of a depressing Stanley Cup playoffs without the Flyers, I want to bring some of those reasons to the forefront here.
These are five reasons to believe the Flyers will make the playoffs in 2014.
Begin Slideshow

»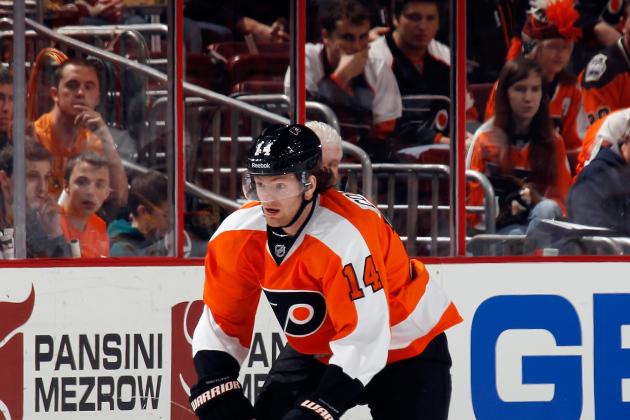 Bruce Bennett/Getty Images

Sean Couturier, Brayden Schenn and Matt Read all had their own share of struggles as they pushed through these four months of a roller-coaster ride.
Couturier took a lot of heat for his lack of offense and general contribution, but the bar was set a little too high for him after a great playoff series against Pittsburgh.
Schenn caught fire for stretches this season but then disappeared at times, especially in March. He brings a lot of things to the table but needs to just be more consistent.
Read was one of the Flyers' best players during the first few weeks of the season, but like Schenn, he slowed down in March.
With a full offseason and normal preseason under their belts, I think all three of these players will be major contributors with a fresh slate of a season in 2014.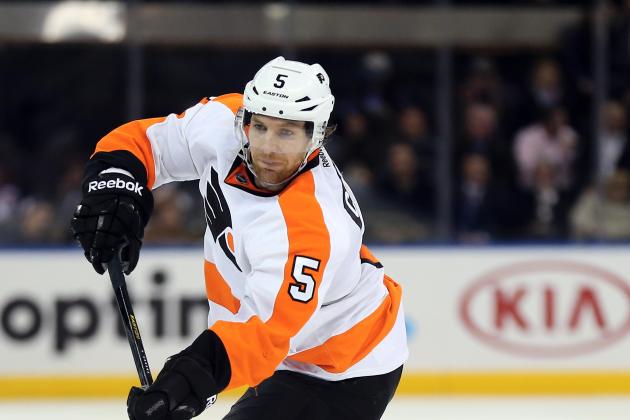 Elsa/Getty Images

It's almost impossible to be as unlucky as the Flyers have been with injuries. The season being shortened due to the lockout definitely played a part in it, with less time to prepare for the opener and more games closer together.
But still, the injuries were ridiculous. Danny Briere was out at the beginning of the season, and then the Flyers lost Scott Hartnell and Andrej Meszaros for extended periods of time just a couple weeks into the season.
During that opening stretch, Wayne Simmonds was also out for a few games with a concussion. Meszaros returned for a little, but he wasn't the same player and finally ended his season with a shoulder injury.
Right around that same time as Meszaros' second injury, Braydon Coburn announced that he would also undergo season-ending shoulder surgery.
The Flyers will bounce back as a healthier club in 2014, and it will help them be more consistent throughout the season.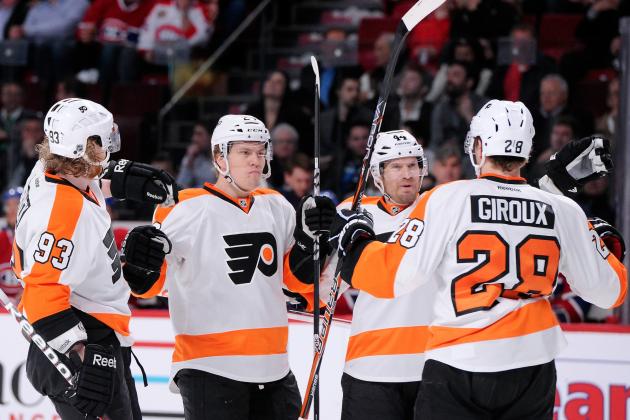 Richard Wolowicz/Getty Images

The aforementioned lack of a preseason, and all of the injuries, didn't allow the Flyers to really develop any team chemistry.
Lines were constantly shifting, and nobody really seemed settled. Last year, Claude Giroux and Scott Hartnell were a great duo but never got back on together this season with Hartnell's injury.
The fact that this is such a young team means that they really could have used the normal training camp and preseason to get going, and I think the lockout really hurt the entire squad.
Drew Hallowell/Getty Images

There were a couple visible upsides to this season, and the two biggest of them are connecting on a pass in the picture right here.
Jakub Voracek and Wayne Simmonds were arguably the Flyers' two best players this season, along with Claude Giroux. They both seem to be really emerging as stars at just the right time.
Both put up huge numbers this year despite the shortened season, with both of them actually scoring more goals than Giroux and Voracek having just two less points.
They are both entering their prime and should be major factors in the team turning things around in 2014. Look for Simmonds in particular to continue to emerge as one of the NHL's best power forwards.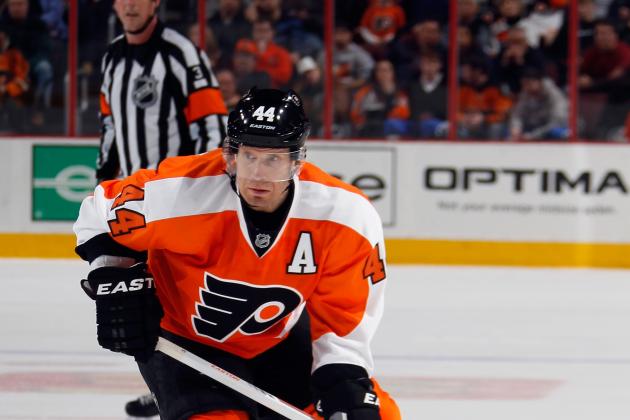 Bruce Bennett/Getty Images

Although Ilya Bryzgalov may not be in Philadelphia next season, he actually had a decent year. When it came down to it, the Flyers defense was really what let the team down time and time again.
I expect a pretty significant overhaul of the blue line this offseason from GM Paul Holmgren. He'll assess what young guys like Erik Gustafsson, Oliver Lauridsen, Brandon Manning and Marc Andre-Bourdon are either worth in a trade or who has the best potential to start in 2014 and move on from there.
Braydon Coburn and Luke Schenn will be back. Kimmo Timonen will enter the likely final season of his career in a reduced role. After those three, I think anything is really possible.
If the Flyers can get a great prospect with their high pick in the draft, he could be starting in 2014. A big trade is definitely possible, and I wouldn't be surprised if Holmgren pursues a couple free agents as well.
No matter how it's done, you can expect the Flyers to have a new and improved look on defense in 2014.