Previewing Kansas City Royals' Upcoming Week, Keys to Each Game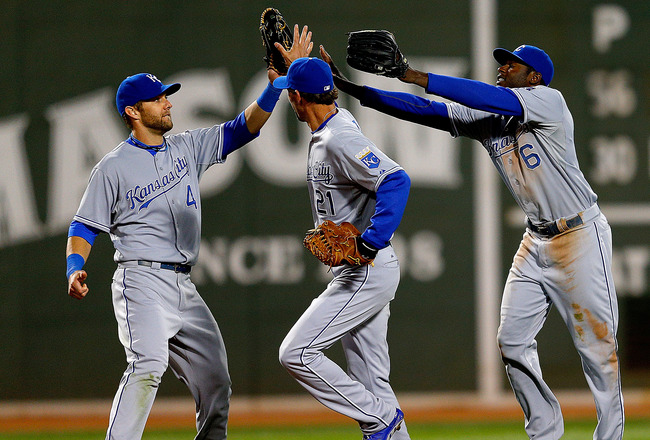 Alex Gordon (left),Jeff Francoeur (center), Lorenzo Cain (right) and the rest of the Royals are atop the AL Central at 10-7.
Jim Rogash/Getty Images
After an emotional weekend series in Boston, the Royals have a big week ahead them with two divisional series against the Detroit Tigers and the Cleveland Indians.
Last week, the Royals won a three-game series against the Red Sox 2-1 after sweeping a doubleheader on Sunday. They also split a two-game series in Atlanta that snapped the Braves' 11-game winning streak.
Now, the current top dog in the American League Central division has an opportunity to put padding onto its lead.
Here are the biggest keys to the five games the Royals have on their docket this week.
Tuesday, April 23: At Detroit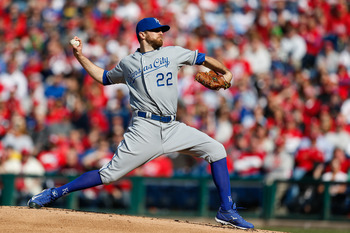 Wade Davis is slated to start in the Royals' first game against Detroit.
Brian Garfinkel/Getty Images
First Pitch: 7:05 p.m. ET
Projected Starters: Wade Davis (Royals, 2-0), Max Scherzer (Tigers, 1-0)
The Royals are 1.5 games ahead of the Tigers in the AL Central standings, so getting off to a good start in Game 1 will be critical for the Royals.
This three-game stop in Detroit is the last of an eight-game road trip that included two days off in Boston after the city was locked down on Friday.
After having six days off through their first 17 games, the Royals start a 13-day stretch without resting.
That has messed up the timing of some of the Royals, including designated hitter Billy Butler. Butler was shut down during the two-game tilt in Atlanta (an NL series with no DH) and is only hitting .216.
In Monday's game, Butler and the rest of the Royals lineup will face Scherzer, who leads the Tigers in strikeouts with 30. He also is maintaining a 2.84 ERA with only six earned runs given up in three appearances in 2013.
The Royals will have to be hot at the plate early to knock Scherzer out of his rhythm.
Davis, the Royals' projected starter and a new addition to the rotation, has been lights out in his first three starts. Davis is 2-0 in the early going with a 2.25 ERA, over 1.6 points below his career average.
However, he has given up two home runs in 2013, just three shy of his 2012 total when he appeared in 54 games.
The Tigers are full of power hitters including Prince Fielder, Miguel Cabrera and Alex Avila. Those three have all gone yard multiple times this season and have combined for nine homers.
Davis and the Royals' bullpen, which will certainly benefit from a day off after playing three games in two days at Boston, will have to limit the big-time plays that the Tigers batters are capable of making.
Wednesday, April 24: At Detroit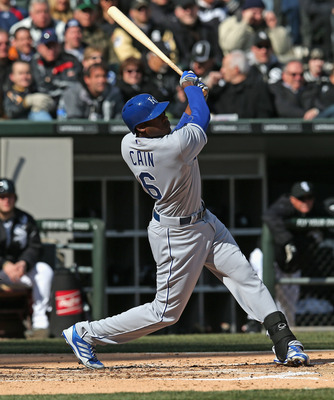 Lorenzo Cain is red-hot in the month of April.
Jonathan Daniel/Getty Images
First Pitch: 7:08 p.m. ET
Projected Starters: Luis Mendoza (Royals, 0-1), Justin Verlander (Tigers, 2-2)
The Royals face an uphill battle on Wednesday with 2011 AL MVP and Cy Young Award winner Justin Verlander taking the mound for the Tigers.
And with the backside of the Royals' rotation in Luis Mendoza taking the hill, the Royals' bats will undoubtedly make or break the team's chances in the second game of the series.
Mendoza has struggled on the hill this season. He has a 6.17 ERA and has no wins in just two appearances.
The Royals even elected to skip Mendoza's scheduled start in the first game of the Boston series after having two straight days off. They instead went with their ace James Shields, who got a no-decision in a 4-3 loss to the Red Sox.
Mendoza has not taken the hill since April 12. Now he'll have to try and shut down some of the biggest bats in the American League in a crucial divisional series.
As for Verlander, despite losing two games, he has a 2.13 ERA and 29 strikeouts in his four starts.
Billy Butler has been pretty successful against Verlander over the course of his career. He has a .396 average against the Tigers ace and nine RBIs in 53 at-bats.
For a guy who is looking to get back into his usual groove, Butler has a big chance to do so against one of his favorite pitchers.
Center fielder Lorenzo Cain can also play a huge part against Verlander. He is having a terrific April with a .368 average in the month along with nine RBIs.
Butler, Cain and the rest of the lineup need a stellar showing on Wednesday to give Mendoza a chance.
Thursday, April 25: At Detroit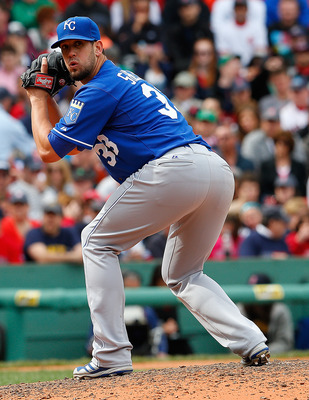 James Shields has been terrific in the early-going for Kansas City.
Jim Rogash/Getty Images
First Pitch: 1:05 p.m. ET
Projected Starters: James Shields (Royals, 1-2), Anibal Sanchez (Tigers, 2-1)
In what will likely become a hotly-contest pitching duel, James Shields and Anibal Sanchez will face off against one another in Thursday's conclusion of the series.
While Shields has only earned one win this year, his losses have come on days where the Royals offense failed to show up.
Against the Toronto Blue Jays, Shields threw a complete game and only gave up two hits. However, one of those was a two-run blast by Jose Bautista, and Shields lost the game 3-2.
His other loss came on Opening Day against the Chicago White Sox, when he only allowed one earned run over six innings. However, the Royals failed to score in the game, and Shields was credited with a 1-0 loss.
Nonetheless, Shields has a 3.00 ERA and 29 strikeouts in 2013, certainly great numbers.
Sanchez has also looked tremendous in the early part of the season for the Tigers. He's 2-1 in four starts with a terrific 1.75 ERA.
The second man in the Tigers rotation also has a history of shutting down the best bats the Royals have to offer.
Billy Butler, Alex Gordon and Eric Hosmer have all only combined for three hits in a combined 19 at-bats against Sanchez.
Jeff Francoeur has faced Sanchez the most out of anybody on the roster. He has a modest .276 average in 29 plate appearances against Sanchez.
So far in 2013, the Royals have failed to give Shields the proper run support he deserves. A potential rubber game in a big early divisional series against Detroit is the perfect time to fix that problem.
Friday, April 26: Vs. Cleveland
Billy Butler is looking to get back into rhythm this week.
USA TODAY Sports
First Pitch: 8:10 p.m. ET
Projected Starters: Ervin Santana (Royals, 2-1), Scott Kazmir (Indians, 0-0)
After an emotionally-taxing, eight-game road trip, the Royals return home on Friday to kick off a four-game series against the Cleveland Indians. The four-game tilt is the beginning of a 10-game homestand for the Royals.
Taking the hill for the Royals in this game will likely be Ervin Santana, who has been remarkable in 2013. Santana leads the Royals with a 2.48 ERA and is 2-1 in four appearances.
The Royals also won a game against the Toronto Blue Jays 3-2, when Santana was given a no-decision despite only giving up one earned run over eight innings.
On the flip side for the Indians, Kazmir has had a rough go of it so far.
In his first and only start in 2013, Kazmir gave up six earned runs and seven hits over just 3.1 innings pitched on April 20 against the Houston Astros.
Now Kazmir will be tasked with shutting down the Royals, who have been effective at the plate as of late.
This game certainly seems to favor the Royals on paper. The Royals will have one of their best pitchers on the mound while the Indians will be sending a guy out there who is looking to recover from a disastrous first start.
Winning this first game will be big in a four-game series against a division rival.
Saturday, April 27: Vs. Cleveland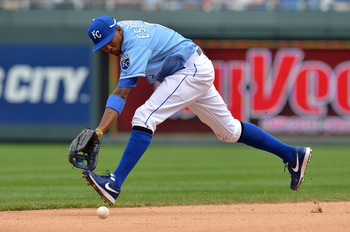 Alcides Escobar is one of the best fielding shortstops in the majors.
USA TODAY Sports
First Pitch: 7:10 p.m. ET
Projected Starters: Jeremy Guthrie (Royals, 2-0), Ubaldo Jimenez (Indians, 0-2)
In the final game of the week for the Royals, they'll face off for the second of a four-game series against the Cleveland Indians.
Jeremy Guthrie is set to take the mound for the Royals, and he has been consistent during the early parts of the season.
He is 2-0 in four starts with a respectable 3.86 ERA.
As for Ubaldo Jimenez, he has struggled out of the gate in 2013.
At 0-2 in three appearances, with an atrocious 11.25 ERA, the Royals will look to jump all over the one-time All-Star.
First baseman Eric Hosmer will be the player to watch at the plate against Jimenez. In just eight at-bats against the Indians' pitcher, Hosmer has five hits with two home runs.
Billy Butler and Jeff Francoeur have also homered against Jimenez in their careers.
Guthrie has been good, but not necessarily great in 2013. He's been the receiver of timely run support and a solid bullpen for the most part.
The Indians have been consistent at the plate this year with 21 home runs, tied for fourth-most in the American League.
This game will come down to hitting. If the Royals can force the Indians to go to their bullpen early, it will be a surefire sign that they'll win Saturday's game.
Keep Reading

Kansas City Royals: Like this team?