It's Still Too Soon for The Shield to Lose, Even Against The Undertaker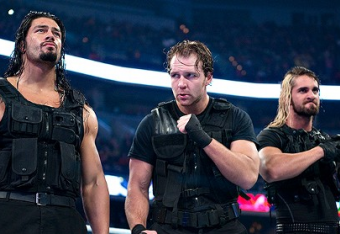 Photo from WWE.com

For WWE to maximize the theatrical power of The Shield's story, its first loss can't come on WWE Raw against Undertaker and Team Hell No.
The Undertaker joins the newest trio of superstars to attempt to bring down The Shield. The rare non-WrestleMania match for The Deadman will make for a compelling fight, but it can't end with the good guys prevailing.
Ending The Shield's streak now would be premature.
If The Undertaker had lost to Ric Flair at WrestleMania X8, imagine how much less intriguing his WrestleMania run since then would have been. What if WCW had let Curt Hennig defeat Goldberg? That's what it would it be like to have The Shield lose in front of the fans in London.
The Shield's story has yet to reach its climax; it still has building to do.
Roman Reigns, Seth Rollins and Dean Ambrose made their in-ring debut in impressive fashion. They defeated Team Hell No and Ryback in an instant classic TLC match. The self-proclaimed Hounds of Justice went onto defeat John Cena, Sheamus and Ryback at Elimination Chamber 2013 and Big Show, Sheamus and Randy Orton at WrestleMania XXIX.
Video package of The Shield's initial run of destruction.
It has been an ever-shifting set of men going after The Shield, attempting to end their run. The next trio up features two guaranteed Hall of Famers and a former world champ on an upward trajectory. If The Brothers of Destruction plus Daniel Bryan can't beat The Shield, then who can?
That's exactly the question WWE should have fans asking.
Defeating The Shield must be turned into a seemingly impossible feat in order for its first loss to be fully satisfying.
As the star power opposite the group increases, The Shield will leave that loss will stocks of momentum. It should be so powerfully booked that their eventual fall will stun, elate and ignite the fans.
Should WWE go this route and delay The Shield's first major defeat, the company will have made itself three major stars.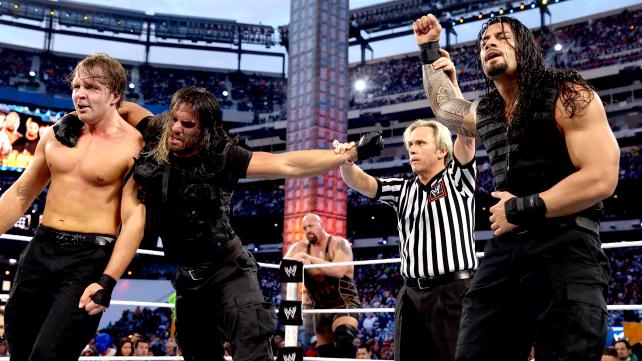 If Reigns, Rollins and Ambrose continue their dominance long after fans think possible, any one of those men or all three can then be pushed in a big way. Goldberg's long undefeated streak helped make him a star and the same opportunity is there for The Shield.
The group's three members have the talent to be major players in WWE's future. WWE has the chance to build that future night now. Let this swarming, relentless unit continue its winning ways. Let it defeat all comers, Undertaker included.
The Shield's stature will be giant-sized.
The Undertaker represents The Shield's biggest test thus far. He also creates a fork in the road for WWE. Does the company head toward the path where The Shield loses in London and becomes just another team or does it head toward greatness?
The route where Rollins, Reigns and Ambrose win again and again is a path marked by more engrossing theater.
Undertaker fans will be rooting for him to tombstone one of his foes. Fans who want to embark on a mesmeric journey should root for The Shield.
This article is
What is the duplicate article?
Why is this article offensive?
Where is this article plagiarized from?
Why is this article poorly edited?