Strengths and Weaknesses for Each of Tampa Bay Lightning's Lines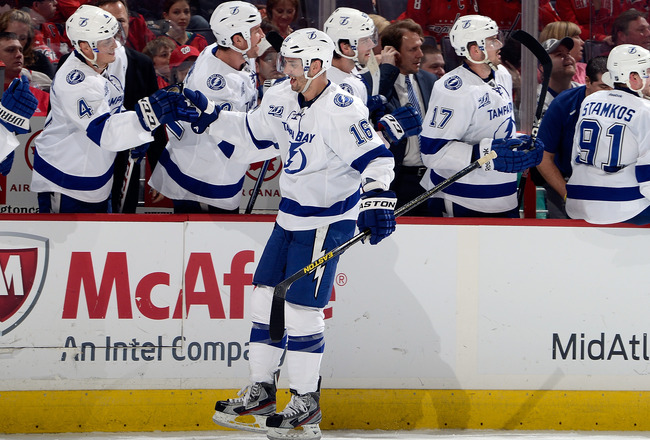 The Tampa Bay Lightning use a very fluid system to create mismatches. When they do use consistent lines, they have distinct strengths and weaknesses.
Greg Fiume/Getty Images
The Tampa Bay Lightning have a lot of talent and a very fluid system. Head coach Jon Cooper very rarely rolls out the same lines for an entire game, but each consistent combination has distinct strengths and weaknesses.
With a potent offense, the Lightning can be a handful to match up against. The offseason could bring some significant changes to the lines, but here is a look at the strengths and weaknesses of each line in Tampa Bay.
Malone-Lecavalier-Tyrell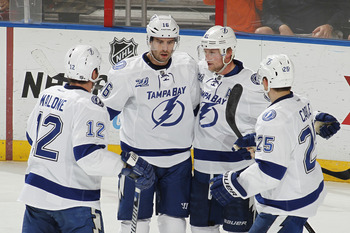 Ryan Malone is the biggest producer on his line for the Bolts.
Joel Auerbach/Getty Images
Strengths: Size, Experience
Ryan Malone, Vincent Lecavalier and Dana Tyrell are consistently molded together as a top-two line. Malone (583), Lecavalier (1,033) and Tyrell (121) have significant NHL experience. They are also a very big forward line with all two of three forwards at 6'4".
Lecavalier is a headache in front of the net for the opposition. Malone and Tyrell win board battles consistently to maintain solid offensive cycles.
Weakness: Shooting
This line no longer has a significant scoring threat. They rely on creative plays and fortunate bounces to get the majority of their points. Lecavalier's production has dwindled significantly. Tyrell has never been an established scorer, and Malone has a career .144 shooting percentage.
Purcell-Stamkos-St. Louis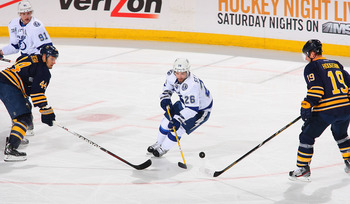 Martin St. Louis is producing at an absurd level. He is the most dangerous weapon the Lightning have.
Rick Stewart/Getty Images
Strengths: Skill, Scoring, Creativity, Passing
This line is by far the most complete line for the Lightning. Teddy Purcell, Steven Stamkos and Martin St. Louis complement each other well. Stamkos and St. Louis provide the skill.
Purcell and St. Louis provide the creativity and passing. Stamkos and St. Louis are the best scorers on the team. This line is one of the more dangerous lines in the league.
Weaknesses: Too Much Creativity, One-on-one moves
This line is very creative in the offensive zone. The problem comes when they try to be creative in the neutral zone or defensive zones. This group is susceptible to turnovers that lead to odd-man rushes.
This line doesn't have anyone that is a real one-on-one threat. St. Louis is the closest to it, but he finds the majority of his space through awareness and fancy passing. Stamkos is a shooter, and Purcell isn't anything flashy one-on-one.
Panik-Pyatt-Killorn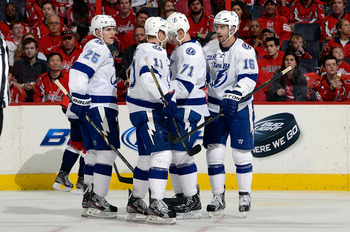 The Pyatt, Panik and Killorn line does exactly what a third line needs to do.
Greg Fiume/Getty Images
Strengths: Speed, Energy
Richard Panik, Tom Pyatt and Alex Killorn have five combined seasons in the NHL. Panik and Killorn are both rookies that earn significant minutes for the Lightning. Pyatt and Panik are great skaters that put pressure on defenses. All three players bring a great energy to the ice. Killorn's and Panik's offensive skill solidify secondary scoring.
Weakness: Youth
It is hard to criticize such young talent that does everything a third line is supposed to. The only issue with this line this season was youth. With the rolling lines that Cooper uses, all three players saw increased production when paired with the established stars like St. Louis and Lecavalier.
Labrie-Thompson-Crombeen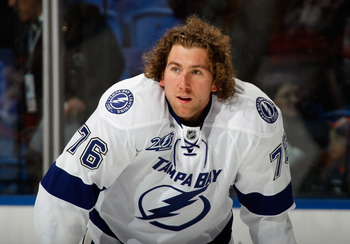 Pierre-Cedric Labrie is a character and a benefit to the organization on and off the ice.
Bruce Bennett/Getty Images
Strengths: Physicality, Mistake-free minutes
Pierre-Cedric Labrie, Nate Thompson and B.J. Crombeen are the most physical players on the team. Labrie, Thompson and Crombeen provide grit and protection for the top lines. For the most part, this line provides mistake-free minutes that give the top three lines a much needed breather.
Weakness: Lack of Speed
Production out of the fourth line isn't a concern, but a lack of speed and an inability to stretch defenses is a bit of a concern. Fortunately, this line is a great forechecking line that makes things difficult on an opponent's top line.
Carle-Brewer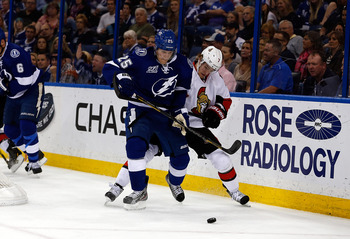 Matt Carle is having a good year in his first season with the Lightning.
J. Meric/Getty Images
Strengths: Speed, Aggression
Matt Carle and Eric Brewer are two of the better skaters on the Lightning blue line. Matt Carle is a great skater for a defenseman and is one of the better defensemen at leading transitions. Both players are fairly aggressive in the offensive end which helps provide an additional threat.
Weakness: Defensive Positioning
Carle and Brewer have struggled this season in the defensive end. It may be adjusting to a new partner, or being victim of the offense's horrible turnovers, but the top pair should not be struggling to stay positive in plus/minus for the season.
Hedman-Salo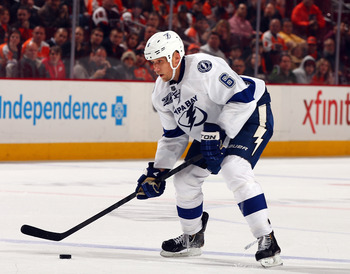 Sami Salo's blistering shot is a great addition to the power play.
Elsa/Getty Images
Strengths: Shooting, Chemistry
Victor Hedman and Sami Salo have two solid shots from the point. Salo is a threat on the power play, and Hedman is great in transition. These two have also adapted well this season. Salo, a 13-year veteran, has helped Hedman mature in just his fourth NHL season.
Weakness: Physicality
Sami Salo has never been a real physical defenseman. Victor Hedman isn't known for his physicality and hasn't improved much in that department as Salo's partner. As he gets more acquainted with the NHL game, expect Hedman to establish more of a physical presence.
Aulie-Gudas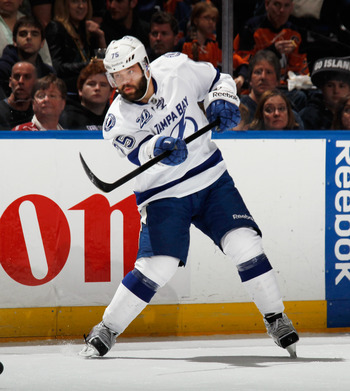 Radko Gudas is the most physical defenseman for the Lightning. He will develop into a significant force for the Bolts in the upcoming years.
Bruce Bennett/Getty Images
Strengths: Size, Strength
Radko Gudas and Keith Aulie are two big presences on the Lightning blue line. Aulie is 6'6" and 215 pounds. Gudas is just 6'0" but a solid 200 pounds and the most physical defenseman on the Bolts. Gudas and Aulie have size and strength to help minimize effectiveness of the opposition. Goaltenders love their size as they use it to block shots consistently.
Weaknesses: Offense, Experience
The third pair for the Lightning has just 138 combined NHL games under its belt. Aulie and Gudas are still learning the pace and speed of the game but will develop with more minutes. Gudas is a fan favorite in Tampa Bay and will be competing for significant time next season. If these two can improve their offensive game, the Lightning will be even more dangerous.
Keep Reading

Tampa Bay Lightning: Like this team?