Gareth Bale Spurs Tottenham Win but Andre Villas-Boas Deserves the Credit
Use your ← → (arrow) keys to browse more stories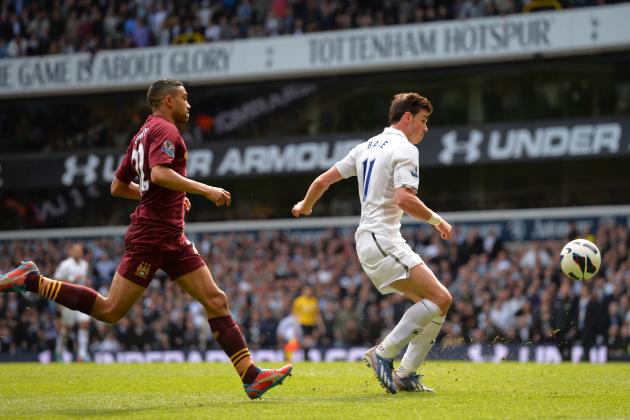 Shaun Botterill/Getty Images
Gareth Bale scores Tottenham's third goal in the 3-1 win over Manchester City.
There has been a joke running around this week that Cardiff City will be the third Welsh team in the Premier League next season, after Swansea City and Gareth Bale.
The Wales international did little to prevent the gag from continuing its rounds this week after being the inspiration for Tottenham's comeback victory over Manchester City at White Hart Lane.
Perhaps it was the notion of a £100 million transfer fee that rested uneasily on the shoulders of Tottenham talisman in the 3-1 win over Manchester City as he struggled to find any impact in the opening hour of the game.
It is more likely that the former Southampton midfielder was stymied by choosing to play a more central role in an already-congested and narrowed midfield.
The introductions of Lewis Holtby and, especially, Tom Huddlestone by Andre Villas-Boas effectively forced the Welshman out to a wider area, and suddenly Gael Clichy's comfortable afternoon turned into a tortuous torrent.
The former Arsenal man was no match for the rejuvenated Bale, who provided an assist for United States international Clint Dempsey in the 75th minute to cancel out Samir Nasri's early opener.
The Welshman collected the ball on the right side of the area and sent a daisy-cutting cross along the 6-yard line with the outside of his left boot for the American to slot home. It was a sublime piece of skill.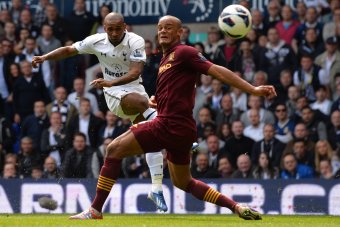 Shaun Botterill/Getty Images
Bale was not involved in
Jermain Defoe's
excellent second goal four minutes later when
Vincent

Kompany
committed the cardinal sin of allowing the England international to cut back on to his right foot to curl the ball around
Joe Hart
.
Bale would not be outdone on the score sheet, however, and in the 82nd minute, he latched on to Huddlestone's ball before leaving Clichy with a swift gear change and dinked the ball over Hart to make it 3-1. It was also Bale's 18th Premier League goal of the season and a testament to the impact he has on this Tottenham team.
This was an important lesson for Bale, though, if he is to become one of the game's greats; learning to adapt your game to outfox an opponent.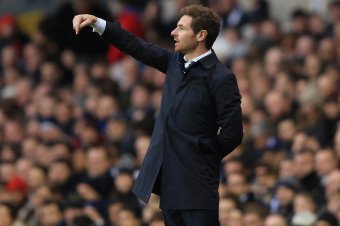 Richard Heathcote/Getty Images
Villas-Boas recognised that his talisman was losing his way in midfield and a 59th-minute free-kick, which saw the ball produce all sorts of trickery before flying wide and over, appeared to sum up Bale's afternoon.
But Spurs' need for the victory to maintain the chase for Champions League football next season was far greater than for City, whose Premier League title defence was already over.
Villas-Boas switched his team, and Bale had to leave his preferred central role with an option to drift wide to the right, where the injured Aaron Lennon would have usually patrolled.
On the right flank, City's lack of width was a gaping hole waiting to be exploited, and Bale was the man to provide the ammunition.
But this was a victory fashioned in the dugout. Villas-Boas was axed by Chelsea just over a year ago but may now be about to wreak his revenge by denying his former employers a Champions League berth next season.
The two clubs meet on May 8 at Stamford Bridge, where the Portuguese coach can prove his point in no uncertain terms.