The Auburn Tigers' A-Day scrimmage on Saturday was important for many on-the-field reasons, but this day was about a whole lot more than just a football game.
It was about the two majestic oak trees that sit at the intersection of College Street and Magnolia Avenue, at the corner of Auburn University and downtown Auburn. Those trees provided a meeting place for the Auburn family to celebrate anything from big athletic wins to presidential victories since at least the early part of the 20th century.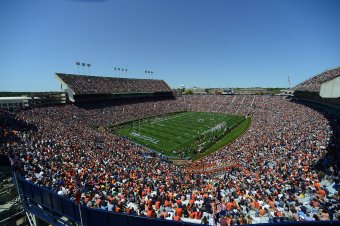 It was fitting that Mother Nature provided a clear, crisp Saturday afternoon that could have passed for fall. The record crowd of 83,401 fans who watched A-Day inside Jordan-Hare Stadium (per Brandon Marcello of AL.com) and the 10,000-plus who didn't made the familiar northerly march toward Toomer's Corner to roll the oaks like they have done on many fall Saturdays in the past.
For one last time.
The trees will be removed from their familiar location on Tuesday. Even though they are soon to be removed, they will never be forgotten.
There is no clearer evidence for that fact than the pageantry that was on display in celebration of the oaks on Saturday afternoon. The city of Auburn blocked off local roads, set up a stage and put on a concert in the middle of Magnolia Avenue. People of all ages shared in the happiness of the final roll on Saturday, which is likely to go deep into the Auburn night.
The celebration is how Auburn fans can say a simple "thank you" to the trees. A thank you for being a place where Auburn fans could celebrate as a whole. As a family.
Hard to put into words what today meant to Auburn people. The trees might be dead, but the Auburn spirit is alive. Stronger than ever #auday

— Jay Jacobs (@jayjacobsauad) April 21, 2013
There were too many wonderful moments at that intersection for any Auburn fan to ever forget.
Each fan will have a different favorite memory.
They will range from the first rolling of the trees in 1972 when Auburn made good on running back Terry Henley's claim that the Tigers would beat the "No. 2" out of Alabama, to 1989 when Alabama made its first trip to the Plains.
For the newer generation of Auburn fans, it could be celebrating the 2004 SEC Championship, the 2006 or 2007 victories against Florida or, of course, when the Tigers won the BCS National Championship in 2010.
On the other hand, the favorite memories could have nothing to do with football. It could be the place where an Auburn fan asked his wife to marry him or where they shared a dance as bride and groom like on Saturday night.
Bride and groom!!! twitter.com/Szvetitz/statu…

— Mike Szvetitz (@Szvetitz) April 21, 2013
Chances are, if you are an Auburn fan, several of your favorite memories include Toomer's Oaks.
While it may seem like the latest defeat in what has been a tough stretch for the Auburn family recently, that could not be further from the truth. The statement that Auburn fans made by showing up in mass on Saturday proved that you can't keep a strong family down.
"There's more to Auburn than two oak trees, revered and sturdy as they are," former athletic director David Housel said at the celebration. "These oak trees are but an outward visible symbol of the Auburn heart."
Auburn has unveiled plans for renovating the corner, which should be complete in 2014 (per Ed Enoch of AL.com). New memories will be made there, as Auburn fans will once again flock toward the corner to celebrate the future wins that Malzahn promised were in store for the Auburn family.
"Here's the plan in the fall: to give the Auburn family numerous opportunities to roll these trees," Malzahn told the raucous crowd on Saturday afternoon.
Unfortunately, there is a future generation of Auburn fans who will only know of Toomer's Oaks through a story told by parents and grandparents. Through those stories, there is no forgetting the happiness that occurred under these trees.
Memories like that last forever.
*All quotes were obtained firsthand