Another season, another trip to the disabled list for third baseman Ryan Zimmerman.
Washington Nationals manager Davey Johnson announced that Zimmerman would be placed on the 15-day disabled list with a left hamstring issue and that top prospect Anthony Rendon will be called up from Double-A to play third base in his place (via the Washington Times).
Zimmerman attempted to play through the nagging hamstring. The first signs of injury were reported on Monday, though he tried to play on Wednesday after taking a day off. He left halfway through that game and then proceeded to miss Friday and Saturday's games. The MRI he received Saturday morning must have thrown up red flags for the team's doctors.
The move to call up Rendon in his place is an interesting one. The Nationals will likely only need the No. 6 pick of the 2011 draft for two weeks, after which he'll be sent back down. Washington does not have room on the roster for him once Zimmerman returns.
Johnson must be under the impression that two weeks of Rendon will be better than two weeks of Chad Tracy offensively and at the hot corner, and he might be right.
Rendon is a Gold Glove-caliber third baseman, and he will arguably be the top defensive player on the team while he's up in the bigs. Offensively, he's off to a great start in the minors.
He's batting .292/.462/.500 with two home runs, seven RBI, four doubles, eight runs scored and 14 walks. His patience is impressive, as is his consistent ability to hit the ball hard. Rendon is not much of a power threat, but his solid stroke and line drive approach make him a threat to hit the ball well every swing.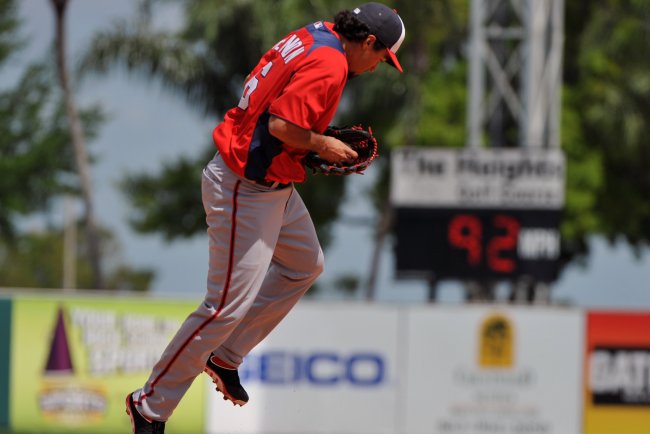 Al Messerschmidt/Getty Images
Tracy, on the other hand, has done poorly in 19 at-bats mostly off the bench. He's hitting just .158/.200/.158 with an RBI and just three hits.
Seeing two weeks of Rendon early in the season will be a great way for general manager Mike Rizzo and the rest of the team's higher-ups to not only get a look at a future star, but to assess whether or not he'll be the heir apparent to Zimmerman at third base.
With his constant injuries and poor throwing this season—he has eight errors, though they could be tied to his hamstring—a move to first base may be in his future.
If Rendon proves that he can make the jump from Double-A to the bigs, then he could be expediting the inevitable.
Zimmerman wasn't hitting all that well early on, so taking a risk on Rendon is not a bad idea at all. He's not the same type of top prospect that Bryce Harper was, but this kid is talented and he will look to make an impression on the team with his first opportunity to start.