Alabama Football: Winners and Losers of 2013 A-Day
Stacy Revere/Getty Images

After a little more than three months of anticipation, the Alabama Crimson Tide finally returned to the field with the annual A-Day spring game.
Quarterback AJ McCarron led the first-team offense (crimson jerseys) against the second-team defense (white jerseys), and backup Blake Sims led the second-team offense against the first-team defense on this beautiful day for spring football at Bryant-Denny Stadium in Tuscaloosa.
The announced attendance was 78,315 (per ABC 33/40), and fans were in line to get the best of the general admission seats some three hours prior to kickoff.
Here are the winners and losers from the 2013 A-Day Spring Game.
Begin Slideshow

»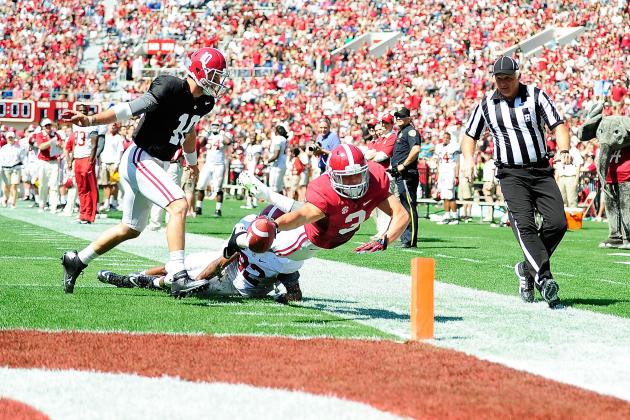 Stacy Revere/Getty Images

The Tide defense intercepted four first-half passes and another off of McCarron that was called back after an offsides penalty on lineman Ed Stinson.
Sophomore Landon Collins and senior Nick Perry were all over the field throughout the half as the Crimson stumbled to a 10-7 lead at halftime. Collins and Perry also laid the most powerful hits of the day at the expense of running back Kenyan Drake and receiver Chris Black respectively.
The running attack was held in check for the most part, and the two defenses only allowed 17 points collectively, 10 of them coming on the first three drives of the first half.
Perry had a pair of interceptions, while Vinnie Sunseri and Collins had one each. Ha Ha Clinton-Dix picked off the one that was called back.
In the latter minutes, Clinton-Dix took a Brian Vogler fumble 55 yards for a touchdown to put the White team ahead for the first time. The ball was forced loose by Deion Belue.
By the time it was all over, the two defenses had collected a total of nine turnovers.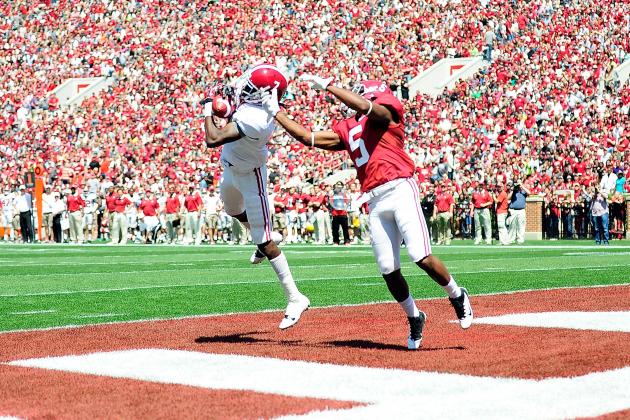 Stacy Revere/Getty Images

After a near-flawless opening touchdown drive that ended with a 40-yard touchdown toss from McCarron to Kenny Bell, the rest of the game was pretty much owned by the Alabama defense.
There was nothing flashy at all about the ground attack from the first team, as the offenses sputtered through a sloppy half.
McCarron completed 12 of 17 first-half passes for 136 yards with one touchdown and one interception, which Vinnie Sunseri returned for an 86-yard touchdown on the last play of the first half.
While it was good to see some nice grabs by receivers Kenny Bell and DeAndrew White, the quarterbacks had to check down to the running backs way too many times.
Including a fumble by backup quarterback Alec Morris, the Tide turned the ball over five times in the first half alone. There were four more in the second stanza.
McCarron hit Christion Jones on a 50-yard completion in the last two minutes that set up a seven-yard touchdown run by T.J. Yeldon to put the Crimson up for good.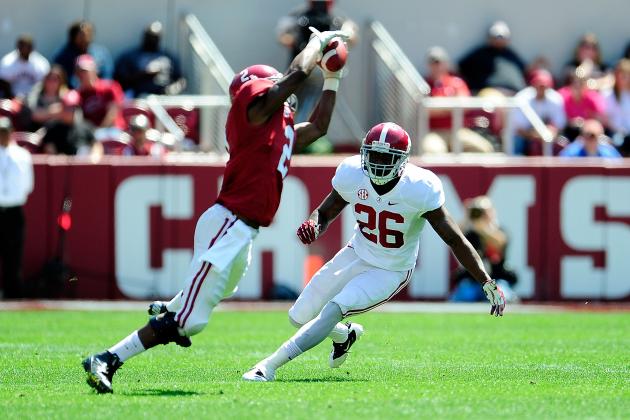 Stacy Revere/Getty Images

After losing some significant time to injuries, Alabama had three receivers back in action and making significant contributions Saturday.
Redshirt freshman Chris Black caught a pair of passes for 15 yards early on. He missed the entire 2012 season after a stellar spring game a year ago.
Senior Kenny Bell caught three passes for 71 yards, including a 40-yard touchdown from McCarron on the opening drive. On a side note, it was former receiver Cyrus Jones who Bell took advantage of on the score.
DeAndrew White caught a very nice 37-yard second-quarter pass from Alec Morris.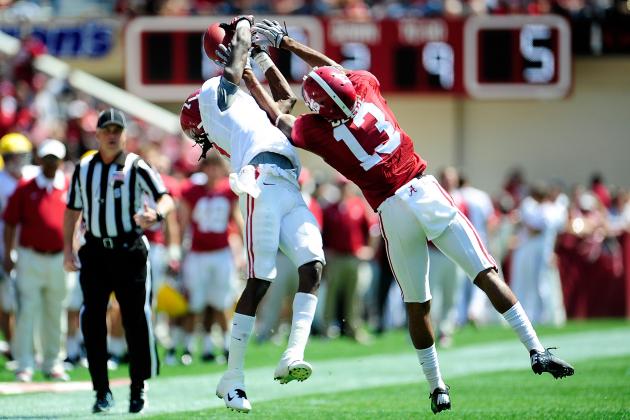 Stacy Revere/Getty Images

One of the biggest concerns for the Tide going into next season has been the defensive secondary.
That wasn't a problem in the spring game, though. Nick Perry (twice), Landon Collins, Vinnie Sunseri (for an 86-yard touchdown) and Cyrus Jones all intercepted Tide quarterbacks on Saturday. In all, there were six interceptions thrown.
Deion Belue, who took quite a bit of heat a year ago, made a few nice plays and had the initial tip on the ball that Sunseri took to the house to end the first half. He also forced a fourth-quarter fumble that Clinton-Dix ran back for a 55-yard score.
As mentioned before, 'Bama quarterbacks were regularly forced to settle for dumps to various running backs. This was very much due to the stellar play by the secondary.
Sophomore receiver Amari Cooper was held in check all day, and Alabama passers completed just four passes of over 20 yards. Two of those were in the first quarter.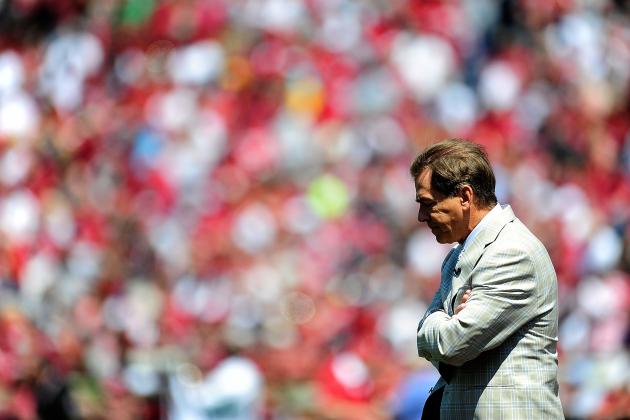 Stacy Revere/Getty Images

If anyone thinks they have the scoop on who will be McCarron's backup next fall, they must have one heck of an inside connection.
Blake Sims, who is likely to be the top candidate entering fall camp, was miserable. He had little touch on the ball, if any at all, and threw a pair of first-half interceptions on ill-advised passes.
Phillip Ely took the field next for the Tide, and while he wasn't all that bad, he didn't exactly do anything to separate himself either.
Freshmen Alec Morris threw a beautiful pass to White in his first opportunity but also had an interception and a fumble. Morris did get the call to run the final drive of the game and led the Crimson down to the White 14 before coming up short on fourth down.
Fellow freshmen Cooper Bateman and Parker McLeod were not exactly turning heads, either.
To say that the job of McCarron's backup is going to be up for grabs this fall would be an understatement. Because of his ability to run and past experience, Sims may have the inside track though.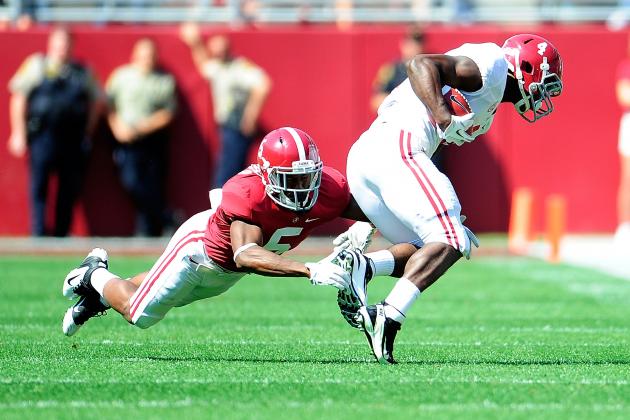 Stacy Revere/Getty Images

While it sure was nice of ESPN2 to carry the spring game again, Alabama fans were stunned to find out that when the clock struck 4 p.m. CDT, the network bailed on the game in favor of drag racing.
With just over three minutes left and the Crimson leading the White 10-7, the four-letter network quickly bailed with no prior notice.
Unfortunately, most of us watching were unable to see the final two scores and had to resort to social media for updates on the final minutes.
Yes, it was just a spring scrimmage and really a kind of boring one at that, but one would have to believe that there would not have been many complaints had ESPN skipped out on the first heats of a race that very few even knew was happening Saturday.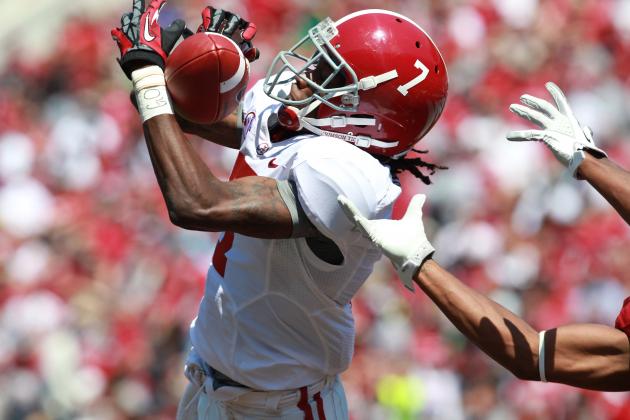 Marvin Gentry-USA TODAY Sports

The beauty of the Alabama spring game is that it is absolutely free to everyone.
No one seems to know for sure, but the waiting list for Alabama season tickets is speculated to be decades long at this point.
With the ever-rising cost of tickets and the lack of availability, it is virtually impossible for a family of four to get into a 'Bama game without a connection of some sort.
Not on this day.
Almost 80,000 diehard fans were able to see their team play for free Saturday. Even though it was little more than a glorified scrimmage, there was much to be seen.
Former Tide standouts, including Eddie Lacy, Mark Ingram and Julio Jones, were present and signing autographs for enamored fans.
Season ticket holders often take a game like this for granted and decline to make the trip over for the day. But for those not as fortunate, a game like this on a day as beautiful as this is one that could fill multiple scrapbooks.