West Virginia Football: Winners and Losers of 2013 Spring Game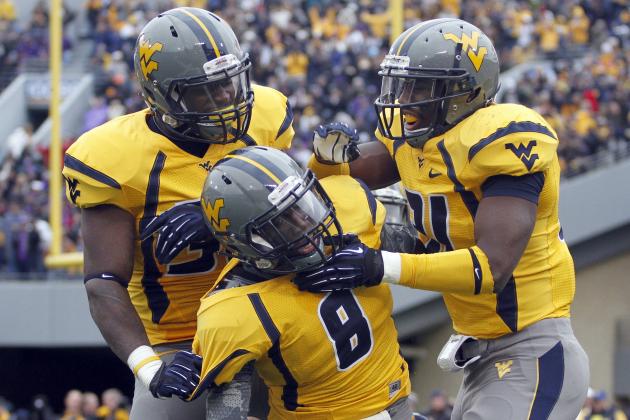 Justin K. Aller/Getty Images

The West Virginia Gold-Blue spring football game left many questions unanswered going into the 2013 summer session, as the defense emerged as the 41-33 victors at Milan Puskar Stadium.
None of the arms in the WVU quarterback race were able to gain any noticeable ground, but a few of their potential targets made their case for starting time in what will be an all new receiving corps.
Additionally, the Mountaineer defense that was maligned in 2012 looks like it has already made improvement, particularly in the pass rush generated on its own offensive line.
Finally, before the game, West Virginia's new uniforms were revealed, so we'll break those down as well.
Let's jump right in and take a look at the hits and misses, wins and losses of the Gold-Blue game.
Begin Slideshow

»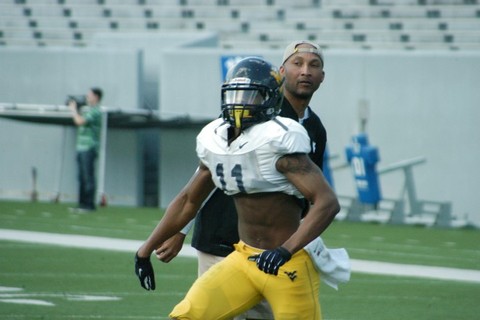 Photo Credit: 247 Sports
Kevin White had the play of the day at the Gold-Blue game when he took a short pass from Paul Millard, danced through traffic and then darted up the field for a touchdown.
He had numerous catches throughout the day and at 6'3", 211 pounds, he certainly looked the part.
Right now, that part may cast him as the go-to receiver in this offense.
He'll be joined by a few other returners, as they'll compete with a few talented newcomers this summer as well.
But as of the spring game, White's name is one that will almost surely be in the WVU starting lineup this fall.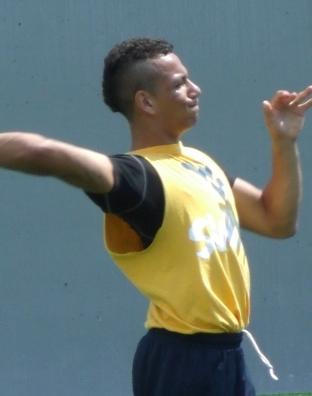 It appears as though athletic true freshman Chavas Rawlins is no longer in serious contention to take the starting quarterback position at WVU this fall.
Paul Millard and Ford Childress split the snaps in the Gold-Blue game, leaving Rawlins to watch from the sideline.
Right now, it looks like Millard has an upper hand over Childress, though there is still a lot of time left until this race will be decided.
Additionally, Clint Trickett, who is transferring out of Florida State, was reportedly at the WVU spring game this weekend (via Greg Auman, Tampa Bay Times).
If he indeed was, then he surely saw just how tight this QB race is in Morgantown. If he thinks he can come in and challenge in that race immediately, we could see him in gold and blue before long.
However, it is always difficult to predict transfer situations.
Trickett's situation pending, it looks like the race is between Millard and Childress for now.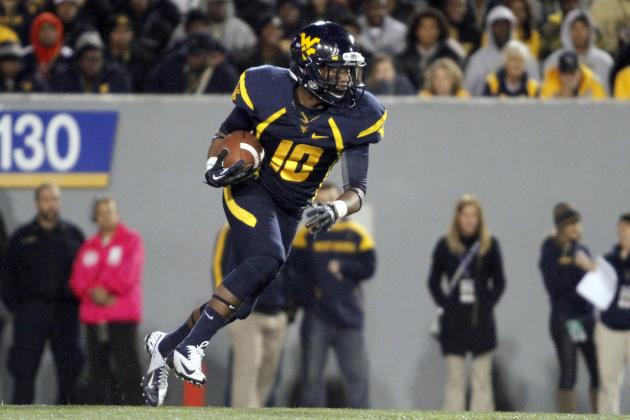 Justin K. Aller/Getty Images

Jordan Thompson made his name known with a big performance during the 2012 Gold-Blue game. Not to be outdone, he followed that up with an even bigger game in 2013.
"Squirt," as he is known, caught three touchdown passes on Saturday—one from Childress and two from Millard.
He really showed off an arsenal of abilities, catching deep balls as well as making grabs in traffic. Additionally, he was impressive after the catch on short routes.
Given his performance last season, this year's big game should also be taken with a grain of salt, as he will still need to translate those skills into Big 12 Conference play.
However, right now, it looks like Thompson may be alongside White at the top of the WVU receiver depth chart.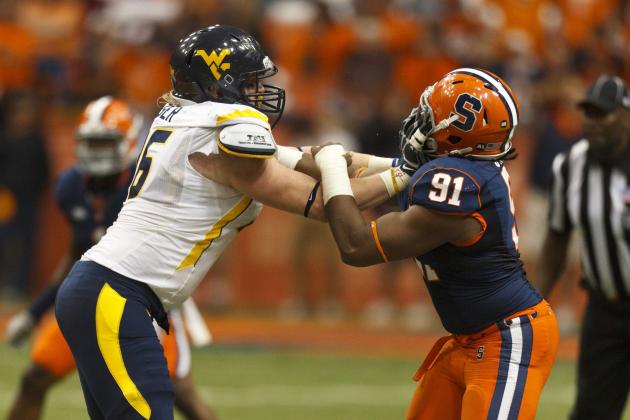 Jason O. Watson-USA TODAY Sports

One area that the Mountaineers could really stand to improve is blocking—both in the pass and run.
The WVU defense did look vastly improved in the pass rush, but some of that had to do with blocking breakdowns by this line.
Additionally, the WVU run game, much like last season, looked bad in short-yardage situations.
That deficiency was bolded, highlighted and underlined on the final play of the game, when the defense stoned an inside run on a two-point conversion.
One major piece of the OL puzzle, presumed starting center Pat Eger was out of action in this one, so his presence could help to shore things up for this group.
Plus, one has to believe that added time under new offensive line coach Ron Crook will have its benefits over the summer, as well.
It isn't panic time for this group yet, but improvements must be made.
The suspense surrounding the West Virginia uniform release was thick enough to cut with a knife. Well, maybe that's an exaggeration, but Mountaineer Nation was certainly looking forward to it.
Finally, before the spring game, the uniforms were released—and they're great.
All new helmets were added—gold, white and blue—all with a matte finish.
There are nods to the tradition of the state of West Virginia throughout the design, including pickaxe-inspired numbers that at first glance look a little too sharp. However, when paired up, they actually look great, as the edges of the numbers seem to flow together for a great, uniform look.
Many fans were worried about the additions of black or grey options, which was avoided entirely.
There are black accents throughout the designs, but it really all flows quite well.
The white jerseys and the helmets are my personal favorite, though I don't really have any complaints about any of them—expect perhaps the big blue blob on the shoulder of the gold jerseys.