UFC on Fox 7 Results: Top 10 Flyweights in the UFC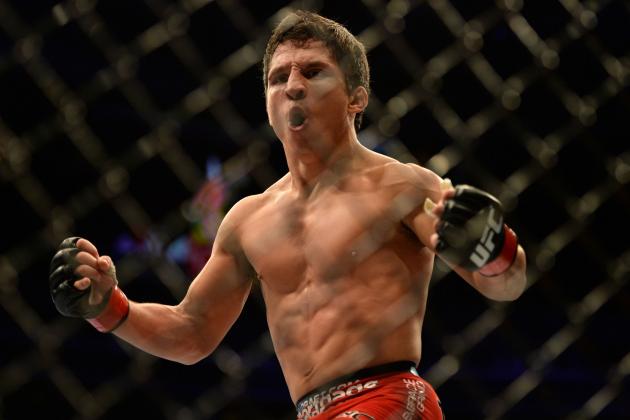 Kyle Terada-USA TODAY Sports

Joseph Benavidez moved a step closer to earning another flyweight title shot with his win over Darren Uyenoyama at UFC on Fox 7.
The Team Alpha Male fighter was able to avoid going to the ground with his opponent, a dangerous jiu-jitsu practitioner, and eventually finished the fight with strikes late in the second round.
Having only lost to champion Demetrious Johnson in his four fights at 125 pounds, Benavidez has solidified himself as the second-best fighter in the flyweight division.
How does the rest of the division stack up, though?
Let's take a look.
Begin Slideshow

»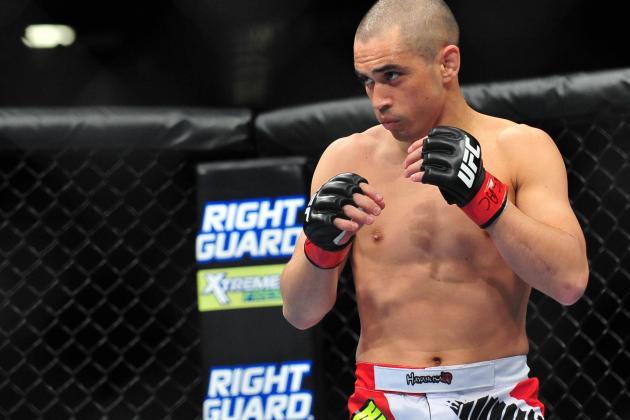 Gary A. Vasquez-USA TODAY Sports

Record: 14-4 MMA, 4-2 UFC
Streak: L1
Chris Cariaso does not have a win over any active UFC flyweights, but he is 1-1 since moving to 125 pounds, with his only loss coming against upcoming title challenger John Moraga.
After having mixed success in the bantamweight class, the 125-pound division has given Cariaso an opportunity to stand out and make a run to the top.
At UFC on FX 8, Cariaso will have a chance to cement himself as a top-10 flyweight by beating former Shooto champion Jussier Formiga.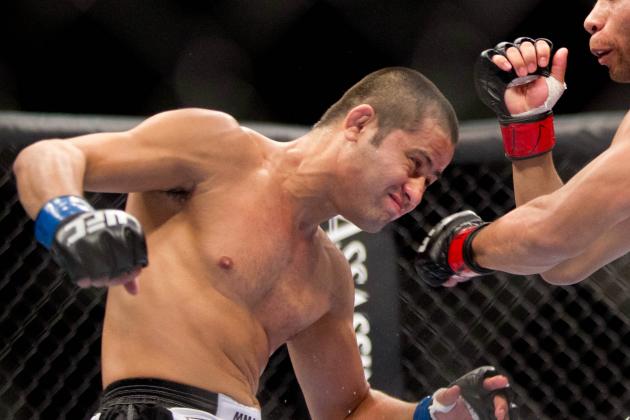 Bruce Kluckhohn-USA TODAY Sports

Record: 14-2 MMA, 0-1 UFC
Streak: L1
Jussier Formiga entered the UFC ranks as a potential title contender, having only lost to Ian McCall in 15 career bouts.
A matchup with John Dodson proved tough stylistically for Formiga, though, as the Brazilian was unable to utilize his outstanding ground game against a better wrestler and quicker striker.
Despite the loss in his only Octagon appearance, Formiga still has the potential to contend for the flyweight belt and can return to the top quickly in a division that is still developing.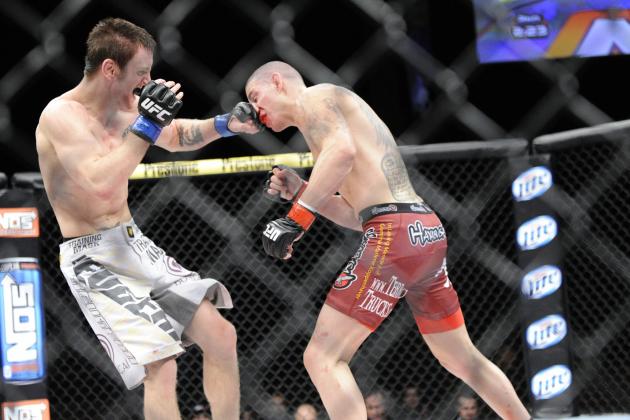 Josh Holmberg-USA TODAY Sports

Record: 9-3-1 MMA, 1-1 UFC
Streak: W1
Like Jussier Formiga, Tim Elliott came up short against John Dodson in his UFC debut. Unlike the Brazilian, however, Elliott took Dodson the distance and was actually only out-struck by "The Magician" by a slim 80-79 margin.
Elliott showed his strong performance against Dodson was no fluke by winning his following bout against Jared Papazian.
At 26 years old, the scrappy Elliott is starting to look like a fighter who could develop into one of the faces of this new flyweight class.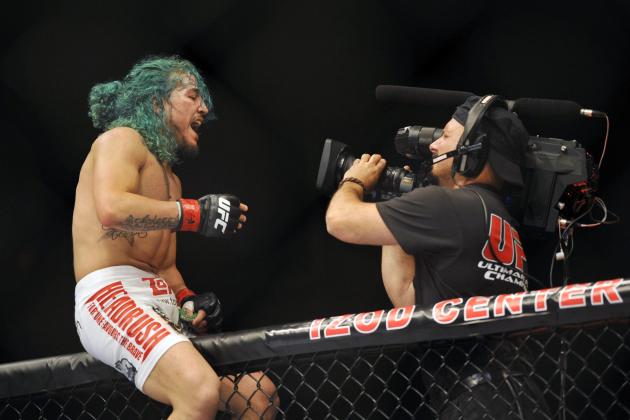 Joe Camporeale-USA TODAY Sports

Record: 6-2 MMA, 1-1 UFC
Streak: W1
Louis Gaudinot's UFC career did not get off to a great start, losing to Johnny Bedford after appearing on The Ultimate Fighter 14.
However, a move to his more natural division at flyweight has given Gaudinot a chance to reach his true potential.
With a submission of John Lineker in his first 125-pound bout inside the Octagon, Gaudinot is now in a position to fight an elite flyweight and possibly emerge as one of the division's top contenders.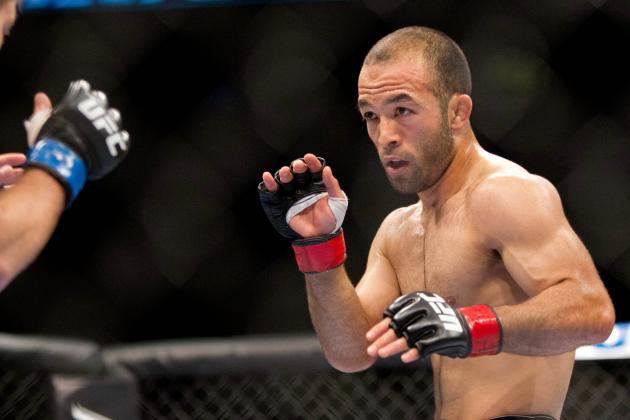 Bruce Kluckhohn-USA TODAY Sports

Record: 8-4 MMA, 2-1 UFC
Streak: L1
Darren Uyenoyama suffered a setback at UFC on Fox 7, losing to Joseph Benavidez in a rough outing.
Still, Uyenoyama's ground game makes him a tough adversary for anyone he's able to take to the ground. Benavidez wasn't one of those opponents, but there are many in the 125-pound division who will be as Uyenoyama moves forward.
Prior to losing against Benavidez, Uyenoyama made a strong flyweight debut by submitting Phil Harris in the second round.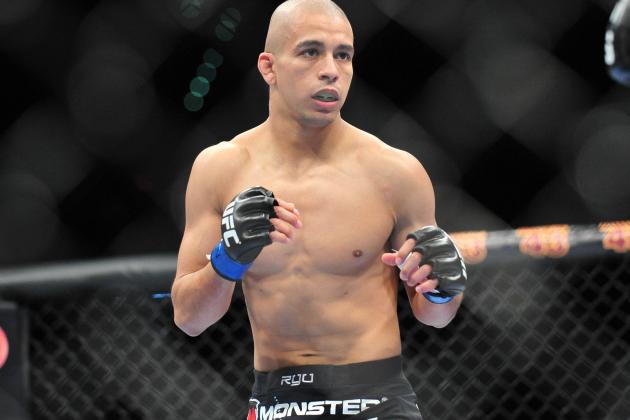 Gary A. Vasquez-USA TODAY Sports

Record: 12-1 MMA, 2-0 UFC
Streak: W7
Even though he hasn't bested one of the division's top five fighters, John Moraga was previously pegged the next title challenger in the 125-pound class.
A Demetrious Johnson injury postponed Moraga's title shot, but no indication has been made that he won't still be the fighter standing opposite "Mighty Mouse" when the champion returns.
On an impressive seven-fight winning streak, Moraga defeated Ulysses Gomez and Chris Cariaso in his first two Octagon showings.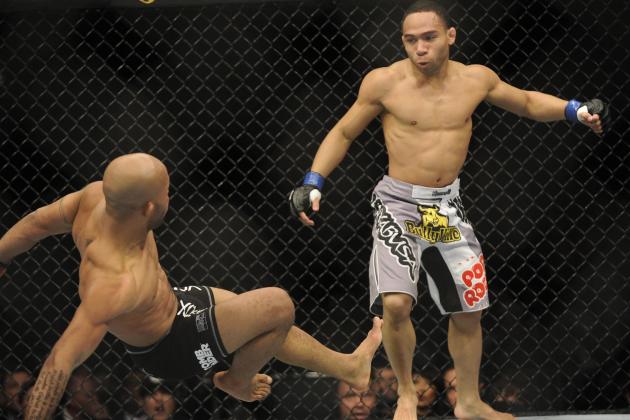 David Banks-USA TODAY Sports

Record: 15-6 MMA, 3-1 UFC
Streak: L1
John Dodson came up short in a title shot against Demetrious Johnson, but by knocking the champion down and taking him to a close decision, "The Magician" proved himself to be one of the most promising TUF winners in the reality series' history.
Prior to his loss to Johnson, Dodson had beaten rising bantamweight T.J. Dillashaw, Tim Elliott and Jussier Formiga.
Dodson's next opponent has not been named, but it's not unlikely that he'll remain in the mix for another title shot and could meet another elite flyweight.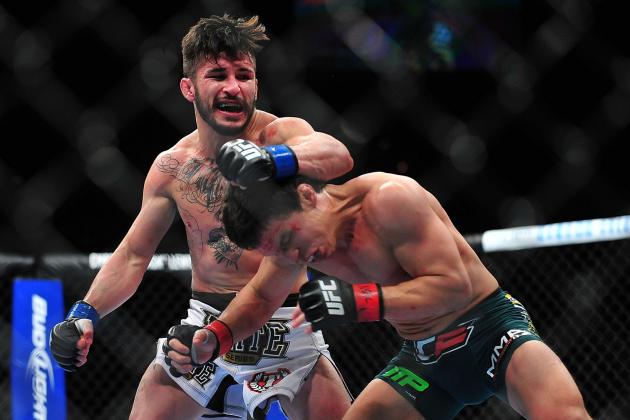 Gary A. Vasquez-USA TODAY Sports

Record: 11-4-1 MMA, 0-2-1 UFC
Streak: L2
Ian McCall's UFC career has been slow to take off, but that is due in large part to the fact that "Uncle Creepy" has exclusively competed against the top two fighters in the flyweight division.
Though McCall fell against Demetrious Johnson and Joseph Benavidez, he was highly competitive against both men and should shine once he faces a lower-level opponent.
McCall's next fight has not been determined, but there's a good chance he'll meet an opponent who is outside of the title picture right now.
Gary A. Vasquez-USA TODAY Sports

Record: 18-3 MMA, 5-1 UFC
Streak: W2
Joseph Benavidez has been taking a slow road back to a potential rematch with Demetrious Johnson, but there's no doubt he's the second-best flyweight in the world right now.
With John Moraga currently awaiting his title shot against Johnson, Benavidez may only be one more win away from getting another crack at UFC gold.
A bout with John Dodson could be next for Benavidez and would potentially set the winner up for a second meeting with Johnson.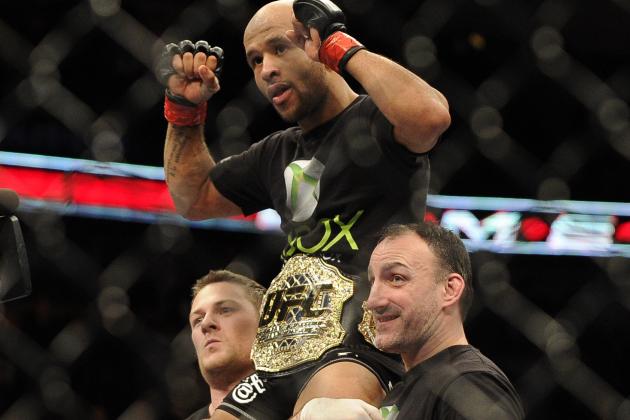 David Banks-USA TODAY Sports

Record: 17-2-1 MMA, 5-1-1 UFC
Streak: W3
Demetrious Johnson has not been dominating opponents in the flyweight division, but he continues to win and is cementing himself into the UFC history books.
After a draw with Ian McCall in his flyweight debut, Johnson has beaten McCall, Joseph Benavidez and John Dodson all by decision.
Johnson's next fight is likely to come against John Moraga, a wildly aggressive fighter who could force "Mighty Mouse" to take more risks.