National Lacrosse League: It All Comes Down to Week 16 Results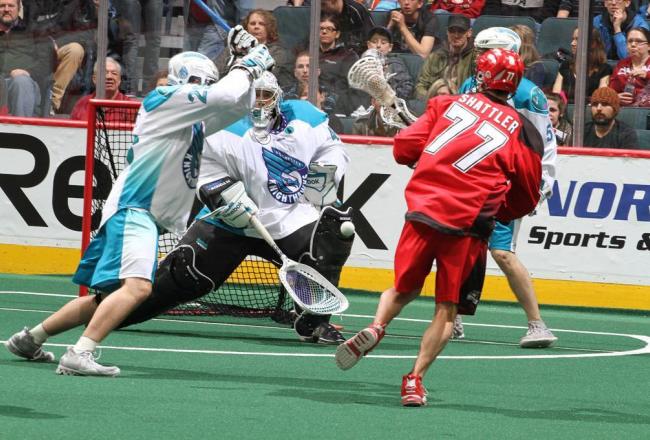 (Photo: nll.com)

With the final weekend of the NLL schedule about to begin, six of the eight playoff spots have been claimed, three teams are fighting for the last two spots and none of the seeding has been decided.
It's complicated.
The Toronto Rock have won the East Division with a 10-6 record and get a bye this weekend, so the question of positioning is now out of their hands.While they are guaranteed at least one home game in the postseason, everything else is up in the air.
The Edmonton Rush (9-6) can claim the No. 1 seed in the NLL for the first time in their team's history. All they have to do is beat their arch-nemesis, the Calgary Roughnecks (8-7). Edmonton has a 5-22 all-time record against the Roughnecks in the regular season, but they won their last matchup, an 18-13 drubbing in early March, in the midst of a five-game Rush winning streak.
The Rush will be looking for big games out of veterans Ryan Ward (70 points), Corey Small (62 points) and Aaron Bold (10.59 goals against). They'll also need Mark Matthews—the odds-on favorite to win this year's Rookie of the Year award—to come up big on offense.
Calgary has the best offense in the NLL, averaging 14 goals per game; they're led by Shawn Evans, who has picked up a career-high 102 points so far this year and is a virtual lock to win his first scoring championship as a result. He is also just two points shy of Calgary's franchise record, currently held jointly by Lewis Ratcliff and Josh Sanderson.
If the Rush lose on Saturday night, the Roughnecks take first place in the West and Toronto hangs on to the top seed in the playoffs.
The Washington Stealth (8-7) can assure themselves of a home playoff game by beating the Philadelphia Wings (7-8).
The Stealth's Rhys Duch is leading the NLL in goals with 41, but he'll have his hands full trying to match a resurgent Wings squad that is getting hot at the right time, having won their last two. The return from injury of Brendan Mundorf (17 points in five games) now gives the Wings offense five quality scorers and makes them a very dangerous opponent at this time of year.
Should Philly win—and the Rochester Knighthawks lose—they'll lock up second place in the East and a home game, but they can do no worse than third place, regardless.
Speaking of the defending champions, the Knighthawks (7-8) face the Buffalo Bandits (6-9) in yet another critical matchup.
If the Knighthawks win, they not only clinch a playoff spot, but they also lock up second place and a home playoff game. If they lose, however, they face elimination. Only a Minnesota Swarm win over the Colorado Mammoth will save them in that case.
The K'Hawks will therefore be looking to goaltender Matt Vinc to have one more huge game in what has been a huge season for him. He is leading the NLL in goals-against average (10.25) and only needs to stop nine more shots to break the single-season record for saves.
Buffalo has had a disastrous collapse late this season, losing six straight games before pulling off a big win last weekend against the Stealth. They need to beat the Knighthawks to make the postseason and can even earn a home playoff game if Philadelphia loses. Veteran Shawn Williams (62 points) is leading the Bandits' attack and needs one more big game.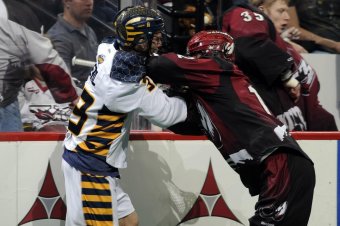 That leaves just one more game to discuss. The Swarm (7-8) host the Mammoth (6-9), and Colorado must win this game to assure itself of a playoff spot. If the Mammoth lose, they also need Buffalo to lose in order to survive.
The Swarm, led by a nine-point night by Callum Crawford, beat the Mammoth last weekend to lock down their own postseason spot, but are far enough behind the log-jam at the top of the West standings that they don't have a shot at hosting a first-round playoff game.
John Grant Jr.'s Mammoth have won four of their last six and need to come back from the beatdown they received last weekend. They need future Hall of Famer Grant Jr. to take charge and add to his team-leading 40 goals and 86 points in a big way to keep them moving on. If the Mammoth lose, they need Buffalo to also lose to survive.
So, like I said earlier, it's complicated.
The action gets underway at 7:30 p.m. ET in Buffalo.
Follow me on Twitter @calgaryjimbo
This article is
What is the duplicate article?
Why is this article offensive?
Where is this article plagiarized from?
Why is this article poorly edited?