Biggest Things the Toronto Raptors Must Address This Offseason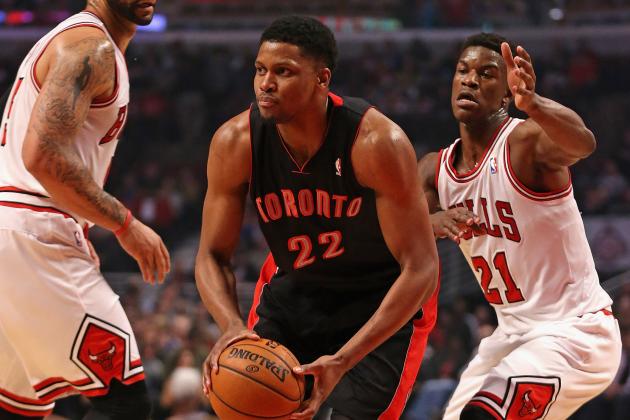 Jonathan Daniel/Getty Images

After another disappointing season, the Toronto Raptors again find themselves out of the playoffs for the fifth consecutive season.
Despite spending big money in the offseason on the backcourt duo of Kyle Lowry and Landry Fields, the Raptors started off slow and never recovered, landing them in the basement of the Atlantic Division.
The midseason acquisition of Rudy Gay paid off. The Raptors showed signs of life with the former Grizzlies star, going 18-15, including winning their final six games.
Still, with little financial wiggle room, the Raptors will have to be creative and count on positive progression from their stars in order to make a run.
The bright side for Toronto is that the Eastern Conference is incredibly top-heavy, and this year's eighth seed, the Milwaukee Bucks, went 38-44, which is hardly an unattainable mark.
Begin Slideshow

»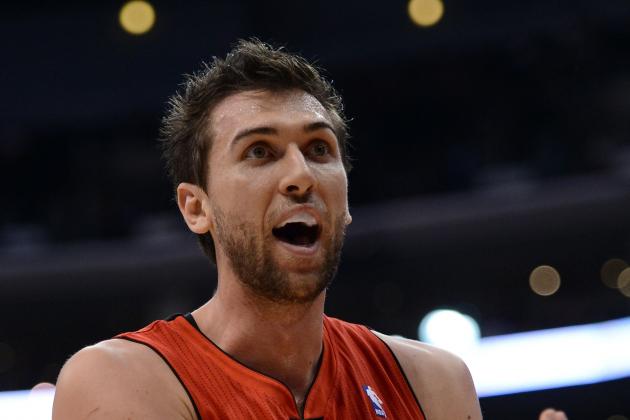 Harry How/Getty Images

Andrea Bargnani has more than worn out his welcome in Toronto, especially after an injury-plagued season that saw him struggle mightily with his shot as he continued to give the same lackluster defensive effort he's given throughout his NBA career.
He's due $23 million over the next two years, not a crazy amount, but certainly not cheap.
Bargnani serves little purpose for the Raptors. With Rudy Gay now firmly in the picture, the small forward position is full, and Amir Johnson's solid play over the second half of the season has earned him the starting nod at power forward. Bargnani is soft, a terrible rebounder for his size, and desperately in need of a new scene.
Despite all his shortcomings, Andrea Bargnani does have value on a different team. He's a 7-foot shooter who is still only 27 years old.
Remember, he's only two years removed from averaging 21.4 points per game. With only two years left on his deal, there are a handful of teams that would take a flier on him, hoping either he'll pan out or that he'll be a valuable trade chip in two years with an expiring contract.
In a deal, the Raps should target a back-up guard and power forward. Is it so wild to project Toronto looking to get Kris Humphries and Marshon Brooks from the Nets for Bargnani?
Humphries and Brooks are both in the doghouse in New Jersey, and both are solid, yet unspectacular players. The deal would basically be a financial whitewash, and the Nets would probably be willing to kick in an extra million or two dollars to rid themselves of Humphries.
Former Raptor Reggie Evans is a great rebounder, but adds little else on the offensive end. The Nets could benefit from Bargnani's shooting prowess. Its' a win-win deal for both teams.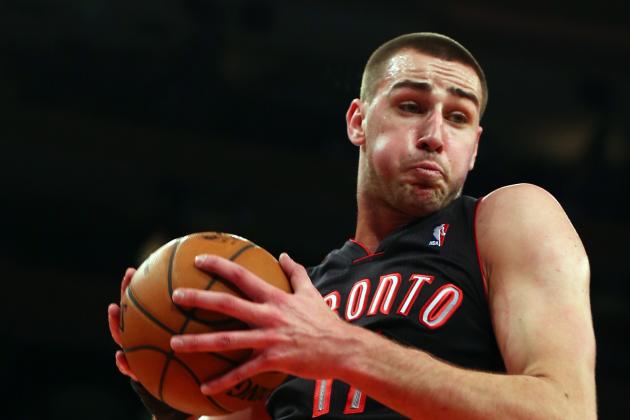 Elsa/Getty Images

Talented Lithuanian rookie Jonas Valanciunas struggled initially with the Raptors, scoring double digits only nine times this season despite starting in the Raptors' first 28 games.
He wasn't much better on the boards, grabbing double-digit rebounds only four times.
But after returning from a lengthy absence due to injury, Valanciunas rounded into form and showed promising signs of developing into a dominant center. He scored in double digits in 14 of his final 15 games and notched double digits in rebounds three times over a nine-game stretch.
Yes, his rebounding still isn't strong, but in just under 24 minutes of work, he averaged 1.3 blocks, a very good sign that he can round into a solid defensive center.
He's a great free-throw shooter at 78.9 percent, which is a very important factor in terms of how teams can defend him. With Amir Johnson patrolling the glass, Valanciunas can focus on perfecting his low-post moves and defensive positioning in the offseason.
The addition of Rudy Gay also took a lot of pressure off of him, and gave Valanciunas more one-on-one situations in the paint, something the seven-foot, 257-pound behemoth was able to take advantage of.
Expect him to take another step forward next year, and possibly develop into an All-Star by the 2014-15 season.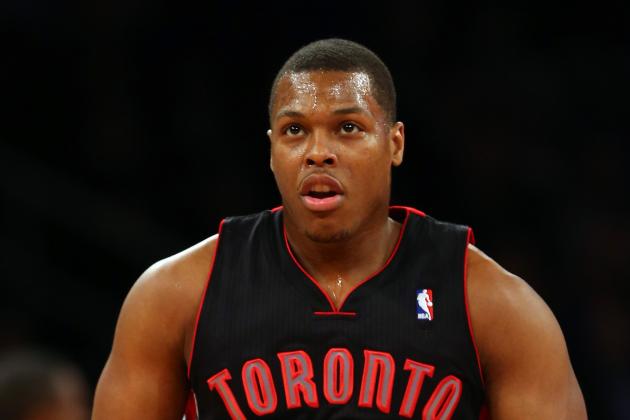 Elsa/Getty Images

After the midseason trade of Jose Calderon, the Raptors' backcourt depth is lacking, especially at the point guard position.
Kyle Lowry is an above-average point guard, but not much more. His player efficiency rating was 17.51, right ahead of Chris Andersen of the Miami Heat and Nate Robinson of the Chicago Bulls, both bench players.
Realistically, Lowry is a better player than that as he struggled with injuries and adjusting to new teammates in Toronto. Again, the Raptors are Lowry's third team in five years, a sign that the former first-round pick's talent may not be worth it.
Regardless, Lowry will be the Raptors starting point guard next season, but after missing 14 games this season and 19 the year before, it's important for the Raptors to add depth in case of another injury.
Sebastian Telfair is a free agent and John Lucas is not worthy of playing such big minutes so the Raptors will need to address that. Unfortunately, the Raptors don't have a first-round pick, thanks to the Kyle Lowry deal, so they will try to find value in the second round.
Two guards who can be available for the Raptors at No. 40 overall are Nate Wolters of South Dakota State and Myck Kabongo of Texas.
Wolters is a 6'4" guard, who reminds me of Jeremy Lin—not a great athlete, but great size, a plus-defender who shut down likely lottery pick Trey Burke in the NCAA tournament, a plus-passer and a plus-rebounder.
The major knock on Wolters is his lack of competition in college, as well as his so-so athleticism, but I believe he'd be a great fit with Rudy Gay, where defenses won't double him.
The really interesting prospect is Toronto native, Myck Kabongo. At 6'1", 180 pounds, Kabongo has great speed and is an excellent playmaker, but his sophomore season was marred with violations that cost him the first 23 games.
The lack of playing time has probably cost him a shot at the first round, which works to the favor of the Raptors who should try and bring the Toronto native home.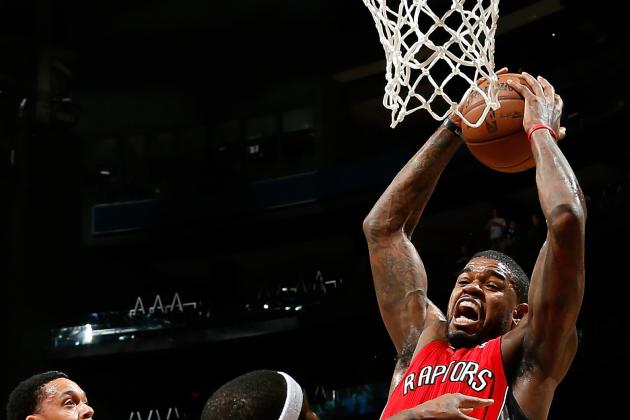 Kevin C. Cox/Getty Images

The Raptors finished the league 28th in rebounding, a number they'll need to improve upon to make a run.
While progression is expected from Jonas Valnciunas, as well as increased minutes for rebound machine Amir Johnson, the Raptors' rebounding otherwise is lacking.
Kyle Lowry is a good rebounding guard and Rudy Gay has great length, but they will need to add depth to their frontcourt.
A guy they should target is Brandon Wright.
The former Tar Heel has never found his spot in the NBA, but advanced metrics show his true worth. His player efficiency rating was 21.03, good for 20th in the NBA, just ahead of Al Jefferson of the Utah Jazz. His true-shooting percentage was 60.6 percent, also good for 20th in the league.
At 6'10", Wright averaged 4.1 rebounds in 18 minutes, but more impressively, 1.2 blocks per game. With the Mavericks unlikely to give him an offer, the Raptors can get him on the cheap.
Another center who can provide backcourt depth is Samuel Dalembert of the Milwaukee Bucks. With the emergence of Larry Sanders, it would be surprising to see Dalembert back with them next year.
At 6'11", 250 pounds, Dalembert has never developed into a plus offensive player, but has always been a very tough defender and a great rebounder. In just over 16 minutes a night, he averaged 5.9 rebounds and 1.1 blocks.
He'll be 32 in a few weeks, and would probably make a trip up north for a two-year, $6-8 million deal.
A guy who may be a bit out of their price range is Al-Farouq Aminu.
After two disappointing seasons, Aminu finally showed signs of his potential, averaging 7.3 points and 7.7 rebounds in just over 27 minutes of play on the rebuilding Hornets.
He's an average shooter and can't shoot the three, limiting his offensive upside, but he's a very aggressive player, and at 6'9", can play both the small forward and power forward.
Still, expect Aminu to seek an opportunity to start, something he won't likely be able to do with Rudy Gay and Amir Johnson firmly entrenched in the starting line-up.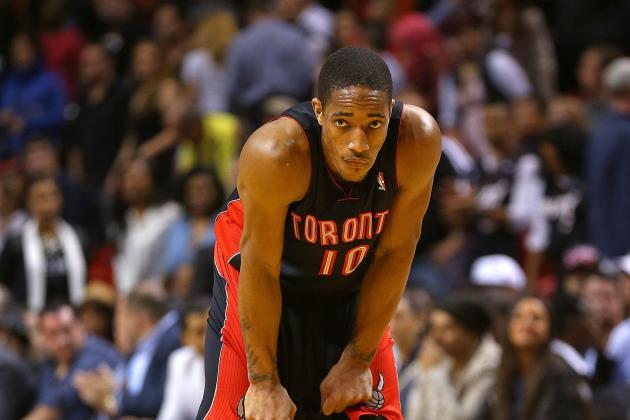 Mike Ehrmann/Getty Images

The Raptors were an average offensive team, but well-below-average behind the arc, where they tied for 25th in 3-point percentage (34.3).
The trade of Jose Calderon did little to help as the Spaniard is a career 39.9 percent 3-point shooter and was able to help spread defenses out with his shooting prowess.
At 28.3 percent, DeMar DeRozan is an abysmal 3-point shooter, and while Kyle Lowry is above-average for the team's pace (36.2), he's not exactly a world-beater.
With limited funds and only one draft pick, the Raptors will have to find good bargains.
Mo Williams would take care of both their point guard depth and three-point shooting woes, but will likely be too expensive.
Another Jazz guard who may be available is Randy Foye, who happened to be a college teammate of Kyle Lowry at Villanova.
Foye is a career 37.7 percent 3-point shooter who shot 41 percent for the Jazz this season.
At 6'4", 220, Foye is a combo guard, who can play point at times. He's a good ball-handler, who made only $2.5 million this year. With a chance to play with his former back-court mate, he would probably take a two-year/$6 million contract.
D.J. Augustin struggled through a tough season with the Pacers, and may be looking for a change of scenery that gives him more playing time.
Augustin is a very capable point guard and a solid shooter (career 37 percent 3-point shooter) who would probably be willing to take a pay cut for a more-profound spot in the rotation.
Anthony Morrow is a one-trick pony, but is an excellent 3-point shooter, knocking triples down at a 42.4% career rate. At 6'5, he's a SG/SF combo, but adds little else besides his shooting prowess. Still, he can certainly be an effective bench player who can help spread out the offense.
Kyle Korver just finished a 3 year/$15 million deal with the Atlanta Hawks, and played very well at stretches during the season. He may also be a bit out of the Raptors price range, but the career 41.9% 3-point shooter is a better passer than given credit for, and can also play SG/SF.