North Carolina Basketball: Projected Stats for Each Incoming 2013 Recruit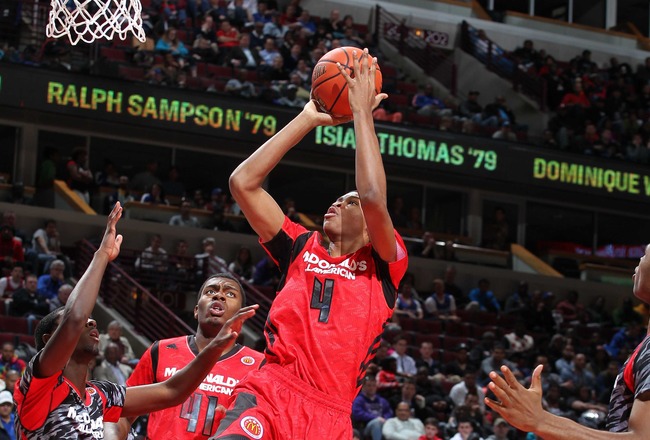 Isaiah Hicks puts up a shot in the McDonald's All-American game.
Brian Spurlock-USA TODAY Sports
With North Carolina's 2012-13 season all wrapped up and three 2013 recruits locked down, it's time to enter the prediction zone.
I have no doubt Isaiah Hicks, Kennedy Meeks and Nate Britt will make their marks on UNC's 2013-14 season. But how much will these young Tar Heels be able to contribute?
With both P.J. Hairston and James Michael McAdoo coming back for their junior seasons, there may not be a lot of room for these incoming freshmen to get their time in the spotlight. Unless Roy Williams decided to go small again—which I highly doubt—the power forward position is locked up for about 30 of the 40 minutes.
That means Isaiah Hicks and Kennedy Meeks may have to battle with Joel James, Brice Johnson and Desmond Hubert for minutes at the 5.
And we though it was a merry-go-round last year...
As tough as it was to predict stats for last year's incoming freshmen, the 2013 group will make my job even harder. But we're giving it a go anyway.
*Senior stats are provided courtesy of Inside Carolina*
Kennedy Meeks, C

Kennedy Meeks Highlights

Of the three recruits, Kennedy Meeks will probably get the least time on the floor.
As impressive as this young man can be, the center position is going to be packed. Power forwards like Johnson and Hicks will be challenging him for that spot. On top of that, a seasoned Joel James has the potential to be a monster.
I believe the most likely scenarios for center would be James handling the bulk of the minutes or a platoon of the highly-skilled and athletic Johnson and Hicks. Heck, for all we know, Hubert could come in with some offense to add to his defensive prowess and take the spot.
There is just too much depth right now, and I don't see Meeks' current skill set being enough to set him apart from the others.
Surprises and injuries can happen. But for now, I'm banking on very limited minutes from Meeks.
Senior Stats (2012-13): 19 PTS, 16 REB, 3 AST, 3 BLK
Rollin's 2013-14 Projection: 5.3 MIN, 1.8 PTS, 1.1 REB, 0.9 AST, 0.1 BLK, 0.2 STL, 44.3% FG, 29.2% 3PT, 69.1% FT
Isaiah Hicks, PF/C

Isaiah Hicks Highlights

As mentioned in the previous slide, Hicks could very well end up in a platoon role at center. With his length, athleticism and smarts, I'm sure Roy will be looking for some way to get him some playing time.
But whether he plays center, backs up McAdoo at the 4 or he does both, Hicks will still have Johnson in his way. And my money is on Johnson to have an impressive sophomore campaign. He really showed a lot of potential last season, and there are usually drastic improvements going from a freshman to a sophomore.
Just ask Hairston.
One way or another, Hicks will get some minutes, though. And he is sure to make an impact during his limited time on the floor, with his expansive skill set.
Senior Stats (2012-13): 22.9 PTS, 12.9 REB, 1.3 AST, 1.8 STL, 5.6 BLK, 58% FG, 41% 3PT, 66% FT
Rollin's 2013-14 Projection: 9.7 MIN, 5.1 PTS, 3.6 REB, 1.2 AST, 0.4 STL, 1.1 BLK, 53.4% FG, 28.1% 3PT, 64.1% FT
Nate Britt, PG

Nate Britt Highlights

Because there is the least depth at the point guard position, Nate Britt will probably log the most minutes of the 2013 class. I'm hoping by now, nobody is still expecting him to start over Marcus Paige, though.
Paige really hit his stride in the final stretch of the season. Especially when Roy decided to put all his weapons on the floor with the smaller lineup.
Unless he goes into a serious sophomore slump and Britt excels in his backup duty, don't expect the freshman to take over the starting role. But we may see both of them on the floor sometimes, and that will help boost his minutes, too.
In his limited minutes, Britt's impact will be felt with his speed in transition and with the occasional floater in the lane.
Senior Stats (2012-13): 6.7 PTS, 2.3 REB, 5.0 AST, 2.4 TO, 2.6 STL, 41% FG, 33% 3PT, 53% FT
Rollin's 2013-14 Projection: 12.1 MIN, 3.8 PTS, 0.3 REB, 2.7 AST, 1.5 TO, 0.6 STL, 36.1% FG, 30.2% 3PT, 59.2% FT
Complete breakdown of Nate Britt
Keep Reading

UNC Basketball: Like this team?