Picking a Brazil Team for the 2018 World Cup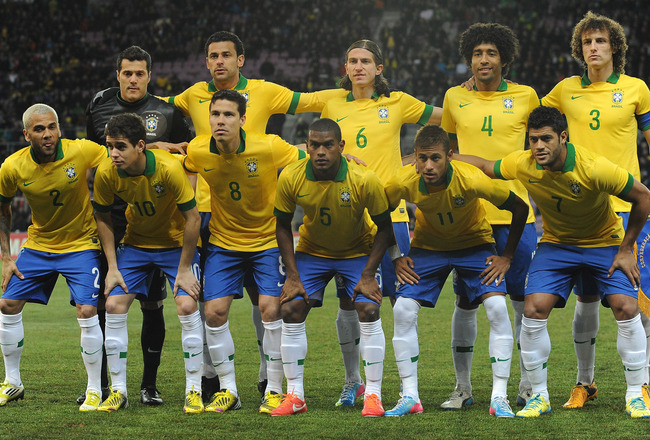 Valerio Pennicino/Getty Images
The 2018 World Cup is now five years away, and, with the challenges of 2014 at the forefront of the mind for Brazil's management, it is highly unlikely the tournament in Russia has been given any thought whatsoever.
However, there are many people who take great interest in the development of youth talent and the future of Brazilian football who will have considered what the future may hold.
With so many of Brazil's current stars still so early in their careers, there are some names who will surely feature in the future event—the likes of Neymar, Oscar and Lucas Moura, for example.
There are, of course, many uncertainties about making such predictions. Over the next few pages, though, I make my best attempt to pick a potential Brazil side for the 2018 tournament.
Take a look and remember to share your opinions below.
Goalkeeper: Diego Alves (Valencia)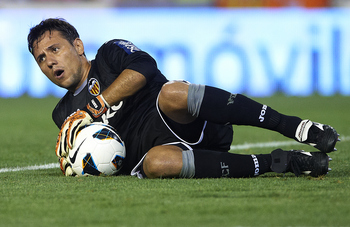 Manuel Queimadelos Alonso/Getty Images
Valencia goalkeeper Diego Alves, 26, will have just celebrated his 33rd birthday at the time of the 2018 World Cup and has every chance of being first choice at the time of the tournament.
While the likes of Diego Cavalieri and Jefferson will likely be too old by the time of the tournament, Corinthians' Cassio could be a possibility at the age of 31 and Santos' Rafael Cabral will be 28 years old at the time.
The three players currently seem the most likely candidate to take the No. 1 shirt ahead of the next four-year cycle, with none of the current youth team candidates showing any particular sign of reaching the very top level.
Based upon his previous impressive showings for the national side, Diego Alves is perhaps the most likely choice.
Right-Back: Rafael (Manchester United)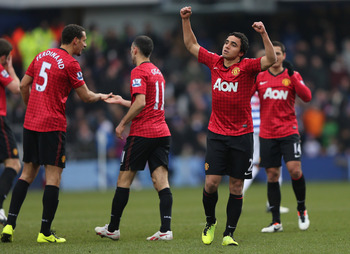 Ian Walton/Getty Images
With current occupant of the right-back position, Daniel Alves, set to be aged 35 by the time of the 2018 tournament, a replacement will almost certainly be needed.
There are several potential candidates for the role, with Porto's Danilo and Wolfsburg's Fagner among the leading options—both of whom are of a suitable age to star at the tournament. Of the younger ranks, future Chelsea purchase Wallace, 18, is currently leading the charge.
It is most likely, though, that the position will be occupied by Manchester United star Rafael da Silva. The full-back will be 28 years old come the tournament in Russia, with a ton of experience to back up his ability.
Should he maintain or improve upon his current performances in the Premier League, he should be in pole position in five years time.
Centre Backs: Dedé and David Luiz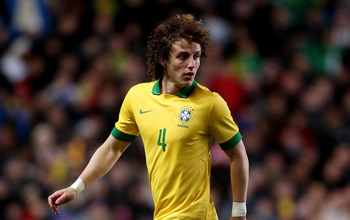 Scott Heavey/Getty Images
There is a possibility that current leading centre-back pair of David Luiz and Thiago Silva will still be in possession of their shirts come 2018, but they will be aged 31 and 34, respectively, come that time.
While Thiago may be a little too old come that point, David Luiz will likely be one of the foundations on which the Seleção will be built. Dedé, who will be 30 in 2018, will be his likely partner.
The likes of Dante and Miranda have been involved in the national team of late, and while Palmeiras' Henrique will be just 32 years old, he will likely be too old.
The most likely players to come into the side should Dede or David Luiz lose form would appear to be teenagers Doria and Marquinhos, of Botafogo and Roma, respectively. Both are defenders of exceptional talent.
Regarding players who will be of peak age come 2018, there is only really Sao Paulo's Rafael Toloi, Inter Milan's Juan Jesus and Atlético Paranaense's Manoel who offer hope of reaching the highest levels.
Left-Back: Marcelo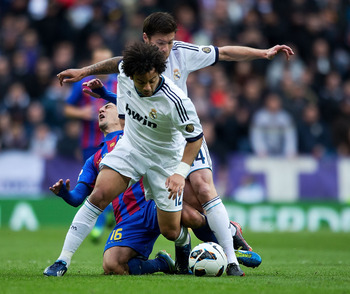 Gonzalo Arroyo Moreno/Getty Images
Real Madrid defender Marcelo will be 30 years old come the 2018 World Cup and should still be at the top of his game at the time of the tournament.
He is one of those from the 2014 generation with the best chance of remaining for the next cycle.
His position will come under threat, though, with Porto's Alex Sandro perhaps the most likely candidate to replace the Real Madrid man.
Others who will hope to launch a challenge for the role in the coming years will include Manchester United full-back Fábio da Silva, Naútico's Douglas Santos and even Coritiba youngster Abner, who will have turned 22 in 2018.
Marcelo is currently comfortably in pole position for the shirt, but there will doubtless be challenges in the years to come.
Central Midfield: Sandro and Fernando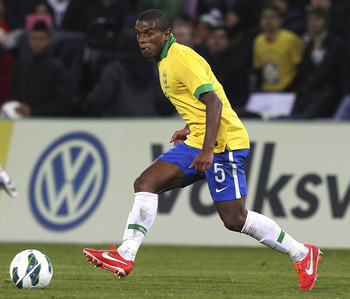 Marco Luzzani/Getty Images
The question of who will form the base of Brazil's midfield come 2018 is made particularly difficult by the lack of current outstanding candidates in the role.
The likes of Ramires and Paulinho will be in their early 30s by the time of the tournament, as will Liverpool's Lucas Leiva. It is difficult to see which of the trio will be able to maintain their current levels at that age.
Of those who will be in their prime come 2018, it is perhaps Tottenham's Sandro and Gremio's Fernando who will be best placed to come to the fore. Spartak Moscow's Romulo, who has been hampered by injury since the Olympics last summer, will be another contender for a role in the side.
For Hernanes, who will be 33 at the time, appearing at the tournament would seem highly unlikely. Should Brazil require a passing midfielder, then, Barcelona's Rafinha, 20, is best placed to take the role.
São Paulo's Wellington and on-loan midfielder Casemiro are outside shots, as are the likes of Jadson, Misael and Joao Schmidt from the country's youth set up.
Attacking Midfield: Lucas Moura, Oscar, Neymar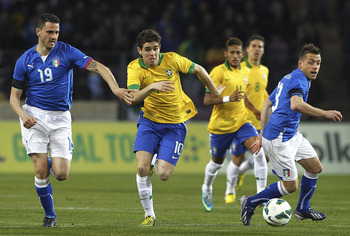 Marco Luzzani/Getty Images
It is quite clear that Brazil has an abundance of attacking midfield and forward talent at present, nearly all of whom should be reaching their prime come the 2018 World Cup.
Chelsea midfielder Oscar is currently the prime long-term candidate for the No. 10 shirt with the national team, while both Lucas Moura and Neymar will be the early favourites to take inside forward roles. The trio will be 27, 26 and 26 years of age at the time.
Their roles, though, will not be safe from competition. Atlético Mineiro forward Bernard and Fluminense's Wellington Nem are currently the closest thing to competition for the wide forward roles, while Dnipro's Giuliano could challenge Oscar if he should gain more exposure at club level.
Beyond that trio, Palmeiras' Leandro and Internacional's Fred are in position to challenge for squad places.
Of emerging youth players, Adryan and Lucas Piazon have long been tipped as the brightest of their generation. Under-17 side stars Robert, Kenedy, Indio and Boschilia will all hope that, by the age of 22, they are also challenging for places in the squad.
Centre-Forward: Alexandre Pato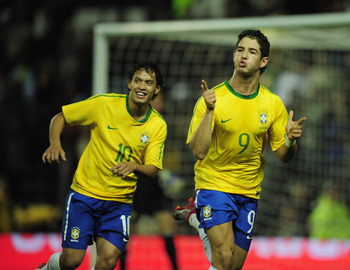 Shaun Botterill/Getty Images
Like central midfield, the question of who will lead the line for Brazil in 2018 is a very difficult one to answer.
In theory, it should be a straight battle between Corinthians' Alexandre Pato and Internacional's Leandro Damião for the shirt. Both will be aged 29 at the time of the tournament.
The issue for Brazil is that none of the current younger generation appear to be developing quite as originally hoped.
Sao Paulo's Ademilson is the best of the Under-20 crop, while Cruzeiro's Vinicius Araujo and Desportivo Brasil's Bruno Gomes also look promising. Beyond that, there is relatively little in the way of major prospects.
It appears, then, that Brazil will desperately hoping that further attacking talents emerge over the next few years. Damiao, for example, is a beacon of hope as far as late development is concerned.
Manager: Tite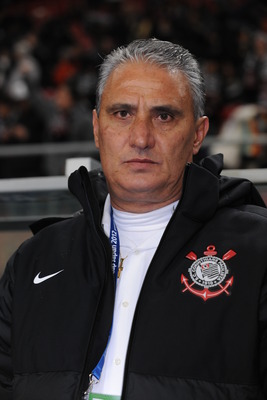 Kaz Photography/Getty Images
The battle to coach Brazil post-2014 is likely to be a three-way fight between Corinthians' Tite, Fluminense's Abel Braga and Santos' Muricy Ramalho.
All three coaches have won major tournaments in recent seasons, and all three have their supporters within the Brazilian media. All three, though, have critics of their style and performances.
Given Corinthians' international successes in recent years, it is Tite who is likely to be given the nod. However, that could all change in the meantime and, as Mano Menezes knows, he may not last the full four years.
As with the team selected, the choice of Tite is simply an assessment of current probabilities. Those odds could all change dramatically before Scolari likely surrenders the role next year.
Keep Reading