Marci Kiselyk One of the Two-Sport Stars on Saskatoon Valkyries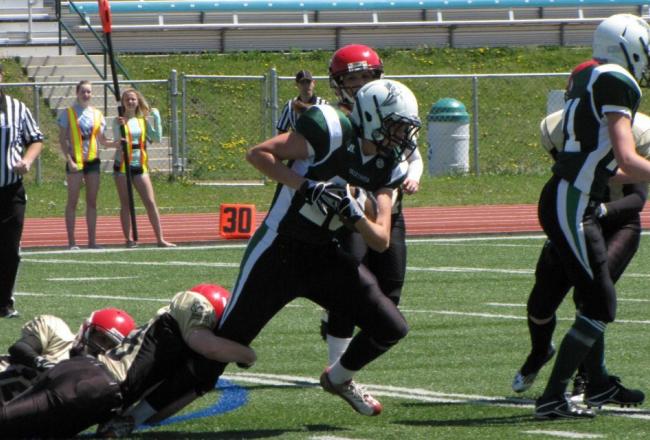 Saskatoon Valkyries Facebook page

With a background in basketball, Marci Kiselyk is one of several two-sport stars competing with the Saskatoon Valkyries. Her ability to excel on the football field helped the Valkyries capture the championship in the Western Women's Canadian Football League.
As one of the weapons on the Valkyries' high powered offense, Kiselyk has the opportunity to take her game to an even higher level. She was named to the Canadian National Team that will compete at the Women's Tackle Football Championships in June 2013. Kiselyk is one of nine Valkyries named to the national squad.
"I played a lot of basketball, but was never fortunate enough to represent my country. It was always a far-off dream that someday I would get the opportunity, so I am very excited to have the chance to wear Canada on my jersey and to compete internationally. Team Canada is looking to improve on their second place finish at the last Worlds, and I know we are all very much looking forward to the chance to showcase how much the sport has grown in Canada."
With a background in basketball, Kiselyk is not the only former basketball player on the Valkyries. Two of her teammates from the Huskies, Katie Miyazaki (the 2010 and 2011 CIS Defensive Player of the Year) and Jana Spindler (Tournament All-Star at the 2011 CIS women's basketball Final 8) played with the Valkyries. Miyazaki is a defensive back with the Huskies, while Spindler competes on the defensive line. The trio is part of eight former Huskies student-athletes who have suited up for the Valkyries in 2012.
Regarding her basketball career, Kiselyk had some memorable moments. A Canadian Interuniversity Sport All-Academic selection in 2009-10, she was also named to the Saskatchewan Huskies All-First Team Academic in 2010 and 2011, respectively.
Her time with the Huskies basketball program represented a golden era. In 2010, Kiselyk was part of a Huskies squad that claimed a bronze medal at the CIS Nationals. The following year, Kiselyk would help the Huskies to victory in the 2011 Canada West Final Four with 20 points and 10 rebounds. The final game of her career would be in the 2011 CIS National Championship, where she grabbed a silver medal in a loss to the Windsor Lancers.
"During my fifth year with the Huskies, we went on a big win streak. Although we ended up with CIS silver, we were able to win the Canada West championship, for only the second time in program history. The game was played in our home gym in front of a standing-room only crowd. To this day, this remains the coolest thing I have ever been a part of."
Upon graduation in 2011, her athletic career would find new life in women's tackle football. At the urging of friends, Kiselyk's abilities on the hard court transferred well to the gridiron.
"When I graduated from the Huskies, I had some friends who recruited me to play Valkyries. I honestly thought they were crazy at first, but I came along for the ride and fell in love with the sport! As a basketball player I fit well at receiver. I have always watched football, but now that I play it and I understand the game a bit more, I really enjoy watching it."
Since joining the Valkyries, Kiselyk has been fortunate enough to claim the first two WWCFL championships in league history. In helping the Valkyries become the first dynasty in the WWCFL, Kiselyk is humbled yet proud.
"When I think back on our first few practices as Valkyries, I can remember thinking we would lose every game. I think I speak for myself and for most of my teammates when I say we were shocked that we ended being as good as we were! It was a great experience to get to win the WWCFL Championship. Even though it was our first season together, the Valks really became a big family. Winning the gold with these teammates was awesome."
Playing for a squad that has never lost a game in WWCFL history, expectations are high for a third consecutive title. While the level of competition in the league has improved, a third consecutive title would carve a unique legacy for the squad in Canadian women's sporting history.
"A three-peat would be great, although we can't be focusing on that this early in the season. We need to take it one game at a time, so right now I'm looking forward to May 5th. I can say that each year, the Valkyries get better and better. Collectively, we have so much to learn about the game that we can take big strides in our play season to season. We're anticipating having some better competition this year and we're looking forward to it!"
"All quotes obtained first hand unless otherwise indicated"
This article is
What is the duplicate article?
Why is this article offensive?
Where is this article plagiarized from?
Why is this article poorly edited?