The Atlanta Hawks will be making their sixth consecutive playoff appearance and will look to win their fourth first-round series in that span in taking on the hard-nosed No. 3 seed Indiana Pacers.
This is definitely a showcase of contrasting styles, as the Hawks rely on quickness on the perimeter and a strong rotation of guards to get the job done, while the Pacers' size gives them a leg up on their competition.
Indiana leads the league in rebounding and is second in giving up just 90.7 points per contest. Thankfully for the Hawks, All-Star center Al Horford has returned to the fold with a career year, averaging over 17 points and 10 rebounds as a valuable double-double machine.
It will be a challenge for Horford to go up against the likes of Roy Hibbert on the inside, and Atlanta will have to knock down many of its shots from the perimeter in order to have a chance at pulling the upset in this series.
Here is a breakdown of the TV information for each game, as well as analysis and predictions for this Eastern Conference quarterfinals clash.
Round 1 Schedule
Game
Date
Location
TV
1
Sunday, April 21 at 1 p.m. ET
Bankers Life

Fieldhouse

in Indianapolis

TNT
2
Wednesday, April 24 at 7:30 p.m. ET
Bankers Life

Fieldhouse

in Indianapolis

NBATV




3

Saturday, April 27 at 7 p.m. ET

Philips Arena in Atlanta

ESPN

4

Monday, April 29 (Time TBA)

Philips Arena in Atlanta
N/A

5*

Wednesday, May 1

Bankers Life

Fieldhouse

in Indianapolis
N/A

6*

Friday, May 3

Philips Arena in Atlanta
N/A

7*

Sunday, May 5

Bankers Life

Fieldhouse

in Indianapolis
N/A
*If necessary.
Regular-Season Record and Leaders
Record: 44-38
Points Leader: Josh Smith (17.5 PPG)
Rebounds Leader: Al Horford (10.2 RPG)
Assists Leader: Jeff Teague (7.2 APG)
Hawks First-Round Series Breakdown
Biggest Strength: Perimeter shooting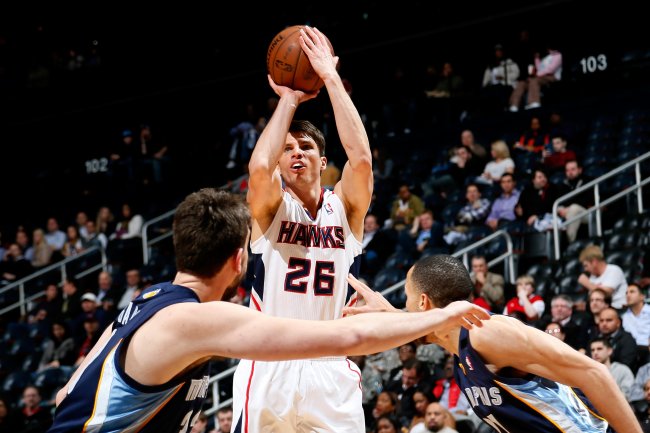 Kevin C. Cox/Getty Images
This is the big key to unlock the possibility of winning four games for Atlanta. As a team, the Hawks hit 37 percent from beyond the arc, and sharpshooting bench contributor Kyle Korver leads the way with a 45.7 percent clip.
However, Korver is more of a catch-and-shoot player, and will struggle to create his own shot on the wing against the athleticism Indiana puts out there.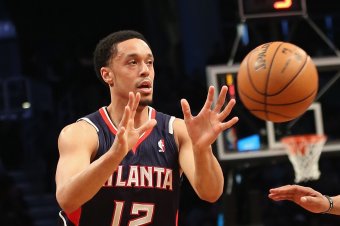 Bruce Bennett/Getty Images
A more prominent role may be in store for rookie John Jenkins in that context, who can fill it up extremely well in his own right and has seen his minutes increase down the stretch of the regular season. Jenkins notched 20 or more points in three games in April.
Dynamic point guard Jeff Teague can get into the lane with the best of them and provides a true triple-threat due to his range.
Teague's ability to penetrate will be stymied more than usual thanks to the presence of Hibbert, though, and that means crisp ball movement will be necessary.
Sharing the wealth isn't typically an issue for the Hawks, who average the second-most assists per game in the league despite being in the middle of the pack in terms of scoring.
Biggest Weakness: Rebounding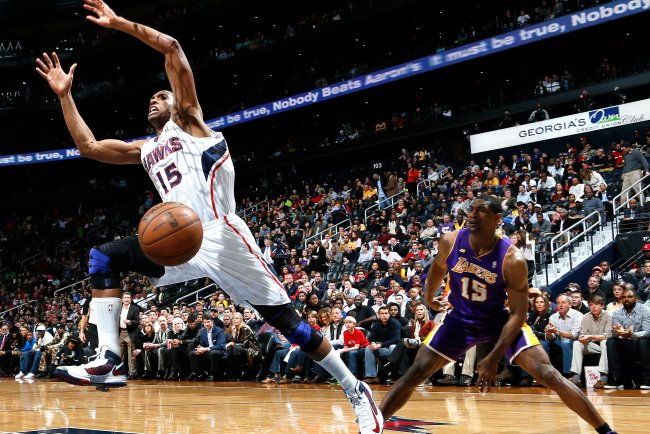 Kevin C. Cox/Getty Images
This is particularly troublesome on the offensive end, as only three teams rank below the total the Hawks posted in 2012-13.
That lackluster presence on the offensive glass is a product of shooting the ball so frequently from the outside. Long rebounds are difficult to get to, and the Pacers are able to close out and crash the boards better than anyone.
If Atlanta can't get many second-chance opportunities, it's going to be a long series—unless the Hawks shoot absolutely lights-out from downtown.
One development to watch that would help the Hawks in this regard is Smith's shot selection. That's an area of his game that continues to improve, but he still has a penchant for pulling the trigger on ill-advised shots that aren't consistently in his range.
Smith must establish himself more prominently in the post rather than trying to hit from the outside. Leave that to the plethora of other shooters in the rotation; take the ball to the rim, JSmoove.
The great thing about Smith is that when he gets a rebound on the defensive end of the court, he has the ball-handling skills and speed to start the fast break, which is part of what makes the Hawks so difficult to defend at times.
Best Matchup: Transition Game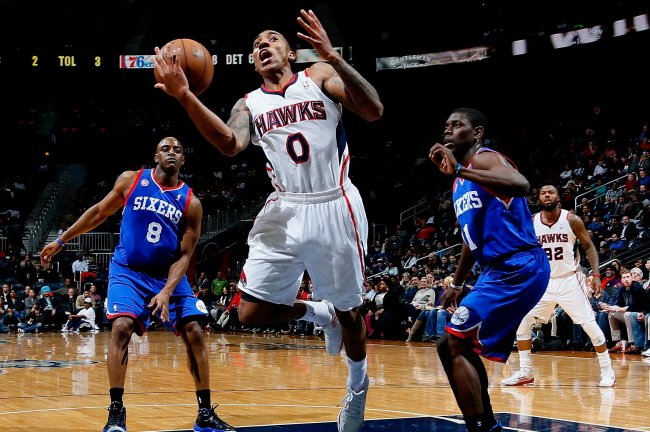 Kevin C. Cox/Getty Images
That talk about Smith brings us to the next point.
The best opportunity for the Hawks to attack will be on the fast break, where they should look to snap off quick three-pointers if they get open looks. Jeff Teague is capable of operating the open floor extremely well due to his outstanding quickness and smart decision-making.
It will also be tough for David West to chase down Atlanta's Smith down the floor, and Smith could quickly establish post position while Horford occupies Hibbert.
Smith averages 4.3 assists per game and is a very capable passer who can kick it out to shooters or set up better opportunities for Horford inside.
Here's a glimpse of what the Hawks can do in the open court. Video Credit: NBAorbit YouTube channel
Indiana ranked 21st in transition scoring this season (h/t Yahoo!), so it won't be pushing the tempo too much, particularly against the hyper-active guards that the Hawks have.
Easy buckets are hard to come by against the Pacers, but the more Atlanta can push the pace, the better. The Hawks should also utilize the mid-range prowess of Horford in these situations, as that tends to be the one area that Indiana allows the majority of shots to come from.
Worst Matchup: Atlanta's Second Wave of Bigs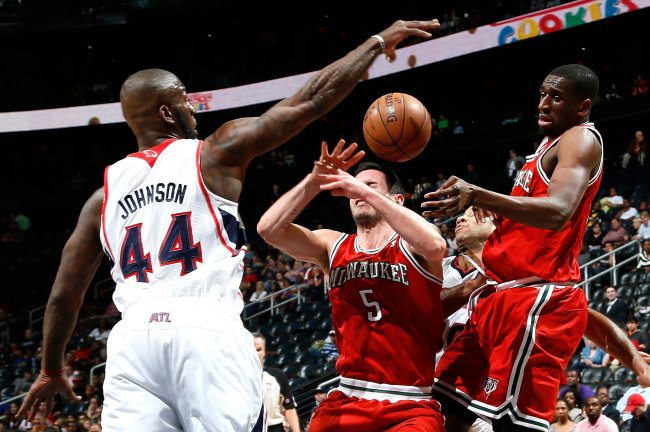 Kevin C. Cox/Getty Images
Zaza Pachulia is out with a torn Achilles and Ivan Johnson will be forced into more minutes this series to combat the Pacers' advantage in the paint. Horford will have a difficult time locking up Hibbert, and it could result in early foul trouble for the Hawks star.
That would put Johnson onto the court at the 4, with Smith taking over at the 3. While Smith would be entangled with George, the Pacers could exploit Atlanta's 4-5 duo with the quickness of West and the sheer massiveness of Hibbert.
As well as Johnson has played in the opportunities he's received late in the season, the playoffs are a much different matter. He would need to play as well as he's capable of just to give the Hawks a puncher's chance at offsetting this matchup advantage for the Pacers.
Only if Johnson can contain West when Horford is getting a breather will the Hawks have any hope. Unfortunately for the Atlanta faithful, that doesn't seem very likely.
In that lineup, too, the Hawks would not be getting hardly any scoring from the frontcourt facing Hibbert, who is a legitimate candidate for Defensive Player of the Year.
Key Player: Josh Smith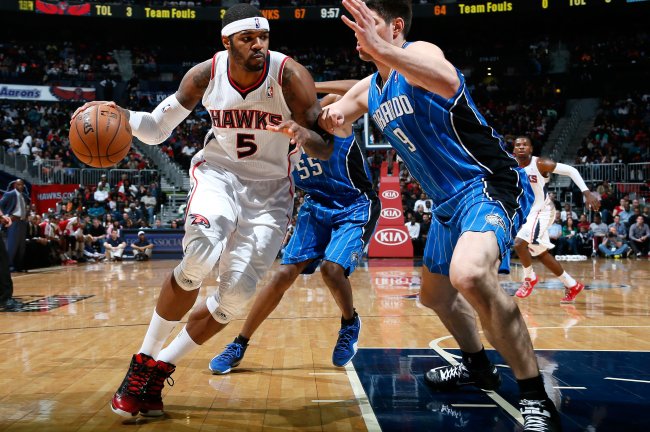 Kevin C. Cox/Getty Images
Could this be the time that Smith takes the next step everyone has been expecting for such a long time?
Will Josh Smith explode and guide the Hawks to a series victory?
He is leading the team in scoring and sports a stellar all-around game, yet there still seems to be something to be desired for the 27-year-old veteran.
The skill set he possesses gives him a seemingly limitless NBA ceiling, but Smith has never quite channeled it consistently enough to even make an All-Star team. With his defensive prowess, relatively soft touch and freakish physical gifts, that seems unfathomable.
Smith has a chance to take control due to the strength he possesses and his ability to stretch the floor. If he can hit a 15-footer more consistently, even the Pacers' stout defense will be hard-pressed to stop him.
Especially since he'll be a free agent this summer, this series provides the opportunity for Smith to show he's worth a max contract and can be a cornerstone on a championship-contending franchise. Joe Johnson is no longer around to be the man, so it's time for Smith to fill that role.
Prediction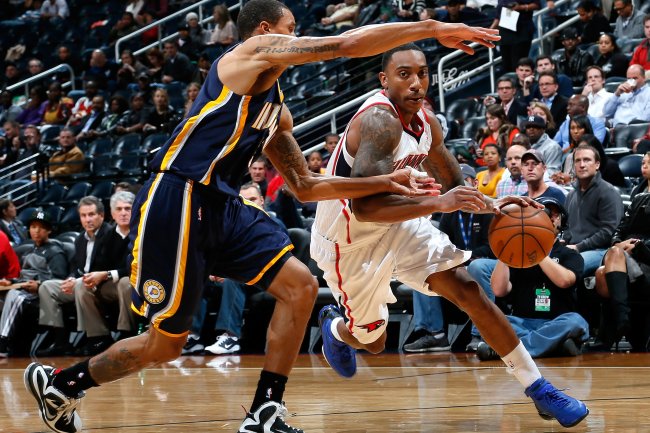 Kevin C. Cox/Getty Images
Although Atlanta has a little bit more firepower offensively, it likely won't be enough to overcome being on the road for the majority of these games and the suffocating defense that the Pacers play.
Neither of these teams played very well down the stretch, with the Hawks sporting a sub-.500 record through March and April and the Pacers dropping five of their last six games.
Having said that, Indiana shouldn't have much trouble closing out on the perimeter thanks to Frank Vogel's brilliant defensive schemes and the length the Pacers have in that area. Lance Stephenson should wreak havoc in that regard and hotly contest the threes Atlanta will be chucking in an effort to stay close.
The Hawks have the talent and potential to steal a game in Indianapolis and should notch a victory at Philips Arena as well. However, that's the most optimistic of estimates.
Sports betting expert RJ Bell notes that the oddsmakers don't like the Hawks' chances, either:
Series Odds: Pacers -650 (Hawks +510) - implying 84% chance of Indiana advancing [via BetOnline]

— RJ Bell (@RJinVegas) April 18, 2013
Vogel's bunch is determined to prove itself amongst the elite in the Eastern Conference and should advance without too much trouble.
Pacers in five.