Book Review: Inside the Baseball Hall of Fame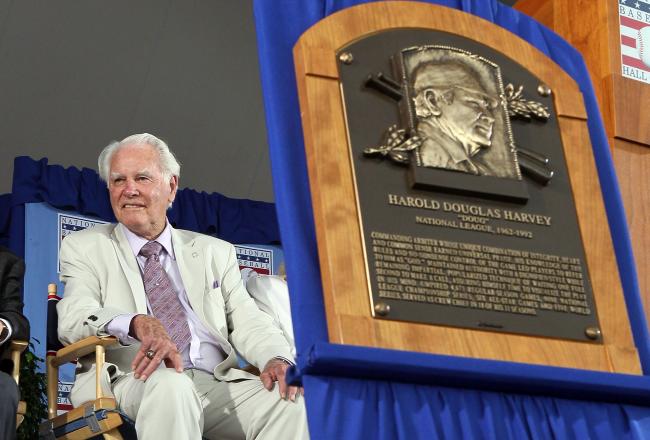 Jim McIsaac/Getty Images
Any baseball fan that's been to the Hall of Fame in Cooperstown, N.Y. will tell you it's a journey every fan should take.
Whether you live on the east coast, west coast or anywhere in between, the Baseball Hall of Fame is a pilgrimage every fan must experience.
However, for some people, that will never be possible.
Enter the new book entitled Inside the Baseball Hall of Fame, a collection of pictures and history into some of the game's most important people, events and artifacts.
The book contains photos of some of the most important artifacts in Cooperstown.
The Baseball Hall of Fame contains 40,000 three-dimensional artifacts, 14,000 hours of recorded media, nearly three million documents within the library and 500,000 photographic images.
One item most visiting Cooperstown don't know is that only 12-15 percent of all artifacts are on display at one time.
This book encompasses only a small amount of those artifacts.
Hall of Famer Brooks Robinson provides the foreword for the book, describes what it was like to see some of his own artifacts next to some of the greatest players to ever play the game.
To know that the fans are going to go through the Museum and see items from my career, alongside those from the legends of the game, is a truly amazing feeling.
From there, baseball history begins as "the Doubleday baseball" introduces readers to the beginning of the game.
As a note, there are still disagreements over who actually invented the sport.
Some say it was Alexander Cartwright, who is commonly referred to as "the father of baseball," while others believe it was Abner Doubleday.
It's an argument that will never fully be decided, but one thing is for sure... whoever invented the game came up with something that has withstood the test of time and multiple scandals.
The book has no real chapters or date orders, which is my only real complaint. As a history buff, I would have loved for the book to go in order, taking us from the beginning of baseball history until present day.
For some fans who are like me, it could be a little confusing through the first 50 or so pages until you figure out there is no real order.
However, that is the only complaint about the book. Outside of that, it's full of history that even the biggest baseball history nut can learn from.
We all know today the term is "three strikes and you're out." But, in 1887, it actually took four strikes to strike out and five balls to walk. In fact, walks counted as hits in batting average.
Then there are the multiple bats, gloves and jerseys from significant points in the game. From Kirby Puckett's 6-for-6 game bat to Hank Aaron's 715th home run jersey, the Baseball Hall of Fame has it all.
Regardless of whether or not you'll ever make the trek to Cooperstown, the book is worth the read.
This article is
What is the duplicate article?
Why is this article offensive?
Where is this article plagiarized from?
Why is this article poorly edited?