Why Colombian Footballers Are Becoming Major European Transfer Targets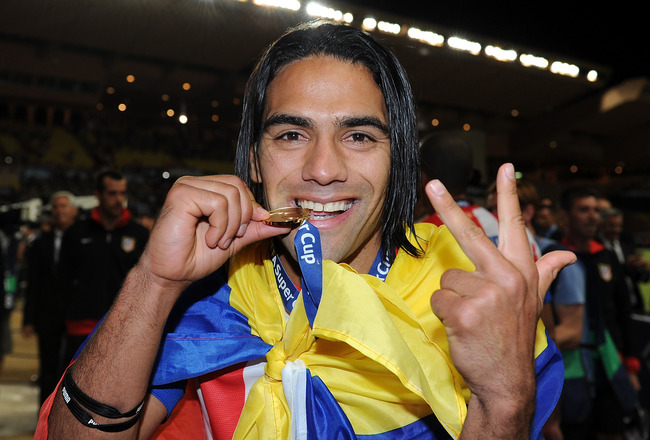 Chris Brunskill/Getty Images
Should Colombia make a deep run in the 2014 FIFA World Cup, people will be wondering why the media didn't jump on Los Cafeteros' bangwagon pre-tournament.
This article won't be focusing on José Pekerman's side being a World Cup darkhorse—my colleague Christopher Atkins has published an excellent piece on that topic—instead, I'll be telling you why Colombian footballers are becoming major European transfer targets.
Take a look around Europe and you'll notice some of the most in-form players are Colombian.
Low Risk, High Reward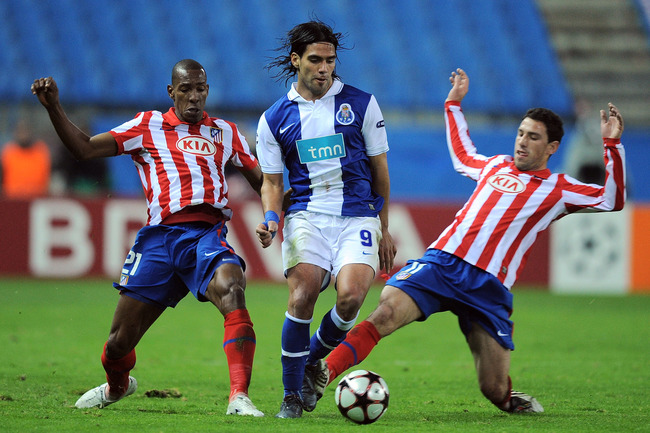 Denis Doyle/Getty Images
If you run the transfer operations for a noted European club, why pay €45 million for Lucas Moura when you can buy Colombian footballers for a fraction of that price whilst also having a profitable re-sell value.
Do you know how much Porto paid River Plate for Radamel Falcao? €3.93 million.
River Plate fans get a little bit angrier with former president José María Aguilar every time Radamel Falcao García has a game like this.

— Sam Kelly (@HEGS_com) May 9, 2012
Seventy-two goals in 87 games later, the Dragões sold Falcao to Atlético Madrid for €40 million, and in the process made a €36.07 million gain.
Porto bought Fredy Guarín from Saint-Étienne for €1 million and sold him to Inter Milan for €11 million, netting a €10 million profit.
The Portuguese giants, who've taken Arsène Wenger's transfer philosophies to the next level, have also invested in Jackson Martínez and James Rodríguez.
Undeterred by Aquivaldo Mosquera's unsuccessful stint with Sevilla, Porto pulled the trigger on Liga MX star Jackson, who transferred from Jaguares for €8.8 million.
Martínez has scored 23 goals in 25 league games this season and is reportedly a €40 million transfer target for Anzhi Makhachkala, according to talkSPORT.
James, a €5.1 million signing from Banfield, is one of the most exciting youngsters in world football.
Club Brugge took a leaf out of Porto's book by spending €1.5 million on Atlético Junior forward Carlos Bacca.
With 22 goals in 25 Belgian Pro League games, Bacca is listed along with Martínez and Falcao in the European Golden Shoe rankings.
Nice invested €2 million in Atlético Nacional goalkeeper David Ospina, who's now the fourth best keeper in Ligue 1 (via L'Équipe).
8 - David Ospina has made 8 saves against Nancy, best tally for a goalkeeper in a league game in 2013. Alone.

— OptaJean (@OptaJean) March 17, 2013
Colombian Prospects with World-Class Upside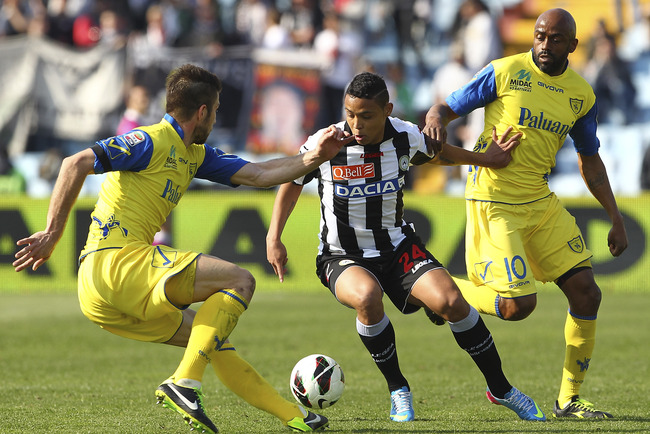 Marco Luzzani/Getty Images
With the unfulfilled careers of Johnnier Montaño and Hugo Rodallega—both at one point were the best in their age group—you should always be skeptical.
That said, here are my top three Colombian youngsters playing in Europe who have world-class upside.
1. Luis Muriel, CF, Udinese, Age: 22
After a frustrating experience on loan at Udinese's feeder club Granada, Muriel blossomed under Serse Cosmi as a Lecce loanee.
Sure, Luis' seven goals in 29 games seems average, but the way he played took your breath away.
You thought: "hang on, this kid is special."
Best Coach: Antonio Conte (Juventus)Best Young Players in Serie A: Luis Muriel (Lecce/Udinese) and El Shaarawy #2012 Gran Gala del Calcio

— Soccer Cafe(@soccercafe1) January 28, 2013
The Colombian blew past defenders with ease, could take over a game by himself and there were shades of Ronaldo in his movement.
Just ask Simon Kjær and Gabriel Heinze, who were torn to shreds when Muriel led Lecce to a 4-2 win over Roma.
Now back with Udinese, Luis has eight goals in 17 league games, but those are slightly misleading numbers.
In 12 Serie A starts, he has scored eight goals, which represents Muriel's true value.
2 - Luis Muriel has scored his 2nd brace in Serie A, recording his best goal tally in a single season (8 goals). Growth. #ParmaUdinese

— OptaPaolo (@OptaPaolo) April 14, 2013
Should he make the transition into a prolific goal-scorer next season, then Colombia could potentially have four strikers in the European Golden Shoe standings (Radamel Falcao, Jackson Martínez and Carlos Bacca being the other three).
2. James Rodríguez, WF, Porto, Age: 21
James drifts past opposing defenders, he has an eye for goals and possesses the creativity to produce shots for his teammates.
What you love about him is his steely determination to impact a game.
In a nine-minute spell vs. Beira Mar, he scored once and registered a brace of assists.
Like Muriel, Rodríguez has yet to play out one full season as a starter without injury or spending a significant portion of his minutes on the bench.
No James Rodríguez in starting XI. No real surprise. Porto's star man been out for month, played 20 mins last match. 2nd half sub for sure.

— Tom Kundert (@Portu_Goal) February 19, 2013
His durability is a concern but should he be able to start weekly for an entire season, he'll justify the hype.
He's mainly a wide forward but his playmaking is so elite that he could turn into a world-class central attacking midfielder.
3. Juan Quintero, CAM, Pescara, Age: 20
Colombia have won the U20 Sudamericano. Absolutely deserved. So fitting that Quintero scored and Cuero got an assist. 2 stars of the future.

— FourFourTom (@FourFourTom) February 4, 2013
South American football correspondent Tim Vickery was impressed with the Colombian's displays at the South American Youth Championship (via SBS The World Game):
The outstanding one is Colombian playmaker Juan Fernando Quintero.

With a wonderful left foot, full of ideas, able to organise a push and run short game and rip opposing defences open with his long passes, Quintero is an old fashioned number 10 in the best tradition.
Juan has actually gotten progressively worse for Pescara: hasn't scored in Serie A since last September and is on a seven-game stretch without an assist in league-play.
Now, there's a logical reason why he hasn't carried on his U-20 Sudamericano form for Pescara.
Pescara is on an eight-game losing streak, morale is low, they're destined for relegation and he's probably spent more time wondering where his next destination is as opposed to leaving everything on the field for the Delfini.
Juan Fernando Quintero's agent Riccardo Calleri: "He is a player who has many admirers in Italy and the big clubs would like him."

— Svein T. Hansen (@storeha) February 22, 2013
Invaluable Colombian Role Players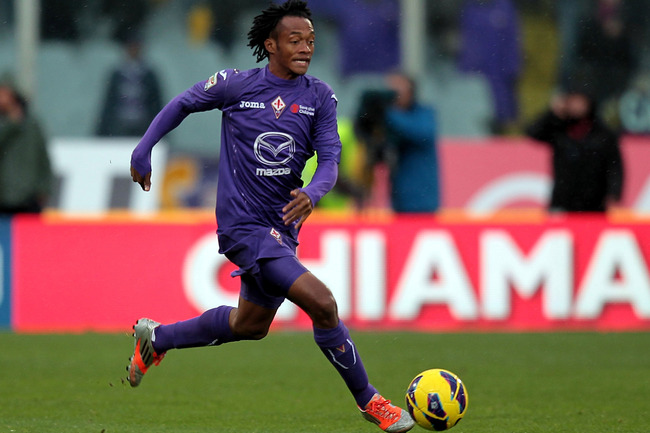 Gabriele Maltinti/Getty Images
Juan Cuadrado, Fiorentina's right wing-back, is the poster boy for Colombian role players in Europe's major leagues.
What a great dribbler Juan Cuadrado is. Incredible pickup for Fiorentina

— Matteo Bonetti (@TheMilanGuy) March 22, 2013
He is feisty, selfless and an explosive athlete.
The same traits can be found in Napoli wing-back Juan Zuniga and Inter Milan's versatile Fredy Guarín, who has been described as a "runner" in the faux-trequartista role (via ESPN FC's Michael Cox).
Mainz's midfield commando Elkin Soto can dribble, tackle and control the tempo of play.
Carlos Sánchez of Valenciennes has minimised his fouls per game by 1.0, which shows he is taking the constructive criticism in stride.
However, his defensive productivity has also dropped, so he needs to find that happy medium of being a prolific ball-winner whilst not being a defensive liability.
If you're looking for a player who wears his heart on his sleeve, Deportivo de La Coruña's Abel Aguilar (on loan from Hércules) is your man.
Other Notable European-Based Colombians
Adrián Ramos (Hertha Berlin): Is eighth on 2. Bundesliga's total goals list with 10 goals and six assists (via kicker).
It will be interesting to see how he and Ronny perform in next season's Bundesliga.
Cristián Zapata (AC Milan Loanee; Villarreal): Has never been the same since leaving Udinese for Villarreal. Not consistent enough to be a week in, week out starter for a major club like the Rossoneri.
Dorlan Pabón (Real Betis Loanee; Parma): He had a woeful time with Parma as he struggled to breakdown Serie A's defensive complexities.
In the more open La Liga, he has thrived especially with opposing teams so geared to stopping Betis' talismanic Rubén Castro.
Mario Yepes (AC Milan): Ederson is still thinking how Mario didn't receive a red card for a horrific tackle. In Yepes' heyday, he was one of Ligue 1's best defenders.
Pablo Armero (Napoli Loanee; Udinese): Once a wildcard to accumulate the most assists in a Serie A season, he's fallen on hard times.
He's never been a solid defender and combine the fact that he's no longer an assist-machine, it's no surprise that his days in Italy are numbered.
Conclusion
At the 2011 Wyscout forum, they discussed about tapping into new markets: "Traditionally Brazil, Uruguay and Argentina. Now Paraguay, Chile and Colombia."
Just like the Japanese, Colombian footballers are a viable (and cheap) source of talent for European clubs.
Two decades after Pelé predicted Colombia to triumph in USA '94, they're going to be a dangerous team at next year's FIFA World Cup.
At the risk of sounding like Pelé, I think Colombia could be a serious prospect in Brazil next year. 5-0 v Bolivia and two goals ruled out.

— Oliver Farry (@ofarry) March 22, 2013
And, if they do well, Colombians will be in vogue—unsurprisingly, Porto have already jumped the gun.
Statistics courtesy of WhoScored.com, Fox Soccer and Squawka.com.
Keep Reading