Marquess Wilson: 5 Things You Need to Know About the Washington State WR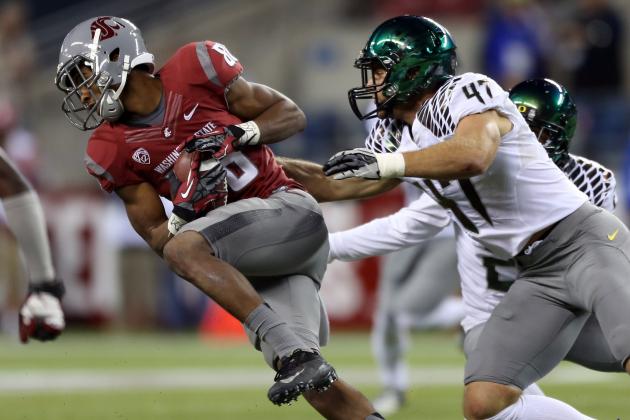 Otto Greule Jr/Getty Images

Marquess Wilson has emerged as one of the most intriguing receivers in the NFL draft, with controversy surrounding the premature departure of one of Washington State's most exciting players.
While the ensuing controversy has certainly depressed his draft stock, Wilson definitely has talent. CBS predicts he's a borderline seventh-round pick or undrafted free agent, but he really could go nearly anywhere in the draft and be considered a good value; NFL.com's draft tracker gave him a middle-round grade despite the checkered past.
Here's everything you need to know to demystify the enigmatic Wilson.
Begin Slideshow

»
Full Name: Marquess Willis Wilson
Birthday: September 14, 1992
Hometown: Tulare, Calif.
High School: Tulare Union
Major: Undeclared
Year: Junior
Wilson was the 96th-rated high school receiver in the country. As a four-time letterman in track and field, three-time letterman in basketball and a two-year captain of the football team, Wilson displayed the athleticism to draw interest from PAC and MWC teams.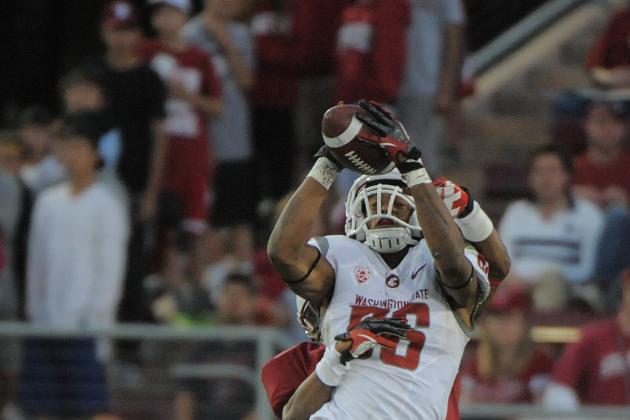 Kyle Terada-USA TODAY Sports

Naturally, with a shortened junior season, his 2012 statistics took a turn for the worse. As a freshman in 2010, he led the FBS among freshmen in yardage with 1,006 yards with 55 receptions. He added another 382 yards his sophomore year for a total of 1,388, 82 catches and 12 touchdowns.
But with only nine games of play in his final year (a season that was 2-7 when he quit), he only accumulated 813 yards in 52 receptions. Still, with 90.3 yards a game, he was still in the top 25 in the country as a productive receiver on the field.
With only five touchdowns, he was behind his incredible (and consistent) 12 trips to the end zone the year earlier, however. The biggest obstacle to his success was a demotion partway through the year that saw him taking fewer snaps despite being the leading receiver on the team. Added to the fact that he was dealing with new signal-callers in Jeff Tuel and Connor Halliday rather than Marshall Lobbestael, and Wilson didn't stand much of a chance to improve his numbers.
Lobbestael doesn't have a clear claim as a better quarterback than Tuel, but the changes (and dual-quarterback setup) have affected Wilson's productiveness significantly. Nevertheless, Wilson has been extremely effective in Leach's pass-heavy system.
The controversial receiver hasn't fumbled the ball and only ran it three times in his career for 10 yards.
| | | | | | |
| --- | --- | --- | --- | --- | --- |
| Year | Games | Receptions | Yards | Yds/Rec | TDs |
| 2010 | 12 | 55 | 1006 | 18.3 | 6 |
| 2011 | 12 | 82 | 1388 | 16.9 | 12 |
| 2012 | 9 | 52 | 813 | 15.6 | 5 |
| Total | 33 | 189 | 3,207 | 17.0 | 23 |
Statistics courtesy of WSUcougars.com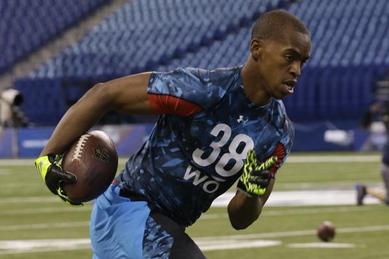 Credit: Dave Martin
Measurables
Height: 6'3"
Weight: 194 pounds
Arm Length: 31.125"
Hand Size: 9.25"
Combine Results
40-yard dash: 4.51 seconds
Broad jump: 10'2"
Vertical jump: 34.5"
Three-cone: 6.65 seconds
Shuttle: 4.33 seconds
Wilson's shuttle time is very disappointing, but he made up for it with a very fast three-cone drill, implying an excellent ability to sink his hips and tighten footwork. His time in that drill was the fourth fastest at the combine and the second fastest among wide receivers.
The only workout that stood out negatively for Wilson was his bench press, which produced merely seven reps.
His build is distinctly average and should neither worry nor lose advantage to defenders.
Measurables courtesy of NFL.com
All combine measurements come from NFLDraftScout.com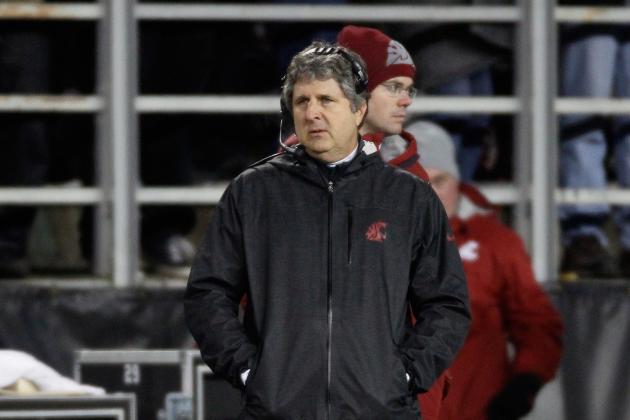 William Mancebo/Getty Images

There is nothing more interesting about Marquess Wilson than the details surrounding his early departure from Washington State.
While Wilson has not, to public knowledge, failed a drug test or faced an arrest charge, the bizarre circumstances of his exit from the Cougars do raise questions.
On November 4, the decision was made that Wilson would no longer play football at Washington State, specifically under Mike Leach.
Wilson started the year off slowly, with only eight receptions in his first two games against soft opponents, and was accused of laziness that "border[ed] on cowardice" by his head coach. He was demoted to a nonstarting position before being suspended for violating unspecified team rules after an embarrassing 49-6 loss to Utah that capped a six-game losing streak.
The talented but potentially young wideout was under implied criticism that he could not receive honest feedback and even walked out of a practice.
After the suspension, Wilson decided to no longer play football at Washington State and released a letter six days later, alleging Leach and his staff of abuse.
While he later recanted the accusation (and both the Pac-12 and Washington State University cleared him of wrongdoing), there are lingering clouds of distrust in the air. Particularly because he claims that he didn't really recant the accusation, instead clarifying that the abuse didn't involve striking any of the players.
Leach is reportedly not well-liked among NFL circles, perhaps in some part due to calling the generic group a set of "lazy idiots". More worrisome, however, is Leach's history with allegations of abuse.
His previous tenure at Texas Tech was cut short after accusations of abuse from a concussed player (who also happens to be the son of former ESPN analyst Craig James) forced Texas Tech to act and release him. Specifically, Texas Tech released him because he refused to provide an apology, as required by the university—not specifically because they found proof of wrongdoing, but because he engaged in a defiant act of insubordination by not apologizing.
That's not to say they didn't find evidence of mistreatment, however.
Given recent scandals at big-name programs involving an institutional culture of flexibility and immunity, it should be difficult to merely dismiss the clearance provided by the Pac-12 and Washington State University, but it could be just as likely that Wilson used Leach's past against him. The incident is a murky one for Wilson and could indeed be the fulcrum for some GMs. Any team that grabs Wilson will surely be briefed on the details and confident that they may be able to resolve any work ethic issues.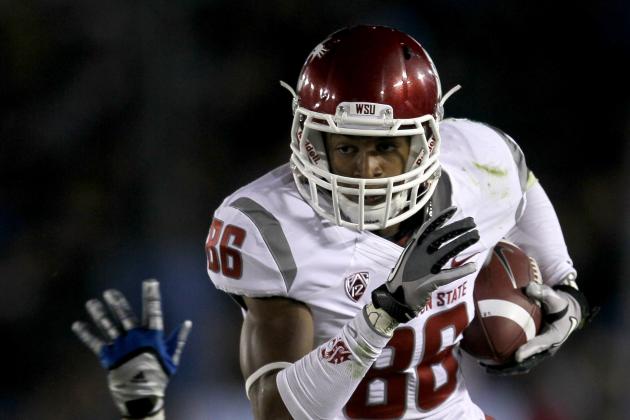 Stephen Dunn/Getty Images

Marquess Wilson is an extremely able receiver. CBS' Rob Rang regards him as a "natural pass catcher" who can make refined midair adjustments and trick defenders with speed.
He and extremely detailed scout Matt Waldman agree that Wilson looks very thin, which could imply strength problems and durability issues. But Waldman regards these issues as largely irrelevant and likes to take a look at technical ability.
Wilson has enough baseline physical skill to compete in the NFL at a high level and has surprisingly good technique for a player derided for his work ethic. Waldman and Mike Loyko of NEPatriotsDraft.com have taken detailed looks at Wilson and have come to similar conclusions.
Like Rang, they agree that Wilson's base-route precision needs work but he has a lot of technical skills down pat that are hard to teach and take time to learn. He naturally attacks the football and works back to the quarterback while winning the position battle. He has great awareness of the sideline and can also operate as a "yards-after-catch" guy with slippery elusiveness after the securing the ball.
He's done a great job of finding the holes in zone coverage and exploiting them and reads defenses well. He needs to do better against physical press corners to stay on route, both by developing strength and refining his technique at the release.
A solid hands catcher, Wilson will become extremely reliable once he sinks his hips, plants in his routes and consistently establishes proper route depth.